What are the subjects in the Arts Stream? The major subjects in the Arts Stream include Economics, History, Political Science, Geography, Sociology, Philosophy, Psychology, Computer Science, Hindi, Regional language, etc. From Law and Literary Studies to Journalism and Hotel Management, careers after Arts stream are copious. Moreover, the stream of Arts and Humanities offers a greater variety of subjects than the Science and Commerce stream. Want to know which job is the best after 12th Arts? Read this blog to find all the arts stream subjects, courses, jobs and salaries in 2023.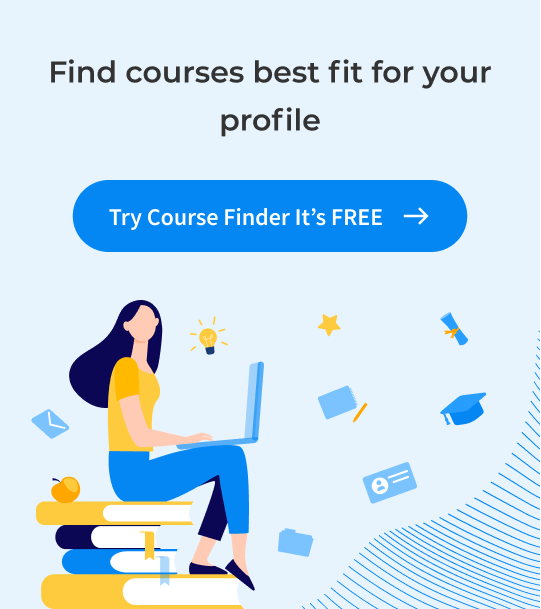 Arts Stream Subjects in 11th
If you are wondering "How many subjects are there in art class 11?", there are numerous subjects in Class 11 Arts such as Geography, History, Political Science, Economics, Psychology and more. Here are the major arts stream subjects in 11th:
Arts Stream Subjects After 10th
Arts is a diverse field of study which includes subjects ranging from humanities to languages. All these subjects are categorized as core or electives at both school and college levels.
Here are the major subjects under Arts Stream in Class 11 and Class 12:
Along with the above-mentioned major arts subjects, here are the other arts stream subjects –
| | |
| --- | --- |
| Arts Stream Language Majors | |
| Legal Studies English | |
| Mathematics Hindi | |
| Home Science Arabic | |
| Informatics Practices Assamese | |
| Physical Education Bengali | |
| Entrepreneurship French | |
| Media Studies German | |
| Fashion Studies Japanese | |
| Music Russian | |
| Dance Mandarin | |
| Painting Spanish | |
| Graphics Italian | |
| Sculpture Persian | |
| Commercial Arts Urdu | |
Arts Stream Courses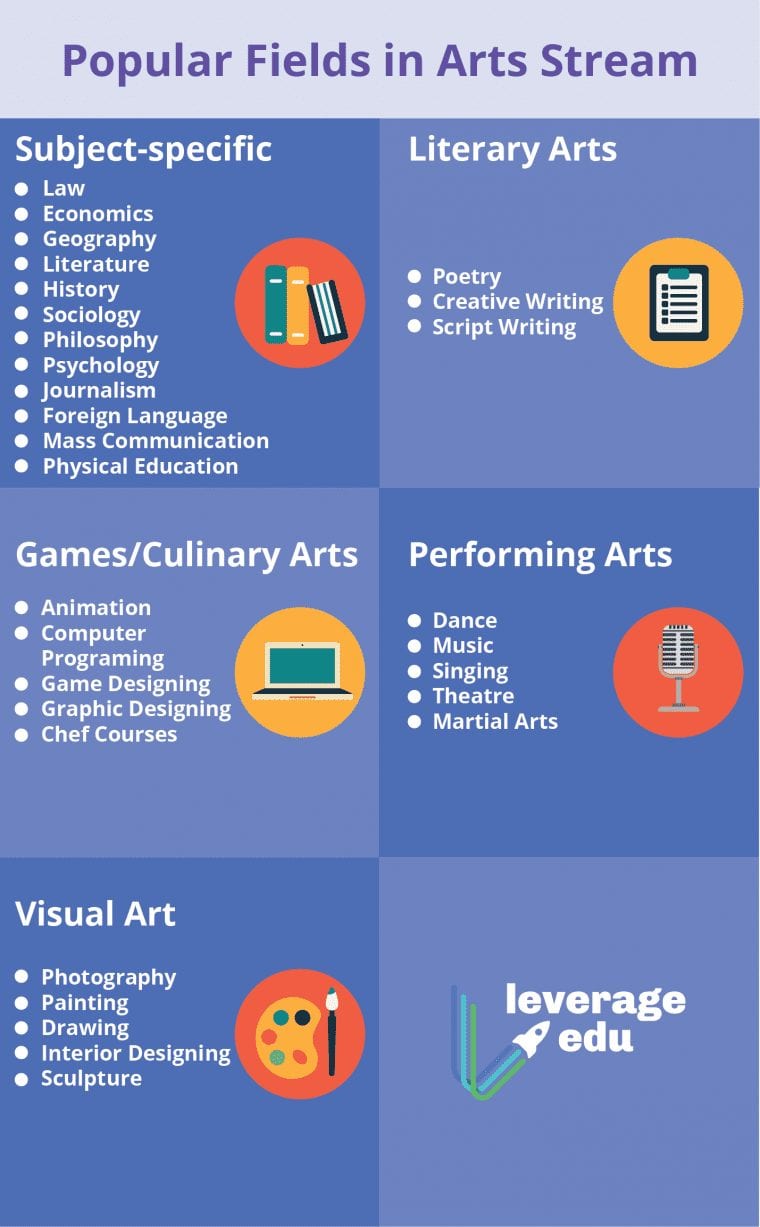 Arts subjects in College
There are numerous high-salary courses you can pursue after studying Arts subjects. Here is the complete Arts stream courses list:
Career After Arts Stream
Stepping into the world with an arts stream class 12th degree will enable you to choose from a plethora of career options. You can go on to pursue a bachelor's course in the field of your choice like BA English, BA Psychology, BA Sociology, etc. Along with this, the domain of Law stands open for you to explore. However, it is necessary to have a bachelor's degree to pursue Law courses like LLB. If you are eager towards getting placed as early as after class 12th, you can prepare for competitive exams and secure government jobs after 12th arts stream. Listed below are some popular job profiles available to students of art fields.
To know more, check out careers after arts stream!
Future in Arts Stream
Arts Stream offers the most creative and high-paying careers across all fields and specialisations. From a career in research to design, writing or film and music, you can pursue a career that stimulates your creativity while also bringing you a handsome salary and freedom to work on your own. As every job is demanding creativity in today's worlds, students opting for arts stream subjects after class 10th have a bright future to immerse in. Let's take a look at the average salary of some of the best arts stream jobs:
| | |
| --- | --- |
| Job | Starting Salary |
| Research Assistant | ₹3 Lakhs to ₹4 Lakhs per annum |
| Psychologist | ₹4 Lakhs to ₹5 Lakhs per annum |
| Professor/Academician | ₹5 Lakhs per annum |
| Fashion Designer | ₹3 Lakhs per annum |
| Filmmaker | ₹5 Lakhs per annum |
| Content Writer | ₹2 Lakhs to ₹4 Lakhs per annum |
| Social Worker | ₹2.9 Lakhs to ₹4 Lakhs per annum |
| Social Media Manager | ₹3 Lakhs to ₹4 Lakhs per annum |
Arts Stream Subjects Explained
1. History
One of the traditional Arts stream subjects, History teaches the evolution of human civilization from prehistory to the present times. It also covers the major historical events, lays emphasis on the art and architecture such as the history of Indian Art, and imparts knowledge on the works of great personalities of the world. The curriculum of the subject takes you on a journey of mankind and develops your insight into the future of development. On pursuing courses like BA History, MA History, etc, you will gain knowledge pertaining to Ancient History, Medieval History, Modern History, Political History, Cultures of the World, Language and Literature, amongst others. Graduates in History can enter into professions like Teaching, Research, Conservation Management, Archaeology, Civil Services, Public Administration, Travel and Tourism and Media Studies. Also, you will easily find History in the syllabus of BA courses after 12th Arts.
2. Economics
Economics studies, the processes or systems by which goods and services are produced, sold and bought at a larger level (Macroeconomics) and the smaller individual level (Microeconomics). The subject deals with the behaviour and interactions of economic agents and how various economies work. From Business and Managerial Economics to Financial and Agricultural Economics, there are scores of domains you can specialize in. Further, after pursuing courses like BSc Economics, BA Economics, etc, you can work in sectors like Banking, Insurance, Real Estate, Service and Manufacturing Firms, Consulting, Non-profit Organisations, and Government Agencies and build a successful career in Economics!
3. Geography
Concerned with studying the relationships between people and their environment, physical properties of the Earth, people and economy, etc, Geography is one of the most sought-after Arts stream subjects. The Geography syllabus builds a strong foundation in concepts related to landforms, flora & fauna, world, population, economy, transportation, etc. Other than this, those interested in developing different types of maps and travel guides can opt for programs in the specialized field of Cartography. Those striving for a career in Geography can choose from a range of job opportunities such as GIS specialist, Environmental Consultant, Teacher, Town Planner, Conservation and Recycling Officer, etc.
4. Political Science
Political Science is one of the fundamental Arts stream subjects which deals with the state and systems of government and scientific analysis of various political activities and their behaviour. Administrative theories and concepts of the domain cover numerous subfields including Political Economy, International Relations, Comparative Politics, Public Policy, and Political Methodology. BA Political Science followed by an MA in Political Science can help you build a strong career in this specialized field of Social Science. Further, the Political Science syllabus helps individuals discover a wide spectrum of a potential career in Political Science such as political office holders, law firms, law enforcement agencies, political organisations, field research firms and many more.
5. English
English, which is one of the compulsory Arts stream subjects offers a well-structured syllabus covering various facets of the subject. Apart from laying emphasis on improving writing and speaking skills, the curriculum also focuses on reading skills through English literature. The class 11th and 12th level English builds a strong foundation for English Literature courses, and exams like IELTS, TOEFL, English Olympiad exam, etc.
6. Psychology
Psychology is the multidisciplinary scientific study of mind and behaviour which includes human development, sports, clinical, health, social behaviour, and cognitive processes. This is one of the most interesting class 12 Arts subjects involving research of conscious and unconscious phenomena, and feelings and thought. BSc Psychology, Clinical Psychology Courses, MSc Psychology, etc, are some of the routes that you can consider to kickstart a career in Psychology. Further, Individuals pursuing an academic education in the field can explore varied careers as psychologists, and therapists or can find employment opportunities in fields of Health Psychology, Mental Health Services, Criminal Justice, Social Work, etc.
7. Sociology
If you are exploring what are the subject in BA, then, Sociology may top your list. Sociology is a branch of Social Science which deals with the study of the evolution of human society, social relationships, interactions and cultures around the world. Other than this, the Sociology syllabus involves the use of empirical investigation and critical analysis to develop an understanding of social order, acceptance, and social evolution. By pursuing bachelor's or master's level courses like MA Sociology, individuals become sensitive towards differences in society and develop ideas that help shape the modern world. Further, the subject prepares you for a wide variety of jobs in the Education sector, Journalism, Politics, Youth Services, Social Work, Labour Unions, Civil Services, Trade Associations, NGOs, etc. Thus, the scope of Sociology is immense!
8. Philosophy
Philosophy involves the study of general and fundamental questions about the existence, knowledge, reasons, values, mind, language and nature of humans and the world around them. Students pursuing a career in Philosophy develop a base for creative thinking and logical reasoning which further helps in contributing to the general good of society. Being a popular subject in BA courses, Philosophy is known as a subject for thinkers. Individuals with an interest in this field can pursue courses like BA, MA Philosophy, MPhil and can also appear for Civil Services examinations as well. Graduates can pursue jobs in different fields like Social Work, Public Services, Research, Education, Media, and Law.
9. Music
One of the most unique and creative fields to kickstart a carer in is Music! Not just limited to music composition, one can explore instrument-based programs, Music Production courses, etc. Further, on enrolling in courses like a Diploma in Music or a Bachelor of Music, you will gain knowledge on various topics like Film Scoring, Music Writing, Sound Production, etc. Apart from imparting knowledge on scores of topics, Music, which lately has become one of the popular Arts stream subjects, also equips the learners with communication skills and music editing abilities.
10. Human Rights and Gender Studies
Human Rights and Gender Studies is an interdisciplinary subject devoted to understanding fundamental rights and gender-related issues. These include studies concerning women, feminism, gender, politics, men's studies and queer studies. You will get to study how gender shapes identity and facilitates social interactions. Human Rights courses deal with the essential rights for human development. Gender equality has always been a generally accept refrain and there are varied international approaches that have emerged towards the development of human rights.
11. Informatics Practices
Informatics Practices allow students to learn the basics of computer hardware and software. Various topics covered under this subject as per the Informatics Practises class 12 syllabus include operating systems, database management systems, introduction to programming, and programming languages like Oracle, Java, SQL, etc. The course aims to help individuals design, program and develop database-driven web apps using GUI Programming. Graduates in this popular Arts stream subject can work in a wide range of profiles like Analyst Programmer, Computer Games Developer, Information Architect, and Business Analyst, amongst others.
Recommended Read:
12. Public Administration
Public Administration works on the formulation, implementation, and monitoring of various public policies across industries. Individuals aspiring to build a career in Civil Services through UPSC exams can consider enrolling in a related degree program. You can also pursue courses like Masters in Public Administration [MPA] and work as a consultant, teacher, Employee Relations Specialist, Fundraising Manager, etc. Since the field demands highly ethical professionals who can work towards the greater welfare of the community, it is also important to work on your communication and presentation abilities apart from other career skills.
13. Home Science
Home Science is scientific knowledge of nutrition, health and growth measures. Graduates in Home Science can pursue a career in various specializations such as in Clothing and Textile, Foods and Nutrition, Home Management, Family Relations, Child Development, and Extension Education. There are ample job opportunities for Home Science enthusiasts in commercial restaurants, apparel merchandising, fashion journalism, fashion designing, cafeterias, hospitals, welfare organizations, and community development programs.
14. Legal Studies
A career in Legal Studies gives an insight into the nature of political institutions, sources of law, evolution of the legal system, social actors involved in the legal process, civil and criminal courts and processes, the family justice system, individual liberty and privacy and social equality. It is an interdisciplinary field that deals with the study of the mutual relationship between society and law. There are scores of areas you can specialize in like Cyber Law, Criminal Law, Labour Law, Environmental Law, Business Law, etc. LLB or LLM graduates can work in the administration of Business, Justice and Law and related fields like Insurance, Social Services, and Social Security.
Want to know about the important exams to kickstart a career in this field? Then go through our blog on Law entrance exams to get an overview of the competitive exams available both in India and abroad!
15. Mass Media Studies
Mass Media Studies is an interdisciplinary field derived from the traditional Social Sciences and Arts stream subjects. Laying focus on the effects of various media, its history, and content, it offers an array of career opportunities after the 12th. Bachelor Of Journalism, Content Writing Courses, Video Production, New Media, Mass Communication Course, Film Studies, etc are some of the programs through which you can build a career in this field. Areas of work in Media Studies include Television, Newspaper, Radio, Cinema, Video, Digital Media, Journalism, Writing and Publishing.
16. Entrepreneurship
Entrepreneurship is a subject that resembles Business Studies but offers basic insights and understanding into the principles of developing, organizing and managing a business venture. Apart from equipping with the skills of handling the risks associated with start-ups, Entrepreneurship Development Programs also enhance other career skills. On pursuing courses like Corporate Entrepreneurship, MBA in Entrepreneurship, etc, you can find jobs in an array of industries as consultants, sales managers, etc or can work as small business owners, new venture developers, etc.
17. Physical Education
Studying Health and Physical Education, students get to learn about the world of physical wellness and sports. Concepts pertaining to Sports (such as soccer, basketball, cricket, volleyball, track & field, swimming, etc), Yoga, Psychology, measurements, Anatomy and Physiology are taught in the syllabus of Physical Education Class 12 as well as in 11th. Further, training, doping, physical activity, positive social skills, and leadership training are also covered. The overall curriculum of various undergraduate and postgraduate courses like Bachelor of Physical Education includes engaging lessons, training PE teachers/faculties, adequate instructional periods and student evaluation. Career options for graduates in Physical Education are teaching PE, activities director, athletic coach and fitness instructor or personal trainer.
18. Fashion Studies
Fashion Studies helps you develop a critical and historical understanding of Fashion and its complex intersections with identities and cultures. Students investigate the material and visual dimensions of Fashion as image, dress, bodily practice and as a major cultural identity within society and the world. Moreover, the study areas comprise the factors influencing fashion, its key concepts, and terminologies. Be it starting a career in Fashion Designing or pursuing other related fields, there are ample opportunities for graduates in Fashion Studies like Fashion Designers, Retail buyers and Managers, stylists, Textile designers, Jewellery Designers, Make-up Artists, Fashion Bloggers, etc.
19. Fine Arts
Fine Arts is one of the most suitable Arts stream subjects for those who want to build a career in Painting, Sculpture, Graphics, Applied Art, and Commercial Art, amongst others. Apart from inculcating creative thinking, the students are taught about artistic marvels and their history coupled with specific practical training in their chosen specialization. On pursuing Fine Arts Courses like Bachelor of Fine Arts, Master of Fine Arts, etc, you can work in a wide range of job profiles in Art Therapy, Multimedia Programming, Set Designing, Film Direction, etc.
Additional Subjects
In addition to these, there are a few other optional Arts stream subjects offered in schools including Folk Music, Carnatic Music, Western Music, Dance, Creative Writing, Foreign Languages such as German, French, Mandarin, Japanese, Spanish, etc.
Why Study Arts Stream Subjects?
Humanities stream, which is popularly known as "Arts" provide a platform for student to study human society and the world. It is an extensively vast stream, offering numerous career options to students. Right from studying how people interact in group settings to understanding the legal rights of the citizen, everything comes under the purview of Art stream subjects. Unlike Science and Commerce, Arts has a range of subjects for students to choose from. In fact, if your institution provides you with a good number of electives, then you might have the chance to design the entire curriculum through the right subject combination!
Education Boards Offering Arts Stream Subjects
When we talk about the current education system in India then apart from the state boards, the students can study Arts stream subjects from 3 major national-level education boards namely, Central Board of Secondary Education (CBSE), Indian Certificate of Secondary Education (ICSE), and International Baccalaureate (IB). Students are allowed to choose a board that best suits them and the choice is made on the basis of the difficulty level associated with each board, besides the aptitude of the students. IB is the toughest board as it lays emphasis on the practical aspects of learning, followed by the ICSE board. CBSE board is quite popular and falls under the Union Government of India, and the difficulty level is quite moderate. Every state in the country has its own education board and MOI in the case of institutions affiliated to such boards are English and Regional Languages.

FAQs
Which are the best subjects in arts stream?
The best subjects in Arts stream would depend upon a student's interests and preferences. Some of the major arts subjects include History, Geography, Political Science, English, Economics, Psychology, Sociology, Physical Education, Hindi, Sanskrit, amongst others. If you are more curious about how the evolution of humankind happened since the early ages, History and Sociology can be the best choice. On the other hand, if you aim to explore the physical depths of the earth, then Geography is a must to have while for those interested in languages, opting for language studies or a foreign language can be a suitable alternative.
What are the subjects in arts in Class 11?
Under the arts stream in class 11, students are generally offered a combination of core and elective subjects. Core arts subjects include History, Geography, Political Science and English while electives include a multitude of disciplines such as Economics, Psychology, Fine Arts, Physical Education, Home Science, etc. for students to choose from.
How many subjects are there in arts?
Arts is a vast stream constituting of a wide range of subjects such as History, Political Science, Economics, Psychology, Geography, etc. Generally, these are classified into two categories, core and electives under which Geography, History, Political Science and English form the core disciplines while the rest of the subjects come under electives. Owing to this diversity of arts subjects, students can choose from varied job opportunities in copious career domains such as media and mass communications, academia and teaching as well as counselling, to name a few.
Is arts a good stream?
Arts and Humanities offers a host of career prospects for students and that's why is considered a good choice especially since there are a plethora of programs available for higher education, whether to study abroad or choose from different creative career opportunities.
We hope this article helped you to get a closer look at various Arts stream subjects and the best careers after Arts Stream. You can reach out to our experts at Leverage Edu and we'll help you find an ideal combination of course and university that can assist you to explore the vastly immense world of Arts.