Fashion Designing is one of the highly creative and in-demand careers in the world. It is especially for those who love to study fashion trends, sketch designs and develop something new and creative in the world of vogue. Wondering how to start a career in fashion designing? Well, you will need to pursue a basic design diploma or degree program to begin a career in this field which can help you learn the intricacies of designing clothes and apparel as well as studying the latest trends.
Learn the best Success Lessons from Sabyasachi!
Check Out: Best Designing Courses
What is Fashion Designing?
Fashion designing is the art of crafting customised apparel and lifestyle accessories and has turned into a career option now. It is a promising profession that is creative, and at the same time, serves a high package in the glamorous industry. However, it is a demanding sector, as one needs to be creative, and possess good managerial skills too. If you can create magic with shades, shapes, designs, cuts, and textiles, you have landed on the perfect article to stitch the decision that you have made a bit stronger.
What Does a Fashion Designer Do?
Crafting a designing process, from conception through the final look
Involving in market research, trends in fabrics, techniques, and striving for design inspiration
Editing the designs in-stream and creating new concepts
Selecting apt fabrics and snips
Developing sketches for customised packages
Collaborating with the technical team to make sure the packages are accurate
Re-examining products before presentations
Presenting story, theme, and seasonal boards to clients
Career Opportunities in Fashion Designing
Fashion Designer
Retail Buyer
Rental Manager
Fashion Stylist
Jewellery and Footwear Designer
Personal Shopper
Makeup Artist
Fashion Model
Fashion Photographer
Fashion Journalist
Textile Designer
Click here to know about Manish Malhotra's Journey!
Fashion Designer
A profession that needs no introduction, fashion designers are precisely linked with the industry.
If you are a fashionista yourself, you might have heard about the top Indian fashion designers such as Varun Bahl, Manish Malhotra, Sabyasachi, Rohit Bal, etc. They have managed to transform the fashion scene in Bollywood.
A good designer takes care of everything from sketches to textures and patterns; from styling outfits to looks. Here's a detailed guide on How to Become a Fashion Designer!
Retail Buyer
Once you pursue this career, you will have a great understanding of what clothes will look great on which people. As a retail buyer, you can build up your own store and sell your own products or you can get the products from other designers as well. This field is pretty lucrative if done right.
Retail Manager
Getting a job at a boutique, departmental store, or huge brand such as Lifestyle, Zara, Emporio Armani, etc can be highly satisfactory. A retail manager is accountable for setting up daily targets for the staff and ensuring that marketing and promotions are functioning in a proper way or not. 
Fashion Stylist
This is one of the toughest and most exciting job profiles when we talk about a career in this field. Being a Fashion stylist, your job is to select the right pieces from the designer's collection or wardrobe to pick the best outfits with respect to clients' body types, preferences, and tastes. A stylist takes care of makeup, accessories, and hairstyles to the overall look of a person.
Recommended Read: M Des (Master of Design)
Textile Designer
A textile designer designs 2D unique or repetitive patterns for printed fabrics, weaves, and knit patterns. These fabrics may be used in the interiors to make clothes or as soft furnishing. Textile designers either work as a part of the team in industrial and non-industrial settings or even work independently. Most textile designers use CAD to design textures and patterns.
Read more about Textile Design Courses!
Jewellery and Footwear Designing
Jewellry and footwear is a whole distinct market in the industry that compliments the textile sector. After all, without the right footwear and the right fashion accessories, even the perfect dress remains incomplete.
Personal Shopper
Are you in love with shopping? It's time to be happy because a personal shopper is an expert who helps brides, celebrities, and even everyday snappy dressers to pluck out the best dresses from the hangers. But remember! You must be a professional so that you can hammer out the best deals, and best shops, and pick the most suitable designs and brands as per the client's requirements.
Makeup Artist
A makeup artist takes care of the skincare, hairstyling, grooming, and anything related to an additional appearance of the body. However, it's important to note that makeup artists are different from beauticians as they are not limited to normal beauty treatments. Makeup artists are hired for weddings, pre-wedding photoshoots, bridal makeup, fashion events, celebrities, and models.
Fashion Model
A model is the one who acts and walk on a ramp to show the new trends in order to promote commercial products in the market. Some fashion designers wear their own clothes to represent themselves or sometimes they hire models to promote their work.
If we talk about the general trend, a lot of fashion models have signed themselves with modeling agencies. Such agencies bridge the gap between the models and the prospects. And do you know that there are many fashion designers who wouldn't hire models unless they are provided by any modeling agencies?
Top Fashion Designers in The World
Sabyasachi
Guccio Gucci
Halston Designer
John Galliano
Gabrielle Chanel
Bob Mackie
Roy Halston
Cristobal Balenciaga
Sobia Nazir
Elsa Schiaparelli
Riccardo Tisci
Faiza Saqlain
Roy Halston Frowick
Hubert De Givenchy
Farah Talib Aziz
Alber Elbaz
Career in India
It is one of the most charismatic career options. It opens up a lot of opportunities for those who are actually passionate about designing art. Talented designers have a huge potential to earn high income, fame, and glamour.
Textile Export Houses

Fashion Boutiques
Work as an Independent and Self-employed

Textile or Fabric

Manufacturing Units

Retail Chains

Fashion Brand Showrooms
TV and Film Industry

Teach The Course In Institutes
Qualifications to Become a Fashion Designer
The basic qualification you need is a diploma or degree in Fashion Design/Fashion Technology/Textile Design or related fields. To start a career in the field after 12th, you will have to clear NID exam/UCEED/CEED/NIFT entrance exam for pursuing bachelor's courses in India while you can also find many diploma and short-term courses.
Is Fashion Designing a Good Career?
It is one of the most in-demand careers in the world. Being a highly creative field, it can give you the opportunity to blend cultures, traverse traditional attires to contemporary ones and even play with colour themes! Every dress has its own story to tell and you can be the storyteller!
A career in Fashion Design would give you the maximum possible satisfaction.
Be your own boss and you can start your own brand from zero.
It will change the way you see the world as the field is full of creativity and fun.
The industry will give you a huge margin on almost every product.
The career gives you an opportunity to achieve fame for what you are doing.
You will have a lot of opportunities to travel around the globe because clients can be from any part of the world.
Get ready to face all kinds of work arriving in a single workplace.
You may also get a chance to meet celebrities and other people who have a passion for fashion design just like you if you pursue a career in this field.
Must Explore: Top Fashion Colleges in Canada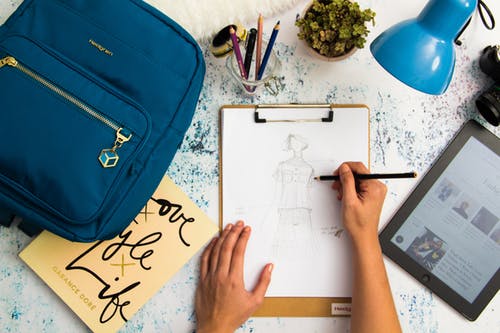 Salary
For those who are looking forward to stepping up a career in fashion designing, mentioned below is the estimated salary they may receive-
| | | | |
| --- | --- | --- | --- |
| Profiles | Initial Salary | Mediocre Salary | Senior Level Salary |
| Fashion Stylist | 1,50,000 | 3,70,000 | 6,50,000 |
| Textile Designer | 1,80,000 | 3,50,000 | 12,00,000 |
| Retail Manager | 1,80,000 | 5,00,000 | 9,50,000 |
Top Recruiting Companies Globally
A variety of leading organizations across the globe offer various roles to the graduates of this field. Tabulated below are the popular companies you can target in India as well as abroad-
Companies in India
Companies Abroad
-Allen Solly
-AND
-Swarovski
-Lifestyle
-Raymonds
-Pantaloons
-Spykar
-Donatella Versace
-Ralph Lauren
-Coco Chanel
-Kate Spade
-Valentino Garavani
-Calvin Klein
-Tom Ford
-Betsey Johnson
-Marc Jacobs
Books
Since the colleges in India as well as abroad offer admission in the courses through entrance exams, thus, the aspirants need a bunch of exclusive books. Listed below are the popular books for cracking the entrance exams related to this field-
NIFT/IIFT/NID Entrance Exam Guide by R Gupta 
NIFT Entrance Exam Self Study Guide 
NIFT Exam Guide by Dr RP Datason 
Concepts of Pattern Grading 
Popular Master Guide NIFT by R Gupta 
NIFT Exam Guide by Verma 
Fashion Designer Courses
There are numerous universities and colleges across the globe that offer a wide range of programmes for those interested in establishing a career in the field
Diploma Courses after 10th
Diploma Course
Diploma in Fashion Technician
Diploma in Fashion Stylist
Diploma in Vogue Fashion Certificate
Diploma in Fashion Stylist and Image Consultant
Diploma in Design for Fashion and Textiles
Courses after 12th
Bachelor Degree
Bachelor in Textile Design
Bachelor of Fashion Design & Technology
BA Hons in Fashion Design and Manufacture
Bachelor in Design and Fashion Management
Bachelor in Fashion Design & Management
BA Hons (Fashion Journalism)
BA Hons in Fashion Design & Creative Direction
Courses at Master's Level
Master Degree
Master in Sustainable Fashion Design
Master's Program in Fashion, Clothing and Textile Design
Master in Fashion Collection Management
Master in Styling, Image and Fashion Communication
Master in Fashion Brand Management
Master in Fashion Technology
MA Fashion Design Technology
MA Fashion Curation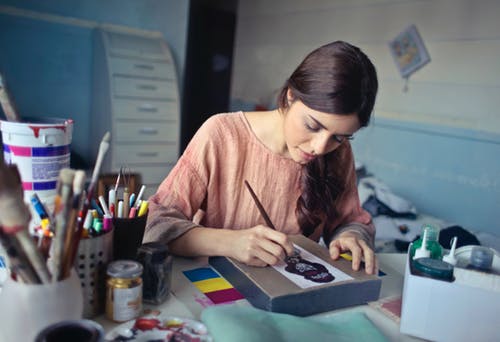 Top Institutes and Colleges
To help you further in your research, below we have described some of the best schools and institutes in the world that you must consider:
Central Saint Martins
Istituto Marangoni
Check out the complete list at Top Fashion Design Schools in the World!
Top Indian Institutes for Fashion Designing
National Institute of Fashion and Technology, Delhi; Mumbai
National Institute of Design
VIDM Institute of Design and Management, New Delhi
YMCA Institute for Office Management, New Delhi
Arena Animation
Pearl Academy
Symbiosis Institute of Design
Amity School of Fashion Technology
Army Institute of Fashion and Design
Pros of a Career in Fashion Designing
There are a lot of benefits to working in the fashion design industry. 
You are surrounded by creativity
If you are passionate about new clothes and designs, the career is made just for you
Working in the fashion industry can be very glamorous
The industry is filled with hard-working and tenacious people
You get a lot of gifts and freebies in the fashion industry
Cons of a Career in Fashion Designing
While the industry is all glitz and glamour, you cannot deny that there are certain shortcomings to the field.
You must work long hours to maintain deadlines
The jobs are very demanding and criticism can be harsh
The job can be very demanding and lack work-life balance
The industry is highly competitive and exhaustive
FAQs
What is the monthly income of a fashion designer?
The monthly income of a Fashion Designer in India is somewhere around 20,000 INR- 35,000 INR depending on their organisation and role. The entry-level salary of a Fashion Designer in India is 1.5 to 1.7 Lakhs per annum and can go up to 10 Lakhs per annum varying as per the firm or the industry they are working in.
Is fashion design a good career?
Fashion Design is amongst the highest-paying industries, offers lucrative job opportunities and is also a creatively fulfilling and financially rewarding career! With the emergence of new technologies, there are various specialisations available in Fashion Designing ranging from Shoe Designing, Fashion Technology, Fashion Journalism, Leather Designing, Fashion Photography, amongst others.
What are the job opportunities for fashion designers?
There are a plethora of job opportunities in Fashion Designing such as Stylist, Fashion Designer, Retail Manager, Personal Shopper, Retail Buyer, Textile Designer, Make up Artist, amongst others.
What qualifications do you need to be a fashion designer?
To become a fashion designer, you will need a relevant higher education qualification like a full-time degree program, foundation or HND course. Many students also opt for a master's degree to specialise in a specific field of Fashion Design and build their career in the same.
How do I start a career in fashion designing?
You can start a career in this field by pursuing a diploma in Fashion Designing. Students can begin after 10th with a diploma or bachelor's degree in Fashion Designing after 12th such as BDes or BSc Fashion Designing.
Are you ready to change the cultural trend of your society? Yes, we said 'cultural trend' because when you'll pursue a career in fashion design, you will have the power to change what people wear, what people think about each other, and what people feel about each other. If you feel this is the field for you, contact Leverage Edu at 1800-57-2000 today and kickstart your career.