It is certainly the most sought-after examination, highly prestigious offering lucrative career in the world of the 21st century when the dearth of jobs is absolutely high. Nowadays students are going an extra mile proving their mettle in the civil service landscape. They make use of research material, journals, newspapers and other sources of information which help them nourishing their career. Being one of the toughest exams in the world, it is a fact that students who are done with graduation choose to try their luck in civil service exam because of a prosperous future, handsome salary on lucrative posts, government offers and incentives. Achieving this milestone needs the utmost dedication to prove that you are worth this highest paying government job in India. This examination is widely followed and acclaimed in the Indian educational landscape. Prelims, mains as well as interview process plays a pivotal role in the civil service exam. In this blog, you will have thorough information and clarity pertaining to the Civil Service Exam, its scope and top profiles which can make your dream come true.
What is the Civil Services Exam?
Civil Service Examination is a leading competitive UPSC Exams to recruit young and talented aspirants against an array of administrative posts. It is being conducted in three phases like Prelims, Mains and Interview. In prelims paper, a candidate has to go through two objective type question papers. In mains, you will have to write a conventional essay type answer, once you are clearing these two rounds then starts your interview process, where you will be examined on the basis of your personality interview. IAS, IFS, IPS are some of the prestigious examinations which are highly acclaimed and popular in India.
Every year the Civil service examination registers lakhs of students who wish to appear for the prestigious examination. Let's understand some important parameters which are essential to know before applying for the civil service exam.
| | |
| --- | --- |
| Name of the Examination | Civil Service Exam |
| Total number of Services | Twenty- four |
| Total number of Attempts | Six |
| Admit Card | Online |
| Vacancies | 900( Nine hundred) Approx. |
| Examination Type is? | Offline |
| Organizing Body | UPSC |
| Level of Examination | National |
Exam Dates
Candidates who are looking forward to making their career under the Civil Service Exam must to know important dates to appear in the examination. Find the important dates for the same in the below-given table:
| | |
| --- | --- |
| Date of Notification | 04 March 2021 |
| Examination Day | 27 June 2021 |
| Duration of Examination | One Day |
| Last Date for Receipt for Applicants | 24 March 2021- 6pm |
| Date of Upload | 4 March 2021 |
Exam Qualification
If you are planning to apply for the position of any civil services in India or state level, you need to check your eligibility for it as well.
Your age must not be less than 21 years or more than 32 years
You must have a graduation in any discipline from a recognized university
Your nationality should be Indian in case you apply for India level services and you should be a resident of the state you applied your exam for
Examination Pattern of Civil Service Exam
For UPSC candidates who apply in various civil service exams like IAS, IPS, IFS, IAAS, IRS should know what are the essential steps of cracking this prestigious examination. To pass the civil service exam with flying colours all you need to have faith in your capabilities and you should know the steps which are: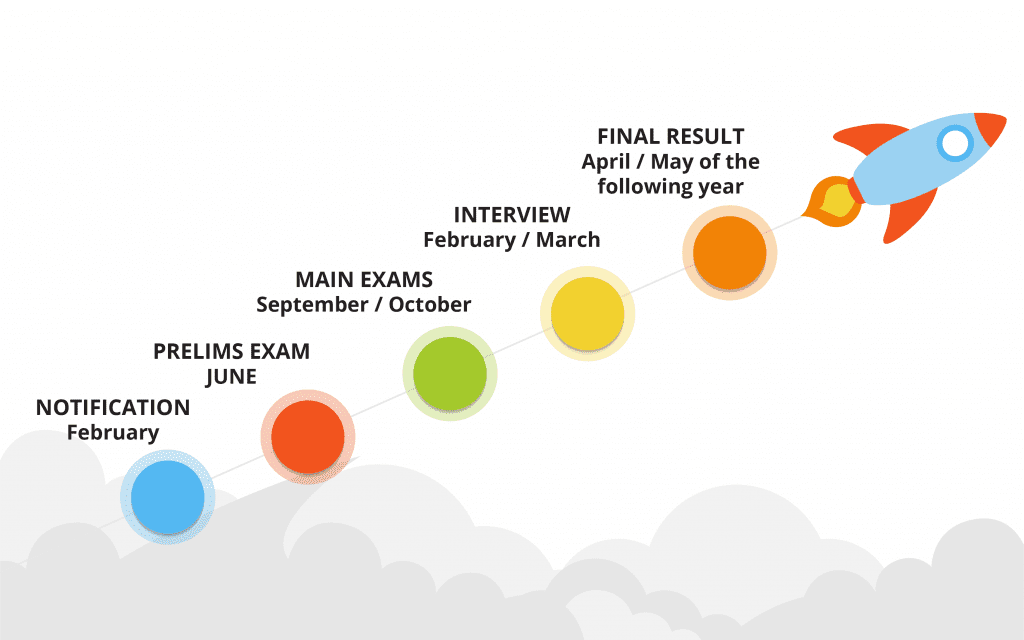 Prelims
This stage is very important in nature as it carries 400 marks distributed in two different objective type papers. The paper 1st check your thorough knowledge of the following areas:
Politics
Science
Geography
History
Environment
The paper 2nd understands your interpersonal skills, knowledge of comprehension, decision making, and your information in the basic number system. Basically this would be an aptitude test which also does your screening, in order to prepare you for mains examination.
[optin-monster-shortcode id="xf2mlnjiouddzrshykdb"]
Mains
Once you have successfully passed your prelims paper, the next step to being an officer is the mains examination which examines your intellectual bent of mindset. This part consists of a total of 9 papers which are based on long-form essays, optional papers and questions related to general studies. It is completely written based on where a candidate will be selected for an interview process on the basis of their written test and abilities.
It is important to note that there will be negative Marking in the Objective Exams.
Interview
This round involves your personality interview which will consist of 275 marks. You will be interviewed on the basis of your personality aptitude. The final IAS interview will be conducted at Commission's Headquarters, New Delhi.
Also Read: Life of an IAS Officer
List of Services
Following are the services that are a part of the civil service examination:
The civil services exam has been categorized into Group A and Group B. Here are the services available on Group A position and Group B positions:
Group A
All India Civil Services
Indian Administrative Services (IAS)
Indian Police Services (IPS)
Central Civil Services
Indian Postal Service
Indian Foreign Services (IFS)
Indian P & T Accounts & Finance Service
Indian Audit and Accounts Service
Indian Revenue Service (Customs and Central Excise)
Indian Defence Accounts Service
Indian Revenue Service (I.T.)
Indian Ordnance Factories Service((Assistant Works Manager, Administration)
Indian Civil Accounts Service
Indian Railway Traffic Service
Indian Railway Accounts Service
Indian Railway Personnel Service
Post of Assistant Security Commissioner in Railway Protection Force
Indian Defence Estates Service
Indian Trade Service
Indian Corporate Law Service
Indian Information Service (Junior Grade)
Group B
Pondicherry Police Service
Pondicherry Civil Service
Armed Forces Headquarters Civil Service (Section Officer's Grade)
Delhi, Andaman & Nicobar Islands, Lakshadweep, Daman & Diu and Dadra & Nagar Haveli Civil Service
Delhi, Andaman & Nicobar Islands, Lakshadweep, Daman & Diu and Dadra & Nagar Haveli Police Service
Prepare for Civil Services
There are several crucial subjects that you need to prepare during your exam for Civil Services. Click the links below to check out the best books under each section.
Civil Service Exam can definitely provide you with the best job in India. Cracking this examination with flying colours need your firm dedication, intellectual mindset and analytical thinking. All this is possible when you do extra hard work to prove your mettle. Are you still wondering if this is the right decision for you? Why not come to Leverage Edu and give a psychometric test and clear all your doubts!