Topics on Geography are found as a staple portion in not only UPSC exams but also in a range of government recruitment and entrance examinations such as the NEST exam, AILET exam, MPPSC exam, SSC CGL, AIEED exam and SCRA exam, amongst others. Geography for UPSC forms a part of the Prelims, by means of Paper I as well as in Mains, General Studies-I and as an Optional Paper. These exams are considered not only among the toughest exams in India but are also frequently named as one of the toughest exams in the world. This blog focuses specifically on providing you with a preparation guide on the section of Geography for UPSC across several exam levels. 
UPSC Exam Dates 2023
The UPSC CSE Exam Dates 2023 are tabulated below:
| | |
| --- | --- |
| Exam Registration Date Begins on | 1 February 2023 |
| Last Day to Apply for UPSC Exam 2023 | 21 February 2023 |
| Release of UPSC Admit Card 2023 | 8 May 2023 |
| Civil Services (Preliminary) Examination, 2023 | 28 May 2023 |
| Civil Services (Main) Examination, 2023 | 15 September 2023 |
Geography for UPSC Prelims
The Prelims section of the UPSC exam tests a candidate's foundational understanding and knowledge of geographical features and regions of India as well as the world. While the official UPSC syllabus for geography prescribes studying "Indian and World Geography-Physical, Social, Economic Geography of India & the World", to tackle the range of questions asked in the prelims section, one needs to develop a solid overview of salient geography-related characteristics and peculiarities around the world. Some of the topics considered essential for Geography for UPSC are:
Indian Geography
Key topics of UPSC CSE Indian Geography include:
| | |
| --- | --- |
| Basics of India | Location, Neighbours, States, etc |
| Physical Features | The Himalayas, The Great North Indian Plains, Peninsular Plateau, etc |
| River Systems | Himalayan Rivers, Regional Development and Planning, Interlinking of Rivers, etc |
| Climate | Monsoons, Seasons, Cyclones, etc |
| Agriculture | Land Utilisation, Green Revolution, Animal Husbandry, etc |
| Natural Vegetation and Fauna | Rainfall Distribution, Red-Listed Species, Biosphere Reserves, etc |
| Economic Infrastructure | Power and Energy Sector, Energy Conservation, Transportation, etc |
| Human Geography | Demographic, Recent Issues, etc |
Physical Geography
Tabulated below are topics of Physical Geography for UPSC CSE.
| | |
| --- | --- |
| Geomorphology | Origin of the Earth, Weathering, Landforms, etc |
| Climatology | Atmosphere, Pressure Belts, Major Climate Types, etc |
| Oceanography | Ocean Reliefs, Waves and Tides, Ocean Currents, etc |
| Biogeography | Ecosystem, Food Chain, Soil, etc |
| | |
| --- | --- |
| Section | Topic |
| World Geography | Major Natural Regions, Regional Geography of Developing Countries, Regional Geography of South Asia, etc |
| Human Geography | Man, Population, Settlements, Economic Activities, etc |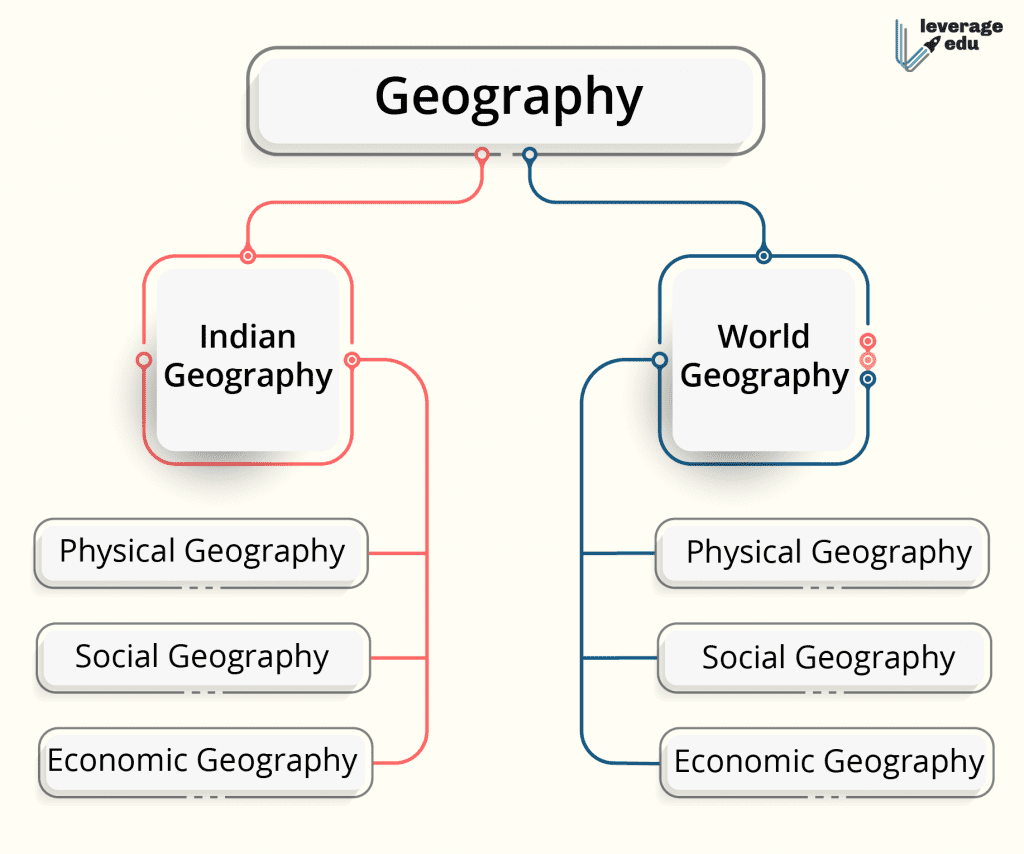 Related Article: Government Exams after 12th Science
Geography for UPSC Mains
In the mains portion of Geography for UPSC, knowledge of advanced topics and in-depth understanding are tested. Further, the subjective nature of the test makes it highly complex and demanding. Major themes have been given a rundown below:
Natural Resources Across Continents [India & South Asia]:
River Systems, Plains,
Vegetation, Soil, The Himalayas, Deserts, Western Ghats, Indian Desert, Climate,
Distribution of Agriculture, etc.
World Geography:
Regions, South East Asian Geography, Developing and
Developed Country Geographical Features, etc.
Factors of Emergence of Industries:
Primary, Secondary and Tertiary in Specific Locations of India and Across the World, etc.
Geographical Features:
Water Bodies, Icecaps, Flora, Fauna, etc and their Location Shifts, Earth & its Formation, Climatology, Oceanography and Biogeography, etc.
Human Geography:
Population, Demographics and Census, Tribes, Migration, settlements, etc.
Related Article: IFS Exam Pattern
Geography for UPSC Optional Subject for Mains Exam
Geography is one of the 48 optional subjects that students have to choose for the main exam. It is one of the most favourite subjects for the optional paper. The syllabus of Geography for UPSC for optional paper would focus on the human and physical geography of India along with its economic aspects of it. As the optional paper consists of 2 exams, mentioned below is the distinct syllabus-
Optional Paper I: Principles of Geography
The topics covered under the Optional Geography Paper-I for UPSC have been tabulated below:
Physical Geography
Geomorphology
Climatology
Oceanography
Biogeography
Environmental Geography
Human Geography
Perspectives in Human Geography
Economic Geography
Population & Settlement Geography
Regional Planning
Models, Theories and Law in Human Geography
Also Read: UPSC Syllabus
Optional Paper II: Geography of India
Paper-II for Geography for UPSC can be said to be slightly more comprehensive though the difficulty level does not vary. Broad concepts tested are:
Physical Setting
Neighbouring Countries, Physiographic Regions,
Indian Monsoons, Disaster: Floods, Cyclones,
Climatic Regions etc
Resources
Land, Water, Energy, Minerals, Forest,
Wildlife, Conservation etc
Agriculture
Infrastructure, Industry, Land, Cropping Patterns,
Green & White Revolution, Agro-climatic Zones etc
Industry
History of Industries, New Industrial Policy,
Special Economic Zones, Factors of Occurrence of Jute,
Cotton, Paper, Fertiliser, Textile, Iron, Cottage, Agricultural
Industries, etc.
Transport, Communication
& Trade
Roadways, Railways, Waterways, Ports,
Export Processing Zones, Contemporary Roles
in Regional Development, Indian Space Program, etc
Cultural Setting
Indian Society, Linguistics, Minorities, Tribes and
Tribal Areas, Cultural Regions, Population &
Demography, etc
Settlements
Rural & Urban Developments, Slums,
Town Planning, Urbanisation etc
Regional Development &
Planning
History of Planning, Five Year Plans, Rural
Development Programmes, Panchayati Raj,
Decentralised Planning, Regional Planning, etc
Political Aspects
History of Reorganisation of States, Inter-state
Issues and Acts, Geo-Politics of South Asia &
Indian Ocean, International Borders, Cross-border
Terrorism, etc
Contemporary Issues
Ecological Issues, Environment Impact & Assessment,
Food Security, Sustainable Growth,
Globalisation & Indian Economy, etc
Also Read: Political Science Syllabus
Geography for UPSC: Books
To ease your research for preparations, we have curated a list of important books you must have on your table while preparing for Geography for UPSC.
Geography for UPSC: Books
Link
NCERT Class XI Fundamentals of Physical Geography
NCERT Class XI India-Physical Environment
Buy Here
Buy Here
NCERT Class XII Fundamentals of Human Geography
NCERT Class XII India-People and Economy
Buy Here
Buy Here
NCERT Class X Contemporary India II
Buy Here
Geography of India by Majid Hussain [McGrawHill]
Buy Here
India and World Geography by Majid Hussain [McGrawHill]
Buy Here
Certificate Physical And Human Geography; Indian Edition by
Goh Cheng Leong
Buy Here
Oxford Student Atlas for India – Third Edition
Buy Here
Magbook Indian & World Geography 2020 by Arihant Experts
Buy Here
Physical, Human and Economic Geography for Civil Services Examination
Buy Here
Geography Question Bank (For Civil Services Preliminary Examination)
Buy Here
You can also read our blog on NCERT Books For UPSC Exams.
Tips to Study Geography for UPSC Exams
Here are some tips to cover the entire Geography syllabus for UPSC exams 2023:
NCERT books are considered the best to build a base. Therefore, start your preparation journey with them and then move to other reference books. It is advised to study class 6-12th books.
Go through the previous year's question papers to know which are the most important topics asked repeatedly over the years.
Usually, the topics which are in the news throughout the year are asked in the exam. Keep a tab on the latest news and have a thorough knowledge of trending topics.
Relate Geography with other subjects like History, Political Science, Economics, Social Science etc. For example, if you want to understand the crux of any geographical location, you need to evaluate that region from different lenses.
Tricks to Memorize Geography Better
Geography requires remembering the names of cities, countries and continents. Here is a learning hack for you to do this in a fun way:
My Great Big Elephant Has No CRitical Problems
[ Countries lying between North and South America – Together, they form the shape of an elephant's trunk]
Mexico
Guatemala
Belize
El Salvador
Honduras
Nicaragua
Costa Rica
Panama
Kal (Z)Jana Padega Desh Se
[ Himalayan ranges from top to bottom ]
Karakoram
Zaskar
Pirpanjal
Dauladhar
Shiwalik
PAISA
[ Oceans from largest to the smallest ]
Pacific Ocean
Atlantic Ocean
Indian Ocean
Southern Ocean
Arctic Ocean
BSF GAME IN Toto
[ Countries through which the Prime Meridian passes ]
Burkina Faso
Spain,
France
Ghana,
Algeria
Mali,
England
Nigera Toto
How to Prepare Geography for UPSC?
Here's a time-tested strategy to begin your preparation for geography UPSC:
Prepare from NCERTs: Start your preparation with NCERT books of class 8th to 12th. It will set your base strong. Also, questions straight from NCERT are being asked in the UPSC exam.
Relevant Books: Books like Certificate Physical and Human Geography by GC Leong and Geography of India by Majid Hussain are some suggested books.
Previous Year Question Papers: Go for solving questions from previous papers. This will help in identifying vital topics and for revision purposes.
Mock Tests: Mock tests allow students to assess the preparation and identify the areas of weakness you must work on.
Current Affairs: Read newspapers and for that matter have online applications of current affairs to keep yourself updated.
NCERT Notes for Geography for UPSC
Let's take a look at some of the important geography NCERT topics for UPSC preparation:
Important Questions for Geography for UPSC
Explain all the challenges faced by the newly Independent India. 
What are seismic waves? Write in detail.
Explain the various kinds of landforms under Karst topography.
Discuss in detail about geophysical features of the Circum-pacific zone.
Explain the concept of geomagnetism.
Explain the geological and paleontological evidence of continental drift theory.
Write about the major factors responsible for the origin of ocean currents across the globe. 
Elucidate the term earthquake swarms and how they differentiate from aftershocks and foreshocks. 
What do you mean by tropical cyclones? Also explain how tropical cyclones differ from temperate cyclones.
Discuss the statement – Landslides are more than just a natural phenomenon. 
What is common to the places known as Aliyar, Isapur, and Kangsabati?
Why are dewdrops not formed on a cloudy night?
Which of the following has/have shrunk immensely/dried up in the recent past due to human activities?

Aral Sea
Black Sea
Lake Baikal
Important Topics of Geography of India
Physical setting
Resources
Agriculture
Industry
Transport, Communication, and Trade:
Cultural Setting:
Settlements
Regional Development and Planning:
Political aspects of geography
Ecological Issues
Previous Year Question Papers
FAQs
What are important topics of Physical Geography UPSC CSE 2023?
Some of the important topics include physical settings, mineral resources, agriculture, industry, political aspects of geography, and ecological issues.
What are important books for UPSC Geography Mains?
Geography of India by Majid Hussain, Certificate Physical And Human Geography by
Goh Cheng Leong and Oxford Student Atlas for India are some of the important books.
Hence, we hope that this blog has helped you comprehend the key topics as well as study material that you need if you are choosing your optional paper as Geography for UPSC. For information about competitive exams in India stay in tune with Wings by Leverage Edu.