If you are wondering what is IELTS and how is it useful for your career, you have come to the right place. The International English Language Testing System or IELTS is an established test for examining English proficiency. The test is structured to assess the linguistic skills of a candidate who is not a native English speaker. This test is given by those who wish to study, migrate or work in some of the countries. In this blog, we will discuss IELTS, its importance, its syllabus, and helpful tips and tricks for carrying out your preparations for this exam.

Exam Name
IELTS
Full-Form
International English Language Testing System
Official Website
https://www.ielts.org/
Popular For
Studying abroad, work, and migration to English speaking countries like Australia, New Zealand, and the UK
Also Accepted by
Canada and UK
Conducted by
IDP Education Limited
Mode of Exam
Computer and Paper
IELTS Fee
INR 14,700 for registrations
Score Range
On a scale of 1 (the lowest to 9(the highest)
Contact Details
DP Head Office
+91-124-4445999/ 1800-102-4544
Email: ielts.india@idp.com
Check Out: IELTS Study Material
Recent Updates
Due to the pandemic. IELTS indicator is introduced for the aspirants.
IDP is going to administer the IELTS exam in India
IELTS Exam fees revised to INR 15500
IELTS exam booking has grown up by 10-15% post-Covid
IELTS Coaching registration has gone up by 56% in tier-II cities.
IELTS test centres have increased to 74 locations across India
Check Out: IELTS Sample Test
IELTS Exam Dates 2023
IELTS is conducted several times a year and at multiple locations. Here are some of the prominent dates in 2023:
Month
IELTS Exam Date 2023
January
-07 January 2023
-14 January 2023
-19 January 2023
-28 January 2023
February
-04 February 2023
-11 February 2023
-16 February 2023
-25February 2023
March
-02 March 2023
-11 March 2023
-18 March 2023
-25 March 2023
April
-01 April 2023
-15 April 2023
-20 April 2023
-29 April 2023
May
-06 May 2023
-11 May 2023
-20 May 2023
-27 May 2023
June
-03 June 2023
-10 June 2023
-15 June 2023
-24 June 2023
July
-06 July 2023
-15 July 2023
-22 July 2023
-29 July 2023
August
-05 August 2023
-10 August 2023
-19 August 2023
-26 August 2023
September
-02 September 2023
-09 September 2023
-14 September 2023
-23 September 2023
October
-07 October 2023
-12 October 2023
-21 October 2023
-28 October 2023
November
-04 November 2023
-09 November 2023
-18 November 2023
-25 November 2023
December
-02 December 2023
-07 December 2023
-09 December 2023
-16 December 2023
Also Read: IELTS Slot Booking Process
What is IELTS?
The IELTS is managed by IELTS, IDP (formerly British Council), and Cambridge Assessment English in India. This exam is of two kinds depending on the purpose of the test. The IELTS Academic is the test for those planning to study abroad. If you want to migrate or shift to another country for work, the exam you have to take is the General Training version. Irrespective of whichever form of exam you appear for, the eligibility criteria remain the same.
It is compulsory to give the IELTS exam if you want admission to the academic and training programs in Canada, New Zealand, the UK, and Australia. The score of this exam is accepted by more than 3000 US Universities and other such institutes around the world. Apart from the academics part, numerous MNCs and organizations require your IELTS score, especially if one of the branches of the country is located in an English-speaking country.
IELTS is considered the only English Language Test that is secure enough to be officially approved for UK Visa applicants by UK Visas and Immigration. The immigration authorities of Australia, Canada, and New Zealand accept its score making it the best substitute for TOEFL.
Check Out: IELTS Sample Letters
Types of IELTS
There are two types of IELTS exams. Both the IELTS have the same exam pattern for listening and speaking sections. However, the emphasis on the writing and reading sections is different. These exams are separately known as:
IELTS Academic Test
The IELTS Academic Test is taken by candidates who are aiming to pursue higher education or professional registration from an English-speaking country abroad.
IELTS General Test
The IELTS General Test is taken by those who are planning to migrate to English-speaking countries like Canada, Australia, and the UK.
To know more about Types of IELTS check out: Types of IELTS Exam!
IELTS General vs IELTS Academic
Below given are the details of IELTS General vs IELTS Academic:
| | |
| --- | --- |
| IELTS General | IELTS Academic |
| This exam includes general writing and general reading. | This exam includes academic writing and academic reading. |
| This exam is for individuals wanting to migrate, train, work or in case of secondary education. | This exam is for students wishing to pursue their higher education. |
| This exam is mostly attempted by those who want their visas for an English-speaking country. | This exam is mostly attempted by students wanting admission to foreign universities. |
Eligibility Criteria for IELTS
Although this test does not have strict rules like other examinations like GRE or GMAT, it has certain rules that need to be adhered to. Some of the basic IELTS eligibility conditions are:
You should be possessing a non-expired and valid passport.
A minimum of 16 years of age is compulsory.
If you are planning to migrate or study in Canada, Australia, the USA or New Zealand.
To know more about IELTS eligibility criteria check out: IELTS Eligibility
IELTS Registration
The IELTS registration process is quite simpler and can be done in both online and offline modes.
In order to register for IELTS, you need to visit the official website and click on the "book a test" option.
Then, you will be required to select a country and nearest location after which you can choose your preferred type as well as the date you want to take the exam.
Once you follow the major steps needed to register for the exam, you can fill out the application form with the required details, upload the documents and also pay the registration fee of 15,500 INR.
If you are unable to submit your IELTS application online, then you can simply download the registration form from the official website of the exam.
You can fill out the application at the office in person and submit your payment fee of INR 15,500 INR through a credit card, debit card, demand draft, or ICICI bank/Allahabad bank deposit slip.
To know all about IELTS Registration check out: IELTS Registration
IELTS Exam Pattern
The IELTS exam pattern is divided into the following four sections:
Reading
Writing
Speaking
Listening
These sections are required to be taken on the same day. There is no break allowed between them. However, the speaking section can be completed a week before or after the day you appear for the other 3 sections. This test lasts for 2 hours and 45 minutes.
Section
No. of questions
Duration
Details
Writing
2
60 minutes
There are 2 writing tasks that need to be
completed in the allotted time.
Listening
40
30 minutes
(excluding 10 minutes of transfer time)
There are 4 sections, each with 10 questions.
You are asked to listen to the recordings and then answer the questions.
Speaking
3 parts
11 to 14 minutes
There is a round of oral interview
conducted for this section.
Reading
40
60 minutes
There are 3 passages in total and you are asked to answer all questions.
Read more about IELTS Exam Pattern
IELTS Syllabus
The IELTS syllabus is based on the different sections of the exam. Here we have detailed the syllabus of the exam classified into key sections.
Listening
There are 4 sections with 10 questions in the section of IELTS Listening. It aims to evaluate your ability to comprehend the core ideas and detailed factual information, the opinions and approach of the speakers, the objective of an utterance and how well you can follow the progression of ideas. Each question is of one mark and there are different types of questions like multiple-choice, sentence completion, form/note/table/flowchart/summary completion, matching or plan/map diagram labelling. There are four types of recordings that are played which are as follows:
Recording 1: An conversation between two people [in an everyday social context]
Recording 2: A speech by a person/monologue.
Recording 3: A discussion in an academic context between a maximum of 4 people.
Recording 4: A monologue that is based on an academic subject.
Note: Remember that every question in the listening can only be heard once. That's why you need to take this test in a peaceful environment.
Reading
The Reading includes 3 sections and you are required to read the passage and answer the questions, which may include multiple-choice questions, summary writing, information matching, short answers and sentence completion. All the passages in this section consist of a maximum of 13-14 questions. The reading part of this module consists of a total of 40 questions. However, the reading passages and questions of the Academic and General exams are different and are given in detail below.
Must Read: IELTS Reading Tips
IELTS Academic: Reading (40 Questions in 60 Minutes)
The reading section of the Academic has 3 reading passages. The matter of the subject may vary from factual and descriptive to analytical and discursive. All the texts are selected from journals, magazines, newspapers and books and are exclusively selected for an audience that does not belong to any specialist group. For those of you looking for professional registration or trying to enter a university course abroad, this is the best choice for you. Every question is of one mark each with types of tasks ranging from
Multiple-choice
Identifying Information
Identifying Writer's Views/Claims
Matching Information
Matching Headings
Matching Features
Matching Sentence Endings
Sentence Completion
Summary, Note, Table, Flow-chart Completion
Diagram Label Completion
Short-answer Questions
IELTS General Training: Reading (40 Questions in 60 Minutes)
The General Training Reading consists of three sections. Applicants need to read excerpts taken from magazines, notices, handbooks of companies and guidelines, books, newspapers, and advertisements. The excerpt materials are taken from daily written materials of an English-speaking country. The three sections contain the following types of questions:
Section 1: Social Survival
Section 2: Work Survival
Section 3: General Reading
Types of Questions:
Multiple choice
Identifying information
Identifying the writer's views/claims
Matching information
Matching headings
Matching features
Matching sentence endings
Sentence completion
Summary completion
Note completion
Table completion
Flow-chart completion
Diagram label completion
Short-answer questions
Writing
The writing section for Academic and General is quite similar in its structure but differs in terms of content. Both the Academic and General Test's writing sections have 2 tasks that is two questions with a total duration of 60 minutes. Take a look at the types of tasks these two have:
IELTS Academic Writing
Task 1: Comprises a graph, table, chart, or diagram, the test-taker needs to describe the visual information in their own words.
Word Limit: 150 Words
Duration: 20 Minutes
Task 2: The test-taker needs to write an essay in response to an argument, a point of view, or a problem.
Word Limit: 250 Words
Duration: 40 Minutes
IELTS General Writing
Task 1: The test-taker needs to respond to a situation, for instance, they might be asked to write a letter requesting information or elaborating on a situation.
Word Limit: 150 Words
Duration (Advised): 20 Minutes
Task 2: The test-taker needs to write an essay in response to an argument, a point of view, or a problem.
Word Limit: 250 Words
Duration (Advised): 40 Minutes
Must Read: IELTS Writing Tips
Speaking
The IELTS speaking topic is a three-part process. This is an oral interview that is recorded in order to further evaluate the applicant. It will finally lead to a face-to-face interview with an examiner. It takes about 11-14 minutes to complete and evaluates the candidate's spoken English skills.
Part 1: General Questions
The examiner introduces him/herself and then asks the test-taker various general questions about themselves and a variety of questions on similar topics such as family, home, studies, work, and other interests. This lasts for about 4-5 minutes.
Part 2: Topic
A card will be given to you regarding a specific topic. The duration of this part is 3-4 minutes including the preparation time of a minute which gave before speaking.
Part 3: Discussion
An abstract or general discussion takes place on the topic given in part 2 and this part lasts for 4-5 minutes.
Also Read: IELTS vs TOEFL
IELTS Sample Questions And Answers
IELTS Band Scale
The table given below is how the IELTS scores are usually calculated.
Band Score
Skill Level
Details
9
Expert
Fully operational command of the English language.

The test-taker can use it in an appropriate,
accurate and fluent manner thus
showing complete understanding.

8
Very Good
Fully operational command over the English
with only infrequent and occasional unsystematic
mistakes and inaccuracies and inappropriate use.

This might be because misunderstandings in peculiar
and unfamiliar circumstances. But the test-taker is
very good at tackling complex and detailed argumentation.

7
Good
Operational command over the English language
with infrequent inaccuracies, inappropriate use and
misunderstandings in a few situations.

The test-taker is good at handling complex language
and understand detailed reasoning.

6
Competent
Effective command over the English language
though there are some inaccuracies, inappropriate
use and misunderstandings.

The test-taker can use and comprehend
fairly complex language, especially in familiar situations.

5
Modest
Partial command of the English language.

The test-taker generally copes well with overall meaning
in most situations, but they are likely to make some mistakes.
The test-taker should be able to tackle basic communication
in their own field.

4
Limited
The basic competence of the test-taker is
limited to familiar incidents.

They are like to face problems in understanding and
expression but they are unable to use complex language.

3
Extremely Limited
Understanding of only general meanings in
highly familiar situations.

But there are more frequent
breakdowns in communication.

2
Intermittent User
Represents difficulty in understanding spoken
as well as written English.
1
Non-user
Shows no ability to use the language except
only a few isolated words.
0
Test not attempted
Questions not answered.
IELTS Indicator
IELTS Indicator is the safest and fastest way to demonstrate your English language skills from the comfort of your home. It is an online test launched by the British Council last year during the havoc of COVID-19 to help students apply for educational institutes across the world. Here are some important aspects of the IELTS Indicator to keep in mind-
It is held once every week online
IELTS Indicator can be administrated online
It covers the four main skills like the IELTS General- Speaking, Writing, Listening, and Reading
It is a timed test that matches the structure of an in-person test.
It is a live, online test with an allocated start time and duration
Listening, Reading and Writing parts of the test need to be completed in one sitting, while the Speaking test takes place a few days before or after the other sections.
There are many universities in the UK, Canada, and the USA that accept the IELTS indicator, however, it is not a substitute for in-person IELTS tests that is mandatory for migration. It is important to check with the university before applying for the test whether they accept the scores of the IELTS Indicator or not.
Top Universities Accepting IELTS Scores
It is a widely accepted language proficiency test whether you are applying to a study program or a visa application. It is commonly accepted by British, Canadian, Irish, Australian, European, American, and New Zealand academic institutions. Moreover, many universities in Germany also take IELTS scores for their English-taught programs and some of these academic institutions include:
The University of Bonn
The University of Marburg
To know more, take a look at our comprehensive list of top universities accepting IELTS scores!
How to Crack IELTS in 3 Months?
If you are aiming to crack your IELTS exam in 3 months, the most important thing is, to begin by devising a study plan and preparation strategy to work on each section of the exam. Make a study schedule to cover the syllabus of the exam for the first one and a half months and then spend the rest of the preparation period working on your strong and weak points as well as practising as many sample tests as possible.
Here's a detailed preparation strategy on How to Crack IELTS in 3 Months!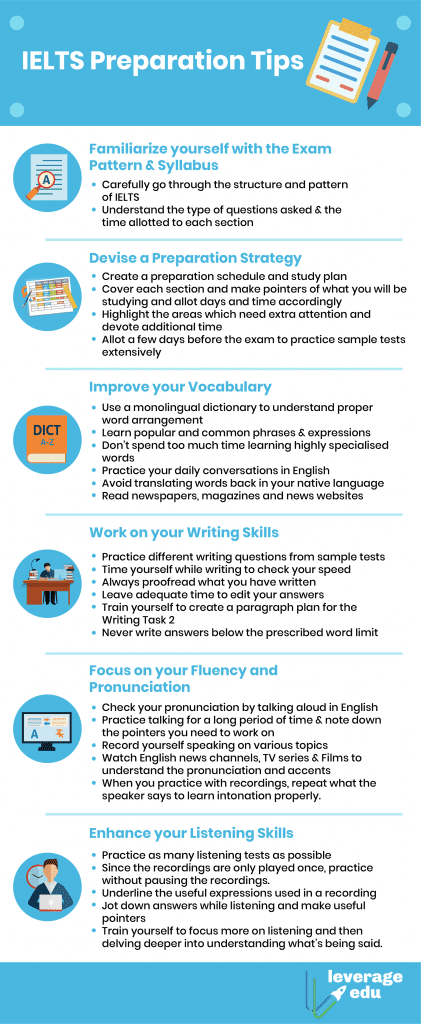 IELTS Coaching
The global pandemic has changed everything around us. Traditional coaching centres have now started offering online classes. Leverage Live is one of the best online learning platforms available out there for preparation. With well-versed faculty, well-structured study material, high-quality video content, doubt clarification sessions, personalized study plans, and motivating teachers, you will surely get a high score in each section.
For more such information, follow, like and subscribe to Leverage IELTS
Leverage Edu Rockstars
Here are some of our students who scored their dream IELTS score with expert guidance at Leverage Live, have a look at their journey:
Our Student, Abhay Achieved a Whopping Band 8 in IELTS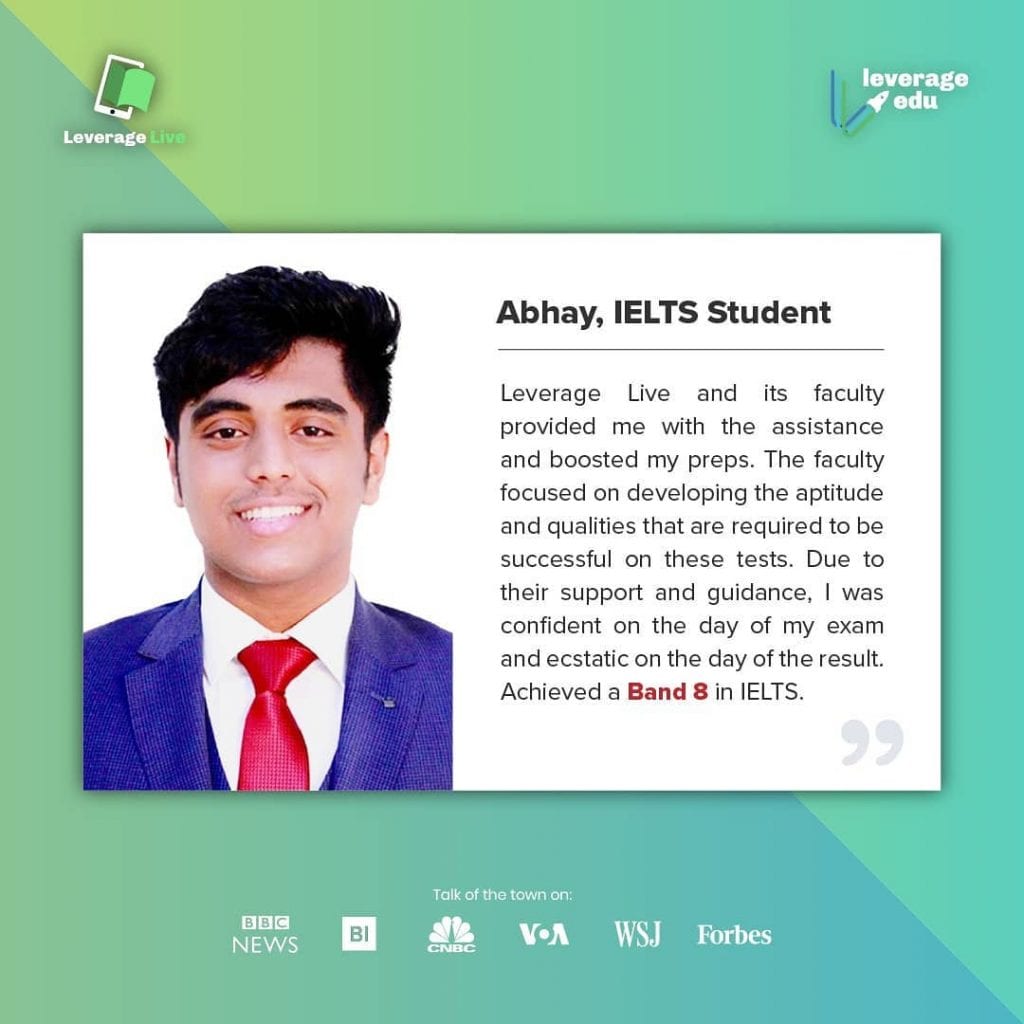 Another Amazing Achiever at Leverage Live, Niharika Scored a Striking Band 8!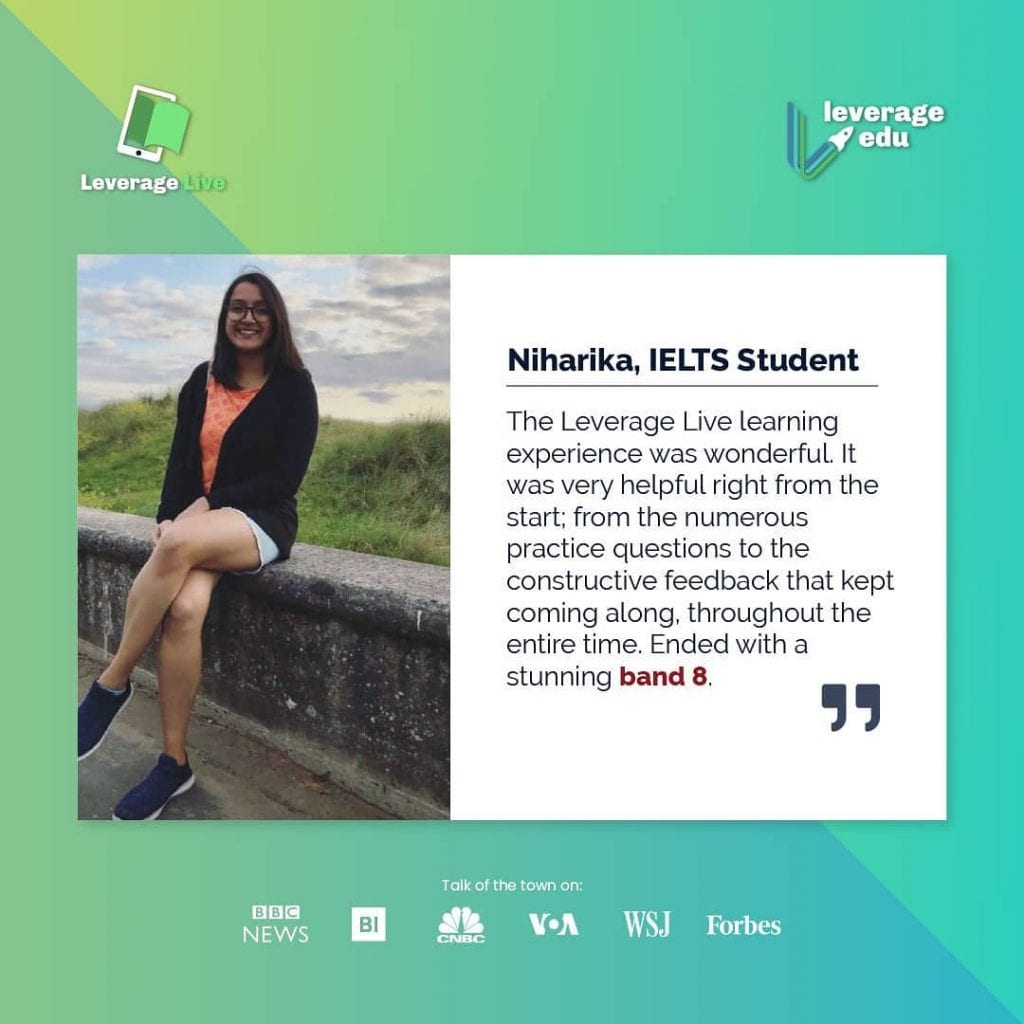 Our student Pratyush's amazing 7.5 score features amongst the top ones!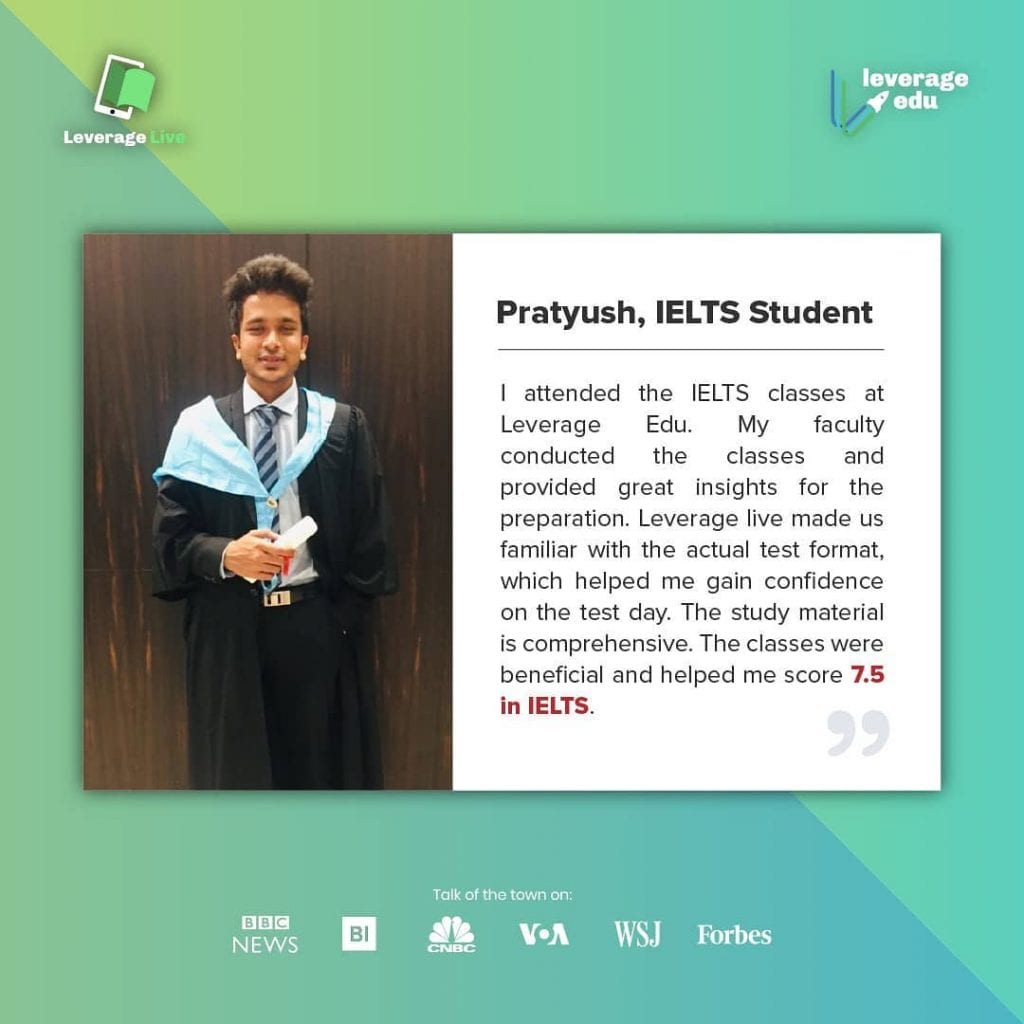 FAQs
What is IELTS?

International English Language Testing System is the most popular English language proficiency test taken by those wanting to study, work and migrate abroad. It can be taken as either paper or computer-based based on your convenience.
What is a good score for IELTS?

As per British Council, scoring a 9 in the exam means that you are an "expert" in English while getting an 8 shows that you are "very good" and so on. Generally, the test score varies from 1 to 9, i.e. non-user to expert and 0 for "did not attempt".
How much does it cost to take the IELTS?

In order to apply for this, you need to generally pay 13,250 INR for a single attempt and if you retake the exam, then you need to submit the fee again. Also, the fee might vary as per the test type, here are the fee details for different tests:
Computer-delivered: 13,250 INR
IELTS for UKVI: 18,500 INR
Life Skills: 13,850 INR
Pen and paper-based: 13250 INR
What is the use of the IELTS exam?

It aims to analyse the language proficiency and ability of the aspirants who are aspiring to study or work in a country where English is used as the language of communication. It is frequently accepted as the language proficiency test in the US, UK, Canada, and various other countries.
How long is IELTS valid?

IELTS results are valid for two years from the date of result declaration but it also depends on the organisation to set its own validity for different purposes.
How many times can you take IELTS?

There is no certain time limit to retaking the test and it can be given as many times as candidates want to get the right score.
Where can I book my IELTS slot?

Slot booking can be carried out online or in person. You can visit a centre affiliated with any of its organisations like the IDP or you can visit the official website of the exam and book your test.
Can I get a scholarship through IELTS?

If you appear for this exam, there is a good chance you can get a scholarship through your IELTS score. The British Council has given the British Council Awards to many international students with good scores in their respective exams as well as brilliant academic scores. These scholarships provide financial assistance for students to study at their university of choice given that their IELTS score is accepted at their chosen university. 
We hope that this comprehensive guide about IELTS helped you understand all the details about this pivotal exam for those planning to study abroad. If you are preparing for IELTS and want to know the essential things to keep in mind, our Leverage Edu experts can guide you throughout the exam preparation mentoring you to successfully ace this exam.