Economics encompasses almost every area of modern life from taking day-to-day decisions at home to handling managerial tasks efficiently in an organization. It is the study of making choices while keeping in mind the optimum utilization of resources. Managerial Economics is a sub-branch of this academic discipline and involves the application of economic tools, theories, and methods to facilitate various decisions in a business organization. Through this blog, we aim to delve deeper into the field of Managerial Economics, its key features and scope of managerial economics, the major courses offered in this area of study.

What is Managerial Economics?
Managerial Economics is concerned with the application of the principles and theories of both microeconomics and macroeconomics in facilitating various strategies and decisions in a business organization. It is a field of management studies that implements economic theories and methodologies. The majority of the forecasts, assumptions, and investments are derived from the detailed theories of this field. It involves certain processes that are used in allocating resources in a way that leads to minimalizing the cost of production. If there are scarce resources, the managerial economists take proficient and adequate decisions regarding suppliers, customers, and organizations. Concepts of Managerial Economics are categorized under three main sections some focusing on customer satisfaction while others on ensuring an efficient production. Here are the two major types of Managerial Economics: 
The Three Main Perspectives Of Managerial Economics 
Liberal Managerialism
As the name suggests, liberal managerialism is a type of managerial economics theory which is slightly left of center. It is generally more accepted by those of liberal political views. The theory was originally developed by C. E. Lindblom in the 1950s and suggests that we should utilize democratic institutions to make economic decisions. Liberal managerialist theories suggest that we should all be consulted about the choices that affect our lives and that this should be done through "countervailing power". This means that certain groups in society are given certain economic powers to offset the power of business, for example trade unions are given the power to negotiate wages and conditions with employers. These types of theories support interventionism in politics and economics, as they believe it will help keep social stability.*
2. Normative managerialism
Is similar to liberal managerialism, but rather than focusing on the choice between markets or planning, it focuses on how managers can best achieve their goals within the limits set by the economy. This means that they don't necessarily believe in a specific form of government or economic system but instead try to find what works best under different circumstances. They believe that managers should be allowed to make their own decisions within a framework set by the government and other institutions (such as trade unions).
3. Radical managerialism
Focuses on macroeconomic issues and believes position combines aspects of both neoclassical and normative approaches because it believes assumptions about perfect competition. It is seen as a critique of managerialism by postmodernists and social constructionists.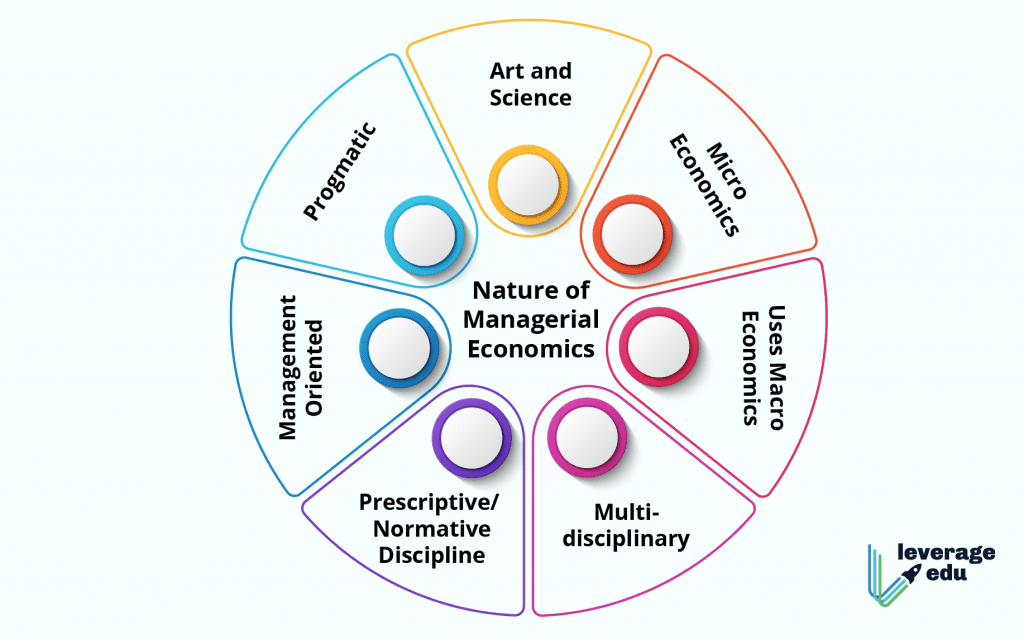 Nature of Managerial Economics
To learn more about management economics, you must first understand its distinct aspects. Let us learn about the nature of this notion in the following points:
Art and Science
To make judgments or solve issues, management theory necessitates a great deal of critical and logical thinking as well as analytical abilities. Many economists use it as a research tool, claiming that it entails using various economic principles, tactics, and approaches to address business challenges.
Micro Economics
Managers in management economics usually deal with challenges that are specific to a particular business rather than the economy as a whole. As a result, it is regarded as an essential component of microeconomics.
Uses Macro Economics
A company operates in the outside world, that is, it serves the consumer, who is a vital element of the economy. Managers must examine numerous macroeconomic elements such as market dynamics, economic developments, government policies, and so on, as well as their impact on the organization, for this reason.
Multidisciplinary
It employs a variety of tools and ideas from several disciplines, including accounting, finance, statistics, mathematics, manufacturing, operational research, human resources, and marketing.
Prescriptive/Normative Discipline:
It strives to achieve the goal and fixes particular challenges or problems by adding corrective procedures.
Management Oriented
This is a tool that managers may use to cope successfully with challenges and uncertainties in the workplace. This also enables the establishment of priorities, the formulation of policies, and the implementation of effective decision-making.
Pragmatic
Realistic and sensible solutions to day-to-day business difficulties are available.
Principles of Managerial Economics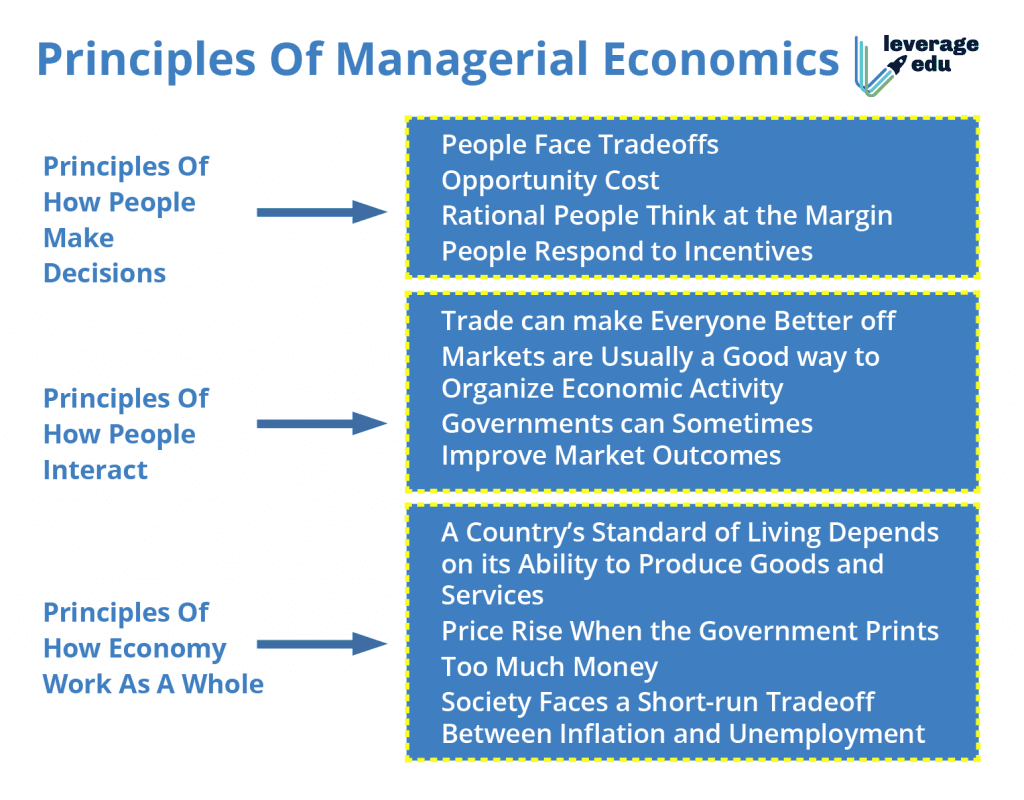 Responsibilities of a Managerial Economist
A Managerial Economist plays a key role in advising the management of a firm on various trade decisions and needs to be aware of recent market trends and happenings in the economy. Let's take a look at the various roles and responsibilities that a Managerial Economist handles:
Carrying out a cost-benefit analysis.
Studying and analysing the macro-economic patterns of a particular firm.
Finding and securing the possibilities of change in the economic environment of the organization.
Advising the decisions on public relations, foreign exchange and trade.
Conducting detailed research of the industrial market.
Skills Required for Managerial Economist
Here is a list of major prerequisites which you need to possess if you want to secure a career in Managerial Economist:
Good with Numbers
Excellent communication skills
Inquisitive
Problem-solving abilities
Observational Skills
Organisational Skills
Team Handling Abilities
Curriculum of Managerial Economics
Generally, a degree program or short-term course in Managerial Economics involves a mixture of concepts of Business Administration and Economics. Following are the core subjects that are usually included in the curriculum of a prospective program in this academic discipline:
Marketing Management
Business Statistics
Financial Management
Macroeconomics and Microeconomics
Human Resource Management
Organizational Behaviour
Accounting
Business Environment
Moreover, under the above given key subjects, here is a list of various Economic concepts that you will get to study during a course in Managerial Economics:
Measures of productivity, production of services and goods.
Different types of markets
Concepts of demand, supply, market equilibrium.
Planning strategies about the hiring process and infrastructure.
Elasticity of demand and supply, subsidies and taxes.
Targeting pricing and selling decisions under competitive pressures.
Problems with market and strategies to solve them.
Scope of Managerial Economics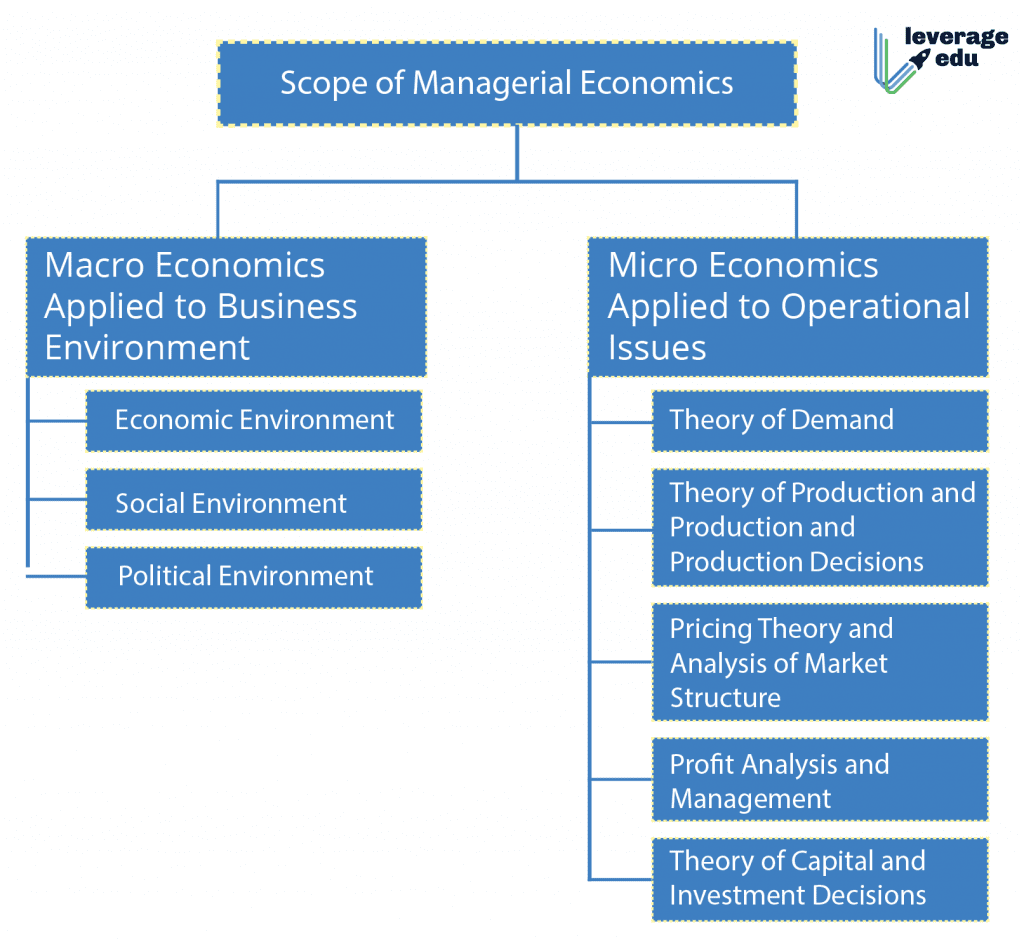 Top 10 Universities for Managerial Economics Abroad
There are numerous universities and institutes around the world that offer plentiful programs in Managerial Economics, ranging from degree courses to diplomas. To assist you further in your research, here is a list of the top 10 universities providing an array of courses in this field:
Top 10 Universities for Managerial Economics in India
Sri Guru Gobind Singh College of Commerce, University of Delhi
Dr. Bhim Rao Ambedkar College, Delhi
FORE School of Management
JIMS Rohini, Sector-5 – Jagan Institute of Management Studies
School of Management, BML Munjal University
GIM – Goa Institute of Management
LPU – Lovely Professional University
IIM Raipur – Indian Institute of Management,Chhattisgarh
Amity University, Noida
VGSOM IIT Kharagpur – Vinod Gupta School of Management
Top Reference Books
Given below are some of the best books that can be considered to learn more about Managerial economics:

FAQs
What are the methods of Managerial Economics?
Managerial Economics deals with techniques, concepts, and tools. The major factors that are a part of managerial Economics methods are: 
1. Statistical Estimation 
2. Numerical Analysis
3. Game Theory 
4. Decision Making 
5. Optimization
What is managerial Economics with examples?
Most of the big business houses require experts of Managerial Economics to contribute to major decisions related to funds assessment, product choice, business area selection, price determination, sales, promotion, optimization, and many other functions.
What are the objectives of Managerial Economics?
Managerial Economics deals with the broadening of business goals. It helps in optimizing the output of organization. It also maintains the marketing techniques and procedures. 
Is Managerial Economics a good major?
Yes, Managerial Economics is a great major provided you have a good hold over mathematics and statistics. After completing your undergraduate degree with this major, you can get lucrative jobs in MNCs.
Thus, if you want to pursue a lesser-known domain of Economics and Business Administration, then Managerial Economics might be the right field for you. Since the course revolves around the industrial market, graduates acquiring this degree remain in consistent demand of the major organizations and companies. Take the help of Leverage Edu's AI tool to browse through a wide range of courses in Managerial Economics and find the right one that fits your interests and career aspirations.