There are endless reasons to pursue an MS in UK, right from England is one of the world's most popular study destinations to leading universities like Oxford and Cambridge. Due to increasing competition and a high volume of applicants planning to study abroad, it is challenging for students to grab a seat in one of the top universities in the world. Suppose you have the scientific intellect and want to pursue a master's degree in a destination offering excellent world-class research and recognized degrees. In that case, UK is the perfect place for you.
Course
MS in UK
Duration
1-2 years
Average Cost
10,000 GBP to 42,000 GBP
[9.5 Lakhs to 40 Lakhs]
Requirements
IELTS/TOEFL/PTE & GRE Scores
Popular Courses
MS in Civil Engineering; MS in Financial Technology; MS in Data Analytics
Top Universities for MS in UK
University of Cambridge
University of Oxford
The University of Manchester
University of Leeds
University of Warwick
One App for All Your Study Abroad Needs
Do you want to study abroad but don't know where to start? we've got you covered. Download our Free Leverage Edu App, which offers a one-stop destination for all your study abroad requirements. Start your journey, track your progress, grow with the community and so much more!
About Masters (MS) in UK
Welcoming more than 500,000 international students every year, UK offers great diversity and a place for you to feel at home. Students do not have to worry about a language barrier, perhaps one of the initial motivation factors among study planning to pursue an MS from abroad. The country has some of the most beautiful landscapes and tourist destinations for students to explore.
Students need to know that an MS in UK generally lasts for a duration of 1-2years which means affordable tuition costs and an opportunity to begin your work sooner, unlike in other places in the world.
Check out the Guide for Indian Students to Study in UK after the 12th!
Why Study Masters (MS) in UK?
There are many reasons why lakhs of students flock to the UK for their post-graduation or MS in UK. Here are the most important ones that will attract you to an MS in UK:-
Education System– UK's education system needs no introduction. Universities offer research-led education that develops an international student professionally.
Excellent Career Prospects- Once you have a degree of MS in UK, career opportunities open up in every part of the world. Graduates are even offered better salaries and positions after their masters.
Student Cities– UK's student cities of London, Bristol, Edinburgh, Manchester, etc. are bustling with a multi-cultural lifestyle that makes UK a home away from home for Indian students.
Networking– Imagine a class full of students from different countries, different cultures, and different working backgrounds! Looks like a great networking opportunity right! Also, these years that you spend for MS in UK will give you friendships that last a lifetime.
Types of Masters (MS) in UK
Masters in UK for Indian students are of 2 major types namely, Taught Masters and Research Masters. Let's know about the two in detail and which of the two is relevant for you!
Taught Masters
Under the taught courses of masters in the UK, there are 4 main types of programs namely, Master in Arts (MA), Master in Science (MSc), Master of Engineering (MEng), and Master of Business Administration (MBA). The students who have opted for a taught master's program are required to attend weekly lectures, tutorials, and seminars. The assessment is done through projects or dissertations. The full-time taught masters generally last for 1 to 2 years.
Research Masters
The most prevalent research degrees in the UK include a master of Philosophy (MPhil), Master of Science (MSc), and Master of Research (MRes) to name a few. These types of masters in the UK generally last 3 to 4 years. At the end of the course, the students prepare a thesis of around 60,000 to 1,00,000 words under the supervision of senior academicians which is then presented in oral examinations.
Popular Intakes in UK
| | | |
| --- | --- | --- |
| Intake | Starting Months | Application Deadlines |
| Fall/ Primary Intake | September | June- July |
| Winter/Secondary Intake | January/February | August-September |
| Summer/Least Intake | April/May | October-January |
Top MS Courses in UK 2023
Here are the top 10 MS programs in the UK in 2023:
MS in UK
University
Costs
Master of Business Administration (1 year)
University of the Arts, London
30,422 GBP/year
(INR 28 Lakhs)
MSc in International Marketing
(2 years)
University of Sussex
6,451 GBP/year
(INR 6 Lakhs)
MSc in Information Systems
(1 year)
University of Portsmouth
18,479 GBP/year
(INR 17.5 Lakhs)
MSc in Environmental Management
(1 year)
The University of the West of England
15,493 GBP/year
(INR 14.3 Lakhs)
MSc in International Tourism and Hospitality Management
(1 year)
Leeds Beckett University
14,648 GBP/year
(INR 13.8 Lakhs)
MSc in IT Security
(1 year)
University of Central Lancashire
16,000 GBP/year
(INR 15.2 Lakhs)
MSc in Computer Science
(1 year)
University of South Wales
16,112 GBP/year
(INR 15.5 Lakhs)
MSc in Conservation Biology
(1 year)
Manchester Metropolitan University
18,591 GBP/year
(INR 17.2 Lakhs)
MSc in Financial Technology
(1 year)
University of Glasgow
32,584 GBP/year
(INR 30 Lakhs)
MSc Aviation Management
(1 year)
University of South Wales
15,780 GBP/year
(INR 15 Lakhs)
MSc in Data Science
University of Edinburgh
32,500 GBP/year
(INR 31 Lakhs)
MSc in Global Supply Management & Logistics
University of Sussex
22,500 GBP/year
(INR 21.5 Lakhs)
MSc in Finance and Accounting
University of Surrey
20,200 GBP/year
(INR 19.3 Lakhs)
MSc in Human Resource Management
University of Surrey
20,200 GBP/ year
(INR 19.3 Lakhs)
Try Out The Most Reliable Study Abroad Expert
Are you thinking about studying abroad? However, you have no idea which universities or courses are appropriate for you! Take a look at our Course Finder, which is powered by AI. Fill in the blanks and let AI compare your selections to millions of others. a few data points, and there you have it! You come across just what you're looking for. Allowing you to save hours of research in a matter of seconds
Types of MS Courses in UK
While some students seize the advantage of living overseas, some people consider studying abroad as a potential for higher quality education and career improvement. Is it a good idea to study in the UK? Overcoming various roadblocks and hurdles in your postgraduation can fetch you a greater position in the field of Science and Technology. There are four main types of MS courses in UK:
Master of Science (MSc)
Master of Arts (MA)
Master of Research (MRes)
Master of Business Administration (MBA)
Popular Specialisations for MS in UK
Let us take a look at some of the emerging fields in which you can pursue an MS in UK:
Data Management and Cyber Security
The course focuses on combing the aspects of business, technology, and policy. Students interested in acquiring an in-depth understanding of Cybersecurity and Data Management can opt for this master's degree course. Management and Cyber Security equip students with skills to analyze and manage the data assets and security measures of an organization and to obtain an advanced knowledge of the data management principles and technologies. The program spans a duration of 12 to 18 months depending on the UK university you've chosen.
Civil Engineering Structures
MSc in Civil Engineering Structures has a broad scope wherein the course provides students with the required tools to completely immerse themselves in the theoretical, analytical, and experimental aspects of different types of Civil Engineering. This is done so that the learners can investigate different problems related to infrastructures and constructions, and thereby generate practical solutions. The scope of Civil Engineering is endless!
Analytical Chemistry
MSc in Analytical Chemistry provides students with comprehensive training in Analytical Chemistry and its execution in various domains such as pharmaceutical, biomedical, food, and environmental analysis. It is a popular one in the list of popular courses after BSc Chemistry. Upon graduating with this MS in the UK, the Analytical chemists will be able to assess the chemical nature and structure of the substances and apply their professional skills in diverse fields including forensic analysis, drug development, and toxicology.
Applied Bioinformatics
The coursework aims to equip graduates to apply computation techniques and information technology to process and analyze genetic and genomic data. The program generally spans between 1 to 3 years, depending on the university chosen. MS in Applied Bioinformatics will give students an advanced understanding and the skills to design and execute software databases and tools, using contemporary and modern web-based technologies.
Forensic Dentistry
The students enrolled in this 1-year program will develop a detailed knowledge of various disciplines of Forensic Science and identify the where, when and how Forensic Dentistry is related to them. The course is specially designed for dentists who wish to enter this domain and work in Forensics. The topics in the curriculum generally include Dental Identification, Age Estimation from Dental Sources, Bite Mark Identification, Practical experience in Mortuary, Disaster Victim Identification, etc.
Financial Technology (1 year)
Advanced Computer Science (1 year)
Communications Network and Software (1 year)
Marketing and Business Analysis (1 year)
Sustainable Energy Systems (1 year)
Criminology and Criminal Justice (1 year)
Medical Law (1 year)
Other Popular Courses for Masters in UK
Masters programs in the United Kingdom provide a wide range of specialty courses that help students enhance their expertise in their disciplines. The following are some of the most popular specialties among overseas students:
Finance And Investments
Diagnostic Imaging
Global Politics
Popular 2-Year Courses for Masters in UK
As previously stated, certain master's programs in the United Kingdom might last up to four years. However, many Indian students prefer to study for a master's degree in the United Kingdom for two years, which prepares them to be a professional in their industry. The following are some of the most popular two-year Master's programs in the United Kingdom:
Advanced Electrical Power Systems Engineering
Applied Mathematics
Arts Management, Policy, and Practice
Classics and Ancient History
Clinical Research
Composition (Instrumental and Vocal music)
Global Health
Health Psychology
Human Rights – Political Science
International Development
International Political Economy (Research)
Model-based Drug Development
Political Science – European Politics & Policy Pathway
Psychology of Education
Real Estate Development
Translation and Interpreting Studies
Application Process for Masters in UK
Here's step-by-step guidance for completing your MS application in the United Kingdom: –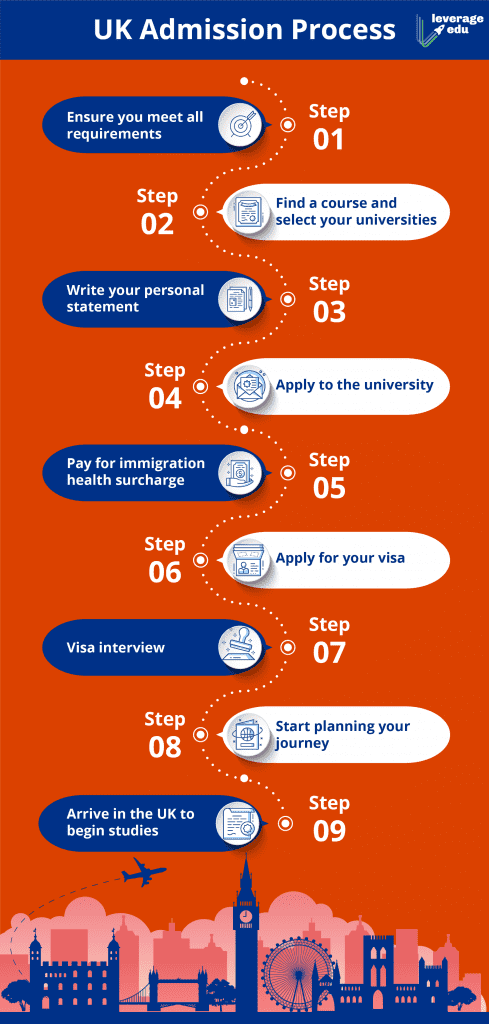 Step-1: Shortlist Courses and Universities
The first stage in the application process is to narrow down your options for courses and colleges based on your academic background and preferences. Students may use AI-Course Finder to select courses and institutions, develop a list of universities where they are most likely to succeed, and organize their application process ahead of time.
Step-2: Know Your Deadlines
The next step is to learn the specific dates for the universities and institutions in the United Kingdom to which you intend to apply. As an Indian student, you should begin your application process at least a year to six months ahead of time so that you have the time to take the entrance examinations, and English tests, and submit your application on time.
Step-3: Take Entrance Tests
Students must take IELTS, TOEFL, PTE, or GRE/GMAT/LNAT/BMAT/MAT as the third stage in the admission process for UK institutions (in some courses). Students may be required to submit SAT or ACT exam scores at various colleges. The Duolingo Test is a new addition to English proficiency examinations that allow students to take the exam from the comfort of their own homes and is approved all around the world.
Step-4: Compile Your Documents
The next step is to compile all the required documents and test scores for the application process. This means students should start writing their SOPs, getting letters of recommendation from teachers and supervisors, and arranging their financial statements along with other documents like test scorecards. With the COVID-19 pandemic, students must download their vaccine certificates and specify the administered vaccine for the application.
Step-5: Get Started with Your Application
After you have received your papers, you may begin applying using the online application forms provided on the university websites. Students interested in applying to UK institutions that accept direct applications should begin by visiting the university's official website. They have to select the courses, pay the application fees and start the online application process.
Top Universities and Colleges for MS in the UK: Rankings 2023
Going abroad to pursue higher education can be a life-changing experience for most Indian students. Below is a list of some of the globally ranked universities and colleges offering a specialization in Master of Science:
Are you planning to study in the UK, but financial constraints are a problem between you and your dreams? Worry no more, click here to about various scholarships for Indian students aspiring to study in the UK.
Eligibility Requirements for MS in UK
To apply for an MS degree in UK, there are certain prerequisites that you will have to fulfill to be eligible for your chosen program. Though the actual course criteria might vary as per the program and university, here are some common eligibility requirements you must know about:
An undergraduate degree in a related field from a recognized academic institution and equivalent to UK undergraduate degree.
GRE scores for postgraduate degrees in the field of Science, Engineering, and Technology
Work experience is preferred if a candidate has completed their previous degree in a different field.
GRE Requirements
| | | |
| --- | --- | --- |
| Exam | Quantitative | Verbal |
| GRE | 159 – 167 | 145 – 160 |
GMAT Requirement
| | |
| --- | --- |
| Exam | Average Requirement |
| GMAT | 600 – 700 |
English Language Requirements
Students should familiarise themselves with the university calendar and apply for admission carefully because the scorecard for these tests is valid for two years.
Documents Required
Cost of studying MS in UK
Studying in UK can be expensive for Indian students because of the tuition fees and high living expenses. The cost of studying MS in the UK is given below based on the general standards of living:-
| | |
| --- | --- |
| Type of Expenses | Average Cost (INR) |
| Tuition Fee | INR 9.96 Lakhs to INR 42.86 Lakhs |
| Accommodation | INR 31,000-INR 49,000 per month |
| Travel | INR 3,970 per month |
| Food | INR 8,900-INR 20,000 per month |
| Miscellaneous (Books, utilities, leisure, etc) | INR 50,740 per month |
Finance Your Study Abroad Dream With Leverage Edu
If you want to study abroad but are concerned about your financial situation or are unsure about study loans, we can assist. Check out leverage finance and we will give you zero service fees, the best interest rates, comparative analysis, and many other benefits you can also send money abroad in just a few taps using our forex services. You may check your eligibility by going to the link below.

To get a more personalized cost of studying MS in UK, use Leverage Edu's cost of a living calculator!
Scholarships for Studying in UK
Scholarships are a big part of every student's application journey. They give every student an equal opportunity at getting an overseas education even if they don't have the financial means. Some universities in UK offer merit-based scholarships but you can always apply for the following UK scholarships for Indian students once you get accepted:-
India's Largest Study Abroad Scholarship
You must have come across a dozen of study abroad scholarships that cover the entire expense of tuition fees and are fully funded. But have you heard about the popular Leverage Edu scholarship worth INR 5,00,00,000! Yes, you read it right, Leverage Edu is offering an overseas scholarship worth INR 5 Crore exclusively for Indian students. India's largest study abroad scholarship is meant to help hundreds of Indians with waivers on their tuition fees, and living expenses, as well as easing costs related to visa applications, excursions, and on-campus expenditure.
Masters in UK vs the USA vs Canada vs Australia
| | | |
| --- | --- | --- |
| Criteria | Tuition Fees (in GBP) | Tuition Fees (in INR) |
| MS in UK | 15,000 – 35,000 | 15,12,849 – 35,29,982 |
| MS in USA | 18,500 – 46,500 | 18,65,847 – 46,89,833 |
| MS in Canada | 17,500 – 32,104 | 17,64,991 – 32,37,901 |
| MS in Australia | 11,000 – 28,000 | 11,09,422 – 28,23,985 |
Masters in UK Without IELTS
Here's a list of top universities in UK where you can study masters without IELTS:-
Robert Gordon University
Audencia Nantes School of Management
Jobs After Masters in UK
After completing your MS in the United Kingdom, you can either search for work or continue your education. A student with a doctoral degree earns an average income of 64,000 GBP per year, which is almost 23 percent more than a master's graduate. The following is a list of the most popular jobs in the UK, together with their annual salaries:
| | | |
| --- | --- | --- |
| Sector | Average Annual Salary (in GBP) | Average Annual Salary (in INR) |
| Financial Services | 77,000 | (INR 73 Lakhs) |
| Executive Management & Change | 70,000 | (INR 66 Lakhs) |
| Airline | 63,000 | (INR 60 Lakhs) |
| Legal Department | 61,000 | (INR 58 Lakhs) |
| Compliance, AML, KYC & Monitoring | 57,000 | (INR 54 Lakhs) |
| Legal & Paralegal | 56,000 | (INR 56Lakhs) |
| Graphic Designing | 24,000 | (INR 22.9 Lakhs) |
| Software Development | 32,000 | (INR 30.5 Lakhs) |
| Data Analysis and Management | 38,000 | (INR 36 Lakhs) |
Top Recruiters for MS in UK
| | |
| --- | --- |
| University | Top Recruiters |
| University of Birmingham | Rolls-Royce | Goldman Sachs | Bank of America | P&G | ACCENTURE | Cisco Systems | Google | Merrill Lynch | Jaguar | AC Neilson | Nissan | BMW | British Petroleum | Accenture | Microsoft |
| Brunel University London | Triumph Motorcycles | Accenture | Tata Motors | Local Oye | Lenovo | HSBC | Atkin Global | Novartis | Barclays Bank | Ubisoft | caterpillar | British Airways | BBC | World Bank | Rolls Royce | EasyJet |
| Birmingham City University | Hewlett Packard | Atkin Global | Rainbow | Mercedes Benz | Capita | Cisco Systems | Rolls Royce | JCB | Deloitte | Triumph Motorcycles | IBM | Fujitsu | Intel | Robert Bosch | Siemens |
| The University of Liverpool | BBC | Toyota | British Airways | Shell | Capita | caterpillar | Atkin Global | Ford Motors | Unilever | JCB | Deloitte | Ericsson India | Marks and Spencer | Astra ZenecaLtd | Glaxo Smithkline |
| Coventry University | BBC | The Animation Picture Company | PWC | BMW | Royal Jordanian | McCann | shell | Jacobs | Honda Cars | Procter Gamble | TATA | Venus | Millward brown | GM Motors | Accenture |
Student Life in UK
Students from all over the world yearn to study and experience the unique student life in the United Kingdom. The royal country offers a rich lifestyle with unique world heritage sites, cheap transportation facilities, incredible food alternatives, recreation facilities, and an innovative and technically advanced cultural life. From visiting classic destinations like Big Ben, and National Museums, exploring its evergreen countryside to traveling to nearby European countries, studying in the UK is an enriching experience. The UK government to ensure a happy student life also allows international students to work part-time during their academic year and full-time during the holidays.
Best Student Cities in the UK 2023
Below we have listed the five best cities to study in the UK. The list has been created based on specific criteria such as the University Ranking, the diversity of students, and affordability from students' point of view.
Edinburgh
Newcastle
Birmingham
Bristol
Nottingham
Sheffield
From living on campus to living in student-friendly cities like London, Liverpool, Manchester & Edinburgh. International students in the UK can experience dynamic, opportunity-rich student life. International students have an array of housing options like renting apartments and living in hostels or dormitories. The UK offers its international students a dual experience of living at either a campus-based university or a city-based university with world-class facilities and access to cosmopolitan life!
Work Permit in UK
With the new work permit in place, International students can stay in the UK for 2 years after graduation and for 3 years after completing their PhD program. This work permit is due to start on 1 July 2021 and all students coming for the September 2021 intake are eligible for the work permit.
World's First & Largest Online University Fair Platform
Get an opportunity to speak with renowned university officials one-on-one and learn more about the campus, their courses, the application process, and prospective job options following the course. Apply to the UniConnect fair with a single click and receive on-the-spot offers from major colleges. In exclusive webinars and lectures, learn how to apply for significant scholarships and school loans. In just a few simple steps, you may attend the UniConnect fair.
Step 1: Register for UniConnect by creating an account
Step 2: Complete your profile to view the recommended universities
Step 3: Visit university booths and interact with university experts
Worried About IELTS? Take a Demo Class with Leverage Live Experts and Learn the Coolest Ways to Ace the Exam in One Go!
FAQs
How much does it cost to do MS in UK?
The UK is amongst the sought-after and affordable study destinations for MS. Spanning mainly across the duration of 1-2 years, there are many MS courses offered by UK universities in different specializations and areas of study. The cost of MS in UK ranges somewhere between 15,000 EUR to 35,000 EUR (indicative).
How many years is MS in UK?
MS in UK is generally around 1-2 years though 1-year master's programs are the most popular ones and are also offered in varied specializations from Financial Technology to Sustainable Energy and much more.
Which exam is required for MS in UK?
You will have to qualify for GRE (Graduate Record Examination) to study MS in UK and you will also be required to submit language proficiency scores of IELTS, TOEFL, etc.
If you're planning to study for an MS in UK and you're confused about which university would take you to a promising career. Then, you can reach out to our experts at Leverage Edu, to get the best career guidance, right from identifying the most suited university, followed by information on visas, eligibility requirements, scholarship programs, and all other key aspects of the admission process.