Is it possible to study in UK without IELTS? Yes, it is possible to study in UK without IELTS if you apply to certain universities that have alternative requirements such as proof of over 60% in English in Class XI and XII, an undergraduate degree in English, or a pre-sessional language course available for international students. Some of the top UK without IELTS universities are the University of Central Lancashire, the University of Greenwich, the University of Northampton, the University of Plymouth, Portsmouth University, and Northumbria University. In this blog, we bring you all the information about the colleges and courses to study in UK without IELTS.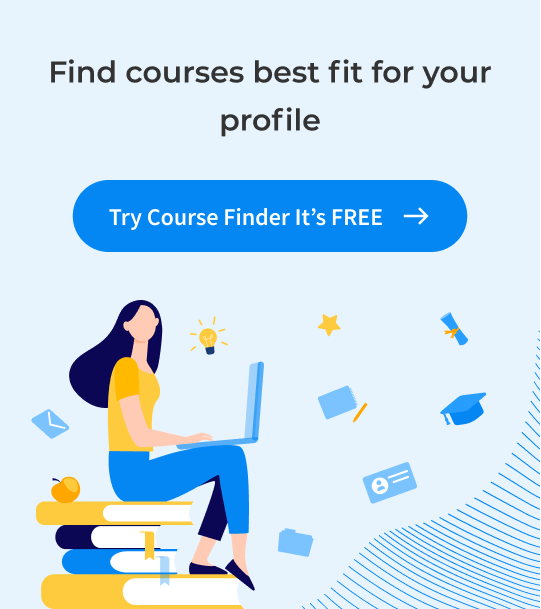 Subscribe to Leverage IELTS for more such information
Planning to take IELTS? Book a Free Online Demo Session with our experts & Get all your queries answered! Click here!
What is IELTS?
The International English Language Testing System (IELTS) is a harmonized language assessment examination used by institutions around the world to evaluate the language skills of potential international students. There are four sections to this test: reading, writing, listening, and speaking. Students will receive an overall score for all of their basic English language skills after completing the three-hour test. Exams like these are used in English-speaking countries like the UK to check your language skills. This isn't always the case, though. You can also study in UK without the IELTS exam. Continue reading to learn more about it.
List of UK Universities Without IELTS
Amongst the UK's vast range of highly ranked and globally acclaimed universities, many universities provide admission to foreign students without the compulsion of IELTS. Here are all the UK universities without IELTS:
Robert Gordon University
Audencia Nantes School of Management
Check out our blog on Leverage Edu IELTS Success Stories!
UK Study Visa without IELTS 2023
Can you get a UK student visa without IELTS? Yes, it is possible to get a UK study visa without IELTS only if you can provide the immigration authorities with a document from the university you have admitted that you are eligible for a study visa without IELTS. Here are the key requirements for a UK study visa without IELTS:
A document attested by your university with the statement that you can apply for UK study visa without IELTS scores.
Acceptance letter from a university in the UK.
Aspirants can also appear for the Secure English Language Test (SELT) mandated by UK Visas and Immigration (UKVI) as valid proof for English proficiency without IELTS.
Why Study in UK without IELTS?
You might be wondering why you should study in UK without IELTS. We have represented the same in the form of an infographic below.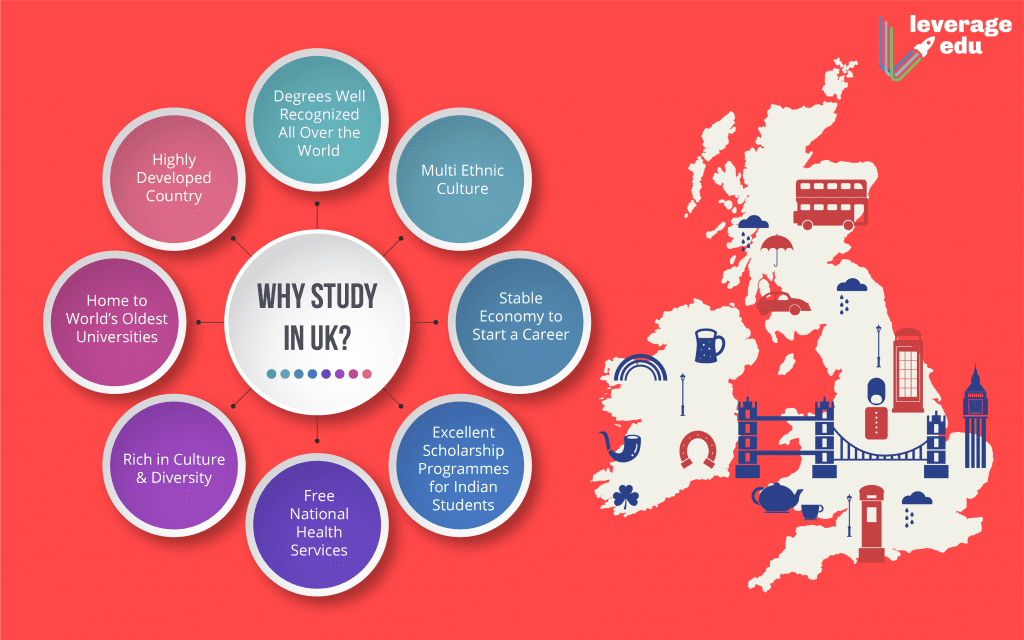 How to Study in UK without IELTS?
IELTS is not the only way that a university can examine the English proficiency of applicants. If you haven't taken the IELTS exam, there are some alternatives provided by universities in the UK. Let's look at the substituting criteria of IELTS offered by UK universities:
Online interview: Some universities may ask you to appear for an online interview to assess your English proficiency.
English marks obtained in high school: If you have scored more than 70% in English in your high school, then some universities will consider your high school marks rather than IELTS. However, universities have set their own requirements for different courses. You can obtain more detailed information from Leverage Edu experts!
English major: If you studied English as a major specialization while pursuing your undergraduate degree, then you do not need to appear for IELTS.
Pre-sessional English Course: As elaborated above, some universities offer pre-sessional English courses for those who plan to study in UK without IELTS and thus can opt for these courses once they get accepted for their chosen degree or diploma program.
Check Out Our Exclusive Blog on the Cost of Studying in UK For Indian Students!
Try Out The Most Reliable Study Abroad Expert
Are you considering studying abroad? You, on the other hand, have no clue which universities or courses are right for you! Take a peek at our artificial intelligence-powered Course Finder. Fill in the blanks, and AI will compare your choices to those of millions of other people. a few data points and you're done! You find exactly what you're looking for. In a couple of seconds, you can save hours of investigation.
Eligibility Requirements
To study abroad, especially in an English-speaking country, submission of English proficiency test scores such as IELTS, TOEFL, PTE, etc. plays a crucial role in the application procedure. Similarly, to study in the UK, IELTS is generally needed by many academic institutions but there is another way to get admission into an English university without providing these scores.
Yes, it is possible to study in UK without IELTS through the following requirements:
Proof of over 70% in English in High School/Class XI and Class XII or transcript of a short-term English course
Proof that English is the medium of instruction in your school
Take an Online Interview conducted by the university
An undergraduate degree in English
Pursue a Pre-sessional English course offered by the university before starting your program in the UK
Note: You can apply for those UK universities that need proof of your academic records in English to gauge your language proficiency along with utilizing other parameters such as taking a telephonic interview round or considering those who have studied a degree or majored in English.
UK Universities Without IELTS Explained!
Now that you know how you can study in the UK with IELTS, it's time to see which universities are accepting applications without IELTS. Let's explore some of these major universities in the UK that offer admission without IELTS in further detail.
University of Essex
The University of Essex is a leading UK university with over 15,000 students from nearly 130 nations. With one of the most internationally diverse student bodies in the UK and a long-standing reputation for striving for social change, it was named the University of the Year by the Times Higher Education Awards in 2018. One of the major reasons for the popularity of Essex is its easy application process. Do you know they offer an option to study in UK without IELTS? IELTS is a part of English language requirements but students don't need to undergo this examination. There are other ways to complete your application and be an equal part of the university.
If you do not meet the IELTS requirements then you may be able to take a pre-sessional English pathway that enables you to meet our English language requirements without retaking IELTS. These courses are delivered by the University of Essex International College for both UG and PG applicants. Popular courses to study at Essex are:
Bachelor of Science in Psychology with a minor in Economics
BSC Psychology with Cognitive Neuroscience
BSc in Cognitive Science
Integrated Masters in Science Psychology with Cognitive Neuroscience
Integrated Masters in Science Psychology with Advanced Research Methods
Psychology Master's Degree
MSC Research Methods in Psychology
Sport and Exercise Psychology Master's Degree
MSc in Cognitive Neuroscience and Neuropsychology
Check out the Top Courses in UK After 12th Arts!
London Southbank University
London Southbank University is one of the preferred ones for those planning to study in the UK. The university takes students based on merit, i.e. based on their score in XII standard or marks obtained in the undergraduate degree. Further, if you don't have IELTS scores, then you can take up pre-study English courses at the university and get admission into your chosen course. For studying in UK without IELTS, London Southbank University is the right choice as it offers a plethora of courses in various streams such as humanities, arts, science, business, and management. Below are the major courses you can pursue at London Southbank University:
BSc in Vehicle Engineering
BA in Animation
BSc in Baking Science and Technology
Business Foundation Course
University of Bristol
The University of Bristol was founded in 1595 and is one of the well-known universities in the UK providing direct admission through Universities and Colleges Admission Services for undergraduate courses (UCAS). Amongst the major universities to study in UK without IELTS, it provides part-time and full-time courses in various streams. The major courses offered by the University of Bristol are:
To get admission into the University of Bristol without IELTS, there are different programs you can choose from which don't necessarily require language proficiency scores. Further, students can also take up a pre-sessional language course or pursue an English language certification in their country given the certification has been approved by the University of Bristol.
Explore: Why do Indians Prefer to Study in UK?
Sheffield Hallam University
One of the UK's top universities, Sheffield Hallam University is located in South Yorkshire. The university provides a vast number of full-time and part-time courses in various fields. Here are the major specializations offered by Sheffield Hallam University:
Accounting and Economics
Accounting and Finance
Animation
Applied Social Sciences
Business Analytics
To study in UK without IELTS at Sheffield Hallam University, you can take up an English Language course at the university's TESOL centre where you will be prepared to reach the required score necessary for language proficiency.
Robert Gordon University
Amongst the leading universities in Aberdeen, Robert Gordon University was founded in 1992 and is globally renowned for courses in Technology, Architecture, and Engineering. It is amongst the major institutions to study in UK without IELTS as it provides applicants with the opportunity to enter an 8-week pre-sessional English program to boost their language proficiency. Offering a wide range of courses in almost every field of study, some of the prominent disciplines provided by the university are:
Life Sciences
Social Work and Law
Business Administration
Accountancy
Robert Gordon University also conducts its own RGU English Proficiency Test for those wanting to study in the UK without IELTS at this institution. This test can be taken in your home country or you can appear for the exam at the university itself before beginning your program.
Must read: MBA in UK under 14 Lakhs!
University of Warwick
Situated on the outskirts of Coventry, the University of Warwick came into being in the year 1965 and has been consistently ranked amongst the world's greatest universities. Home to three main faculties of Arts, Social Sciences as well as Science, Technology, Engineering, and Medicine, it provides an array of programs in different disciplines of study including,
Literary Studies
Education
Health
Chemistry
Engineering
Economics, amongst others.
The University of Warwick also provides pre-sessional English courses for those wanting to study in the UK without IELTS. By taking a course like this, you can prove your English language proficiency and then continue pursuing the program you have chosen to study.
UK Admission Process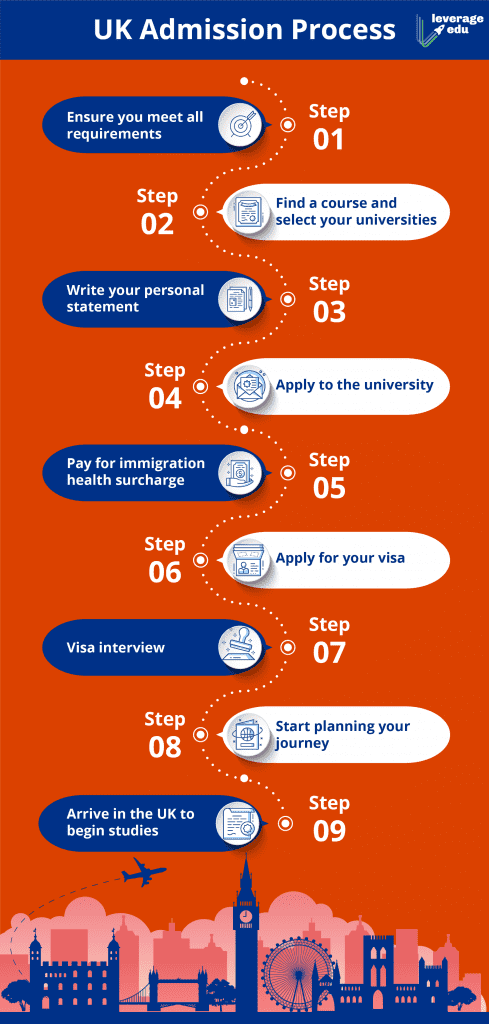 International students applying to UK universities must follow a well-researched guide before starting their application process:
Step 1: Shortlist Courses and Universities
The primary step in the application process is to shortlist courses and universities according to your academic profile and preference. Students can shortlist courses and universities through AI-Course Finder and generate a list of universities where they are most likely to get through and plan their application process.
Step 2: Know Your Deadlines
The next step is to know the exact deadlines of universities and colleges in the UK you are planning to apply to. International students have to take the application process well in advance (one year to 6 months before the actual deadline). This ensures that students can fulfil all the college requirements such as SOP, letters of recommendation, English proficiency tests, funding/scholarship options, and accommodation.
Step 3: Take Entrance Tests
The third step in the application process for UK universities requires students to take tests like IELTS, TOEFL, PTE, or GRE/GMAT/LNAT/BMAT/MAT (in some courses). In some universities, students can be given submit scores for SAT or ACT exams. A new addition to English proficiency tests is the Duolingo Test which allows students to appear for the exam from the comfort of their homes and is accepted across the world.
Step 4: Compile Your Documents
The next step is to compile all the required documents and test scores for the application process. This means students should start writing their SOPs, getting letters of recommendation from teachers and supervisors, and arranging their financial statements along with other documents like tests scorecards.
Step 5: Get Started with Your Application
Once you have all the documents in place, students can start the application process either directly or through UCAS. Students applying to UK universities that accept direct applications can start by applying through the official university website. They have to select the courses, pay the application fees and start the online application process.
Finance Your Study Abroad Dream With Leverage Edu
If you want to study abroad but are concerned about your financial situation or are unsure about study loans, we can assist. Check out leverage finance and we will give you zero service fees, the best interest rates, comparative analysis, and many other benefits you can also send money abroad in just a few taps using our forex services. You may check your eligibility by going to the link below.
Work in UK Without IELTS
If you want to apply for a UK post-study work visa without IELTS, you can provide your bachelor's or master's level academic records to verify that you have scored more than 70% in school or college. Moreover, for the UK work Visa without IELTS, applicants can submit IELTS UKVI with four bands (all) which is easier to score. When the Graduate Route is implemented in 2023, it will be open to anybody who has completed a UK degree and possesses a Tier 4 visa.
List of Scholarships in UK
Scholarships make studying abroad very affordable for students. Here is a list of some of the best scholarships for Indian students who are aspiring to study in UK without IELTS:
University of Plymouth UK Scholarship
Welcome (UK Government) Scholarship
UK Bristol University Scholarships
The University of West England Chancellor Scholarship
University of Westminster Scholarships
The University of Sussex International Scholarships
Nottingham Trent University Scholarships
The University of Birmingham Scholarship 
India's Largest Study Abroad Scholarship
You must have come across a dozen study abroad scholarships that cover the entire expense of tuition fees and are fully funded. But have you heard about the popular Leverage Edu scholarship worth INR 7,00,00,000? Yes, you read it right, Leverage Edu is offering an overseas scholarship worth INR 7 Crore exclusively for Indian students. India's largest study abroad scholarship is meant to help hundreds of Indians with waivers on their tuition fees, and living expenses, as well as easing costs related to visa applications, excursions, and on-campus expenditures.
One App for All Your Study Abroad Needs
Still, have questions about studying in the United Kingdom? We've got you covered, don't worry. Download our free Leverage Edu App, which serves as a one-stop shop for all of your study abroad needs. Begin your adventure, keep track of your progress, interact with other members of the community, and much more.
FAQs
Is it possible to study in UK without IELTS?
Yes, it is possible to study in UK without IELTS as there are a multitude of universities in the country where you can apply without language proficiency scores. These universities include Birmingham City University, Robert Gordon University, and the University of Bristol, amongst others.
Which country is best for studying without IELTS?
There are many countries where international students are not necessarily required to submit IELTS scores. Some of the major countries where you can study without IELTS include the USA, UK, Canada, Germany, Malaysia, Australia, etc.
Which university does not require IELTS in the UK?
Many universities in the UK accept applications from international students without the requirement of IELTS scores. Some of these universities are Sheffield Hallam University, University of Basel, University of Bristol, London Southbank University, and Birmingham City University, amongst others.
Can I get a student visa without IELTS?
To get a student visa without IELTS, you need to first find a university that offers programs without the requirements of IELTS scores and then apply there. Once you get the acceptance letter, you can carry out your student visa process accordingly.
Can I go UK without IELTS for work?
If you want to apply for a UK work visa without IELTS, you can provide your bachelor's or master's level academic records to verify that you have scored more than 70% in school or college. Moreover, for the UK work visas without IELTS, applicants can submit IELTS UKVI with four bands (all) which is easier to score.
Now you know all the major universities for study in UK without IELTS. These universities often substitute the IELTS exam by examining a student's academic scores in English which serves to provide them with how proficient they are. If you are confused about which course and university in the UK are right for you, Leverage Edu experts can assist you in landing the perfect course at the best university thus fulfilling your dream of studying in the UK. Call us right now at 1800572000!