The Science stream and Commerce stream are the most popular areas of study among Indian students. Most students after 10th are conflicted about whether to pursue science or commerce. While the job opportunities are immense in both fields, there are other factors that one must analyze before deciding between the two. Once tends to be biased toward a certain field based on hearsay but you don't want to make a decision based on that. A lot of students ask themselves- Is commerce easier than science? So, if you're confused about choosing either, here is all the information you need to answer the question of Science vs Commerce. 
Want Free Career Counselling? Register Here
Science vs Commerce
Let's first briefly take a look at the comparison between Science vs Commerce.After reading this you will be able to answer the question- is commerce easy than science?
| | | |
| --- | --- | --- |
| Criteria | Science | Commerce |
| Subjects | Physics, Chemistry, Biology & Mathematics | Economics, Business, Accounting, Mathematics |
| Best for | Engineering, Technology, or Medicine-related careers | Business, Entrepreneurship, Management, or Accounting-related careers |
| Difficulty Level | Rigorous than commerce | Considered easier than Science |
| Main focus | Scientific formulas, equations, math-oriented, experiments | Theory-based and mathematical both |
| Careers | Engineer, IT Analyst, Research Scientist, Doctor, etc. | Manager, CA, CS, Economist, Research Associate |
| Courses after 12th | BTech, MBBS, BE, BSc | BCom, BCA, BMS, BBS, BBA |
Science is often considered a tougher and more rigorous stream than Commerce because the latter has more scoring subjects that are theoretical while Science has technical and math-oriented subjects which can be harder to master!
Science vs Commerce Salary
Both Science and Commerce have an array of high-salary jobs to offer. So, when it comes to the comparison of science vs commerce salary, you must know about the best high-salary jobs in these streams of study.
The high-salary jobs in Commerce include Chartered Accountant, Company Secretary, Digital Marketing Manager, Human Resource Manager, and Investment Banker, amongst others. The salary in the commerce stream is somewhere around 5 Lakhs INR to 20 Lakhs INR per annum depending on the job profile and company you are working for.
The high-salary jobs in the Science stream are mainly in Computer Science, Engineering and Technology, Medical Sciences, and Psychology, amongst others. The salary in the science stream starts at 3 Lakhs INR per annum to 5 Lakhs INR per annum and can even go higher if you choose fields like research, IT, and medicine.
A Career in Science vs Commerce
Is commerce easy than science? Science and Commerce are the top favourite streams of study in India and choosing between these two can be a tough decision. But looking at the scope of Science vs Commerce, you can figure out where your interests actually lie and then select accordingly.
Scope of Science
The Science stream is filled with a plethora of careers depending upon the specialization you choose for your degree. Some of the best careers in the Science stream are:
The salary prospects for Science vs Commerce are bound to differ as per the job profile as well as the organization you work with but given their immense scope, you can expect high-paying careers in government and public sector.
Scope of Commerce
Now when it comes to Commerce, you can explore professional roles in the corporate sector, especially in Business and Management, while you can also go for a career in academia or research. Here are the top highest-salary jobs in Commerce:
Managerial roles
Market Research
Financial Manager
Entrepreneur
Business Development
Differences
Science is an intellectual field that deals with finding answers about the world around us based on observations and experimentation. Whereas, commerce is a study of trade and business such as the exchange of goods and services. Is commerce easy than science? Check out the core subjects you will get to study in each of the streams on the 11th to find out.
Why Science?
Science can be defined as the study of exploring natural phenomena through experimentation and observations. If you're inquisitive about the way things around function, then science is the best career stream for you. Science comprises intellectual subjects like biology, chemistry, and physics which demands careful observation. After pursuing science you can have a wide variety of opportunities globally.
Benefits of Studying Science
Science is a more practical-based stream that makes candidates employable.
Engineering, which is one of the leading professions of the times, can be pursued only if the student is well-versed in scientific knowledge.
Pursuing any of the STEM courses puts you in a position where you can directly serve society.
The changing climate and environmental changes can only be tackled and reduced by professionals having excellent knowledge of Science and Technology.
Why Commerce?
Commerce is a very popular stream among students after class 10th as it opens doors to various opportunities and professional courses. You might be asking yourself the question- is commerce easy than science? The answer is- if you have a genuine curiosity for numbers and an interest in business and the economy, then commerce can be your right career stream. Commerce comprises subjects like accounts, business, economics, and finance which could help you in exploring a wide variety of career opportunities in various fields. 
Benefits of Studying Commerce
Courses After Science
By pursuing science there are plenty of opportunities for you to explore. One of the great advantages of pursuing science is that you can explore non-science fields as well including commerce and humanities courses at the college level. Here is a list of courses that can be pursued after 12th Science:
BTech or B.E
BSc in Agricultural Science
Applied Science
Courses After Commerce
Commerce is a stream that can lead to immense opportunities in both the public and private sectors. Choosing a career in commerce can be interesting if you have the zeal to challenge yourself. Commerce can open doors to various fields globally. There are several prestigious universities abroad providing quality education. Here is a list of courses that can be pursued after 12th Commerce:
Business Studies
Management Studies
Statistics
Bachelor of

Product Design

Mathematics
Stockbroking
Skills Required To Study Science
Students must have an awareness of how the world around them functions as well as a sense of curiosity in order to succeed in science classes. Students need to be outstanding problem solvers and have a passion for numbers in order to pursue courses like physics. In order to comprehend patients' issues and provide solutions, a student who studies biology and wants to become a doctor must have empathy for others.
Skills Required To Study Commerce
Students need to love numbers and have great analytical abilities in order to pursue disciplines like accounting. The student must be able to arrange facts in the most effective way feasible.
Key Points of Difference Between Science vs Commerce
| | |
| --- | --- |
| Science | Commerce |
| Subjects include biology, chemistry, and physics | Subjects include accounts, business, economics, and finance |
| Students can make a shift to commerce or arts after 12th | Students cannot choose science streams after this course |
| Students can start a professional career in medicine or engineering by appearing for competitive exams. | Students can start a professional career by pursuing degree courses. |
Science vs Commerce vs Arts
While pondering over these two sought-after streams after the 10th, you need to consider an array of factors. The dilemma of Science vs Commerce is quite common and the best way to sort it out is to explore the subjects you are actually interested in studying. If you are inclined towards scientific study and want to pursue Engineering, Medicine, or Mathematics as your broader career options, then Science is the perfect stream to opt for.
But if you find that these subjects are all about the intensive study and need meticulous concentration and passion, then you need to consider either Commerce or Arts stream. Commerce is perfect for those planning to pursue a career in Business and Management or are interested in Accounting and Finance as there are multifarious interdisciplinary combinations available as well. While there are a plethora of career options in Commerce without Maths, it is still inclined towards number-crunching and theoretical studies with the presence of Accounting and Business Studies. Thus, it is suitable if you are intrigued by business management or accounting and professional careers like Company Secretary, Human Resource Management, and the like. Moreover, the Arts are perfect for free thinkers especially if you are passionate about studying disciplines like Social Science, History, Geography, Economics, Language, and Linguistics.
Science vs Commerce Memes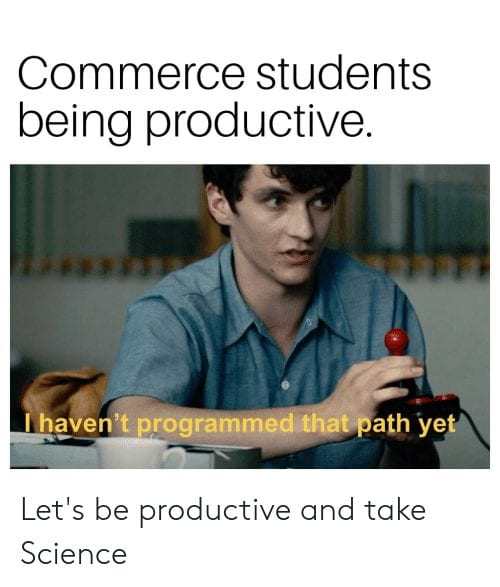 FAQs
is commerce easy than science?
Commerce is considered to be easier than science. The reason is science has more technical and mathematics related subjects. While commerce also has theoretical subjects. However, whether science or commerce is easier depends upon individual factor as well.
Who earns more commerce or science?
Since students tend to earn more than commerce students.
Is class 11 commerce difficult?
Accountancy and Mathematics are some of the subjects included in the commerce stream. These are considered as difficult subjects.
We hope this article on Science vs Commerce helped solve some of your doubts. If you're planning to pursue professional courses in various fields and are confused, don't worry. The study abroad experts at Leverage Edu can help you decide what's best for you. We can provide you with the best guidance and support from our mentors to make sure you secure a bright future.