Banks are at the core of any financial system and without them, the economy will cease to exist. These are the points of interaction to convert cash into a resource. The careers at such banks are of even greater importance. These are the drivers of funds into the economy which leads to the development of the country. Banking has been amongst the sought-after career for ages and this has not changed. No matter the changes in the technology and the business industry, the only thing that has remained constant is that "Career in Banking" is a good idea and we'll tell you why.
Must Read: Banking Courses After Graduation
Let's Get Into Banking
According to Google, the services or business conducted by a bank is called banking. That means, if you are in a bank, you are going to provide some sort of service. What service do you ask? Don't worry we will tell you about those services in the later section by drawing out the most suitable map for you.
Is Career in Banking a Good Idea?
We have to first understand what is happening in the world of banking in order to have an idea of how promising a career in banking can be. Banking is just a place where the money is managed. Back then, banking services were limited to the safeguarding of deposits, loans, and cash withdrawal. But now, these services have raised to an exponential level and they provide ATM services, online transfer of funds, brokerage, risk management, advice to corporates, fund management, and insurance, etc.
With such a rapid increment in services, the roles played by banks has intensified. Thus, the demand for skilled professionals is increasing day by day. So yes, it is high time to jump into a career in banking.
What Do You Need for Building a Career in Banking?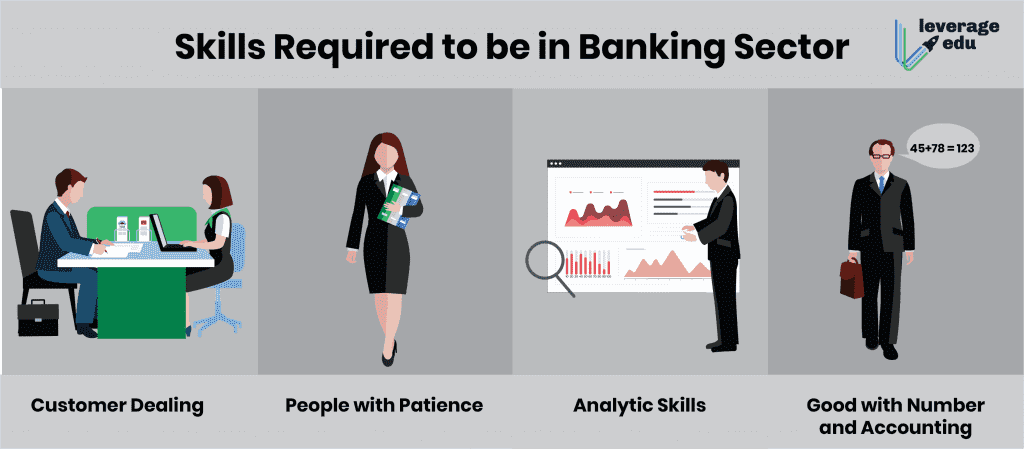 Here is a step-by-step guide to help you establish a rewarding career in Banking:
1. Choose The Right Degree
For you, the best place to start a career in banking is either economics or a finance degree. Even though Economics is not the degree which is going to help you get a direct job but it will portray you as a serious and professional person.
2. Preparation
Never wait to study relevant subjects because you need a job, not the bank. You have to present your best self in front of them. As you know, bank exams are not easy to crack, the sooner you start preparing, the easier it will be for you to pursue a rewarding career in banking.
Our Top Read: How to Prepare for Bank Exams?
3. Be A Market Man
It doesn't matter whether you are at the most prestigious university or not, if your CV is not shouting out loud that you're a market man, they are less likely to show interest in you. And yes, it's not something that you can add at the very last moment in your CV. The consumption of the market through various materials will definitely increase your ability to think and take action on related matters. Warren Buffet once said "Read 500 pages every day. That's how knowledge works. It builds up like compound interest."
4. Networking
Networking can be a weapon for you. If you're against thousands of applicants wishing to pursue a career in Banking, you will have to prove that you got something different. And that difference can only show up when you make contacts that are strong enough to influence. A single phone call from someone can help you to take place.
5. Develop Communication Skills
Let suppose the shortlist you, what if you won't be able to perform well in the interview? They won't let you get in, that's for sure. Since banking is a service sector, you must have excellent interpersonal and communication skills to establish a thriving career in this field.
6. Try To Get An Internship
Those students who get an internship are more likely to get a job in banks. The convertibility rate of getting a job at a bank through an internship is more than 60%.
7. Work On Your Skills
First, analyze what the banks really want? They are going to hire you because they need some sort of skill set. Right? So why don't you offer them that skillset? This practice will boost your chances of getting a job and making your career in banking a more promising one. Moreover, you should also work on your selling skills because unless you are able to sell yourself, the interview can be tough for you and even though you get in, you will face problems at a later stage in your career in banking.
Why Choose Banking as a Career?
A Quintessential Part of a Country's Economy
Banks play a crucial role in the functioning of the economy of a country. Opting for a career in banking will also provide you with an opportunity to help the public. As a banker, you have to play a responsible role by lending, protecting, and investing money. Moreover, you are will be responsible for consulting clients on efficient investment decisions. Decisions of the clients can vary as per their expectation. However, some of the major decision taken by them are purchasing homes, savings for a college education, planning for business, and retirement needs.
High Salary Career Paths
Compensations are varied from person to person because it depends on a person's position in the bank, tenure, and the bank for which he or she is working for. Still, there's no doubt that bankers are the cream of the industry. U.S Bureau of Labour Statistics has declared that in 2018, loan officers were making $63,040 annually. In addition to this, there are regular annual bonuses, performance incentives, and commissions in a career in banking. BLS reports have shown that high-level investment bankers who work in merger & acquisitions or corporate finance, collect bonuses that exceed their base salaries.
Additional Benefits & Perks
Bankers generally get captivating beneficial packages as banks generally provide vision, dental, and medical insurance to the employees and their families. With such appealing offers, the company also provides disability insurance, life insurance, retirement plans, and flexible spending accounts for child and health care. This is making you take your dream of a career in banking all the more seriously. Right?
Focus on every employee's Growth & Development
Banks offer tuition assistance and educational development programs for the bankers' welfare. The BLS reports depict that many investment banks apply "up or out" policy where entry-level investment bankers are either promoted or are required to upgrade their skills which they assist in.
Evergreen Sector
Banking is an evergreen sector in the economy. Nobody is going to stop using money and there's not a single person who doesn't want to secure money. In hindsight, the role of banks and career in banking is only evolving with the banks adding on their services to develop the economy.
Holidays & Fixed Working Hours
You will be offered leaves on public holidays and will be able to maintain a work-life balance. The banking sector is also closed on alternate Saturdays and the official public dealing time is no more than 3-4 pm in the evening.
List of Banking Courses
For those planning to build a career in Banking, there are numerous degree programmes available at the undergraduate and postgraduate level. In India, the basic qualification you need to apply for Banking jobs is a degree in Commerce, Science or Arts and they must get a good score in the requisite Bank exams to be eligible for their chosen posts. Further, if you aim to work in any of the specialised fields of Banking such as Investment Banking, Commercial Banking, etc., it becomes important to gain a degree in the same field. Here is a list of prominent Banking courses you must consider:
Bachelor's in Banking and Finance
BBA in Banking/Accounting
Bachelor's in Finance and Accounting
Bachelor's in Statistics and Business
Bachelor's in Financial Mathematics
Bachelor's in Analytical Finance
Master's in Financial Mathematics
Master's in Monetary and Financial Economics
Master's in Finance/ Accounting
Explore the immense scope of Banking Courses!
Top Universities To Start Your Career in Banking
A wide range of business schools and universities around the world offer various Banking courses for students to choose from. Take a look at the following list of major universities providing top-notch programs for those wanting to begin their career in Banking and Finance:
Career in Banking: Career Paths
Now that you are familiarized with what Banking as a career entails, let's delve deeper into the key career pathways of this expansive domain.
Commercial Banker
Commercial banker focuses on offering financial services to small as well as large businesses. They tend to focus on commercial lending, commercial loan workout, and small business growth. If we look at them closely, we will find positions such as
Commercial loan officers who build a rapport with businesses to provide them with business loans.
Small business bankers who work particularly with local small business to provide services such as originating small business loans, establishing business checking accounts, and direct deposit for employees.
Commercial workout department who are responsible for the sale of bank-owned assets and bank-owned real estate properties.
Quick Read: What is the Role of Bank PO?
Branch Manager
This is the manager who is accountable for regulating the ongoing operations of a commercial bank. These include services related to customer service, safety, procedures, policies, sales, and lending. On the other side, the branch manager keeps an eye on the bank staff. Branch manager must motivate employees, offer training, and form the task of the branch to meet the objectives of the bank. In the end, success and failure of a branch solely depend upon the branch manager.
Check Out: How to Become a Bank Manager?
Mortgage Banker
Mortgage Banker or a Mortgage Loan Officer assists applicants secure mortgages through the bank. They perform certain duties such as:
Obtaining personal information from the applicants.
Assisting customers
Work with other mortgage professionals to pass the application through the underwriting process.
Many mortgage bankers are paid on the basis of commission. So as a mortgage banker, the ability to sell will be the main skill that is required. Mortgage bankers are expected to register with the Nationwide Licensing System with the help of banks' employer sponsorship so that they can work as a licensed officer.
Investment Banker
Unlike commercial banking branch, investment banker generally works in the corporate offices of the banks and other types of financial institutions. Depending on their specialty, they can assume various job roles. An investment banker can work as an asset manager for the clients. Moreover, some investment bankers also work with various companies through the process of IPO. Other duties include financial models to consult clients through acquisitions and mergers by analyzing specific types of commodities & securities and monitoring the financial markets.
Dive Into The Money Game
Before diving into the money game i.e start a career in banking, you first need to develop impeccable skills. As you know, banking is all about mathematics and reasoning. Once you master these two skills, your brain's capacity to handle multiple tasks will magnify. If you have decided to enter into this field then be sure to keep a check on your skills and quality of education because that's all you need to make a fortune.
Wait! If you still want to ask about something about building a career in banking? You can contact Leverage Edu today and kickstart your career in banking!