How to start a career in Banking? There are numerous lucrative jobs in Banking which offer high salary and job security but preparing for a career in Banking generally means getting graduated with a degree in Finance/Economics/Banking/Commerce and cracking bank exams. The minimum qualification needed for a job in Banking is a bachelor's degree in Commerce or Management-related specialisation. Further for banking jobs, you will have to study quantitative aptitude, general awareness, reasoning, English and basic computer skills to ace bank exams! Read this blog to know all about how to to start a career in banking, top courses, jobs, salary and more!

What is Banking?
The traditional definition of banking refers to the job of managing the financial assets of the individuals who approach to a particular bank. A banker basically acts as a protector for their money. Banks lend money, generate interest that creates profits for the economy.
Skills Required in Banking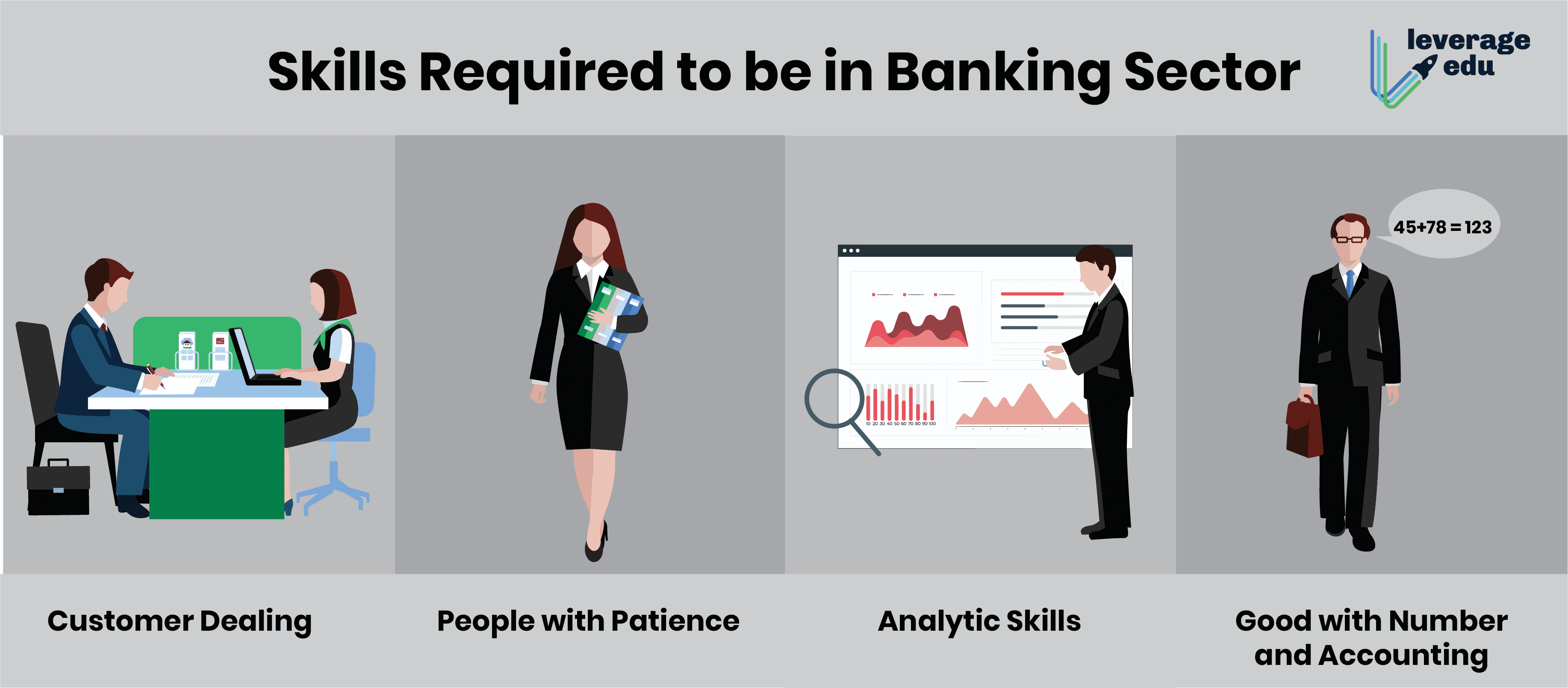 The following skills will help you to build a career in banking sector:
Customer dealing 
Customer satisfaction 
Analytical skills 
Good knowledge of numbers and accounts 
Mental mathematics
Communication skills 
Patience 
Attention to minute details 
Confidence 
Critical thinking
Technical skills 
Stress management 
Resilience 
Is Banking a Good Career in India?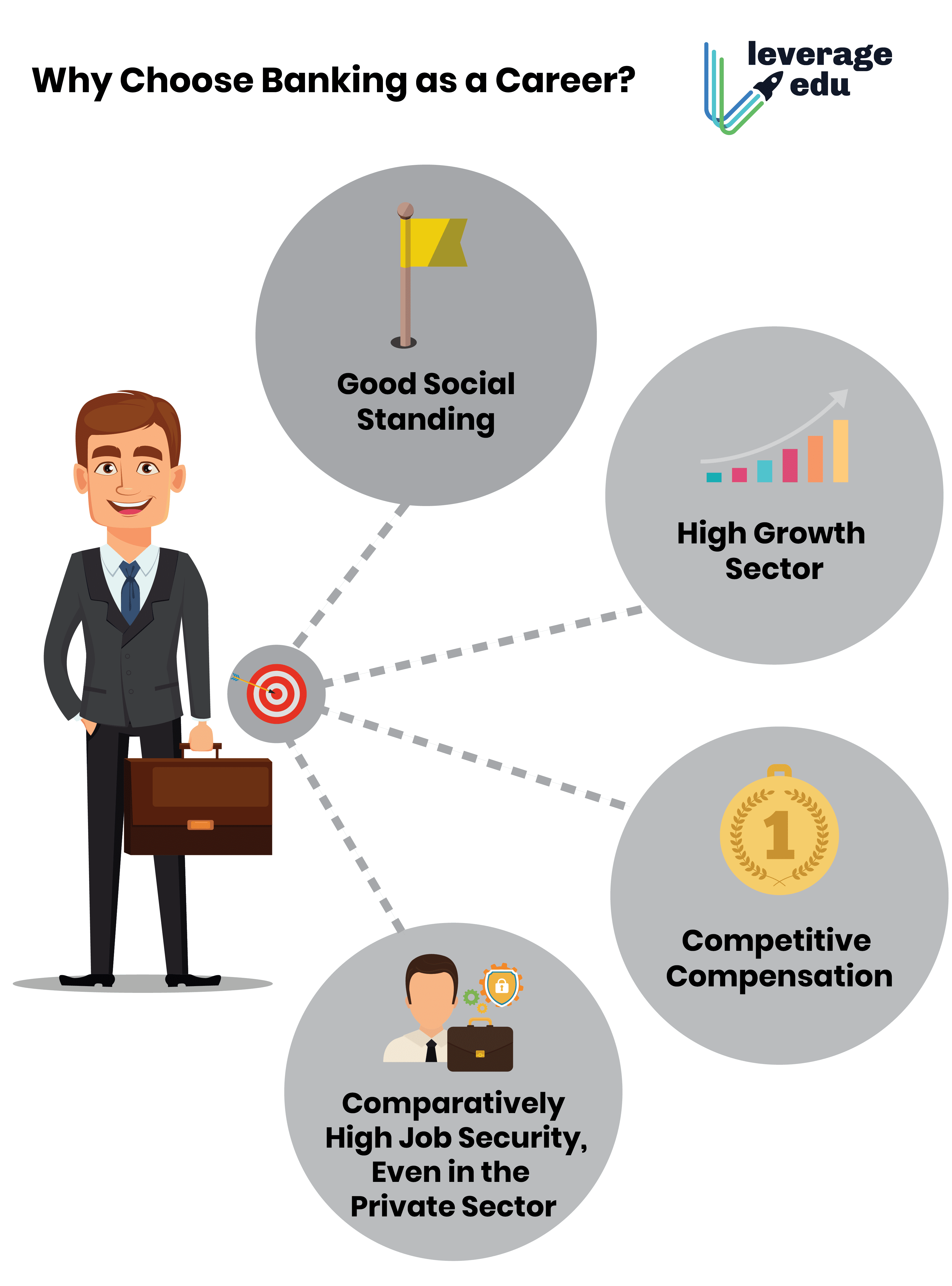 Banks are institutions that are responsible for driving funds into the economy which further leads to the development of the country. Banking has been amongst the sought-after careers for ages, especially in India and still the mindset of the population has not changed. No matter the ongoing changes in the technology and the revolution taking place in the business industry, the only thing that has remained constant over centuries is having a career in the banking sector. Obviously one might not feel motivated to work in a sector if they are not aware about the present and future benefits. That is why we have provided a list of few benefits that will tell you why you should opt for a career in banking.
Handsome salaries in India and abroad
Competitive compensation and pension if you have worked in a government bank. 
Numerous work opportunities
No limit for promotions
A perfect sector for highly ambitious individuals and professionals
Community and public service motive
One of the important benefits as to why people opt for a career in banking is because of job security. 
Everyone having a basic education in the field of commerce is welcomed as freshers in this sector.
The banking sectors are the backbone of any economy and hence they are not affected during the recession period in the economy.
Job satisfaction and overall skill development
A highly regarded/reputed job profile in the eyes of the society
Recruitment for Banking in India
To pursue a career in Banking in India, you will be required to qualify bank exams or either get a degree in investment banking, CPA, FRM, etc. to go for related roles. When it comes banking jobs, the bank exams are a necessary prerequisite for jobs like clerks, probationary officers or management trainees. Here are the basic qualifications for each of these roles:
Clerks: The age limit to appear for clerical bank exams is 18 to 28 years and the candidate must have qualified 12th exams with 60% aggregate.
Probationary Officers (PO)/Management Trainees: To take up the role of Bank PO, you must be a graduate with 55% aggregate and the age limit for the same is 21 to 26 years.
Which degree is best for Banking?
For those planning to build a career in Banking, there are numerous degree programmes available at the undergraduate and postgraduate level. In India, the basic qualification you need to apply for Banking jobs is a degree in Commerce, Science or Arts and they must get a good score in the requisite Bank exams to be eligible for their chosen posts. Further, if you aim to work in any of the specialised fields of Banking such as Investment Banking, Commercial Banking, etc., it becomes important to gain a degree in the same field. Here are the prominent Banking courses you must consider:
Bachelor Courses (UG)
Bachelor's in Banking and Finance
BBA in Banking/Accounting
Bachelor's in Finance and Accounting
Bachelor's in Statistics and Business
Bachelor's in Banking And Insurance (BBI)
Bachelor's of Commerce
Cost Accounting
Masters Courses (PG)
Master's in Financial Mathematics
Master's in Monetary and Financial Economics
Master's in Finance/ Accounting
Master's in Banking And Insurance
Master's of Commerce
M.Voc in Banking, Stocks and Insurance
Diploma/ Certificate
Diploma in Banking and Finance
Graduate Certificate of Finance and Banking
Graduate Certificate in Banking Security
Diploma in Banking Services Management
Graduate Diploma in Banking
Graduate Diploma in Banking and Finance Law
Post Degree Diploma in Economics and Global Banking
PGDM in Banking Management
PGDM in Banking and Financial Services
Short term PGD in Banking
Advanced Certificate in Banking laws and Loan management
Explore the immense scope of Banking Courses!
Top Universities To Start Your Career in Banking
A wide range of business schools and universities around the world offer various Banking courses for students to choose from. Take a look at the following list of major universities providing top-notch programs for those wanting to begin their career in Banking and Finance:
Also Read: Professional Courses After Graduation
How to Start a Career in Banking?
Here is a step-by-step guide to help you establish a rewarding career in Banking:
Choose the Right Degree
Prepare and Appear for Bank Exams
Pursue Masters Courses for Senior Level Positions
Grab Trending Diploma/ Certificate in Finance or Accounting
Build a Network and gain the relevant experience
List of Careers in Banking
Banking offers many rewarding and lucrative career opportunities, be it the public sector or the private sector. Let's look at the top 10 most trending jobs and careers in banking:
| | |
| --- | --- |
| Careers | Average Salary per annum |
| Bank Manager | 7 Lakhs p.a. |
| Financial Accountant | 4 Lakhs p.a. |
| Financial Risk Manager | 11 Lakhs p.a. |
| Certified Public Accountant (CPA) | 7 Lakhs p.a. |
| Investment Banker | 10 Lakhs p.a. |
| Equity Analyst | 4 Lakhs p.a. |
Popular Careers in Banking
Apart from these, some of the most popular careers in Banking are:
Asset Manager
Financial Risk Manager
Business Analyst
Internal Auditor
Foreign Exchange Trader
Credit Analyst
Loan Officer
Bank Teller
Financial Manager
Financial Service Representatives
Book-Keeper
Audit Clerks
Must Read: Bank Interview Questions
Must Read: Bank Exam Preparation Apps
Types of Banks
The banking sector is considered to be one of the safest and secure domains to work in. Before we understand how one can fulfil their dream of becoming a banker in India, let us first take a glance at the types of banks in India:
Central Bank
Cooperative Banks
Commercial Banks
Specialized Banks
Small Finance Banks
Payments Banks
Our Top Read: How to Prepare for Bank Exams?
Top Universities for Banking Courses in India
Delhi University
Jamia Millia Islamia University
National Institute of Security Markets (NISM)
NIIT University
Faculty of Management Studies (FMS)
Narsee Monjee Institute of Management Studies (NMIMS)
Amity University
University of Petroleum and Energy Studies
K.P.B. Hinduja College of Commerce
IIM Calcutta
Indira Gandhi National Open University
Guru Gobind Singh Indraprastha University
Indian School Of Business
Xavier's Institute of Management
Career and Salary
Now that you are familiarized with what Banking as a career entails, let's delve deeper into the key career pathways of this expansive domain.
| | | |
| --- | --- | --- |
| Job Profile | Job Description | Average Salary in INR (per annum) |
| Commercial Banker | Commercial bankers focus on offering financial services to small as well as large businesses. They tend to focus on commercial lending, commercial loan workout, and small business growth. | Rs. 4,00,000- Rs. 5,00,000 |
| Loan officers | They build a rapport with businesses to provide them with business loans. Also they assess an applicant's ability to pay back a loan through a process known as underwriting. | Rs. 4,00,000- Rs. 4,50,000 |
| Small business bankers | They work particularly with local small businesses to provide services such as originating small business loans, establishing business checking accounts, and direct deposit for employees. | Rs 2,00,000- Rs. 2,50,000 |
| Branch Manager | A branch manager of a bank is accountable for regulating the ongoing operations of a commercial bank. These include services related to customer service, safety, procedures, policies, sales, and lending. On the other side, the branch manager also keeps an eye on the bank staff. | Rs. 9,00,000- Rs. 10,00,000 |
| Mortgage Banker | Mortgage Banker or a Mortgage Loan Officer assists applicants secure mortgages through the bank. They perform certain duties such as obtaining personal information from the applicants, assisting customers, and working with other mortgage professionals to pass the application through the underwriting process. | Rs 3,00,000- Rs. 4,00,000 |
| Investment Banker | Unlike commercial banking branches, investment bankers generally work in the corporate offices of the banks and other types of financial institutions. Depending on their specialty, they can assume various job roles. | Rs. 9,50,000- Rs. 10,50,000 |
| Financial Manager | The role of a bank's financial manager is to ensure that the organization is financially stable by monitoring finances and creating strategies to protect revenue and limit expenses. | Rs 5,00,000- Rs. 6,00,000 |
| Financial Examiner | A financial examiner is a type of an examiner who are also known as compliance officers. They may be hired directly by financial institutions and their role is to monitor the lending activities to ensure that borrowers are treated fairly. | Rs 4,00,000- Rs. 5,00,000 |
| Financial Analyst | The task of a financial analyst is to look at the performance of various investing tools, including stocks and bonds, to guide investors/banks on where to place/invest their money. | Rs 4,00,000- Rs. 5,00,000 |
| Broker | A broker is nothing but an agent or a middleman between any financial company/ banks/ investment firms and customers, who works to find clients and sell them securities and commodities, including stocks, bonds and gold. | Rs. 3,00,000- Rs. 4,00,000 |
Top Companies and Banks
The following is the list of the most preferred and most desirable top banking and finance campus recruiters from across the world. This will help you all to have an idea of which company to target when you start with your career in banking.
J.P. Morgan
Goldman Sachs
World Bank
IMF
Morgan Stanley
Barclays Capital
American Express
Deutsche Bank
Merrill Lynch
SEBI
Development Bank of Singapore
Citibank
Other Private and Government banks of India (like ICICI, Kotak, HDFC, SBI etc.)
Credit Suisse
Various investment banks in India and abroad

FAQs
What types of jobs are in banking?
There are different types of Banking Jobs that you can pursue such as Bank Manager, Investment Banker, Equity Analyst, Loan Officer, Bank Teller, Financial Accountant, Chartered Public Accountant, to name a few.
Is Banking a Good Career?
Yes, Banking is one of the most popular and on-demand careers in the world and even in the digital era, banks have adapted to newer hi-tech ways of customer servicing with online banking apps, digital transactions and more. It will surely be never out of trend as we will always need banks and financial professionals to manage our financial requirements and savings in an efficient manner.
What is a banker's salary?
The salary prospects for Banking careers vary as per the role and job. Bank managers generally earn 7 Lakhs per annum on an average while the salary of an Investment Banker goes up to 10 Lakhs per annum.
What to study for Banking jobs?
You can either study a degree in finance or banking to pursue a career in this field or opt for a commerce degree and then appear for bank exams in India such as SBI PO, IBPS PO, etc. to land a banking job successfully.
Wait! If you still want to ask about something about building a career in banking? You can contact Leverage Edu today and kickstart your career in banking!