Online education has increased in popularity in recent years, especially after COVID-19, when it had become even more important now that most institutes are providing online courses and administering online exams as a result of the pandemic. Online Education not only allows working people and executives to continue their education while continuing their careers, but it also allows students to obtain a second degree while pursuing their regular degree. In this blog, we will dig deeper into online MBA courses and will also let you know about the list of popular and renowned universities from around the world and in India that are offering online MBA courses.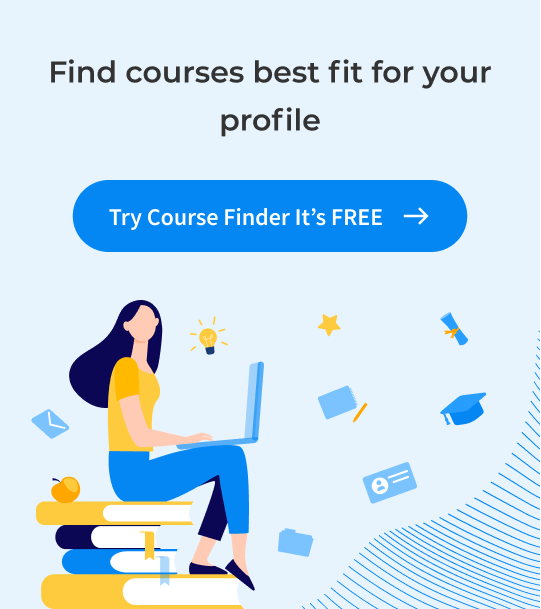 What is an Online MBA?
An online MBA is a convenient mode of learning, particularly for working professionals who want to complete their management degrees without compromising their jobs or any sort of professional work, as the name or term implies. People's confidence in online MBA has developed in recent years as technology, IT, the internet, intranet, and the entire education system and industry has progressed. It is a more advanced type of distance education. The key difference is that in an online MBA, lectures are delivered through video conferencing, and notes are maintained in pen drives and via lecture recordings. A number of management institutes in India and abroad offer online MBA courses. The duration of the course can be anywhere from one to two years.
Want a Free Career Counselling Session? Register Here!
Types of Online MBA Courses
Learn about the types of online MBA courses by checking the information shared below.
MBA
Postgraduate Diploma in Management (PGDM)
Postgraduate Program (PGP)
Executive MBA/PGP/PGDM (Meant for senior-level managers)
Specialisations of Online MBA Courses
The popular specialisations of online MBA courses are listed below.
Eligibility Criteria for Admission to Online MBA Courses
The eligibility criteria for online MBA courses are similar to MBA courses in reputed colleges. The various criteria to pursue Online MBA Courses are: 
You should have to be a graduate of a recognised university. However, the threshold of marks depends and varies from college to college. 
You also need to appear for any of the management entrance exams such as CAT (Common aptitude test), MAT (Management Aptitude Test), SNAP (Symbiosis National Aptitude Test), XAT (Xavier Aptitude Test) and so on. 
An updated resume or CV with all your working experience is also needed. 
However, if you plan to do an online MBA from a foreign university, you need to appear for the GMAT examination or might even have to show industrial experience. However, the requirements again vary from college to college.
Best Colleges and Online MBA Courses in India
Well, the universities in India are no less than the foreign universities abroad. They too have started realising the sudden need, importance as well as demand of online and distance education, especially after the COVID-19 scenario. Hence, universities in India also have started providing an option for online MBA courses and other PGDM courses to students. Here is a list of a few universities in India that are providing online MBA courses to students. 
Universities
Online MBA Courses Offered
Duration
Amity University Online, Noida
MBA in Entrepreneurship & Leadership
MBA in Finance & Accounting
MBA in International Business
MBA in Human Resource Management
MBA in Petroleum & Natural Gas
2 years
National Institute Of Business Management, Delhi
One-Year Online MBA Training
Two-Year Online MBA Training
One Year Executive MBA Training
1- 2 years
Pondicherry University, Puducherry
MBA (IB)
MBA (HRM)
MBA (General)
MBA(Marketing)
MBA (Finance)
2 years
NMIMS Global Access School, Noida
MBA
15 months
NMIMS Global Access School
for Continuing Education, Mumbai
PGDBM
1-2 years
Deakin Business School- IMT Ghaziabad (dual credentials)
MBA (Global)
1-2 years
Symbiosis Centre for Distance Learning, Noida
Post Graduate Diploma in Business Administration
1-2 years
Great Lakes Institute of Management, Chennai
Executive PG Program in Management
1-2 years
ITM University, Gwalior
MBA
2 years
Dr. D. Y. Patil Vidyapeeth, Pune
Online MBA
1-2 years
Indian School of Business, Hyderabad
MBA
2 years
Karnataka State Open University, Karnataka
MBA
2 years
Also Read: Top MBA Colleges in India 2021 Rankings, Courses
Top Colleges for Online MBA Courses and Fees
Shared below is a list of top colleges in India for online MBA courses and their respective fees.
| | |
| --- | --- |
| Name of College | Fee |
| Symbiosis Centre for Distance Learning, Noida | Up to INR 30,000 |
| Indian School of Business Management and Administration, Hyderabad | INR 50,000 |
| Amity University Online, Noida | INR 1.5 lakh |
| BITS Pilani | INR 2.3 lakh |
| Prin. L.N. Welingkar Institute of Management Development and Research – Online Distance Learning Centre | INR 6.4 lakh |
Best Colleges and Online MBA Courses Abroad
Here is a detailed list of the best online MBA courses abroad, provided by the top and renowned universities from around the world. So have a look:
Universities
Online MBA Courses Offered
Duration
LSBF Singapore
Master of Business Administration in International Business
13 – 18 months
Ducere Global Business School, University of East London, United Kingdom

Online MBA (Luxury Brand Management)
1 – 2 years
University Canada West, Canada
MBA
2 years
IU International University of Applied Sciences, Germany
Master of Business Administration (MBA)
MBA in Big Data Management
MBA in Finance & Accounting
MBA in IT Management
12 – 36 months
Suffolk University, United Kingdom

Master of Business Administration
2 – 3 years
University of Northampton, United Kingdom
University of Northampton MBA
18 months
Massey Business School, Massey University, New Zealand

Online MBA
2 – 5 years
University of Essex, United Kingdom
MBA
24 months
EU Business School, Spain
MBA Dual UoR
Online MBA
Full-time
Part-time
Cass Business School, CITY, University of London, United Kingdom
Global MBA
24 months
Nottingham Trent University, United Kingdom
MBA – Fast Track
Online MBA
18- 30 months
University of Leicester, United Kingdom
Online MBA
MBA Finance
MBA Marketing
30 months
The University of Applied Sciences Europe (UE), Germany
Masters of Business Administration
2 – 3 semesters
Victoria University of Wellington, New Zealand
Executive Master of Business Administration
12 – 18 months
University of Birmingham, United Kingdom
Online MBA
30 months
University of New England, Australia
MBA – Master of Business Administration
Up to 6 years
University of Otago, New Zealand 
MBA – Master of Business Administration
3 years
University of New South Wales, Australia
AGSM Master of Business Administration (Specialised)
2 years
The University of Newcastle, Australia
MBA – Master of Business Administration
MBA – Master of Business Administration / Master of Human Resource Management
MBA – Master of Business Administration / Master of Marketing
1.5- 2 years
University of Illinois, USA
MBA – Master of Business Administration/
MA in Economics
MBA – Professional Master of Business Administration
MBA – Master of Business Administration/Master of Public Health (MPH)
2-3 years
QS Top Ranking B-Schools for Online MBA
According to the QS Online MBA Rankings, the following are the top ten business schools with an online MBA:
Imperial College Business School, Imperial College London
Marshall School of Business, Marshall University
Warwick Business School, University of Warwick
Kelley School of Business, Indiana University
Australian Graduate School of Management, University of New South Wales
MIP Politecnico di Milano Graduate School of Business, The Polytechnic University of Milan
Alliance Manchester Business School, The University of Manchester
Hough Graduate School of Business, University of Florida
Durham University Business School
Also Read: MBA Courses in Canada: Eligibility, Programs, Universities
Scope of Online MBA Courses: Career Prospects
With respect to job opportunities and expectations, one must acknowledge that there are certain key distinctions between being a regular online learner and a full-time MBA student. The former is more likely to stay in their current profession as they pursue their Online MBA if they are receiving sponsorship from their respective companies. Candidates after completing an online MBA course can work in the following sectors:
Sector
Job
Public
Finance
e-Business
Computer System
Human Resource
Accounting
Operations and Project Management
Health Care
Private
Financial Advisor
Operations Research Analyst
HR Specialist
Financial Research Analyst
Portfolio Manager
Securities Analyst
Fashion Industry
Credit Risk Manager
IT Sector
IT Manager
HR Manager
Project Manager
Cash Manager
Business Development Manager
ERP Consultants
Candidates can expect an average pay scale of five to six lakhs per annum for freshers and even more for those who are experienced.
Also Read: Best Online Courses with Certificate
Syllabus of Online MBA
Online MBA courses generally offer the same courses that are offered in a regular MBA program. However, the subject availability also depends on the curriculum followed by a particular institution and is subject to vary. Following are the important topics that are covered under online MBA courses:
1. Legal Aspects of Management
2. Research Methodology
3. Information Technology for Managers
4. Management functions and behaviours
5. Quantitative techniques for management
Also Read: Online Courses in India
Benefits of Online MBA Courses in India & Abroad
Online learning is one of the best features of modern education. The classes under such programmes are conducted via video conferencing, the study material is provided through digital platforms, assignments are submitted online and exams are scheduled just like in any other regular course. Online MBA courses can either be 1 or 2 years long depending on your MBA specialization. Professionals looking for a swift career, gain skills and get promotion in the same workplace majorly opt for this course. 
Here is a list of some benefits that you might notice or experience while pursuing online MBA courses.
Affordability of the course
Flexibility
Diversity
Global outreach
Choice of specialisation
Customisation
Accreditations
For professionals with hectic schedules, there is also an option of attending course lectures over the weekends. Classes, homework assignments and lectures for the Online MBA Course will be conducted through an online portal. Students can log in into the portal with their login credentials and complete their assignments and other work.
Offline vs Online MBA
Whether you are planning to pursue MBA through offline or online mode the exposure and experience you will get will help in the future. Both have their pros and cons with some major differences. Here is the difference between offline and online MBA that you should know:
| | | |
| --- | --- | --- |
| Basis | Regular MBA | Online MBA |
| Course Curriculum | Specialization options available such as Finance, International Business, Banking | Almost the same as a regular MBA |
| Cost | INR 15-30 lakhs | INR 50,000 to INR 2 lakhs |
| Location | Have to attend classes on campus | No relocation required |
| Acceptance Rate | Differs based on the university | Students are easily accepted for admission |
| Duration | 1 to 2 years | 13 months to 2 years. |
Future Trend of Online MBA Courses
Online MBA courses have become the latest trend in the industry. Online MBA courses in India have become a flexible way to get a quality education without the need for relocation. Flexibility regarding time schedules is also very comfortable. Although there are fixed lecture timings, you can also learn through recorded lectures, meetings, or group projects and further submit assignments and take exams at your convenience. The cost of living, food, travel and many such things can be saved by opting for an online MBA. You can even pursue affordable MBA courses from the top universities in India and Abroad.
Furthermore, it is predicted that with the high relevance of online MBA courses, the aspect of providing industrial experience in online MBA can also be included. Along with the same, an advancement in Learning Management Systems (LMS) is to also be expected.

FAQs
Is an online MBA valid?
Yes, an online MBA course is valid, given how companies recognise the qualification from a reputed institute.
Can I get a job after an online MBA?
Yes, there are various job opportunities and career scopes with an online MBA.
Is an online MBA difficult?
There certainly is a level of difficulty in completing an online MBA, just like an offline MBA.
Hopefully, this article has cleared all your doubts regarding online MBA courses. If you still want to know about colleges or are confused about which university is a better choice for you, do not hesitate to make use of our AI Course Finder. Feed in your choices and let the AI compare them against millions of accessible data points from across the world. You can also book an E-meeting with Leverage Edu experts for more details.