With the advent of new technologies, the field of Marketing has seen a paradigm shift over the years. Though it is still in use, businesses across the world have switched from traditional modes of marketing to digital marketing. This, in turn, has created many new opportunities for companies to expand their business and has created tremendous employment opportunities across sectors. From Content Curation and Management to Social Media Marketing and Brand Management, a career in Digital Marketing can take you in several directions. Though undergraduate or certificate courses create a strong foundation, to advance in the field in this cut-throat competition, pursuing a master's course like MBA in Digital Marketing is essential.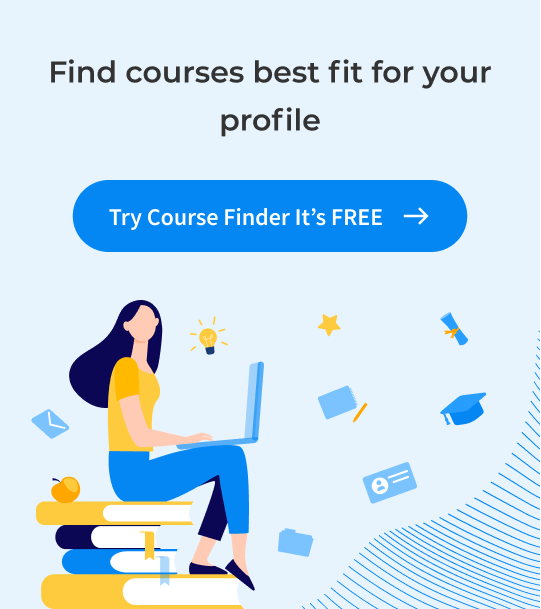 Highlights
| | |
| --- | --- |
| Course | MBA in Digital Marketing |
| Course Level | Postgraduate |
| Duration | 12 – 24 Months |
| Eligibility | Bachelor degree with minimum 50% |
| Top Job Profiles | Digital Marketing Manager, Social Media Manager, Content Writer |
MBA in Digital Marketing
We have entered the age of Digital India. The traditional methods have gradually shifted to online or digital platforms. From the general stores in your society to top firms such as HCL, Myntra, American Express is using digital platforms in one way or another. It has become important for organizations whether big or small to maintain a digital presence. The demand for digital marketing professionals has increased and will continue in the future as well. Digital Marketing is not confined to just digital companies, digital marketing is used in healthcare, education, financial services, beauty services, fitness, and the entertainment industry as well. The increasing demand for digital marketing professionals has resulted in students pursuing MBA in Digital Marketing. MBA in digital marketing is a course of 12 – 24 months that covers the in-depth branches of digital marketing like social media marketing, branding, promotion, advertising, etc.
Also Read: PGDM vs MBA
Why Pursue an MBA in Digital Marketing?
From MBA in HR to MBA in IT, universities across the world offer different types of MBA courses. However, with businesses switching from traditional methods to online techniques, MBA in Digital Marketing has gained popularity. Enlisted are some of the major reasons why this course is an ideal option to choose.
Constantly evolving industry
Can be pursued by any professional from any background
Job opportunities in several fields across the globe
Demand for a digital marketing professional is high
You can learn various facets of Digital Marketing without much effort
Copious full-time, part-time, and online courses are available
Will help in developing the skills required for managerial posts
You can build a strong network
Course curriculum designed as per industry standards
Flexibility in choosing a field of specialization
Also Read: MBA after PhD
What Does an MBA in Digital Marketing Course Entail?
MBA in Digital Marketing is a creative course offered by various universities. The duration of the course is 3 years or 6 semesters in India and 4 years or 8 semesters in foreign colleges. Digital Marketing course syllabus teaches a wide range of media strategies, new concepts, and creative learning, and also covers the management aspect of marketing. The program has been designed with industry experts to provide you with the relevant knowledge and training to efficiently deal with the fast-growing sectors of digital marketing. MBA in Digital Marketing focuses on creating a path for you to tackle new technologies, indulge with the working methods of the industry, create new marketing campaigns, evaluate different marketing trends, and analyze marketing data.
MBA in Digital Marketing Subjects
There are core as well as electives offered in this degree course. They impart extensive knowledge on various elements of Digital Marketing and also equip you with essential career skills. Though the subjects and curriculum can vary from one university to another, enlisted are some of the important subjects which form an integral part of the MBA in Digital Marketing curriculum.
Operations Management
Social Media Marketing
Digital Advertising
Affiliate Marketing
Brand Planning and Marketing
SEO, SEM
Web Analytics
Introduction to Marketing Strategies
Campaign Growth and Evaluation
Also Read: Best Digital Marketing Books
MBA in Digital Marketing Skills
The following are the skills required for individual to be a successful digital marketing graduate:
Strategic Thinking
Writing and Editing
Creative and Analytical abilities
Design Skills
Entrepreneurial Skills
Marketing Automation
Popular Universities/B-Schools for MBA in Digital Marketing
Tabulated below are some of the leading names in the list of academic institutes that offer an MBA in Digital Marketing or its related courses:
Note: The list is not exhaustive. Furthermore, some universities may offer Digital Marketing as a major or an elective.
Eligibility and Requirements
Here are the most common requirements followed by the above top colleges for Digital Marketing:
An undergraduate degree from a recognized university
Detailed CV
Letter of Recommendation [LORs]
Minimum 2-3 years of working experience
Scores of English proficiency tests like IELTS or TOEFL
All academic transcripts
Also Read: Digital Marketing in the UK – Courses, Colleges and Careers
Application Process
Applicants aspiring to study MBA in Digital Marketing in India have to apply at the university website and appear for the entrance exam which is followed by group discussion and personal interview round. Here is the stepwise application process:
Visit the university website you want to apply for MBA in Digital Marketing
Click on the admission tab and then select Apply now which is redirected to the application form page.
Enter your personal details and academic qualifications
Pay the required application fee and submit the application form.
Also Read: Masters in Digital Marketing in Canada
Selection Process
The Selection process is different in each university. Some universities admit applicants based on merit and other conduct entrance examination. Here is the selection process for MBA in Digital Marketing:
Appear for the entrance examination, popular entrance examinations are CAT, MAT, GMAT.
Based on the Entrance examination, a cut-off list is released, and based on it applicants are called for counseling.
Based on the applicant's preference and marks obtained in the entrance examination students are allotted institutions.
Some universities take group discussions and personal interview round after the entrance examination
Only after clearing all the rounds applicants will be eligible for admission to the respective universities.
Also Read: Marketing Consultant: Courses & Career Pathways
Top 10 Colleges in India for MBA in Digital Marketing
There are many institutions offering diploma or certification courses in Digital Marketing in India but only a few offer MBA. If you are planning to study MBA in Digital Marketing from India, here is the list of the institution offering the same:
IIDE – Indian Institute of Digital Education, Mumbai
IIKM, Business School, Chennai
Rayat Bahra University, Punjab
RVS Institute of Management Studies and Research, Tamil Nadu
RIMT University, Punjab
JK Lakshmipat University, Jaipur
Integral University, Lucknow
Centurion University of Technology, Bhubaneswar
Xavier Institute of Management and Research, Mumbai
Graphic Era University, Uttrakhand
Did you know? IIDE has been awarded by the World Education Congress as the 'Best Digital Marketing Institute of 2021'.
MBA in Digital Marketing Distance Education
Distance education is a new trend, it helps in gaining knowledge and skills that can be applied at the same time at your professional level. One of the advantages of pursuing an MBA in Digital Marketing through distance education is that you can study in any top institution in the world at the comfort of your home without relocating. Most of the exams are held online or at test centres in your city, study material and resources are available at the university portal. Now that you know the advantages of distance education. Here are some institutions offering MBA in Digital Marketing in India and Abroad:
Amity University, Noida
University of Cumbria, United Kingdom
Broward International University, USA
Montclair State University, USA
IMF Business School, Spain
Venkateshwar Open University, Noida
NMIMS, Mumbai
Also Read: Google Digital Marketing Courses
MBA in Digital Marketing Scope
As one of the fastest-growing industries, the scope of pursuing a career in Digital Marketing is immense. Not restricted to only eCommerce and Data Analytics, but you can find innumerable opportunities in Content Marketing, Brand Management, etc. Here are some of the popular job profiles you can work in upon completing an MBA in Digital Marketing course.
Content Marketing Manager
Content is everything, therefore companies can't do without a Content Marketing Manager for active management and brand promotion. Content Marketing Managers are responsible for content creation and developing strategies to attract business.
Digital Marketing Strategist
It is very important to design a marketing plan for different mediums. It is an indispensable skill to be able to analyze the market's needs and business objectives for smooth execution. Digital Marketing Strategists are required to be technologically efficient and updated with the latest marketing trends. And to be adept in this, pursuing MBA in Digital Marketing is an ideal option.
Digital Marketing Specialists
For every company's website, social media posts, and other marketing content, there is a constant demand to consistently increase internet traffic. As a Digital Marketing Manager you need to excel in SEO, SEM, content analyses, and be knowledgeable about other brands' promotional marketing.
Campaign Managers
Campaign Managers are responsible for curating marketing events and campaigns. They act as a mediator between the company and external agencies. They play an important part between the consumer and the brand.
Client Servicing Managers
Working as a liaison between clients and different teams of the company, Client Servicing Managers play a pivotal role in the growth of the company. From conducting market research to conceptualizing marketing strategies for your clients, this role comes with great responsibility.
Salary Structure
The scope of an MBA in digital marketing is high and graduates are often placed in top recruiting companies such as Google, Cisco, HCL, Facebook, Intel, Walt Disney, Netflix, Hotstar, etc. Digital marketing professionals don't have to do the regular jobs, freelancing projects pay well. Here are some of the popular job profiles with their salary structure:
| | |
| --- | --- |
| Job profile | Salary (in INR) per annum |
| Content Managers & Strategists | ₹4,89,224 |
| SEO/SEM Specialists | ₹3,51,487 |
| Digital Marketing Managers | ₹5,80,040 |
| Market Research Analysts | ₹3,37,542 |
| Campaign Specialist | ₹6,08,927 |
| PPC Specialist | ₹3,05,209 |
| Brand Manager | ₹9,41,134 |
Top Recruiters
After the completion of a Digital Marketing course, aspirants mostly aim for these top recruiters for future career scope in digital marketing.
iProspect India
WATConsult
Social Panga
Webchutney
Mirum India
Langoor
Quasar Media
Pinstorm
AdGlobal360
iStrat
BCWebwise
To The New Digital
Resultrix
Ogilvy Public Relations Worldwide
Foxy Moron
SapientRazorfish
GroupM India
Reprise Media India
Resources
Here is a list of blogs that might help you to prepare and apply for an MBA in Digital Marketing:

FAQs
Is MBA required for digital marketing?
No, MBA is not required for digital marketing. To make a career in digital marketing, one needs to have a great skill set and abilities to make strategies for social media and other digital platforms. However, doing an MBA in Digital Marketing specifically can help individuals to a great extent.
Is Digital Marketing a good career choice?
Yes, if you exhibit the right skills and passion for the world of social media and digital platforms, then this is the right career choice for you!
What is the scope of digital marketing?
Digital marketing is a high demand course. Professionals with good knowledge in the field can easily get a job at any service providing platform.
Which field is best in digital marketing?
Content Marketing, Search Engine Optimization and Social Media Expert are some of the popular fields that can not only give you lucrative salaries but also secure your future.
Digital Marketing is evolving to become an integral part of the functioning of any business. In today's time if a company does not have an online presence it becomes very difficult for it to last in the market. If you're looking for a career in Digital Marketing and are confused about which college to pursue, get in touch with us at Leverage Edu for expert career advice. We can provide you with guidance and support from the best of our mentors. Call us at +91-8826200293 and kickstart your career today.