Master of Laws or what is popularly known as LLM is a postgraduate level degree offered by scores of universities across the world. Being a popular option to advance your career in Law, you will learn various methodologies of the field as well as the chosen specializations which will furnish your skills to carry out practice as a Lawyer/ Advocate. Though available across countries, studying masters in law UK with a lot of benefits that we will uncover in the coming paragraphs. However, the question of choosing the right university or understanding the admission process can be confusing. Hence, to pull you out of this conundrum, we have listed down the essential details related to pursuing an LLM in UK for Indian students.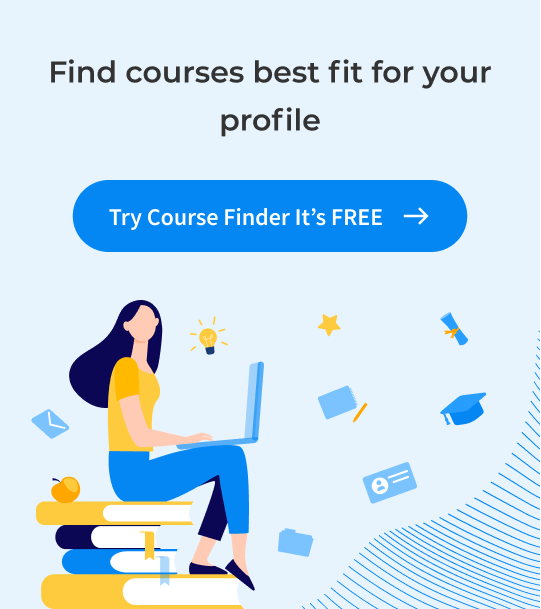 Course
LLM (Masters in Law)
Duration
1 year to 2.5 years
Average Cost
19,000 GBP – 44,000 GBP
Requirements
IELTS/TOEFL/PTE and Minimum 60% in LLB
Popular Courses
Masters in Corporate Law,
Masters in Criminology and Criminal Justice,
Masters in Law and Finance
Top Universities for MS in UK
University of Oxford,
University of Cambridge,
London School of Economics and Political Science
Queen Mary University of London
University of Kent
Why Study LLM in UK?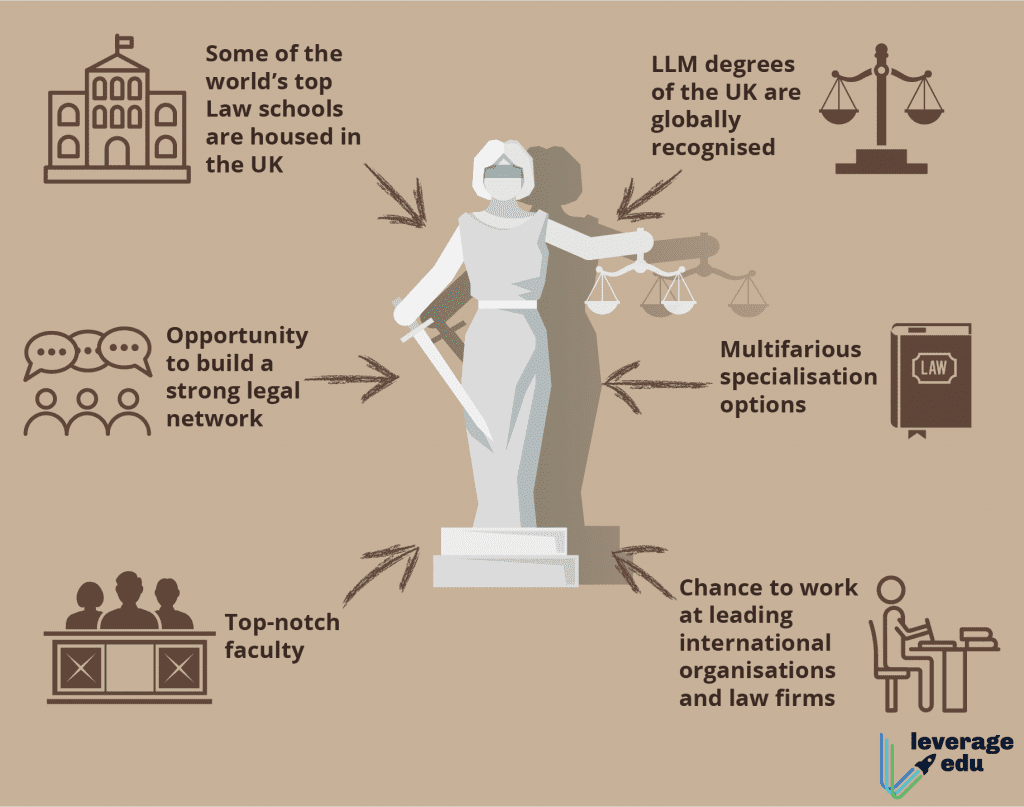 Also Read: Best Law Universities in UK
Course of LLM in UK
LLM in UK is generally a 1-year long course where you will be made familiar with multiple concepts of the field. Furthermore, you will gain hands-on experience through industrial training programs which form a part of the course curriculum. Apart from the core subjects, you will also get to choose from amongst the list of electives like Commercial Law, Intellectual Property, etc. Tabulated below are the important topics that are taught throughout the journey of the masters in law UK course.
| | | | |
| --- | --- | --- | --- |
| Legal Theory | Feminist Jurisprudence | International Trade and Corporate Laws | Historical and Anthropological Jurisprudence |
| Constitutional Law | Law Relating to Industrial Relations | Pure Theory of Law | Human Rights Law |
| Law and Social Change | Corporate Governance | The Concept of Federalism | Law Relating to Service Regulation |
| Law Relating to Labour Welfare | Hierarchy of Courts | Right to Constitutional Remedies | Forms of Legislation |
Also Read: LLM Courses
Elective Modules
Let us take a quick look at some of the popular specialisations which you can consider pursuing:
Taxation Law
IT, Media and Communications Law
Corporate and Securities Law
Financial Regulations
Criminal and Criminal Justice Laws
Gender Studies
Intellectual Property Rights
Note: The subjects mentioned above are for indicative purposes. The syllabus and subjects can vary from one university to another.
Specializations
There are several areas of specialization that you can do for your LLM in UK for Indian students. Let's check them out:
Technology Law
Corporate Law
Gender Studies
Human Rights Law
Intellectual Property Rights
Public Law
Regional Law
Religious Law
Resources and Environment
Telecommunications Law
Transportation Law
LLM in UK Universities
This popular course is offered by an array of universities in UK. Moreover, you can also opt for specializations as per your interests and inclinations. Make sure you go through the curriculum of the program, research facilities, and career opportunities before sending your applications. Enlisted below are the top Law colleges offering LLM in UK for Indian students:
LLM in UK Requirements and Eligibility Criteria
For securing admission to the LLM program offered by eminent universities, there are certain parameters that you need to follow. Though the entry requisites can vary from one university to another, here are some general eligibility criteria for pursuing masters in law UK for Indian students:
You must hold a Bachelor's degree in Law like LLB, BA LLB, etc.
Though not mandatory in all universities, for some, you will have to qualify for the LSAT exam.
Some universities prefer candidates with work experience. However, it's not mandatory.
Documents Required for Masters in Law in the UK Admission
Here are the documents required for masters in law UK for Indian students:
LLM in UK Fees
Studying LLM in the UK can cost anywhere between 19,000 GBP – 44,000 GBP (INR 1983557- 4475463) depending on location, quality of university, etc. Here is the cost of studying LLM in top Universities in the UK.
Cost of Living in UK
While the cost of living anywhere in the world depends on your personal choices, the cost of living in UK is calculated in the city you reside in. It is difficult to come to an absolute value of the cost which will be spent, but we can arrive at an estimated living cost. It is tabulated below.
| | |
| --- | --- |
| Kind of Expense | Cost in GBP and INR |
| Fees for Visa Application | 348 (INR 34,528) |
| Housing | 500 (INR 49,622) |
| Transportation | 40 (INR 3,970) |
| Housing | 500 (INR 49,638) |
| Food | 150-200 (INR 14,883 to INR 19,844) |
| Clothing and Leisure | 50 (INR 4,961) |
| Telephone and Mobile | 50 (inr 4,961) |
Pre-arrival Cost
The pre-arrival cost for LLM in the UK is mainly for the cost of exams and visa procedures. Let's check out these costs:
| | |
| --- | --- |
| Expense | Fees |
| UK Visa Fees | INR 38112 (For 2 years) |
| IELTS | Approx INR14,000 |
| TOEFL | Approx INR 13,540 |
| Application Fees | Depends on University |
Also Read: Cheapest Universities In UK
Scope of LLM in UK
Securing LLM from one of the leading law schools in the UK will open the door to copious career opportunities. Often, upon completing LLM, many start their independent practice as an Advocate. However, you can also pursue a doctorate-level degree like PhD in Law. Another option to explore would be of working with Law Firms or private/ government organisations. Here are some job profiles after completing an LLM in UK for Indian students:
Magistrate
Trustee
Notary
Advocate
Legal Documents Reviewer
Legal Consultant
Legal Associate
Also Read: Part-Time Jobs in UK for International Students
Salary for Different Job Opportunities
Now, let's check out the average package of these jobs by international standards:
| | |
| --- | --- |
| Job | Salary |
| Arbitrator | £65,000 |
| Barrister | £65,000 |
| Lawyer | £38,000 |
| Paralegal | £ 29,042 |
| Legal Executive | £35,000 |
| Legal Consultant | £41,231 |
| Legal Writer | £23,923 |
Scholarships for Masters in Law in UK
Here are the scholarships available for LLM in UK for Indian students:
Financing LLM Studies
While an LLM degree is a great opportunity for anyone in the legal field, a master's in Law in UK for Indian students can be expensive. So, it's important to know your financing options so you don't end up with heavy debt on yourself:
The best option for financing is getting a scholarship of the highest cost that you can and then take an education loan for the rest of the amount
If you plan to work in India after your post-graduation, make sure that you have a company that will pay you enough to cover the education loan costs.
Since the salary after an LLM does not go very high in India, your other option to pay off the student loan is through working in a UK-based company where your payment will be optimum. Since the UK provides post-study work visas, you can stay after your college is finished and take a job. But that is only applicable if you have a job so work hard for that
If you want to not have a huge debt by the time you graduate, the best option is to do part-time jobs during your postgraduate studies that can cover your living expenses
If you have family members that can offer you soft loans that would be a great way to go ahead.
Cheap Universities for LLM in UK
Studying LLM in UK must be a dream for you but sometimes, those dreams come with a budget. There are several cheap universities in UK that do not compromise with their education quality. So, let's check out the best universities where you can study LLM for cheap:
LLM Courses Open for January Intake 2022
Here is a list of LLM in UK for Indian students open for January Intake 2022:
| | | |
| --- | --- | --- |
| University | Course | Explore |
| Queen Mary University of London | Banking and Finance Law LLMCommercial and Corporate Law LLMComparative and International Dispute Resolution LLMIntellectual Property Law LLMInternational Business Law LLMTechnology, Media and Telecommunications Law LLMTechnology, Media and Telecommunications Law Online LLMTechnology, Media and Telecommunications Law Online PGCertTechnology, Media and Telecommunications Law Online PGDip | Click Here |
| University of Exeter | LLM International LawLLM Commerical Law | Click Here |
| University of Westminster | LLM International Law | Click Here |
| City, University of London | LLM Criminal Litigation | Click Here |
| University of Kent | Law (Criminal Justice) – LLM, PDipLaw (Human Rights Law) – LLM, PDipLaw (Intellectual Property Law) – LLM, PDipLaw (International Environmental Law) – LLM, PDipLaw (International Criminal Justice) – LLM, PDipLaw (International Law with International Relations) – LLM, PDipLaw (International Commercial Law) – LLM, PDipLaw (International Law) – LLM, PDipLaw (Law and Health) – LLM, PDip | Click Here |
Application Process
Applications to universities in the UK for masters in law or LLM are submitted on the official university website. Here's the step-wise application process:
Visit the university website
Check the course curriculum and the eligibility requirements
Click on the application form of the respective university
First, you need to create an account using your mobile number or email address
You will receive an email or SMS on your registered contact number with login details and verification
Use the login details provided and enter your personal details ( name, gender, date of birth)
Enter your academic qualification and upload the required documents
Select the course and pay the application fee
The application fee is different for every university and can be paid through a debit/credit card or internet banking
Submit your application form, you can also track your application form through your account
Students who have been selected will be required to attend a virtual interview by some universities
Documents Required for UK Student Visa
In order to get a UK Student Visa for LLM, you need to have the following documents with you:
A valid passport (Should have validity for more than 6 months from the date of application of visa)
Proof of financial stability
Details of your travel plans and where you are about to reside.
Health checkup report.
Keep a blank page on your passport for the visa.
If you have collected all the documents, recheck and make sure that everything is in English. If not, then you need a certified translator who can translate all of them in English.
You can apply for a student visa online at the official immigration website of the UK.
You will have to sign, submit your application form, book an appointment, pay the application fee and collect the receipt. You will be required to visit the application centre to complete other relevant formalities. It is advised to apply for a visa 3 months prior to the initiation of your course in order to study in the UK.
UK Visa Application Fee
UK visa application fee for Tier-4 Student Visa: £348 [roughly 28,650 INR]
Application fee for short-term Student Visa: £97 [roughly 7,990 INR] for a 6-month visa & £186 for an 11-month visa [15,300 INR]
Also Read: Visa Sponsorship Jobs in UK
Healthcare Surcharge
Under the following conditions will you be required to submit a healthcare surcharge fee while completing the application process:
A citizen of a country outside the European Economic Area (EEA)
Applying for a visa to study, work or join your family
Applying to stay for a period of more than 6 months
Not applying to become a permanent resident of the UK
Also Read: UK Post Study Work Visa
Scope of Masters in Law in UK for Indian Students
A law degree offers several career opportunities, especially after an LLM degree. There are many options that are available after masters in law UK. Let's check them out:
Arbitrator
Barrister
Lawyer
Paralegal
Legal Executive
Legal Consultant
Indian Legal Services
Legal Writer
LLM in UK without IELTS
If you are looking for an answer to the question- Can I pursue LLM in UK without qualifying for IELTS, then, we would suggest you get in touch with our experts. However, listed below are some of the universities in the UK that admit students without the score of IELTS-
The University of Warwick
London Southbank University
Northumbria University
The University of Bolton
The University of Northampton
LLM in UK after LLB in India
Check out this video to learn how you can pursue an LLM in UK after completing an LLB in India-
Practising Law in India after LLM in UK
Once you complete LLM in UK, you also have the option of coming back to the country and practising as a lawyer. Almost 35 UK universities have been recognized by the Bar Council of India and allow their graduates to practise in the country. The registration process for becoming a lawyer in India with a degree from a BCOI recognized UK university is as follows:
Apply at a State Bar Council forward the application to the Bar Council of India
Pass all six subjects of the exam
Given below is the salary estimate of the candidates pursuing the given jobs-
| | |
| --- | --- |
| Job Role | Average Annual Salary (in INR) |
| Corporate Lawyer | 7,00,000 |
| Legal Manager | 4,00,000 |
| Associate Attorney | 3,00,000 |
| Legal Advisor | 2,50,000 |
| Legal Executive | 2,50,000 |
| Legal Counsel | 4.91 lakhs |
FAQs
Can someone with an LLM practise law in the UK?
No, is the response. Although you don't need to have a legal degree to pursue a master's in law, you must have an LLB to practise law in the UK.
Which law schools in the UK are the best?
The University of Oxford, University of Cambridge, London School of Economics and Political Science, Kings College London, and University College London are a few of the top law schools in the UK.
How long is an LLM in the UK?
In the UK, a full-time LLM lasts nine to twelve months. However, there are additional two-year part-time education possibilities. A flexible part-time LLM programme in the UK may last five years.
Hence, pursuing LLM in UK is an excellent option for those who want to advance in this field. Choosing the right institute from plenty of universities can be a daunting task. Take the assistance of our experts at Leverage Edu who will guide you in choosing the best LLM University and specialization. They will also guide thoroughly in the application process including, but not limited to writing an SOP, LOR, etc.
Related Articles: