Not quite sure about the GMAT score validity? Don't know when is the right time to get the GMAT score on your CV? Don't worry! You are at the right place. Let's get you familiarized with how long GMAT score is valid for and the admission essentials you need to keep in mind while submitting one so that you can make the most of it.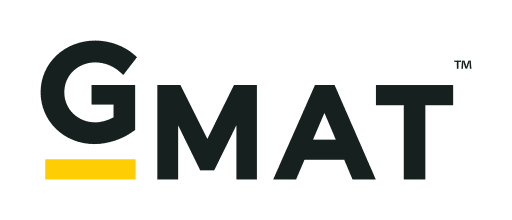 GMAT Score Validity
A popular question among students looking forward to applying for a master's degree abroad is the validity of GMAT and GRE. It is highly recommended to take one of these exams as they are mainly included under the eligibility requisites of postgraduate courses offered by leading universities. For how long are GMAT score valid in top schools is one of the most common questions asked by students. Both GMAT and GRE scores are valid for five years. In order to apply for a course in business and management, you need to submit your five or less than five years old GMAT scores to your chosen business school.
For example, if the GMAT examination was given in November 2017, then the GMAT score validity remains until November 2022. If you are planning to apply for admission in Fall 2020, your GMAT Score should be dated 1st January 2015, (or be dated more recently). This helps in the fact that in case you were prepared for your MBA and for some reason couldn't get through, you can put to use the score you had secured five years back and get admission in your dream college. Top colleges such as Harvard Business School, Columbia Business School, the Wharton School for MBA, Stanford Graduate School of Business, etc generally accept 5-year old GMAT scores.
FAQs
What is the validity of GMAT score?
Your GMAT score is valid for 5 years and as per mba.com, they are also available for reporting for the period of 10 years.
Do GMAT scores expire?
Yes, GMAT Score does expire in a duration of 5 years. Candidates can apply to any higher educational institute within this duration of taking the exam. Hence, the validity of the GMAT score is 5 years.
For how long is GMAT valid in top schools?
GMAT scores are valid until 5 years. Most of the top schools across the globe like Harvard, Columbia, Wharton, etc, accept GMAT scores that are within this timeframe.
What percentile is a 700 on the GMAT?
GMAT percentile can be obtained depending upon the number of candidates who took the examination. For example, a score of 750 is close to 98 percentile, which means that the candidate has performed better than 98% of the applicants. 
Is GMAT very tough?
GMAT is considered an exam of mediocre difficulty. If a candidate takes up the GMAT test series then scoring 700+ in the exam would not be difficult.
How many times are you allowed to take the GMAT?
A person can give the GMAT paper once in 16 days. While doing the same, candidates have to make sure that they cannot exceed the limit over 5 times in a period of 12 months and 8 times in a lifetime.
Who conducts GMAT?
It is supervised by GMAC, i.e. Graduate Management Admission Council. Most importantly, GMAT is a vital exam in case the student is aiming for an MBA outside the country.
Do IIMs take GMAT scores?
There are many b-schools in India which readily accept GMAT scores for management programs including ISB, IIMs, Great Lakes, S.P. Jain Institute of Management and Research, amongst others. In the list of IIMs, seven of them have deemed GMAT scores acceptable including, Indore, Bangalore, Calcutta and Ahmedabad.
Preparing for GMAT?
Leverage Live offers exclusive online classes from certified faculty as well as premium study material and doubt-clarification sessions!
Sign up for a free demo session with us today!
Is GMAT Valid in India?
Just like CAT is an exam taken by many to pursue MBA from leading B-schools in India, GMAT is for those aspiring to study Management Studies abroad. Do you know GMAT score validity can also be availed in some of the top Business Schools in India? Given below is the list for the same:
University
Valid GMAT
Scores
Course(s)
Indian Institute of Management, Indore
580+
EPGP
S.P.Jain Institute of Management & Research
680+
PGDM
IMT, Ghaziabad
690+
PGDM, PGDM-Ex
Indian Institute of Management, Bangalore
690+
EPGP
Indian Institute of Management, Lucknow
680+
IMPX
Great Lakes Institute of Management
680+
PGPM
XLRI, Jamshedpur
700+
General MBA
Indian Institute of Management, Calcutta
700+
PGPEX
Indian School of Business (ISB), Hyderabad
700+
PGP, YLP
Indian Institute of Management, Ahmedabad
700+
PGPX
Here is a list of GMAT Accepting colleges in India!
GMAT Score Validity for Top Business Schools Abroad
For someone asking about the GMAT score validity of Harvard, INSEAD, London Business Schools, amongst others, you must know that business schools abroad provide their own timeframe for ensuring that students provide valid GMAT scores. For example, take a look at the GMAT score validity for Harvard Business School for MBA admissions 2021:
| | |
| --- | --- |
| Applying for | Valid Test Dates of GRE or GMAT |
| Round 1 | 8th September 2015 to 7th September 2020 |
| Round 2 | 5th January 2016 to 4th January 2021 |
| 2+2 Round | April 2015 to June 2020 |
Thus, it is important to check the official university website for GMAT and GRE score validity and see the same for the admission rounds as well.
How is the GMAT Score Calculated?
Here is the GMAT Score range for each section: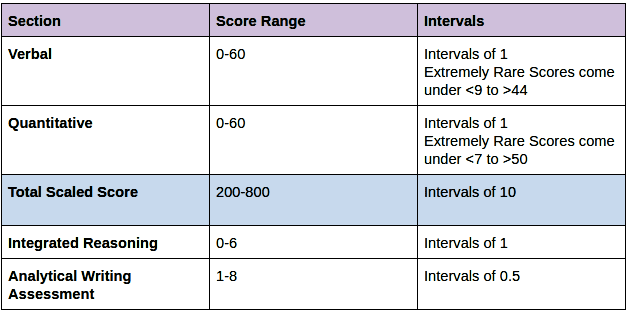 The GMAT score is calculated based on the sections in the paper and the number of questions answered. Candidates planning to apply for MBA after BA need to get good GMAT scores. There are 4 sections in total, namely:
1. Reading (Comprehension & Passages)
2. Verbal (English & Grammar)
3. Quantitative (Maths & Accounts)
4. Logical Reasoning
Bingo Tip: Since the GMAT paper is adjustive, the score is calculated as the correct answer times the difficulty of the paper. This implies that answering a few difficult questions is more beneficial than answering several easy questions. By doing so, the percentile increases for the candidate.
Example:
85 percentile means, performing better than 85% of the people. This rule of acceptance of five-year-old score was introduced by the GMAC in 2012 and carried out in 2015. This also included other changes such as cancellation of scores, not showing up on the scorecard and the exam could be attempted in every 16 days as opposed to 31 days earlier. Top colleges such as Harvard Business School, Columbia Business School, the Wharton School for MBA, Stanford Graduate School of Business, accepted the new rule and agreed upon the validity of GMAT scores till 5 years.
Importance of GMAT Score on CV
Stepping into the corporate world is a challenging, yet intriguing prospect for more than half the students out there. The one advantage that a prospective candidate has when standing in the corporate race line, is the set of managerial skills. An MBA is one such degree that is sure to boost your market value and opens your job opportunity window, wide open. To ensure admission in a good college, the GMAT exam is extremely important and needs to be prepared for, with utmost dedication and sincerity. Apart from GMAT score validity, you may also like the following blogs on the same:

This was all one must know about the GMAT score validity. If you are someone planning to study MBA from abroad, get in touch with Leverage Edu and we will help you towards your application to dream university. We also help candidates with GMAT coaching and preparation.