Which will be the best course to pursue after completing class 12th? This question is probably the most common one among all the Class 12 students. With the diversification in every discipline, the battle of choosing a well-fit as well as lucrative program is mandatory to mark upon an excellent career. Science has a wide range of branches which further leads to subcategories, bringing together new areas of study and research. Biotechnology is one such course which interests many Science students. Do you know there are different types of Biotechnology courses one can sign up for? Read this blog to know all the Biotechnology courses after the 12th. 
What is Biotechnology?
Biotechnology is a very spacious field that includes the combination of the two science fields that is biology + technology which answer questions like the reason behind the genetic diseases in plants and animals along with it give solutions to many problems prevailing. It is a combination of Physics, Mathematics, Chemistry, Biology, and Computer Applications. So students belonging to both MPC and BiPC can apply for the biotechnology course. As it is one of the newest branches in biology it offers students with immense research and discoveries in the future. The biotechnology course after the 12th includes immunology, virology, cell, and molecular biology, microbiology, bioinformatics, medicine, etc. through which the student is open to many roads through which they can opt for.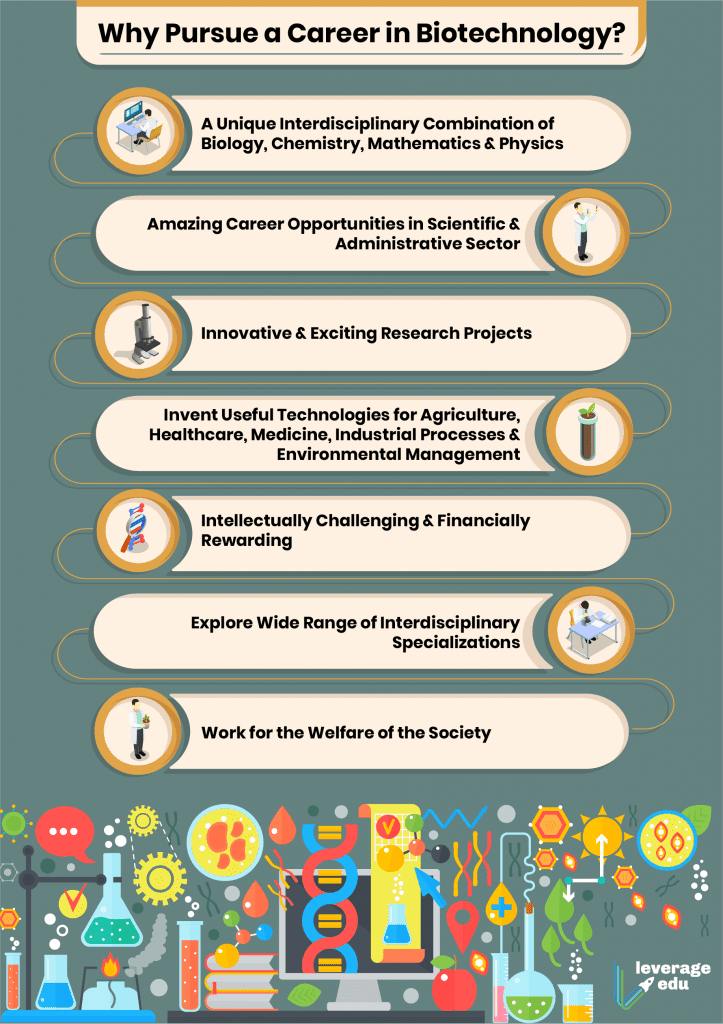 Want to know what is covered in Biotechnology courses?
Here is a list of all the Biotechnology subjects to your rescue!
Eligibility for Biotechnology Courses
Want to know about the entrance exam for biotechnology courses after the 12th board? Here are the common admission and eligibility requirements for Biotechnology courses after senior secondary:
To pursue a biotechnology course like BSc Biotechnology after 12th, the student needs to complete 10+2 in a science stream from a recognised board of education.
The entrance exams for Biotechnology courses after Class 12 in India are:

All India Biotechnology Entrance Examination

Guru Gobind Singh Indraprastha University Common Entrance Test
Central University Biotechnology Entrance Examination
Anna University Biotechnology Entrance Examination
Jamia Milia Islamia Entrance Exam
There are certain subjects required for Biotechnology courses mainly subjects in the science stream, i.e. Physics, Biology, Maths and Chemistry. A combination of any of these, like MPC subjects and BiPC subjects, is required for biotechnology courses after Class 12.
If you are planning to study abroad, you must have a Class 12 passing certificate, transcripts and a good GPA from a recognized board of examination. Some universities require SAT or ACT scores to check the proficiency of candidates. Most global universities require non-native speakers of English to submit a proficiency test. The most common ones are IELTS and TOEFL. 
Read: MSc Genetics
List of Biotechnology Courses After Class 12th
What are the degree options you have just after completing class 12th? Well, you only have 2 options here! One is a diploma and the other is a Bachelor's degree. Here are the top bachelor's degrees and B.Sc Biotechnology courses after Class 12:
BSc in Biotechnology (Molecular Biology)
Bachelor of Biotechnology
Bachelor's Degree in Resource Biotechnology
BSc in Medical Biotechnology
Bachelor of Applied Science Majoring in Molecular Biotechnology
BSc in Chemical Engineering with Biotechnology Specialization
BSc Majoring in Plant Biotechnology
Bachelor of Biomedicine
Bachelor of Technology in  Food Technology
Bachelor of Medical Science
BSc in Agricultural Biotechnology and Biochemistry
Bachelor of Biomolecular Science – Environmental Biotechnology
Bachelor of Applied Arts and Sciences in Biotechnology
Bachelor in Applied Sciences with Islamic Studies
BSc in Biological Engineering – (Biotechnology Engineering Concentration)
Graduate Diploma in Technology
Diploma in Biotechnology
Diploma of Laboratory Technology
Bachelor of Biotechnology and Innovation
Diploma in Molecular Biotechnology
Certificate in Food Biotechnology
Diploma of Health Science in Molecular Genetics and Biotechnology
BTech Biotechnology
BTech Biotechnology is a mashup of biology with technology to make a field that provides immense knowledge including topics like bioprocessing and principles of chemical engineering. It is one of the best courses in STEM education. The course curriculum includes internship placements, projects, entrepreneurship development, programming fundamentals, IT tools, experiments, and even foreign language courses.
BTech Food Technology
BTech Food Technology is a popular Biotechnology course after the 12th. It is majorly pursued by students looking for a technical degree. Most of the universities prefer candidates with Mathematics in class 12th for this course. It deals with the processing, prevention, and packaging of the ready-to-eat food industry. The main focus is on increasing the shelf life of the products through different physical and chemical processes maintaining the quality standards set by the officials. 
BSc Biotechnology
Pursuing BSc in Biotechnology after Class 12 will introduce you to all the factors covered in this discipline. You will be studying everything briefly while studying BSc Biotechnology. This program will familiarize you with topics like Genetic Engineering, Fermentation Technology, Vaccine Production Immunology, Bioinformatics, Research Design, Epidemiology, and Cell Structure. 
Bachelor of Science in Bioinformatics
This Biotechnology course after class 12th is just like what data analysis is for the marketing and financial industry, bioinformatics is for biotechnology. BSc Bioinformatics subjects include, are pattern recognition, drug data designing, and development, sequence alignment, gene finding, sequence assembly, database design, genome assembly, etc. 
Bachelor of Science in Genetics
Another option in the list of Biotechnology courses after class 12th is BSc Genetics. As it is among the major Life Science courses, many universities also design the curriculum of this degree by offering specialisations in varied subjects like Biotechnology, Cell Biology, Biochemistry, Evolutionary Biology, and Regeneration, amongst others. 
Also Read: Courses After BSc Biotechnology
Best Universities for Biotechnology Courses After Class 12th
Only an expert can teach and make a new expert and below listed are some of the top universities that are filled with top facilities and infrastructure for biotechnology students.
Biotechnology Course Syllabus
Now that you are aware of the major biotechnology courses after 10+2, let's understand the syllabus covered under Biotechnology courses. Here are the major subjects and topics that would be covered under the Biotechnology course syllabus:
Biomathematics
Developmental Biology
Structural Biochemistry
Biodiversity and Taxonomy
Medical Biotechnology
Microbiology
Enzyme Technology
Biological Chemistry
Molecular Genetics
Environmental Biotechnology
Life Science
Cell Biology
Bioinformatics
FAQs
Can I join biotechnology after 12th?
Yes. Students with an interest in biotechnology can enrol in undergraduate courses in biotechnology at different universities and colleges in India and abroad.
Which course is best in biotechnology after 12th?
Some of the most sought-after Biotechnology courses after Class 12 are:
BSc in Biotechnology (Molecular Biology)
BSc in Bioinformatics
Bachelor of Biotechnology
Bachelor of Applied Science 
Bachelor's Degree in Resource Biotechnology
BSc in Medical Biotechnology
Does biotechnology require NEET?
No. NEET is only relevant for MBBS and BDS programmes.
Discover study abroad options with Leverage Edu and Leverage Live. Initiate your journey with a 30-minute counselling session at 1800 572 000.