Which will be the best course to pursue after completing class 12th? This question is probably the most common one among all the Class 12 students. With the diversification in every discipline, the battle of choosing a well-fit as well as lucrative program is mandatory to mark upon an excellent career. Science has a wide range of branches which further leads to subcategories, bringing together new areas of study and research. Biotechnology is one such course which interests many Science students. Do you know there are different types of Biotechnology courses one can sign up for? Read this blog to know all the Biotechnology courses after the 12th. 
| | |
| --- | --- |
| Popular Courses | Certificate in Biotechnology and Certificate in Industrial Biotechnology is the most offered as well as Preferred courses for Biotechnology Course. |
| Biotechnology Course Duration | 1 month to 1 year (for Offline); a few days to 6 months (for Online) |
| Biotechnology Eligibility | Class 10th or 12th from a recognized board. |
| Biotechnology Course Fees | INR 2,000-50,000 |
| Online Courses | Available |
| Types of Online Courses | Coursera, Udemy, Edx, etc. |
| Top Job Prospects | Medical Scientists, Biological Technicians, Microbiologists, Bioproduction Operators, etc. |
| Biotechnology Salary | INR 1.5-3 LPA |
What is Biotechnology?
Biotechnology is a very spacious field that includes the combination of the two science fields that is biology + technology which answer questions like the reason behind the genetic diseases in plants and animals along with it gives solutions to many problems prevailing. It is a combination of Physics, Mathematics, Chemistry, Biology, and Computer Applications. So students belonging to both MPC and BiPC can apply for the biotechnology course. As it is one of the newest branches in biology it offers students with immense research and discoveries in the future. The biotechnology course after the 12th includes immunology, virology, cell, and molecular biology, microbiology, bioinformatics, medicine, etc. through which the student is open to many roads through which they can opt for.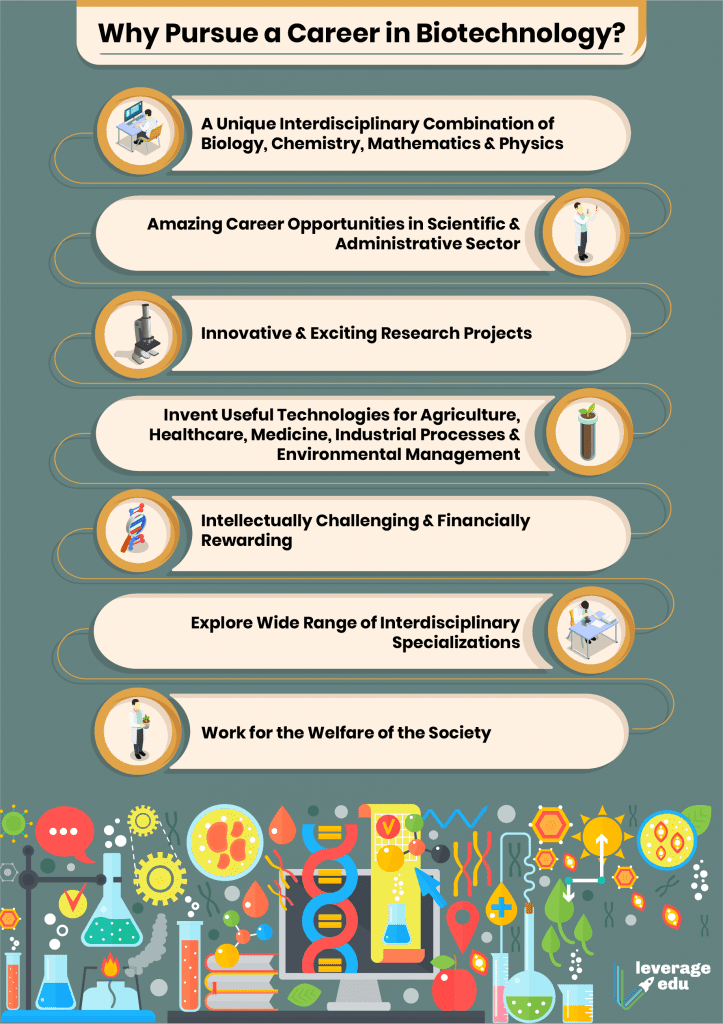 Want to know what is covered in Biotechnology courses?
Here is a list of all the Biotechnology subjects to your rescue!
Eligibility for Biotechnology Courses
Want to know about the entrance exam for biotechnology courses after the 12th board? Here are the common admission and eligibility requirements for Biotechnology courses after senior secondary:
To pursue a biotechnology course like BSc Biotechnology after 12th, the student needs to complete 10+2 in a science stream from a recognised board of education.
Clear the entrance exams for Biotechnology courses after Class 12 in India.
There are certain subjects required for Biotechnology courses mainly subjects in the science stream, i.e. Physics, Biology, Maths and Chemistry. A combination of any of these, like MPC subjects and BiPC subjects, is required for biotechnology courses after Class 12.
If you are planning to study abroad, you must have a Class 12 passing certificate, transcripts and a good GPA from a recognized board of examination. Some universities require SAT or ACT scores to check the proficiency of candidates. Most global universities require non-native speakers of English to submit a proficiency test. The most common ones are IELTS and TOEFL. 
Read: MSc Genetics
List of Biotechnology Courses After Class 12th  
What are the degree options you have just after completing class 12th? Well, you only have 2 options here! One is a diploma and the other is a Bachelor's degree. Here are the top bachelor's degrees and B.Sc Biotechnology courses after Class 12:
BSc in Biotechnology (Molecular Biology)
Bachelor of Biotechnology
Bachelor's Degree in Resource Biotechnology
BSc in Medical Biotechnology
Bachelor of Applied Science Majoring in Molecular Biotechnology
BSc in Chemical Engineering with Biotechnology Specialization
BSc Majoring in Plant Biotechnology
Bachelor of Biomedicine
Bachelor of Technology in Food Technology
Bachelor of Medical Science
BSc in Agricultural Biotechnology and Biochemistry
Bachelor of Biomolecular Science – Environmental Biotechnology
Bachelor of Applied Arts and Sciences in Biotechnology
Bachelor in Applied Sciences with Islamic Studies
BSc in Biological Engineering – (Biotechnology Engineering Concentration)
Graduate Diploma in Technology
Diploma in Biotechnology
Diploma of Laboratory Technology
Bachelor of Biotechnology and Innovation
Diploma in Molecular Biotechnology
Certificate in Food Biotechnology
Diploma of Health Science in Molecular Genetics and Biotechnology
BTech Biotechnology
BTech Biotechnology is a mashup of biology with technology to make a field that provides immense knowledge including topics like bioprocessing and principles of chemical engineering. It is one of the best courses in STEM education. The course curriculum includes internship placements, projects, entrepreneurship development, programming fundamentals, IT tools, experiments, and even foreign language courses.
BTech Food Technology
BTech Food Technology is a popular Biotechnology course after the 12th. It is majorly pursued by students looking for a technical degree. Most of the universities prefer candidates with Mathematics in class 12th for this course. It deals with the processing, prevention, and packaging of the ready-to-eat food industry. The main focus is on increasing the shelf life of the products through different physical and chemical processes maintaining the quality standards set by the officials.
BSc Biotechnology
Pursuing BSc in Biotechnology after Class 12 will introduce you to all the factors covered in this discipline. You will be studying everything briefly while studying BSc Biotechnology. This program will familiarize you with topics like Genetic Engineering, Fermentation Technology, Vaccine Production Immunology, Bioinformatics, Research Design, Epidemiology, and Cell Structure. 
Bachelor of Science in Bioinformatics
This Biotechnology course after class 12th is just like what data analysis is for the marketing and financial industry, bioinformatics is for biotechnology. BSc Bioinformatics subjects include, are pattern recognition, drug data designing, and development, sequence alignment, gene finding, sequence assembly, database design, genome assembly, etc.
Bachelor of Science in Genetics
Another option in the list of Biotechnology courses after class 12th is BSc Genetics. As it is among the major Life Science courses, many universities also design the curriculum of this degree by offering specialisations in varied subjects like Biotechnology, Cell Biology, Biochemistry, Evolutionary Biology, and Regeneration, amongst others. 
Also Read: Courses After BSc Biotechnology
Best Universities for Biotechnology Courses After Class 12th
Only an expert can teach and make a new expert and below listed are some of the top universities that are filled with top facilities and infrastructure for biotechnology students.
Also, check out the Best Biotechnology Colleges In India
Admission Process
Students who have completed grade 12 can apply for biotechnology courses at any college, provided they meet the eligibility requirements.
Obtaining at least 50% in class 12 and studying Physics, Chemistry, and Biology as core subjects are required.
Depending on the college, students must register for either merit-based admission or entrance exam-based admission.
After the entrance exam, there will be an interview and counselling.
Biotechnology Course Syllabus
Now that you are aware of the major biotechnology courses after 10+2, let's understand the syllabus covered under Biotechnology courses. Here are the major subjects and topics that would be covered under the Biotechnology course syllabus:
Biomathematics
Developmental Biology
Structural Biochemistry
Biodiversity and Taxonomy
Medical Biotechnology
Microbiology
Enzyme Technology
Biological Chemistry
Molecular Genetics
Environmental Biotechnology
Life Science
Cell Biology
Bioinformatics
Entrance Exams for Biotechnology Courses
Here are all the exams that are available for biotechnology courses after the 12th listed below:
JAM Biotechnology Entrance Examination
Goa University Biotechnology Entrance Examination
JNU CEEB
CBEE
All India Biotechnology Entrance Examination
BHU CET
Jobs and Salary
Listed below are some of the job profiles in which biotechnology graduates work. Check out the job titles along with their average monthly salary:
| | |
| --- | --- |
| Job Profile | Salary (Monthly) |
| Biomedical Engineer | INR 92,620 |
| Biotechnology Research Scientist | INR 92,985 |
| Biochemist & Biophysicist | INR 94,270 |
| Biomanufacturing Specialist | INR 83,017 |
| Microbiologist | INR 84,400 |
| Medical Scientist | INR 91,510 |
| Product Management Director | INR 149,139 |
| Process Development Scientist | INR 73,089 |
| Research Technician | INR 52,000 – INR 72,000 |
| Director of Science | INR100,000 – INR 150,000 |
| Lab Manager | INR 72,000 – INR 97,000 |
| Research Scientist, Biochemistry | INR 70,000 – INR 90,000 |
| Associate, RNA Production | INR 43,000 – INR 57,000 |
| Bioinformatics Programmer | INR 55,000 – INR 72,000 |
| Scientist, Pharmaceutical Sciences | INR 57,000 – INR 76,000 |
| Production Technologist | INR 50,000 – INR 90,153 |
| Program Area Leader-Healthcare & Life Sciences | INR 80,000 – INR 100,000 |
| Scientist, Analytical Development | INR 65,000 – INR 87,000 |
| Production Assistant, Cell Biology | INR 34,000 – INR 49,000 |
| Senior Biostatistician | INR 74,000 – INR 100,000 |
| Environmental Biotechnologist | INR 43,000 – INR 57,000 |
| Lead, Biotherapeutic Analytics | INR 78,000 – INR 100,000 |
| Biotech & Pharmaceutical Writer | INR 49,000 – INR 64,000 |
| Production Assistant, Protein Technology | INR 40,000 – INR 50,000 |
| Principal Biostatistician | INR 83,000 – INR 120,000 |
Must Read: Biotechnology Jobs
Future Scope
As previously said, biotechnology is a rapidly evolving field. Increasing demand for goods and services is frequently associated with growth. Those seeking a successful career after completing a degree in biotechnology have every reason to be optimistic, especially since vacancies in the industry are expected to grow at a faster rate than in many other industries. As a result, you have a very good chance of pursuing your ideal career after completing your studies in biotechnology.
Must Read: Career in Biotechnology
FAQs
Q1. Can I join biotechnology after the 12th?
Ans. Yes. Students with an interest in biotechnology can enrol in undergraduate courses in biotechnology at different universities and colleges in India and abroad.
Q2. Which course is best in biotechnology after the 12th?
Ans. Some of the most sought-after Biotechnology courses after Class 12 are:
BSc in Biotechnology (Molecular Biology)
BSc in Bioinformatics
Bachelor of Biotechnology
Bachelor of Applied Science 
Bachelor's Degree in Resource Biotechnology
BSc in Medical Biotechnology
Q3. Does biotechnology require NEET?
Ans. No. NEET is only relevant for MBBS and BDS programmes.
Discover study abroad options with Leverage Edu and Leverage Live. Initiate your journey with a 30-minute counselling session at 1800 572 000.