Uncovering the mysteries of living organisms by carrying out research, Biology is a study of life and living beings, be it humans, animals or plant communities. Encompassing all the aspects of life, ranging from the molecular stage to internal structures and organization of the living organisms, branches of Biology have become one of the most sought-after fields in the long list of Science stream subjects. Opening the doors to some of the most lucrative and highly-paid career options, there is no doubt that the scope of biology is more immense than it looks. If you are looking forward to studying this field, this blog aims to elaborate upon the insightful aspects of everything you need to know about the scope of biology as a career.

What is Biology & Biological Science Scope?
Biology is a scientific field that focuses on the study of living things, including plants, animals, and microorganisms, as well as their biological activities and the impact they have on the environment. It is also known as the study of all living things and how they interact with their surroundings.
Register here for a FREE Career Counselling Session!
Origin of the Term Biology
The words "biology" and "logos," both of Greek origin, signify "to study" and "life," respectively. This enormous field of study can provide answers to all of life's problems. Because he was the first to link life and its origin to biology rather than presuming it came from a heavenly source, which was the common belief at the time, Aristotle is known as the Father of Biology. Lamarck and Trevirances are credited with creating the term "biology." To learn more about the application of biology, keep reading.
Branches of Biology
Major Career Profiles in Biology
Now that you know the specializations as well as the prerequisites, let's understand the scope of Biology in a detailed manner. After completing a degree in this field, you can discover an array of different career opportunities awaiting you in the private as well as public sectors. Exploring the areas of medicine and biotechnology, we have listed below some of the most sought-after major career profiles that a graduate in biological sciences can opt for.
Doctor
The moment we think of taking up a profession in the field of Biology, the first job that comes to our minds is that of a doctor or a medical practitioner. A doctor is a qualified person who treats sick patients and prescribes them the required medicine. One of the highest-regarded and commonly pursued career profiles that one can opt for to avail the scope of biology, an MBBS is the basic degree that you require after completing 12th to enter the field of medicine at a beginner level.
Wondering What To Do After MBBS? Check Out: Doctor of Medicine
Environmental Scientist
Not just related to human and animal anatomy, the scope of Biology also comprises the domain of environmental studies as well. Pursuing a career in this amalgamated specialisation, environmental scientists study plants, animals and other living organisms thriving in the environment, along with analysing pollution and other hazardous factors to combat their impact and provide more environment-friendly solutions and techniques.
Explore What A Career in Environmental Studies Entails!
Forensic Scientist
Forensic Scientists are those who implement analytical and scientific methodologies while examining evidence to draw inferences in crime cases. It is the application of science by gathering and examining pieces of evidence that are to be used in a legal case. For the ones who want to pursue a career in this field of study, the basic degree where they can enroll themselves is a Bachelor of Science in Forensic Science.
Also Read: Forensic Science Courses After 12th
Microbiologist
Microbiology is concerned with the analysis of microbes or microorganisms, such as bacteria, fungi, algae, prions, protozoa, etc. which are too smaller to be seen with naked eyes. Further, this discipline aims to understand how these microorganisms thrive, grow and interact with the environment around them. Opting for Microbiology courses open up an immense scope of biology for you as it can lead you to some of the most elite jobs such as biomedical scientist, biotechnologist, nanotechnologist, microbiologist, food technologist, and like.
Discover the Scope of Biology Through A Career in Microbiology!
Pharmacist
Under the scope of biology, Pharmacy is one of the most famous medical science courses. Pharmacists are responsible for dispensing the right prescribed amount of drugs and medicines to the general people, ensuring the safety and quality of drugs and chemicals used, and also advising patients regarding the appropriate use of a particular medicine. Getting into the field of pharmacy, you can choose from some amazing job profiles such as drug inspector, retail pharmacist, drug therapist, quality analyst, etc.
Other major career profiles that come under the scope of biology include the following:
Biotechnologist
Nurse
Food Scientist
Nutritionist
Biological Technician
Biochemist
Genetic Counsellor
Health Educator
University Professor
Scope of Biology: Specializations in Biology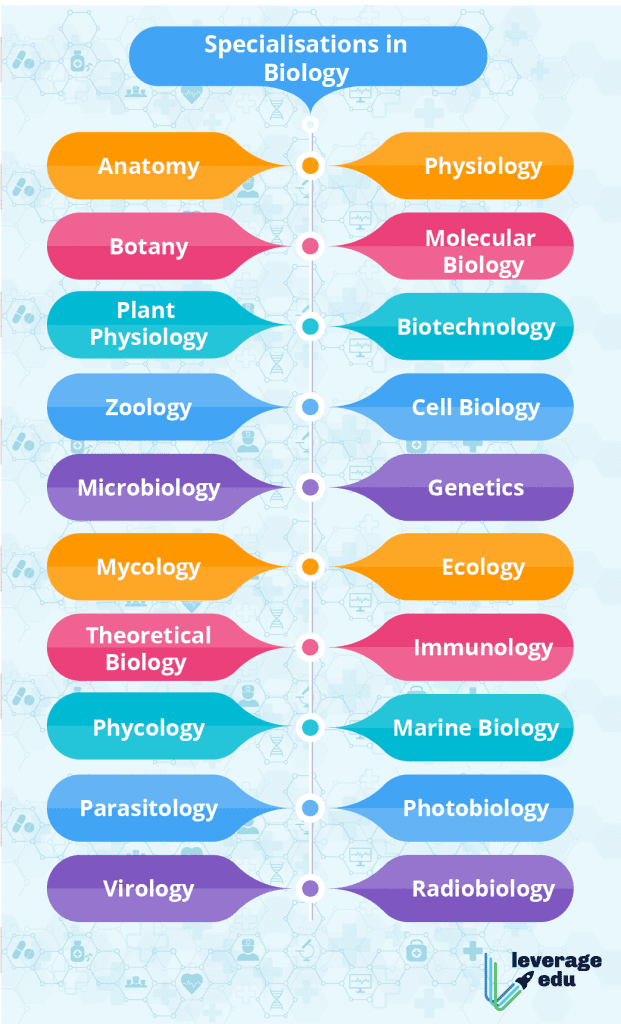 Before we get on to the scope of biology, it is important to know about the various specializations available under this medical domain that you can choose to major in. The following table enlists some of the prominent specializations that are categorized under 3 main fields Biology, Biomedical Sciences and Life Sciences.
Biology
Biomedical Sciences
Life Sciences
Molecular Biology
Cryobiology
Astrobiology
Ornithology
Parasitology
Socio-biology
Neurobiology
Clinical Chemistry
Histology
Bacteriology
Medical Biochemistry
Immunology
Medical Microbiology
Transfusion Science
Histopathology
Zoology
Biodynamics
Neuroinformatics
Molecular Biology
Developmental Biology
Cognitive Neuroscience
Tissue Engineering
Evolutionary Genetics
List of Courses in Biology
Owing to the vast scope of Biology, there is an array of degree programs spread across a plethora of specialisations and branches of this arena. Students can choose between Biotechnology, Biomedicine to Molecular Biology and Biomedical Engineering and much more. Here is a comprehensive list of Biology courses that you can consider to make a successful career in this field!
Bachelor in Biomedical Science
Bachelor in Biology and Genetics
Bachelor in Animal Biology
BSc in Nutritional Biology
MSc Biology
Masters in Biodiversity
Master's in Biomedicine
MTech Biotechnology
Master in Molecular Biotechnology
Masters in Bioethics and Biolaw
Master's in Ecology
Master's in Advanced Immunology
Master's in Bioinformatics and Computational Biology
PhD in Natural Sciences: Biology
PhD in Biology
PhD in Molecular Biology and Biotechnology
Scope of Biology After 12th
Listed below are the courses you can pursue if you want to start a career in this field:
MBBS- Bachelor of Medicine and Bachelor of Surgery
BHMS- Bachelor of Homeopathy Medicine and Surgery
BAMS– Bachelor of Ayurvedic Medicine and Surgery
BUMS- Bachelor of Unani Medicine and Surgery
BNYS- Bachelor of Naturopathy and Yogic Science
BDS- Bachelor of Dental Surgery
Pharm. D.
B.Sc. in AH (Animal Husbandry)
B.Sc.in Microbiology
B.Sc.in Biotechnology
B.Sc.in Biochemistry
B.Sc.in Nursing
Bachelor in Physiotherapy- BPT
B.Sc.in Agriculture
B.Sc.in Horticulture
B.Sc. in Environmental Science
Bachelor in Fisheries Sciences- B.F.Sc.
B.Sc.in Occupational Therapy
B.Sc.in Audiology
B.Sc.in Speech and Language Pathology
B.Sc.in Radiography
B.Sc.in Nutrition and Dietetics
B.Sc.in Botany
B.Sc.in Zoology
B.Sc.in Home Science
Scope of Biology in Engineering
Over the past few years, various new engineering fields have been born out of Biology. This gave rise to a great demand for such unique courses amongst students who do not wish to pursue a career in the medical field after opting for Biology. Here are the Biology oriented Engineering courses:
Biological Systems Engineering
Biomedical Engineering
Bioprocess Engineering
Cellular Engineering
Biomimetics
Top Universities Offering Courses in Biology
The wider scope of Biology entails more and more demand for specialised programs in biological sciences. Catering to this demand, different universities are coming up with world-class facilities and real-life industrial exposure for their tailored programs in this field. Here is the list of the top universities offering a wide range of biology courses like BSc Biology, amongst others.
University of Manchester
Brunel University London
Scope of Biology: Eligibility Criteria
Owing to the multifarious scope of biology, a majority of science students from all around the world aspire to pursue a successful career in this field. For this, different universities providing courses in biology have set their own parameters of eligibility for the candidates. Here are the general eligibility criteria that you need to satisfy as follows:

For admission into various undergraduate courses, a candidate must have cleared 10+2 level of studies from a recognized educational board with BiPC subjects.
To avail the scope of biology, candidates who wish to pursue post-graduate or master's level courses have to complete their bachelor's level studies with the minimum aggregate percentage as set by the university guidelines.
Thus, we hope that this blog has provided you with all you needed to know about the scope of biology as a career. If you are looking forward to a career in any specialisation of Biology or Medical Sciences, sign up for a 30-minute free career counselling session with our experts at Leverage Edu and we will help you choose the best biological science programs as well as the major universities you can pursue them from.