Scrolling through old pictures, you must have wondered about the uncanny resemblance you have with your family. Being identical to your family is not a mere coincidence rather it happens because of the same genetics which is carried forward from one generation to another. Genetics is amongst the leading and emerging branches of Biology and comprises an in-depth study about the heredity processes and genes of living organisms. If you are interested in knowing the science behind how the biological mechanisms of living bodies work, then you must consider pursuing a BSc Genetics degree. Through this blog, we aim to provide you with a comprehensive guide on BSc Genetics, top universities offering this course as well as the career scope it encompasses. 

Highlights
| | |
| --- | --- |
| Course Name  | B.Sc Genetics |
| Full Name  | Bachelor of Science in Genetics  |
| Level  | Undergraduate |
| Duration  | 3 years |
| Eligibility  | Minimum 50%-60% in 10+2 or equivalent with Physics, Chemistry, and Biology |
| Admission Process  | Merit Basis or Entrance Exam |
| Top Entrance Exams | GSAT, DUET |
| Average cost of study | INR 4 lakh (more if planning to study abroad) |
| Average Salary  | INR 4-5 lakh per annum  |
| Career Options | Animal Breeder, Bio Technician, Genetics Laboratory Technician, Clinical Researcher, Geneticist, etc. |
| Employment Sectors | Healthcare Centres, Consultancies, Forensic Departments, Testing Labs, Hospitals, Pharmaceuticals industry |
What is BSc Genetics?
Bachelor of Science in Genetics is an undergraduate program that focuses on the study of biological variations, mechanism of living bodies, heredity, and how the genes are passed over generations. It is interconnected to various related fields such as Biochemistry, Molecular Biology, Microbiology, Zoology, etc. Usually, the duration of BSc Genetics is 3 years during which you will get to learn the molecular and cellular aspects of genetics, disease development, genetic analysis, and chromosome theory as well as issues related to population and evolution. As it is amongst the major Life Science courses, many universities also design the curriculum of this degree by offering specialisations in varied subjects like Biotechnology, Cell Biology, Biochemistry, Evolutionary Biology, Regeneration, amongst others. 
BSc Genetics Syllabus
The B.Sc Genetics syllabus and curriculum revolves around courses that include the study of living organisms' genes, as well as their body and hereditary variations. They mostly research the history of genetics, its transfusion process, and new developments and techniques in this subject. The following is the semester wise syllabus for the BSc Genetics course:
| | |
| --- | --- |
| Semester 1 | Semester 2 |
| Microscopy | History of Genetics |
| Model Organisms | Multiple Alleles |
| Scope of Genetics | Elements of Biometry |
| UltraStructure of cells and cells organelles | Law of Segregation |
| Cell Cycle and Cell Division | Gene Interactions |
| Practical 1 | Law of Independent Assortment |
| – | Sex Determination |
| – | Biography of Mendel |
| Semester 3 | Semester 4 |
| Study of types of Drosophila | Nucleic Acids |
| Genetic Problem of linkage and crossing over | DNA Replication |
| Culturing and Handling of Drosophila | Chemical Basis of Heredity |
| Drosophila melanogaster | Genome Organization |
| Study of chromosomes | Gene Expression |
| Salivary Gland Chromosome | Mutations |
| – | Introduction to Genomics and Proteomics |
| – | Bacterial Genetics |
| – | Transposable Elements |
| Semester 5 | Semester 6 |
| Introduction to RDT | Development Genetics |
| Tools of RDT | Evolutionary Genetics |
| Techniques of RDT | Population Genetics |
| Isolation of Gene | Biometrical Genetics |
| Direct gene transfer method | – |
| Selection and screening of Recombinant | – |
List of Electives Offered in BSc Genetics
Apart from the core modules, you will also have to study some electives which will broaden your knowledge bank and help you gain important insights in a field that is related to the domain of Genetics. Enlisted are some of the electives you can pursue in the BSc Genetics course:
Immunology and Infection
Food and Fuel
Conservational Biology
Cell Biology
Enzymes and Proteins
Ageing and Regenerative Medicine
Molecular Recognition
Genomics & Bioinformatics
Molecular Microbiology
Popular Universities for BSc Genetics
There are numerous academic institutions across the globe and in India that offer BSc Genetics. To help you further in your research, take a look at the below-mentioned list of major universities providing a bachelor of science in Genetics to students around the world and in India:
Global Universities
The table below represents some of the popular universities around the globe that offers BSc Genetics:
Indian Colleges and Universities 
The table below represnts some of the popular Indian colleges and universities that offer BSc Genetics course:
| | | |
| --- | --- | --- |
| Universities and Colleges | Location | Admission Process |
| St. Ann's College for Women | Hyderabad | Merit-based |
| Dayanand Sagar University | Bangalore | Entrance based |
| Maulana Abul Kalam Azad University of Technology | Kolkata | Merit-based |
| Institute of Genetic Engineering | Kolkata | Merit-based |
| Calicut University | Calicut | Merit-based |
| Jain University | Bangalore | Entrance based |
| Ramaiah College of Arts, Science and Commerce | Bangalore | Merit-based |
| The Oxford College of Science | Bangalore | Merit-based |
| AIMS Institute | Bangalore | Entrance based |
| Dayal Singh College, DU | New Delhi | Merit-based |
| Chandigarh University | Chandigarh | Merit-based |
Entry Requirements
For the students wanting to apply for a BSc Genetics degree, there are certain prerequisites that one needs to qualify. It is necessary for candidates to have completed the minimum schooling of 10+2 with Biology as a core subject in classes 11th and 12th. For those planning to study abroad under this degree, it is mandatory to clear any of the English language proficiency tests like IELTS, TOEFL, etc and provide SOP and LOR. Though these are general requirements, students are advised to check the official website of their chosen university to check the eligibility requirements specified for this program. 
Popular Entrance Exams for BSc Genetics
The majority of genetics entrance examinations are for postgraduate programs. There are, however, certain entrance examinations for prominent colleges that offer B.Sc Genetics. Here is a list of some of these admission exams:
BSc Genetics Future Scope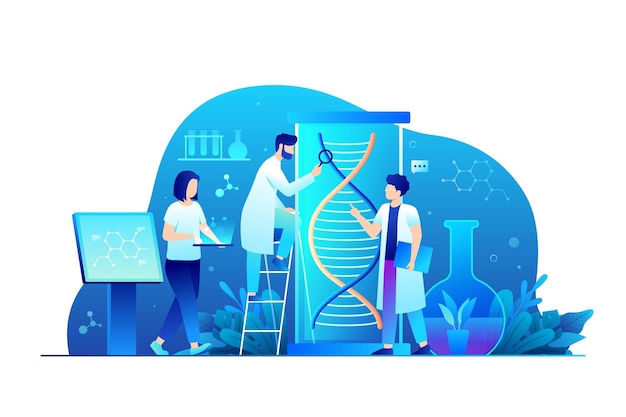 There are many study options that are open to BSc Genetics graduates after completing their undergraduate course study. Students can directly opt for post-graduation or doctoral degrees in the field of Genetics. These PG and doctoral degrees will not only be an add-on to your resume and educational qualifications status but will also add a lot of value and experience to life. Some of the further education courses after BSc Genetics are mentioned below:
MSc in Genetics 
MSc in Human Genetics 
MSc (Hons.) Genetics
M.Phil in Genetics 
PhD in Genetics 
PhD in Human Genetics 
Job Prospects and Career Options
As a constantly evolving and significant field of study, there are a plethora of opportunities that one can explore after completing a BSc Genetics. Further, if you are interested in the technical field of Engineering and want to blend it with the medical domain of Genetics, then you can also opt for Biomedical Engineering jobs. From Health care centres to biotechnology, one can discover an array of career profiles in a varied range of sectors. Here are some of the work profiles and employment areas that you can choose from, after attaining this degree:
Employment Areas and Sectors
A student who has completed BSc Genetics will get the opportunity to work in the following sectors which they can choose according to their preference and interest area:
Animal Sciences
Animal Breeding Industry
Agricultural Firms 
DNA Forensics Department
Beauty Care Centres
Genetics Testing Labs
Health Care Centres
Food Processing Industries
Horticulture
Hospitals
R&D Institutes
Educational Institutions
Pharmaceutical Industry
Job Profiles
After completing the BSc Genetics programme, you can explore the following job opportunities:
Bio-technician
Biotech Sales Engineer
Genetics Laboratory Technician
Genetics Counsellor Cytogenetics Technologist
Drug Discovery Engineer
Clinical Geneticist
Researcher
Animal Breeder 
Genetic Counsellor
Professor 
Note: Graduates are expected to earn around INR 3 lakh to 6 lakh per annum on an average in the beginning after the completion of a BSc Genetics degree. The salary is expected to grow with respect to an increase in educational qualifications, skills, and work experience. The figure can even go up to INR 18 lakh per annum. 

FAQs
What is BSc Genetics?
It is the modification of organisms for the advancement of healthcare, medicine, and agriculture. It is also the process of introducing foreign DNA into organisms.
What is the duration of this course?
The duration of this course is 3 years.
What is the average salary after completion of this course?
The average salary that students can expect after the completion of this course is around INR 3-6 lakhs per annum.
Is BSc Genetics a good course for pursuing a career?
Yes, BSc Genetics is an excellent programme. Because of new advances and approaches in this sector, this course is in high demand among students. Furthermore, after successfully finishing this course, you will be eligible for attractive work opportunities and future career chances.
How candidates can apply for BSc Genetics admission?
Candidates can either appear for entrance exams conducted by a few of the colleges or they can apply on the basis of merit.
We hope that this blog has helped you understand what a degree like BSc Genetics entails. If you are planning to pursue this undergraduate program, reach out to our experienced counsellors and experts at Leverage Edu and we'll guide you in selecting a suitable combination of program and university that aligns with your interests and preferences and provides you with the necessary knowledge and exposure to build a rewarding career in this emerging field.