Hi! I'm Astronaut Alex 👨‍🚀🚀, and today, we're talking about pursuing MBBS in Germany. Do you know what are some top universities for MBBS in Germany? Well, don't fret if you feel confused about pursuing an MBBS in Germany. I'll help you understand how you can go about it.
India is a country with a broad promise in the field of medicine. With the number of students wishing to study medicine increasing, it has been realised that Germany is the common choice for most of the students. This is because Germany has the lowest education packages for students wishing to study there. A little trivia: did you know that some of the top MCI-approved medical universities are in Germany? The level of education given at medical universities in Germany is of extremely high quality and gives the perfect exposure to students from India. One of the prime reasons why Germany should be on the top of your list to study MBBS is because a good amount of medical universities in Germany allocate free education for its international students. So before you think of choosing some other country to do your MBBS from, let us take you through an in-depth analysis of the prospects of studying MBBS in Germany.
Hope you have a gist of studying MBBS in Germany. This is just the beginning! Join me as I take you on a journey of pursuing this degree. Let's go!🚀
🔮A Glimpse at MBBS in Germany
Basic Eligibility
10+2 (PCB) with 60%
Last Date to Apply
15 January 2024 for Upcoming Summer Semester
15 July for Upcoming Winter Semester
NEET Exam
Compulsory
IELTS
Required
TOEFL
Required
MBBS Course Duration (In years)
5+1 (1 year of Internship)
Cost of Living in Germany
INR 72,610 per month
Minimum Course Fee
INR 5 lakhs per year
Maximum Course Fee
INR 11 lakhs per year 
Medium of Education
German & English
Recognition of Universities
MCI & WHO accredited
Check Out: Why Study in Germany
📖Why Study MBBS in Germany?
Cost-Effective: Germany is world-famous for its zero tuition fees and an MBBS in Germany is no exception. The average cost of studying ranges from five lakhs to eleven lakhs per year. Moreover, a student can work as an intern and earn a yearly stipend of €20,000 to €30,000. The cost of living in the country is also extremely low with cheap on-campus accommodation available in most universities and free travelling services for active students.
World Recognised: The universities for MBBS in Germany are among the top medical universities in the world. They are renowned for their best-in-class education, modern equipment, and dynamic atmosphere. These are the World Health Organisation (WHO), Medical Council of India (MCI) and United Nations(UN) recognized universities and provide hands-on practical learning with modern technologies and practices.
EU Flexibility: Doing MBBS in Germany provides greater flexibility as it opens job prospects in not only the country but also in its EU sister countries. Since Germany is a part of the EU, a graduate doctor can very easily move across the EU without any restrictions.
Study in English: One of the great perks of pursuing medicine in Germany is the fact that one doesn't necessarily need to know the German language. The course is available in both German and English. Please note that an English proficiency test is compulsory to apply for the courses offered in English. Proficiency in the German language is an added perk!
Increased Vacancies: An MBBS in Germany has a significant demand in the medical industry and the demand is also increased by the fact that a German MBBS degree is also valid in sister EU countries. Hence, job opportunities are immense after pursuing an MBBS in Germany. A student can also apply for a Work-Permit after completing his degree.
🏫Top Universities for MBBS in Germany
Some of the top universities in Germany for medical studies are:
Lübeck University
Würzburg University
Magdeburg University
Witten/Hercke University
Tübingen University
These are just some examples of the top universities to pursue MBBS in Germany. These universities have been approved by the MCI. There are more than 30 universities in Germany that offer a medical degree.
✅MBBS in Germany Requirements
After you have chosen a suitable medical degree and university to study in Germany, the next step is to carefully go through the eligibility criteria specified by the university and see if you qualify it completely. Along with this, here are the key essentials and documents that you will be required to submit at the time of making your application to study MBBS in Germany:
German Language Proficiency: Since there are only a few English-taught medicine degrees (for which you will have to provide English proficiency scores) offered in the country, you might need to prove your German Language Proficiency to get admission into a German-taught programme. Though this requirement might differ from one medical university to another, a C1 certificate is the usual necessity and if you are taking a preparatory course, a B1 German Certificate is required.
Academic Qualifications: As an international student, it is important to verify that your academic qualifications are recognized and accredited and meet the necessary standards set by medical schools in Germany. To check if your academic degrees align with the university requirements, get in touch with the admissions committee of the university or the German Academic Exchange Service (DAAD) or you can also contact the Standing Conference of Ministers to see if your academic records qualify for the prerequisites. In case your qualifications are not recognized, your university might ask you to take a one-year preparatory course which will lead you to the Medicine degree afterwards.
Certified Grade Certificates: Your grades and academic certificates will play a crucial role in helping you get admission into your chosen medicine course or MBBS degree as the competition is quite rigorous in medical schools of the country. If you have higher grades in medicine-related disciplines such as biology, chemistry, etc., then your chances are relatively higher.
Medical Entrance Exams: The university will ask you to provide medical entrance exams scores to apply for a medicine program and for Indian students, NEET exam scores are mainly needed to gain admission to MBBS in Germany.
Know All About Germany Student Visa!
🎓Admission Deadlines for Medicine Courses in Germany
For medicine degrees in Germany, the admission intake differs from one university to another. Generally, most medical schools in Germany conduct admissions during two phases:
July 15 for Upcoming Winter Semester
January 15 for Upcoming Summer Semester
Note: Make sure that you begin your application as early as possible for which you need to keep a check on the university website for admission-related notifications.
📄Application Procedure for Studying MBBS in Germany
Mentioned below are the steps you need to follow to apply to any university of your choice to study MBBS in Germany, with us guiding you every step of the way:
Fill up the application form/ get it filled by us
Submit copies of all your important original documents, like your Passport, by scanning them.
You will get the admission letter directly from the medical university, within eight working days.
Once your admission is confirmed, the immigration procedure will be initiated.
Once you get the invitation letter, you will have to visit the German Embassy.
Double-check and evaluate as well as authenticate every document before applying for a visa.
Please note that there might be some university-specific requirements that may need external attention.
👩‍🎓MBBS in Germany: Course Duration and Details
The duration of a medical degree at any good medical school in Germany ranges from 6 to 7.5 years which includes the duration of an internship of 1-1.5 years. The basic eligibility for the course includes that the applicant has cleared his 10+2 in Science (Biology) with 60% and has also appeared for NEET. A medical degree/MBBS in Germany is completed in the following stages:
Stage 1: Pre-Clinical Phase of MBBS in Germany: This is a two-year stage that consists of four semesters. This is the introductory stage that includes the basics of sciences and medicine. An applicant has to pass the first medical licensing examination at the end of this phase.
Stage 2: Clinical Phase of MBBS in Germany: This is a six-semester-long phase that lasts three years. This is the main phase of the program and is constituted of core subjects which are taught through various practical methods. These methods include lectures, practical courses, seminars, and live internships.
Stage 3: Practical Year of MBBS in Germany: This stage includes one year of clinical training that will introduce you to the practical aspects of the concepts studied before. These include internal medicine, surgery and a subject chosen as an elective. This is an important phase that will provide the applicant with an opportunity to have an on-the-job experience that will prepare him for the future.
Stage 4: State Examination of MBBS in Germany: The last stage for the completion of a medical degree in Germany is to pass the State Examination which is a nationally standardized examination. It is only after passing this exam, one can apply for a medical license and can begin to work as a certified doctor. The applicant can also continue their education further to become a medical specialist which can take another five to six years depending on the subject one specializes in.
Note: Medicine degrees at the bachelor's level and as English-taught programmes are quite fewer in Germany as compared to postgraduate level medicine courses. You can use DAAD's international program search tool to explore the right medicine degree or MBBS course of your choice.
📄Examination Systems for MBBS in Germany
The state exam, the Approbationsordung für Ärzte (Regulation of the Licensing of Doctores or AppOÄ), takes place in three stages:
M1: The students appear for medical examination namely "Physicum". This needs to be given after two years of study in the field of medicine in Germany. It is based on non-clinical subjects such as anatomy, biochemistry, and physiology and is written and oral-practical. It is similar to the first 18 months of doing an MBBS in India. The subjects are taught in German. Hence, it is important to learn the German Language before you are inducted for this course.
M2: The second stage takes place after five years of study and successful completion of the first exam. It's a written case-related exam.
M3: The third stage takes place one year after completion of the second stage following a total of six years of study in the field of medicine. It is an oral/practical examination.
👩‍🎓Living in Germany
The Federal Republic of Germany is situated in the very heart of Europe. Being the 6th largest country in Europe, it comprises 16 constituent states and covers an area of more than 350,000 square kilometres. It lies between the North Seas and Baltic to the north, and Lake Constance, High Rhine and the Alps to the south. It borders the Czech Republic and Poland to the east, Belgium, Netherlands and Luxembourg to the west, Denmark to the north and Switzerland and Austria to the south. The country is a goldmine for artistic and raw beauty with rivers such as the Rhine, Danube and the Elbe and many forested trek locations.
The decision to study in Germany comes with a lot of perks including cheap accommodation and free travelling! A student can very easily procure cheap hostel rooms and apartments through the most popular choice of a private shared accommodation place. When you pursue MBBS in Germany, you can opt for in-campus hostels as well which are available for a reduced amount. The public transportation service in Germany is highly advanced and is considered the best way to move around the city. The most preferred mode of transport is a train or bus. Buses ply on popular routes at regular intervals and are usually free for students. Alternatively, you can buy a monthly pass for the same which costs around €70.
The weather in Germany can be a little unpredictable depending upon the part of the country you're situated in. In the south, the winter can be colder than the rest of the counterparts due to the Alps and the summers can get pretty hot too in parts of Germany. However, you can expect the climate conditions to be at par or maybe better than India most of the time. Indian food and imported packed products are also available very easily around the whole country.
💸MBBS in Germany Cost
Though free education in Germany is provided for all types of disciplines, the country's government has decided to award medical degrees at particular costs. The cost of pursuing an MBBS in Germany will entirely depend on your nationality as well as whether you are studying it at a public or private university. For EU students, the administrative fee is the only charge which is somewhere at 300 EUR per year while for non-EU students, the tuition fee amount charged for MBBS in Germany is quite affordable when compared to renowned study destinations.
To study MBBS in Germany as an Indian student or one from any non-EU country, the tuition fees vary between 1,500 EUR (1,23,600 INR approx.) to 3,500 EUR (2,88,300 INR approx) for an academic year weighing an average of both public and private universities. Also, it is important to keep in mind that private universities charge a whole lot more than private ones and if you are opting to study MBBS in the state of Baden-Württemberg, note that tuition fees for international students have been re-introduced so an MBBS degree might be expensive there.
| | |
| --- | --- |
| Type of Cost | Cost |
| German Proficiency Tests | EUR 119-229 |
| German Student Visa | EUR 60 |
| Air Travel Cost | EUR 724 |
| Health Insurance | EUR 80 |
💰Living Expenses in Germany
With most of the German universities offering MBBS at no or reasonable cost, the overall cost of pursuing an MBBS degree in Germany is majorly governed by the cost of living in Germany. Discussed below are some of the major expenses you will face when studying in Germany.
To know about the cost of living and accommodation in the country, check out our detailed blog on the Cost of Studying in Germany.
| | |
| --- | --- |
| Type of Cost | Cost (EURO) |
| Rent and Utilities | EUR 323 |
| Food and Drink | EUR 168 |
| Clothing | EUR 42 |
| Learning Material | EUR 20 |
| Travel Expenses | EUR 94 |
| Phone, Internet, and TV | EUR 31 |
| Leisure, culture, and sports | EUR 61 |
| Total | EUR 739 |
📄Visa Process for Studying MBBS in Germany
It is recommended that a student applies for a visa three months in advance before moving to Germany in case of an MBBS admission. The applicant should apply for a National Visa which is required if you intend to study for more than 3 months in the country. The applicant must show proof of a sound financial position to indicate that he can afford the tuition cost of MBBS in Germany.
📄Student Visa: Documents Required
Anyone who wishes to study MBBS in Germany should apply for a visa three months in advance. The German Embassy requires you to submit the below-mentioned documents to it after you initiate the process of applying for a German visa to study MBBS in Germany.
Photocopies of 10th 12th and 1st year Graduation Marksheet – ten each, attested by a Gazetted officer
Passport size photos – ten each
Photocopies of Passport – ten each
Recommendation Letters – two
Photocopies of school leaving certificate – ten each
Copy of proof of payment of fees, if applicable
Proof of language proficiency in English and/or German
🎓Other Medical Courses and Specialisations Offered in Germany
MBBS in Germany provides detailed information with special attention to the practical application of the same to give you an edge over the completion. The programs cover a range of specializations extending from ethics and philosophy of public health to science and methodology and qualitative research methods. The following courses are offered under the Medical and Public Health Services Programme–
General Medicine (MBBS)
Dentist (BDS)
Therapy
Nursing and Public Health
Veterinary Medicine
Pharmacy
Also Read: Scholarship for MBBS Students
💸Scholarships for MBBS in Germany
Funding options to study in Germany, though there are plenty, finding ones that are available for international students pursuing MBBS is difficult. Some of the scholarships available to study MBBS in Germany are detailed below, followed by some other scholarships available to study in Germany:
| | | |
| --- | --- | --- |
| Scholarship | Eligibility | Benefits |
| Carl Duisberg Scholarship for Medical Students | Any international student from a developing nation with a strong academic background | Covers living, travel and project costs |
| University Hamburg Scholarship for International Students | Any international student from a developing nation with a strong academic background | EUR 1000 per month |
| Friedrich-Ebert-Stiftung Scholarship | Any international student from a developing nation with strong academic background | Basic scholarship allowance: EUR 650; Family Allowance: EUR 276; Complete healthcare cost |
| Bachelor and Masters UDE International Scholarships | International students from developing countries enrolled in Bachelor's or Masters Degree courses at the University of Duisburg-Essen | EUR 300 |
💵Salary and Job Prospects After MBBS in Germany
An MBBS degree is one of the most sought degrees as doctors everywhere are the most employable with a high salaried package and the situation in Germany is no different. A medical degree in Germany guarantees you both: high employability and a high salary.
With an outstanding reputation for MBBS in Germany all around the globe, employers will be eager to hire you no matter the location. In addition, an MBBS will teach you a wide variety of skills which will directly lead to a wide pool of career choices to choose from. Apart from that, almost all the medical universities of Germany that offer MBBS also have a running medical centre that provides the students with the practical aspect of the degree and helps them learn through personal experiences and practice.
Like any other industry, the salary of a medical professional depends on your position and your experience but the demand for medical professionals is on the rise. In Germany, the average salary for a specialist is around €80,000 a year. The highest-paid doctors also include physicians. In Germany, a physician with some years of experience can expect a salary of more than €100,000 per year.
Apart from the monetary benefit, doing MBBS in Germany gives you easy access to sister EU countries where you can practice medicine without any restrictions. Since Germany is a part of the European Union, there exists almost no restriction in moving across the European Union which includes countries like France, Italy, Spain, Netherlands, Ireland and more.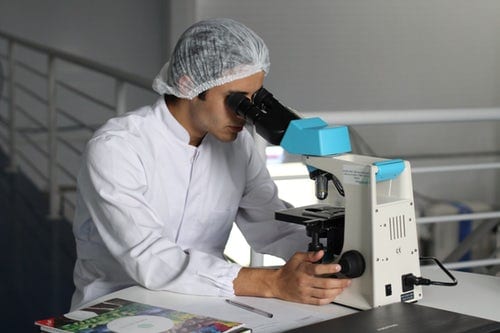 Mr. Astronaut👨‍🚀🚀- " Kiddos, I have answered all your queries with the utmost precision that I was capable of. Now, I will be taking my leave, but if you think that I might have missed something do check out the FAQ section or drop a comment. I always respond!"
Related Articles:
FAQs
Is it compulsory to know the German language to study MBBS in Germany?
It is not compulsory to know the German language for pursuing any course in Germany. Although it depends on courses. MBBS in Germany in top medical universities of Germany is a fully English medium program that does not require you to learn German.
Is NEET required to study MBBS in Germany?
To get admission to German universities candidates are required to qualify NEET entrance exam with a minimum of 60% marks. According to the Gazette Notification of the Medical Council of India, it is mandatory to qualify for the NEET examination to pursue Medical courses abroad.
Is it worth studying MBBS in Germany?
Having a professional degree from Germany adds value to your medical career. MBBS Degree from Germany is globally recognized and is accepted by every country. You can practice your medical journey in any part of the world with a medical degree from Germany.
Is it possible to work along with Studying MBBS in Germany?
MBBS in Germany is a 6-year program that requires a lot of concentration and dedication from its students. Working along the course is not advised. Although, Universities have provided Paid Internships in the last year for better practical learning and knowledge. 
What is the Visa Process for studying MBBS in Germany?
Candidates are required to apply for a student visa 3 months prior to moving to Germany. The candidate should apply for a National Visa. Candidates are required to show proof of their financial statements before moving to Germany for their higher education.
Is MBBS in Germany Safe for Indian students?
With the lowest crime rate as compared to any other country in the world, Germany is the safest country for any and every student. Germany also has the lowest rate of discrimination based on colour/ religion and even gender. The universities themselves take special care to make sure that every student, especially the international students feels safe both inside and outside the campus. CCTV cameras are installed on the campus and strict vigil is maintained outside the girl's hostel by deploying a German police officer at the gate. 
Germany provides you with best-in-class universities, study materials, job opportunities and a worldwide network of medical professionals. This makes MBBS in Germany an ideal choice for Indian students to pursue their medical careers. But with quality comes competition and to be accepted in universities one has to not only work hard but also present their application in the most desired form. A decision as important as your future should be taken with the utmost care and guidance from someone experienced.
Many Indian students dream of pursuing education in foreign nations due to the exposure and career growth they offer. Consider joining a free counselling session with Leverage Edu if you plan to study abroad.