"Kleinvieh Macht auch Mist" a famous German proverb rightly conveys the popular phrase "Little Drops of Water Make A Mighty Ocean!" by Julia Carney. Germany has recently been a magnet for international students from all over the world. In other words, when it comes to higher education or study in Germany, it is nothing short of an experience. In the contemporary world of competitiveness, pursuing a degree abroad can potentially highlight you from the sea of resumes for your dream job profile. But when we consider options to study abroad, the essential thing that comes up is how to accumulate the funds for the same. Bringing a resolve to this never-ending debate, free education in Germany is something that you must consider as the Land of Ideas is filled with exciting academic and career opportunities for you! Let's take you on an insightful journey exploring the question of why study in Germany as well as the country's top institutions as well as admission process that you must familiarize yourself with.
Latest Update
Germany has opened slots for student visa appointment from 1st November. Read more.
Germany At A Glance
Officially known as the Federal Republic of Germany, the country is located in Central and Western Europe. Being the 4th largest economy of the world and largest in the continent, Germany is home to diverse landscapes and thrilling cities. Berlin serves as the capital and largest metropolis, whereas Frankfurt is the financial capital with the busiest airport in the country. Germany is highly valued for its research and scientific contributions to the world. It opened its door for immigrants in the 1960's and since then it has become Land of Immigration. Lying in the heart of Europe, it is amongst the most populous countries in the EU. Let's quickly explore some of the prominent features about Germany:
Beginning at the end of the 1940s, the German government introduced many modifications as it was still paving its way to make education affordable for everyone. Around 1949, a German model was brought to propose a state-funded, universal and public education which went through many controversial stages and eventually tuition fee costs were exempted mainly in many public institutions while private ones still charge fees from those wanting to study in Germany.
History of innovation in Germany has been the driving force for the development of the country. Revolutionary inventions such as the Computer, Aspirin, X-Ray technology, Air-bags, chip card are some of the major inventions that harboured from the country.
With its export sector contributing a larger portion to the GDP, it caters to products from areas of chemicals and pharmaceuticals, environmental technology, electrical engineering, the automotive industry, and heavy machinery.
The country has maintained strong trade relations across the globe and also aggressively promote the international exchange of qualified professionals.
Germany is also famous for its rich literature and historic culture. From Herman Hesse to Rainer Maria Rilke, the German literature is vast and internationally renowned thus making it popular as the land of poets and thinkers'.
Why Study in Germany?
Now that you are familiarised with the history and interesting facts about Germany, let's explore why it has established itself amongst the popular study destinations in the world.
Study in Germany: Top 10 Universities to Consider
With most of its public universities providing education at no tuition fees, Germany is becoming a top study destination for students around the globe. To help you find a suitable academic institution to study in Germany, we have compiled the list of best universities that have been ranked at the top in QS World University Rankings 2022:
Now, let's explore some of the above-mentioned top universities in Germany in further detail:
Heidelberg University
Founded in 1386, Heidelberg University is amongst the oldest universities to study in Germany. Offering a plethora of undergraduate and postgraduate degrees in 100 subjects spread across 12 faculties, it was the third university in succession to be established under the Holy Roman Empire. Representing 130 countries, 20% of the student body encompasses international students with more than one-third pursuing doctoral degrees. The language of the directive is usually German, however, many courses are taught in the English language.
Heidelberg University has three main campuses situated in the inner-city suburb Bergheim, Heidelberg's Old Town, and the Neuenheimer Feld quarter. 33 Nobel laureates have been associated with Heidelberg University, 9 of whom won while they tenured there. Many renowned philosophers, politicians, and scientists including Philosopher Hannah Arendt and Max Weber – the founder of modern sociology are affiliated with the university.
Ludwig Maximilian University of Munich
Founded in 1472, the Ludwig Maximilian University of Munich (also referred to as LMU or the University of Munich) today is one of the world's leading international universities and is one of the prominent institutions to study in Germany. Under the German Universities Excellence Initiative, LMU has been recently granted with the title of the "elite university". As a public research university, it offers a vast array of courses in almost every field of study ranging from medicine, natural sciences to law, economics, humanities, and cultural sciences. In terms of the student population, LMU is currently the second-largest university in Germany with 13% international students.
Technical University of Munich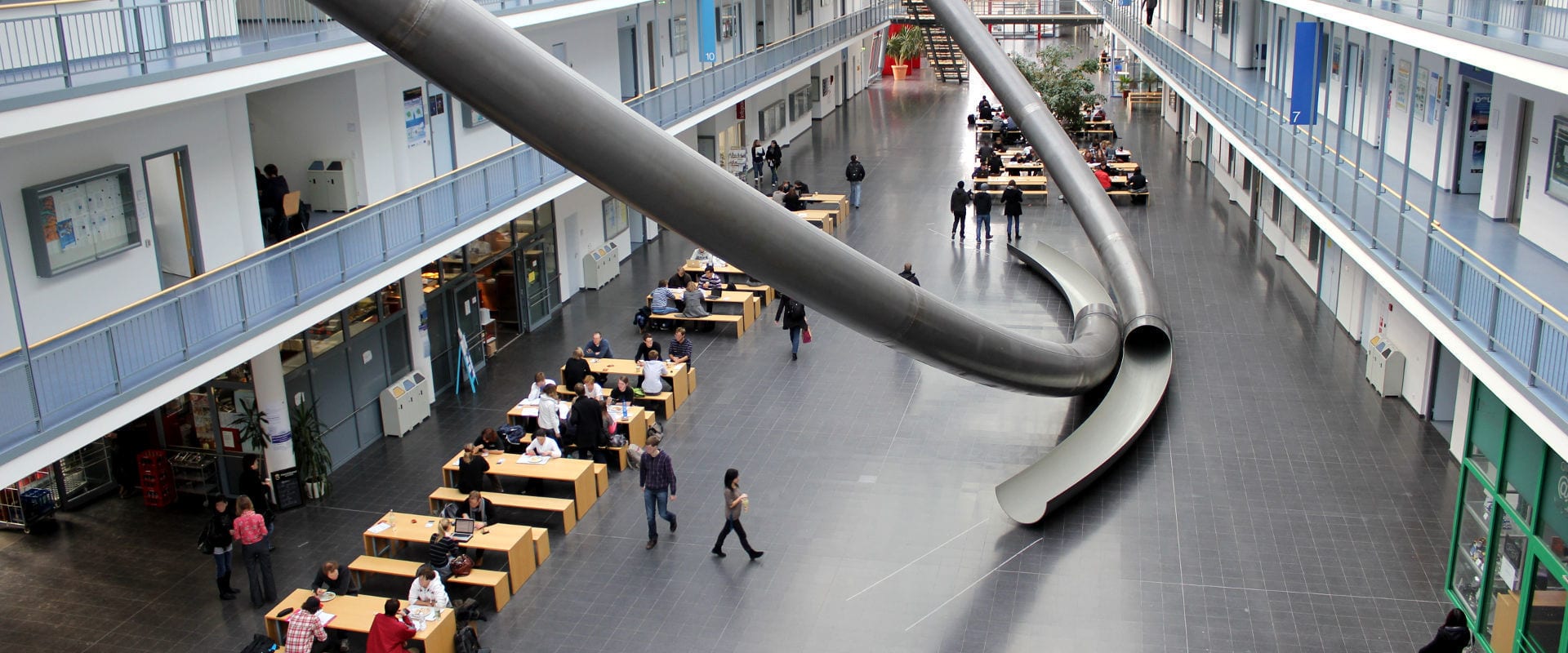 The Technical University of Munich (TUM) is among the top universities in Europe. As the only state university dedicated to science and technology, it was founded in 1868 and has three campuses in Garching, Munich, and Freising-Weihenstephan. Among the first academic institutions to be named the University of Excellence, it comprises a total of 15 academic departments as well as interdisciplinary research centers and has a total student population of 42,705 out of which 32% are foreign students. It offers a multitude of degree programs in Architecture, Engineering, Life Sciences, Sports and Health Sciences, Informatics, Education, Management, to name a few. TUM's alumni include 18 Leibniz Prize winners, 22 IEEE Fellow Members, and 17 Nobel laureates. In 2001, the Technical University of Munich established a subsidiary university in Singapore-TUM Asia expanding its reach to providing an international education to students in Asia.
Must Read: Universities in Munich
Humboldt University of Berlin
The Humboldt University of Berlin came into being in 1810 and has its main campus is located on the Unter den Linden street in Berlin. Divided into nine faculties, it has a student enrollment of around 32,000 students with 16% of students being international. One of the top public universities you must consider to study in Germany, it provides around 189 degree courses at both undergraduate and postgraduate level and spread across disciplines like Computer Science, Economics, Theology, Social Sciences, Management, Business, Biophysics, Chemistry, Medicine, Horticulture, amongst others. With 55 Nobel laureates connected wit the institution, the former alumni and faculty of the university include eminent names like Albert Einstein, Max Planck, Marx and Engels, and Walter Benjamin.
Related Read: Universities in Berlin
Karlsruhe Institute of Technology
Karlsruhe Institute of Technology is a public research university and one of the largest institutions in Germany founded in 1825 offering courses in natural sciences, engineering sciences, economics, and the humanities and social sciences.KIT is one of the eleven universities awarded "Universities of Excellence" in Germany The university is ranked at 131 by QS world ranking 2021. Currently, 25,100 students are enrolled in different courses in KIT. KIT is also known for providing assistance, advice, and resources to students and alumni planning to start their businesses.
The Free University of Berlin
The Free University of Berlin is a public university founded in 1948. The university is also a member of the European Universities Association (EUA) and the Network of Universities from the Capitals of Europe (UNICA). The university has four campuses offering courses in social sciences, humanities, earth sciences,  chemistry, physics, chemistry, medicine, pharmacy, etc. at all academic levels. The university's main campus is located in Berlin-Dahlem and also offers accommodation. The university is ranked at 130 by QS world ranking 2021.
RWTH Aachen University
RWTH Aachen University is a public university established in 1870. The university campus size is  620 acres. The unib=versity was ranked at 145 by QS World Ranking 2021. The largest university of technology in Germany offers courses in STEM at all academic levels. More than 11,000 students from all around the world are enrolled in RWTH Aachen University in 154 courses.
Eberhard Karls University of Tübingen
The Eberhard Karls University of Tübingen is a public research university established in 1477. It offers over 200 courses in different disciplines. The Eberhard Karls University of Tübingen is one of the largest universities in Germany that has about 200 million euros in research funding. The university has 2,000 academic staff and more than 400 professors. The university facilities are filled with updated software, machines, equipment and have the best library in Germany. Some of the courses are Protestant Theology, Catholic Theology, Law, Economics and Business Administration, Medicine, Philosophy and History, Social and Behavioural Sciences, Modern Languages, Cultural Sciences, Mathematics and Physics, Chemistry and Pharmacy, Biology, Geosciences, Psychology, and Computer Science.
University of Freiburg
The University of Freiburg was established in 1457 is one of the oldest universities in Germany. It aims to prepare students for the challenges in the future through its 290 courses at all academic levels. The courses offered by the University of Freiburg are focused on both research and methodology. Some of the popular courses include information technology, medicine, and the natural sciences, humanities, and social sciences. The University of Freiburg is ranked at 172 globally by QS World Ranking 2022.
Other Prominent Universities in Germany
Here are some other prominent universities in Germany. the list of universities mentioned below offers some courses in English language:
Leipzig University
University of Gottingen
Technische Universitat Kaiserslautern
University of Erfurt
Max Planck Institute
Cost of Studying in Germany
As almost 16 state universities in the country have exempted students from giving any tuition fee, one only needs to pay minimal administration and miscellaneous charges to study in Germany. If you choose a private university to study in Germany as the eligibility criteria of public institutions are quite complex and demanding, the average tuition fees can somewhere fall around INR 20,10,000 for undergraduate programs while INR 30,90,000 for postgraduate courses. Some of the major public universities which you can opt for to avail no-tuition fee feature include, 
Karlsruhe Institute of Technology
Humboldt University of Berlin
RWTH University
Georg-Augusta University of Gottingen
Ludwig Maximilians University
Heidelberg University
University of Tubingen
Technical University of Munich
Humbolt University of Berlin
Albert Ludwig University
Goethe University
University of Stuttgart
Further, accommodation and other expenses are quite avoidable. Taking the estimations from Numbeo, the cost of living in Germany, the apartment rent comes around € 730.28 [INR 59,000 ] (in the city center) and 541.52 € [43,087 INR] (outside the city center) and transportation costs come around 5,420 INR per month (taking monthly pass). Munich is approximated as the city with the highest cost of living expenses while Aachen has the lowest considering the rent, food, and other basic utility index provided by Numbeo. Also, the country also requires applicants to get health insurance which registering for an academic institution in the country. In case of the coverage of health insurance, you would need to pay 80€ (6,400 INR) on a monthly basis.
Check Out: Free Universities In Germany For International Students
Study in Germany: Requirements for Indian Students
Though the specific eligibility requirements will mainly differ as per the course and university you have selected, there are some general requirements you must ensure while applying for a program to study in Germany. The general requirements for students aspiring to study in Germany are as follows:
Academic transcripts of your previous degrees as well as senior secondary marksheets
Passport-sized photographs
Copies of your passport (personal details and photo ID page)
Proof of Financial Resources
Motivation letter (optional)
Letters of Recommendation (LORs)– Optional
Check Out Our Detailed Blog on Requirements to Study in Germany!
Application Process to Study in Germany
The application process to study in Germany is quite a simplified one. Below we have detailed this process starting from opting for a program to getting admission into your chosen university.
1. Choose a Program & University
The first step to fulfil your dream to study in Germany is to research the programs available in your field of interest and the top universities offering them. You must meticulously explore the prospective courses available at the academic institutions in Germany at least three months before you are aiming to apply for the admission intakes. Since it is a crucial decision and the primary step to actualising your dream to study abroad, you must also seek guidance from overseas education consultants regarding which course and universities fit your interests and preferences and make a decision accordingly.
Must Read: MIM in Germany
2. Check the Requirements & Eligibility Criteria
Once you have selected a program as well as university, the next thing is to go through the prescribed eligibility criteria and other requirements. Gather all the required documents like academic transcripts, entrance test scores (if any), ID or passport, an SOP as well as LORs (if required). You must also verify the language requirements since many courses are taught in German for which you will be asked to provide German language proficiency scores like DSH or TestDaf or if you are opting for English programme, then you will need to provide English proficiency scores like IELTS, TOEFL, etc.
3. Ensure that you have the Requisite Finances
While applying for a German student visa, you will be asked to provide proof that you have the required finances to study in Germany. Generally, applicants have to provide that they have access to somewhere around 8,700 EUR [roughly 7,73,317 INR] per year which will cover your living costs though it would largely depend on the lifestyle and spending habits of the individual. It would also depend on the location where your chosen university is situated. You can also avail various scholarships to study in Germany which have been mentioned in the next section.
4. Send your Application to the Chosen University
Before sending your application to the university, you must recheck all the requirements and documents needed to complete the application process. You can either apply directly on the university website or there is a centralized admissions portal run by DAAD where you can apply for multiple courses though it is not for all the universities. So, you must check once if your selected university is on this portal and then carry out the application process.
Admissions are conducted by German universities for twice a year, i.e. Winter or Summer semester. Though the actual application deadline might vary from one university to another, the general admission intakes to study in Germany are:
Winter Intake Deadline: 15th July
Summer Intake Deadline: 15th January
Further, it is advised to submit your application at least 6 weeks before the actual deadline so that if any corrections or additions are needed, you will be able to take care of the same. You can expect to get a formal acceptance or rejection in roughly one or two months after the deadline.
5. Apply for a Student Visa 
Once you have got the acceptance letter, you must purchase health insurance which will be needed for the application for the student visa. To study in Germany, every international student is required to get health insurance but if you are a student from an EU or EEA country, then you can use the public health insurance of your country as per the social security agreement which you must go through. If you are a non-EU/EEA citizen, then you must get health insurance which costs around 80 EUR and 160 EUR [roughly 7,100 INR-14,220 INR] and even higher if you are over 30. After sorting out the health insurance requirement, you can head towards preparing your application for a German student visa along with taking care of the accommodations.
Recommended Read: MBA In Germany
Top Scholarships to Study in Germany
To make the study abroad experience even more economical and affordable for foreign students, the German Academic Exchange Service (DAAD) avails numerous scholarships to help the aspirants gain sufficient funds. Along with the DAAD Scholarships, you can also choose from various other financial aid schemes offered to international students to accomplish their German dream and some of these are as follows:
Deutschland Stipendium National Scholarship Programme
Konrad-Adenauer-Stiftung Scholarships in Germany for International Students
The Friedrich Ebert Stiftung Scholarship
Erasmus Scholarship Programs in Germany
Heinrich Böll Foundation Scholarships in Germany
You can check out more scholarships at the official website of the Federal Ministry of Education and Research by clicking here!
Types of German Study Visas
While applying for a visa to study in Germany, it is important that you know about the types of study visas available for different purposes. There are mainly three types of German Study Visas, i.e.
1. German Student Visa: A standardized student visa for those applying a full-time programme to study in Germany
2. German Student Application Visa: This type of German study visa is for those who are going to Germany to carry out the admission process in person. A German Student Application Visa does not apply for those wanting to study in Germany but for those visiting it to complete their admission process in certain shorter time duration. It is mainly issued for 3 months but can be extended to another 6 months during which you can obtain the acceptance letter and switch to a student visa afterwards.
3. German Language Course Visa: This Germany study visa is for those planning to pursue a German language course in Germany.
Obtaining a German Student Visa
To begin with the process of getting a visa to study in Germany, you need to get in touch with the German embassy or consulate situated in your country. Further, if you have been successfully accepted an academic institution in Germany, you can commence your student visa application either with your letter of acceptance or entrance exam scores (specified by your chosen institution) or else if you do not have any of these two, then you can opt for a prospective student visa instead.
The student visa remains valid for a period of three months and further can be extended by six months given that you get accepted into an academic institution or else get admission into a foundation course or any preparatory German language program within the six-month period. Also, it is advised to start your visa application as early as possible and you can also apply for a resident permit for studying after staying for some time in the country with the prospective student visa.
Mainly, you will need the following documents to apply for a Germany student visa:
Valid Passport
Proof of sufficient funds
Health insurance-related proof
Copy of a health certificate
Transcripts or mark sheets of previous academic qualifications as well as scores of language proficiency tests
For prospective student visa: submission of transcript or marksheet of a recognised higher studies entrance qualification
Curriculum Vitae (CV)
Letter of acceptance from your chosen higher education institution (if you are not applying for a prospective student visa)
Proof of English/German Language Proficiency scores
Proof that you have submitted the visa application fee
How to Apply for a German Student Visa?
Once you have gathered the aforementioned documents, you can begin the application process for obtaining a German student visa which has been elaborated below:
1. Visit the nearest German Embassy or Consulate in your country
To apply for a student visa to study in Germany, you must visit the nearest German Embassy or Consulate in your country and inquire about the process in detail. Set up an appointment for the visa interview. If there is no German Embassy in your country, then you need to visit the German Embassy or Consulate of the neighboring country or find any application center that the German authorities have outsourced the visa applications to.
Important: You must apply for a German student visa as early as three months before you plan to visit the country.
2. Make a checklist of the required documents
Before the visa interview, make sure that you have all the required visa application documents that are needed for verification. You can also ask the German Embassy to provide you with a specific list of documents as per the visa you are applying for.
The application fee for a German Student Visa is 75-80 EUR [roughly 6,600-7,100 INR] and is generally required to be paid through bank transfer (might vary from one country to another).
3. Prepare for the Visa Interview
Go through your application for the course and university you have chosen to study in Germany and search generally-asked visa interview questions to prepare for them beforehand. You must also have the payment confirmation before appearing for the student visa interview.
Important: The processing time of a German student visa is usually somewhere around 25 days. But, it also largely depends upon the German embassy of your country and the country you are applying from. At times, it might expand to 6-12 weeks with the longest duration spanning across 3 months for visa processing.
German Student Visa: Things You Should Know
Once you have got the German student visa, you will be required to get a Student Residence Permit on your arrival in the country. For this, you need to register your address in Germany at the nearest Local Residents' Office and then set up an appointment with the nearest Immigration office to validate your student residence permit. Here are the key pointers you must know once you have obtained a Student Residence Permit:
With a student residence permit to study in Germany, you are allowed to pursue full-time work opportunities for 120 days or part-time jobs for 240 days a year throughout the duration of your chosen course. However, you can not sign long-term contracts during this duration.
You can extend your student residence permit if the study programme stretches out for longer for which you can apply for an extension at the nearest Immigration office and submit an extension fee which mainly varies as per the duration you need to extend your permit for.
You can only extend your student residence permit for up to 18 months in the case that you have completed your study programme and need to stay for a few months in the country to explore work opportunities. If you get a job opportunity, you can then apply for a German Employment Residence Permit.
Know All About MS in Germany!
FAQs
How much does it cost to study in Germany?

Though public universities offer programmes at no tuition fees, there is a certain administrative fee charge of 100-350 EUR (roughly 8,260 INR- 28,910 INR) per semester. Further, private universities might charge somewhere around the roughly estimated costs of 20,10,000 INR for undergraduate courses while 30,90,000 INR for postgraduate courses.
Is study free in Germany?

You can choose from a wide range of courses offered by public universities in Germany that provide quality education at free tuition costs. There are around 300 public universities in Germany which offer free education with only a minimal administrative charge per semester.
What are the requirements to study in Germany?

The documents you will generally require to apply for a study programme in Germany are as follows:
1. Academic transcripts of your previous degrees as well as senior secondary marksheets
2. Proof of language proficiency (German- DSH, TestDaf or English-IELTS, TOEFL, etc.)
3. Passport-sized photographs
4. Copies of your passport (personal details and photo ID page)
5. GRE/GMAT Scores
6. Proof of Financial Resources
7. Motivation letter (optional)
8. Statement of Purpose (SOP)
9. Letters of Recommendation (LORs)– Optional
What are the requirements to study in Germany?

Do German universities teach in English?
Yes, there are many renowned German universities that offer English-taught courses and some of these institutions include, Hochschule Mannheim, Karlsruhe Institute of Technology, Berlin International University of Applied Sciences, amongst others.
Can I study in Germany without knowing German?

Yes, a varied range of English-taught programmes are offered by German universities which you can choose from. Further, English is also amongst the most spoken foreign language in the country followed by French and Spanish.
With most of its public universities charging no or negligible tuition fees, there is a large pool of international students choosing to study in Germany to avail the incredible perks it has on offer. If you are aspiring for higher studies in Germany and don't know which program to opt for or where to begin your application, reach out to our Leverage Edu experts and counselors and we will guide you at every step of the way from finding the right course as well as university to kickstarting the admission process and ensuring that you get successfully shortlisted. Book your free 30 minutes consultation with us and get in touch with us on Instagram, Twitter, Facebook, LinkedIn, and YouTube.