Do you wish to master your management, strategizing, and leadership qualities along with refining your Finance and entrepreneurial knowledge? Then, you must opt for an MBA in Finance! Considering the multifarious opportunities that would open up to you after completing the 1-2 years course, the scope of MBA in Finance is really broad with prominent job profiles on offer such as Corporate Controller, Investment Banker, Insurance and Risk Managers, Manager Consultants amongst others. Let's explore the scope of an MBA in Finance in detail through this blog.
Highlights
Degree Level
Masters
Full-Form
Master of Business Administration in Finance
Duration
2 Years
Minimum Percentage
45%-50% in 10+2
Average Fees Incurred
INR 4 – 20 Lakhs
Average Salary Offered
INR 3 – 9 LPA
Employment Roles
Financial Advisory, Insurance, Investment Banking,
Hedge Fund Management, Credit Risk Management, Insurance.
MBA Finance
If you have plans to study abroad after 12th, there are various branches of specialization in MBA. However, finance is one of the most caught-after courses with an increase in demand in various sectors and high scope. An MBA in finance is often looked upon as an absolute way to success along with lucrative pay. The course is a blend of finance and management and includes topics like stock markets, financial risks, etc.
Why Pursue an MBA in Finance?
Opening doors to banking, real estate, insurance and investment sectors, the course builds your foundation in the area of finance, business, and economics through the comprehensive core and elective subjects. The curriculum of this highly regarded course revolves around the foundations of Finance, Global Economy, Stock Market Analysis, Market Trading and Operations, Risk Management, Bankruptcy, Corporate Finance, and Investment Banking.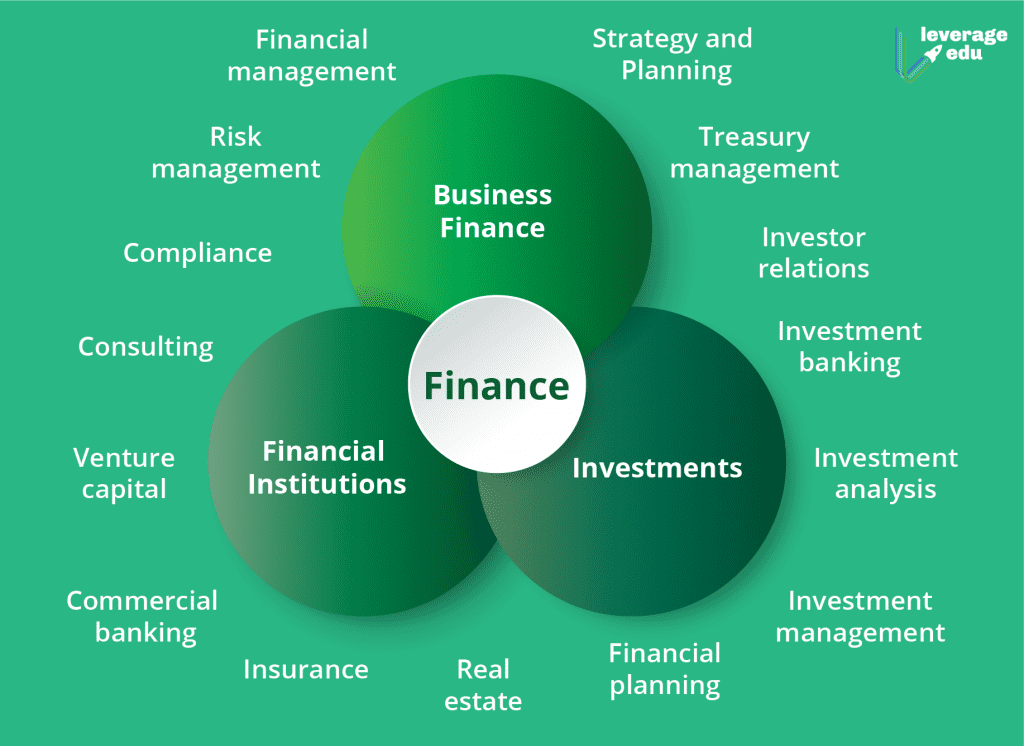 Career Opportunities
Being one of the most revered fields of management, the scope of MBA in Finance is wide because of the fact that almost every other workspace in the government, as well as the corporate sector, requires trained professionals in the field of Accounting and Finance. Amongst the broadly varied employment sectors in this domain, some of the industries that hire Finance graduates are:
Asset Management
Retail
Information Technology Enabled Services
Fast-moving Consumer Goods
MBA in Finance Scope: Types of Work Profiles
Now that you are familiar with the industries and the areas you can work in, here are some of the major work profiles which you can consider when it comes to the scope of MBA in Finance.
Financial Advisor
Corporate Controller
Hedge Fund Manager
Sales Manager
Market Research Analyst
Media Planner
Internet Marketing Manager
Accounting Manager
Consultant
Credit Specialist
Financial Advisor
Amongst the most lucrative profiles under the vast scope of MBA in Finance is that of a Financial Advisor. In this profile, you will be handling the funds of your clients or the organisation you are working with. You will also advise on investments, risk management as well as other financial aspects. Further, as a Financial Advisor, it is extremely important to keep up with the market trends and help your clients make the right investment decisions on which products or services to invest in.
Equity Analyst
When it comes to the scope of MBA in Finance, we cannot complete the list without mentioning the profile of an Equity Analyst. They are responsible for conducting research, analysing the companies position in the stock markets, and generating yearly projections using financial modelling. Being heavily research-oriented, they evaluate both, buy-side and sell-side securities.
Investment Banker
Investment Banking is also a prominent sector for MBA with Finance graduates. Investment Bankers advise their clients in raising monetary funds in capital markets by either through the issuance of debts or selling equity in other companies. They play an imperative role in IPOs and assist the company with the best investment opportunities as well as for making decisions related to mergers and acquisitions.
Risk Manager
The primary task of a Financial Risk Manager [FRM] is to analyse and locate the potential risk which can unprecedentedly fall in the progress of an organisation. Further, they also curate as well as bring policies to tackle these threats in an effective manner. Studying an MBA in Finance, you will get to know about risk manager in detail after which you can successfully pursue this extensive field.
Hedge Fund Manager
Hedge Fund Investments are those alternate investments that are created using pooled funds and utilise varied strategies to get an active return for their investors. Hedge Fund Managers play a crucial part in tackling investment goals and objectives, fees, as well as liquidity provisions. MBA in Finance graduates opting for the profile of Hedge Fund Manager usually work in finance and investment companies.
Corporate Controller
As a Corporate Controller, your duties will consist of helping the accountant with the preparation of the operating budgets, monitoring financial reporting as well as also pursuing responsibilities related to payroll tasks. They also outline critical budgeting schedules for a company and organization, set controls and budgets to assess and handle risk and preparing periodic financial reports.
Employment Areas
The colossal scope of an MBA in Finance across several sectors allows you to explore an array of career opportunities. The different industries from retail and supply chains to reputed financial organisations present a large scope for the students.
Retail Banking
Personal Finance
Accounting
Sales and Trading
Brokerage
Financial Advisory
Insurance
Hedge Fund Management
Credit Risk Management
Along with these, here are the top sectors you can explore:
Banks
Mutual Funds
Financial Markets
Non-Banking Financial Companies (NBFCs)
International Banks
Insurance Firms
Equity Research Firms
CRISIL, etc.
Popular Recruiters for MBA Finance in India
Having a huge scope in India, MBA finance graduates can apply at any bank, organization, or financial consultations. Here are the top recruiters for MBA Finance in India.
Goldman Sachs
ICICI Bank
HSBC
Barclays
JP Morgan
Boston Consulting Group
Deutsche Bank
Goldman Sachs
Bain & Company
State Bank of India
Morgan Stanley
Merrill Lynch
HDFC
Capgemini Consulting
TCS
Wipro
Infosys
Accenture
KPMG
IBM
Ernst & Young Nomura
Scope of MBA in Finance: Salary Packages
Considering the top hiring firms around the world that accept MBA in Finance degree holders, we can calculate that the average yearly package offered ranges between US$40,000 – US$180,000. On the other hand, when we talk about the scope of MBA in Finance for those who have obtained a degree in India in terms of salary, then it ranges between ₹3 lakh to ₹20 lakh per annum.
Higher Education After an MBA in Finance
Considering the broad scope, you may progress in this direction and make an exceptional career in Finance. Here are some options which you can consider and have the potential to further broaden the scope of an MBA in Finance:
If you are inclined towards academics and want to pursue research, then pursuing a PhD in Finance after an MBA can be a suitable option.
Further, to broaden your horizon, you can also opt for certification programs such as the CA course, CFA course, CCP, CPA, CFP, and FRM.
There are also a lot of courses after MBA Finance that apart from adding to your qualifications can help you brush up your skills, gain advanced knowledge, and change careers.
Top Crucial MBA Finance Skills
With the increase in job remands for MBA finance, it is important that students keep up with the essential skills. This will help employers know how efficient you are through the skills you portray. Here are the top MBA Finance skills.
Analytical Thinking: Analytic thinking is among the common skills when it comes to financing. Finance professionals must have the ability to think critically and have an analytical sense to help companies understand the risks involved in various finance projects. They must also be well acquainted with the latest market trends in finance so that they can make better decisions.
Business Intelligence: This is another essential skill that requires knowledge of (ERP) like Oracle, SAP which are important for resource planning. Business intelligence helps professionals to plan future investments, allocate labour hours, and manage inventories efficiently. Various tools for business analytics like tableau are also helpful for data interpretation.
Data Management: This is an essential skill that helps curate, store, manage and maintain data.
Predictive Analysis: This is often used in financial planning that depends heavily on data management. Predictive analysis helps companies to build policies and formulate effective strategies for themselves.
Financial Reporting: This includes the process of disclosing financial results and pertaining information to the stakeholders and upper management. People create financial statements, balance sheets, and income sheets, through which they can show the financial position of your company to the concerning party.
Financial Modelling: This technique is used to represent real financial scenarios through theoretical methods. Financial Modelling to gauge the financial performance of any business asset. They are often part of strategic thinking or financial planning.
Cash Flow Management: This is the process of analyzing, monitoring, and optimizing the cash receipts of businesses after cash expense deduction. An efficient cash flow management helps businesses to stay profitable and avoid any kind of financial loss.
Top Business Schools For MBA in Finance
Business schools all over the world offer the best MBA programs for students and professionals alike. Besides imparting quality education in the domain, the schools are renowned for higher placement rates. Some of the universities have also started offering Online MBA programs for those who wish to pursue a degree from a reputed school at their convenience. With cutting-edge technologies and leading research infrastructure, the schools offer a perfect environment to take your research to the next level. Given below is the list of top business schools that offer MBA in Finance:
FAQs
What is scope of MBA in finance?
There is a vast scope of MBA in Finance in India. MBA in Finance graduates can explore a wide range of promising career opportunities in the public and private sectors such as Financial Advisor, Investment Banker, Hedge Fund Manager, Stock Trader, Equity Analyst and much more.
Is MBA in finance difficult?
MBA in Finance is considered a rigorous course as it essentially focuses on mathematical and statistical concepts pertaining to Financial Management to impart students with a holistic understanding of the Financial Industry and its varied facets.
What do they teach in MBA finance?
MBA Finance covers essential skills such as business and leadership skills along with providing students with a wholesome understanding of Financial Management, Risk Management, Hedge Fund Management, Investment Banking, Treasury Management, amongst others.
When it comes to making a career in commerce stream, the scope of an MBA in Finance is diversified. If you have set your mind to pursue a highly demanding course but are not sure about which university to study in then take the assistance of Leverage Edu's AI-tool that will curate a list of educational institutes offering courses that are in sync with your professional goals.