If you are looking for a country that offers a blend of rich cultural heritage as well as modern innovation, you need not look beyond the cities of Ireland. The royal architecture, pleasant environment, and historic universities make Ireland an option, hard to ignore. It provides a conducive environment that nourishes student's abilities and encourages the development of their interests. This article provides a detailed guide for those looking to do an MS in Ireland.
| | |
| --- | --- |
| Course Name | Master of Science (MS) |
| Level | Master's (PG) |
| Country | Ireland |
| Duration of the program | 1-2 years |
| Application portal | Respective University Portals/Websites |
| Exams Required | IELTS/TOEFL/PTE, GRE, etc |
| Work Experience | Required (Varies from university to university) |
| Average tuition fee | EUR 5,000- 25,000 per year |
| Job Prospects | Data Scientist, Senior Software Engineer, Business Analyst, Quality Assurance Manager, etc |
| Top Recruiters in Ireland | Google. Pfizer, Bank of Ireland, KPMG, Deloitte, PwC, etc. |
| Average salary (at fresher level) | EUR 30,000- 60,000 per annum |
Top Universities for MS in Ireland
Irish universities have always led the way when it comes to the quality of education. Prominent names like Oscar Wilde, Samuel Beckett, Edmund Burke, Jonathan Swift received their education in Ireland. Mentioned below are some that you should definitely consider before you start applying: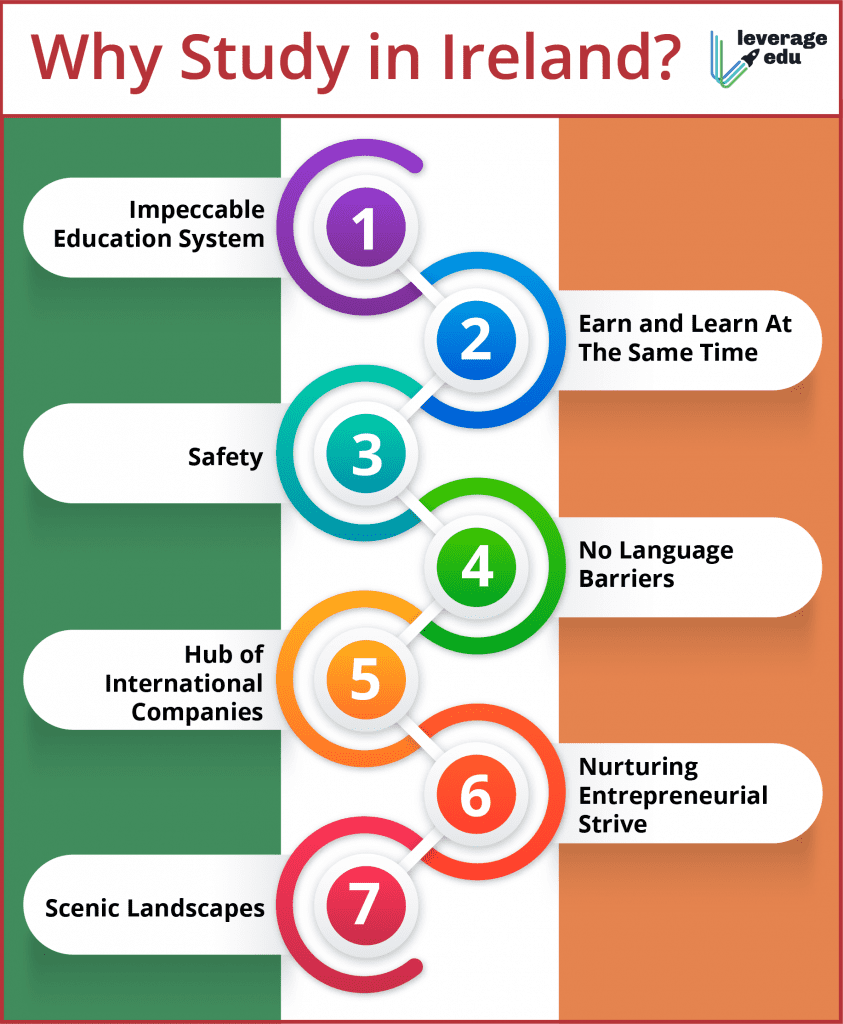 Want a Free Career Counselling Session? Register Here!
Why Study Masters in Ireland?
Irish universities are known for various academic reasons. Some of the major advantages have been listed below:
High-Ranking Universities – Universities in Ireland have been consistently ranked among the top universities in the world with Trinity College Dublin being a formidable choice.
Wide-ranging Courses – The range of courses on offer at Irish universities is expansive and students also get opportunities to pursue joint and dual degree courses.
Top-notch Faculty – Masters in Ireland is even more rewarding when the quality of faculty teaching at universities is taken into consideration.
Great Cities – Be it paintings, music, literature, philosophy, Ireland has contributed to almost every field of art and culture. This is an important advantage for international students.
Student Culture – Like the local city culture, the ambiance in and around universities is also quite vibrant and lively.
Post-study opportunities – Job opportunities after masters in Ireland have seen a considerable jump in recent years.
Discover the Education System of Ireland!
Course Structure
As a general rule, an MS in Ireland lasts for one year with the exception of research-oriented programs which can go up to 2 years. A majority of master's programs have a research project or thesis included in their curriculum. The three-year bachelor's degree is widely accepted in Irish universities so students from India and other Asian countries can apply without any worry. Admissions are conducted in two application cycles, one for entry in September and the other for entry in February or March.
MS in Ireland Requirements
Documents Required
Typically, for MS in Ireland, eligibility and admission requirements are comparatively simpler than in other countries. General application requirements have been mentioned below for informational purposes. These requirements can differ for a particular course in a university.
Scanned copy of passport
English language proficiency test scores
Statement of Purpose for MS
Essays (if asked)
Postgraduate applicants have to submit a translation of the degree certificate in case the degree certificate is in another language other than English.
MS in Ireland Eligibility Criteria
Generally, 3- 4 years of a bachelor's degree is equivalent to a 2.1 honours degree from an Irish university. It is advised to check the university web page before applying. Here are some of the additional entry requirements:
Universities in Ireland also accept PTE Academic scores of a minimum score of 63 with a minimum sectional score of 59; Some courses may require 65
GMAT score 550 to 600 or equivalent GRE score
Work Experience of 3 to 5 years is recommended
Students must have a 3 -4 year bachelor degree in the related field
Some universities also require to appear for a round of personal interviews and group discussion
Popular Masters Courses in Ireland
Irish universities offer a plethora of courses from sub-disciplines of arts to technical science. Following is a list of some of the disciplines in which students can pursue their MS:
Find Out: Benefits of MBA in Ireland!
MS in Ireland Cost
For the estimated cost of studying MS in Ireland, you need to consider different factors such as tuition fees, accommodation and living expenses, visa costs, etc. When it comes to tuition fees for Masters in Ireland, it can somewhere range between €5,000 up to €22,500 [roughly 4,25,000 INR-19,15,000 INR]. The living cost depends largely upon the city you are staying in and on average, can be somewhere between €7,000-€12,000 [5,96,000 INR-10,22,000 INR]. Since MS is a long-term course, you will have to get the C Student visa for which the visa fee is €60 (INR 5,100).
Note: The aforementioned estimated costs are only based on average costs and rough estimations. Actual costs may vary as per different factors.
Popular Scholarships
Because studying MS in Ireland might be costly for many, a list of a few prominent and renowned scholarships in Ireland for international students is provided below:
| | |
| --- | --- |
| Scholarships | Amount in EUR |
| MBA Entrepreneurial Scholarship | 50% fee waiver against tuition fee |
| Postgraduate Fellowships: The Walsh Fellowships | 28,760 |
| Irish Aid Fellowship Training Program | Amount varies |
| JN Tata Endowment Scholarship | Amount varies |
| NUI Galway International Students Scholarships | 2,200-5,700 |
| Opportunities in Ireland for Ontario College Graduates | Tuition fee reduction by up to 15% |
| Maynooth University Scholarships | 1,200 to 3,440 |
| Centenary Scholarship Program | One-year tuition fee is free |
| MSc Merit-based Scholarship | 50% tuition fee waiver |
| Trinity College Dublin | 5,700-11,400 |
Intake Seasons
Every country has different intake seasons. Some universities offer intakes all year long while some are open for specific intake. Generally, the intake seasons are summer, spring, winter, and autumn. For MS in Ireland, the intake seasons are Autumn and Spring. Autumn intake opens in June and Spring intake in September.
MS in Ireland Salary  
To assist you in better understanding the income and career prospects, we have compiled a list of some common post-MS career options that are available in Ireland, as well as their associated average salaries, which are as follows:
| | | |
| --- | --- | --- |
| Job Role | Average estimated salaries in EUR (per year) | Average estimated salaries in INR (per year) |
| Software Developer | 38,000 | 33.6 lakhs |
| Data Analyst | 36,000 | 31.8 lakhs |
| Data Scientist | 45,000 | 39.8 lakhs |
| Senior Software Engineer | 62,000 | 54.8 lakhs |
| Business Analyst | 41,000 | 36.2 lakhs |
| Quality Assurance Manager | 69,000 | 61.04 lakhs |
| Executive Manager | 71,000 | 62.8 lakhs |
| Civil Engineer | 42,000 | 37.1 lakhs |
| Architect | 40,000 | 35.3 lakhs |
| Teacher/Professor | 45,000 | 39.8 lakhs |
| Sales Director | 75,000 | 66.3 lakhs |
| Senior Product Manager | 76,000 | 67.2 lakhs |
Visa
Before commencing studies for Masters in Ireland, students require a study visa which comes under the head of Category 'D' Visas. For successful visa approval, applicants need to show official proof of admission, proof of finances or scholarship granted, and in some cases students or health insurance. Take huge care in matters of visa and carefully fulfill all relevant criteria before paying tuition fees.
To know more, check out Ireland Student Visa!
FAQs
What is the minimum GPA requirement for MS in Ireland?
A GPA of 3.0 on a scale of 4.0 (60-70%) or above is required for studying MS in Ireland, in addition to other qualifying requirements such as LOI, SOP, Resume, Work Experience, and so on.
What is the best course to study in Ireland?
For international students, the country provides a variety of popular courses to study in Ireland, including the MBA, MS in Business Analytics and Data Science, and MS in Computer Science, among others.
How much does it cost to study MS in Ireland?
MS in Ireland typically costs between 5,000 to 25,000 EUR each year, including living expenses. For Indian candidates, this equates to approximately 4 to 23 lakhs per year.
Is Work Experience a mandatory requirement for MS in Ireland?
Although the years of work experience depend on university to university, ideally it is recommended to have at least 2-4 years of work experience when planning to pursue MS in Ireland.
Is Ireland a good place to study masters?
Irish Education system is one of the most respected in the world. Besides that, it offers vibrant career prospects and scope for further development. If you have decided to pursue your master's in Ireland and want to make your application to stand out, experts at Leverage Edu help you with the application process.