Being a multi-culturally diverse country, Canada attracts an immense number of foreign students every year. The country has become a preferred study destination for those aspiring for higher studies with its renowned academic programs and a welcoming student-friendly environment. Canada has progressed colossally in providing quality education in a wide range of fields. Pursuing a Master's degree in Computer Science from Canada can offer you striking exposure and detailed knowledge of the wide stream of Computer Technology. If you are planning to explore programs related to MS in Computer Science in Canada, here is a comprehensive blog to take you through the benefits of studying this course in Canada along with the top colleges offering this course in the country.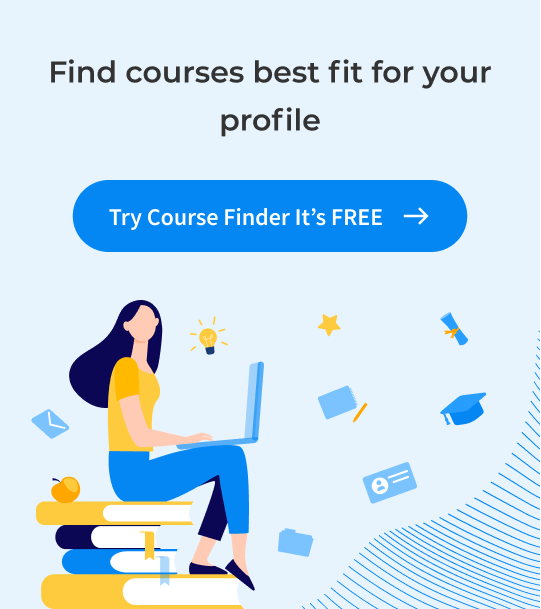 Winter Intake in Canada: Here Is What You Need To Know
Top Universities for MS in Computer Science in Canada
The following is a list of the top universities in Canada for MS in Computer Science along with their global rankings. Students need to check their GRE scores to be eligible to apply to a university.
| | | | |
| --- | --- | --- | --- |
| Universities | QS World University Ranking 2022 | Scores | Average Estimated Tuition Fee (Annually) |
| University of Toronto | 26 | GRE 309 | CAD 57,000 (INR 32,51,954) |
| University of British Columbia | 27 | GRE 310 | CAD 17,500 (INR 9,98,296) |
| University of Waterloo | 46 | GMAT 550 | CAD 27,535 (INR 15,70,748) |
| McGill University | 126 | GRE 300 | CAD 26,554 (INR 15,14,419) |
| McMaster University | 140 | GRE 309 | CAD 33,417 (INR 19,05,359) |
| University of Alberta | 149 | GRE 310 | CAD 1,89,706 (INR 1,08,16,596) |
| University of Ottawa | 230 | GMAT 560 | CAD 41,278 (INR 23,53,575) |
| Simon Fraser University | 298 | GRE 300 | CAD 23,760 (INR 13,55,121) |
| Queen's University | – | GRE 315 | CAD 14,619 (INR 8,33,776) |
| Concordia University | 521 | GMAT 550 | CAD 26,100 (INR 14,88,586) |
Advantages of Studying MS in Computer Science in Canada
Canada is known for its student-friendly environment along with affordable educational costs. The country welcomes foreign students from around the world and offers them extensive career opportunities to pursue part-time projects while studying. Here are the merits of choosing Canada to pursue an MS in Computer Science:
Canada has a diverse population with a remarkable status of being one of the best study destinations across the world.
Students are allowed to work while pursuing their education and you do not need a work permit to work in Canada.
Canada is home to around 500,000 IT firms and has seen exponential growth in employment in the IT sector. So, you can discover immense prospects in the IT sector while pursuing the course.
The fee structure is affordable compared to the cost of education in other developed countries like the US.
Best Courses in Canada For Indian Students 2021
Admission Deadlines for MS in Computer Science in Canada
Admissions to master's programmes in Canada for international students normally take place in three sessions: Fall, Winter, and Summer. A full-time Master's programme can last anywhere from 16 months to two years and comprises four graduate courses. Interested MS in Computer Science candidates should apply through the university's official website in Canada. Applicants can also apply to some universities using provincial common application portals.
Eligibility Criteria
The eligibility criteria for Canada's top universities are quite standard. While application requirements differ from one university to the next. International applicants who wish to pursue a Masters in Computer Science in Canada must meet the following requirements:
A bachelor's degree in any field with a minimum percentage is required by the specific university.
A CGPA of 7 to 8 on a scale of 10 is necessary, or a GPA of 3.25 or above on a 4.0 point system. 80-85% is the percentile equivalent of the same.
The applicant must also have taken the GRE and have scores that are less than two years old.
The applicant's good programming skills are also a requirement for admission.
Documents Required
The documentation that international applicants must submit while applying to universities in Canada that offer MS in computer science is given below. Documents are usually sought after the admission offer letter has been released. The following are the documents that must be presented with the application:
Here's a List of Important Documents Required to Study Abroad
Studying MS in Computer Science in Canada without GRE
In Canada, there are around 14 universities that offer a master's degree in computer science without requiring GRE results as part of the admissions process. There are no further requirements to satisfy the GRE non-requirement. Because international students' educational backgrounds are from outside of Canada, Canadian universities require them to take the GRE. Some colleges do not specify minimum GRE scores, yet they are required for a comprehensive admissions application review. The following is a list of universities in Canada that do not require the GRE in order to admit international students to the MS in Computer Science in Canada programme:
Cost of Studying MS in Computer Science in Canada
The cost of studying in Canada depends on a number of factors. The initial one-time payment goes up to CAD 1,513 (INR 86,296) that includes the GRE Test Fee, Application Fee, Visa Application Fee, and Health Insurance. The Official Financial Statement also is essential, costs about CAD 13,032 (INR 7,43,636). Apart from these, the cost of studying in Canada also includes accommodation, transportation, daily expenses, and books that cost up to CAD 14,500 to CAD 35,000 (INR 8,27,387 to INR 18,89,310). These expenses may vary depending on the location and type of accommodation you choose.
Cost of Studying in Canada for Indian Students [2021]
Cost of Living in Canada
Given below is a breakdown of the different expenses which are important to consider while calculating the cost of studying and living in Canada for Indian students.
| | |
| --- | --- |
| Living Cost in Canada | Cost |
| Flight Expense | INR 1,00,000- 2,00, 000/- per flight |
| Study Permit Fees | $150 (INR 11,123) |
| Work Permit Fees | $155 (INR 11,493) |
| IELTS test Fees | INR 14,700 |
| Accommodation | CAD 5,000 – CAD 10,000(INR 2,67,000-INR 5,39,000) per annum |
| Travel Costs | CAD 80 – CAD 110 (INR 4,300-INR 6,000) per month |
| Health Insurance | CAD 300-CAD 800 (INR 17,000-INR 44,000) |
| Food | CAD 300- CAD 400 [17,508 INR-23,344] (monthly) |
| Entertainment | CAD 750 [43,770 INR] (monthly) |
Use Our Exclusive Cost of Living Calculator to Calculate your Customised Cost of Living in Canada!
Scholarships for MS in Computer Science
The scholarship amount granted by colleges offering MS in Computer Science in Canada starts from 500 USD and can go up to 23,000 USD. Some colleges require a separate application in addition to the admissions application, while others automatically evaluate students for scholarships. The following are some of the most well-known university-specific scholarships for overseas students in Canada.
University
Scholarships
Award in USD
University of Calgary
Entrance Scholarship
23,000 (INR 17.31 lakhs)
University of Waterloo
David R. Cheriton Graduate Scholarships
10,000 (INR 7.52 lakhs)
University of Manitoba
Graduate Fellowships
Stephane Durocher
14,000 (INR 10.53 lakhs)
16,000 (INR 12.04 lakhs)
University of Northern British Columbia
Computer Science Entrance Award
1000 (INR 75k)
UBC
International Major Entrance Scholarships Outstanding International Student Award
Varies
University of Fraser Valley
WowAuto Scholarship
500/year (INR 37K)
Explore more such scholarships in Canada for masters
Job Prospects
There are ample job opportunities in Canada with renowned companies like Amazon, Scotiabank, Sterling Turner, etc. who recruit postgrads from Canadian universities. The average salary ranges from CAD 32,591 to CAD 53,449 (INR 18,59,251 to INR 30,47,204) depending on your skills, position, and location. Here is a list of some popular job prospects for aspirants in Canada post completion of MS in computer science:

Software Engineer
Software Developer
Java Developer
Network Administrator
CAD Designer
IT Manager
Senior Web Developer
Hence, opting for MS in Computer Science in Canada will equip you with advanced knowledge in the field of Computer Science along with giving you work opportunities to explore while studying. Let Leverage Edu student counsellors guide you in selecting an ideal Canadian university for pursuing a master's program in Computer Science and getting you striking academic and professional exposure into the field of Information Technology. Call us today at 1800572000 to book your free e-meeting!