International students who wish to apply to different types of internships in Canada, need to be aware of the requirements first. Being eager to learn the work culture, etiquette, and top industries helps contribute to landing an internship at an esteemed workplace. As it's often said, where there is a will there is a way. Though you must learn the basics of applying and being accepted into an internship, to manifest that willingness into reality. This is where we come in. Learn the basics and an overview of internships in Canada for international students, in this blog.

Why Intern in Canada?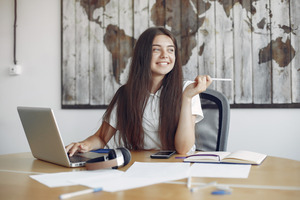 Interning in Canada is a great way to widen your horizons while you study or otherwise. Some of the reasons are as follows.
Cultural Mosaic
Canada is proud to be home to millions of immigrants, different types of ethnic groups, and a diverse culture. With the presence of the same, opportunities are made in as diverse ways as possible. When one decides to intern in Canada, they're also opening themselves up to a world of cultural possibilities; as you meet people from different horizons at the same time.
Work Opportunities
Interning in Canada gives you exposure to different types of work; adding on to your skill set. This allows you to make connections and grab work-related opportunities once you complete your education.
Paid Internships
There are paid internships, along with unpaid internships, in Canada. This helps the student to support their expenses as well as gain practical experience.
Professional Fields
With the right internship, the student can enter different fields and industries such as Travel & Tourism, Marketing, Environmental Technology, International Business, and many more. This proves to be fruitful for the students in the long term.
Internship in Canada for International Students: An Overview
For you to get a better understanding, let's go through the overview of internships in Canada for international students.
Internship Experience Program
Canada's Internship Experience Program is a great opportunity for international students who want to intern in Canada. Check whether your country is registered with this program that pertains to your needs and provides internship opportunities for international students in Canada.
Though many top universities in Canada provide internship programs as part of their curriculum, the Internship Experience Program helps international students to directly apply to internships.
Independent International Internships
Other than Canada's Internship Experience Program, there are other independent institutions that provide internships in Canada for international students. Here are some of them:
Student Internship in Canada by StepWest
Internships in Toronto with the Intern Group
BUNAC: Intern in Canada
Toronto Internships with Beyond Academy
Must Read: How to Find Paid Internships in USA?
Internships in Canada for International Students: Top Industries
Along with the knowledge of availing public and private institutions for internships, you shall also know the top industries that accept these internships and interns alike. Have a look at the list below.
Business and Marketing
Hospitality and Tourism 
How to Look for an Internship in Canada for International Students?

While you are looking and trying to find various internships in Canada, you can choose different alternatives. Let's discuss the same.
The most simple step is to look for internship opportunities through your college and university.
Additionally, you can also look for independent internships through organisations like StepWest.
Websites can also help such as job portals and other opportune platforms.
Research in your home country is also another step to looking for an internship in Canada.
Refer to your professors, sometimes connections can help you look and find great internships.
Requirements for Internships in Canada for International Students
What are the requirements to pursue an internship in Canada? The important ones are detailed below.
You must be registered as a student in your country of residence 
Your age should be between 18 and 35 years
You should have a valid passport
A strong CV or resume is recommended
An English language proficiency certificate is a must
Get your work visa approved weeks before the commencement of your internship
How to Land an Internship in Canada for International Students?
For international students, there are a few recommendations to apply for an internship in Canada for International Students
Research and Prepare:
What are the potential places offering internships and what kind of internships are they? Do they suit your profile? Are you an appropriate candidate for the same? Research what needs to be done to grab the opportunity and stand out in the sea of applicants to be accepted in the internship.
Make use of authentic websites:
Once you research the world wide web, you will come across a variety of websites that provide internships in Canada for international students. Learn to filter out the information that is useless, and the kind that is useful. Look for authenticity.
Choose Work Visa- Familiar Organisations:
As an international student, you must look for companies that provide internship opportunities and information about work visas and are familiar with the entire process and the requirements.
Apply as soon as you can:
Since work permits related to internships for international students are limited in terms of numbers, it shall be beneficial to apply for internship and work opportunities as soon as possible.
On-time Visa Application:
Without a proper visa application approval and a work permit, you cannot pursue internships in Canada even if you get accepted. So, work on registering yourself, and filling out and submitting the visa application on time. If there has been a delay in your work visa application, you can be sent back to your home country from the airport itself.
Must Read: What Are Micro-Internships?

FAQs
Q. Can I intern in Canada as an international student?
Ans: Yes, you can intern in Canada as an international student if you meet all requirements. You can therefore apply for a co-op or intern work permit. 
Q. Can I go to Canada for an internship?
Ans: Yes, with the right resources and preparation, you can go to Canada to avail internship opportunities. In fact, Canada also offers official internship programs to many countries, as a part of a signed agreement. 
Q. Are student interns paid in Canada?
Ans: Though it is not mandatory for paid internships to prevail in the country, there are many internships that do pay their interns.
Q. Do I need a work visa for an internship in Canada?
Ans: If you are an international student, you will need a study permit as well as a work visa. 
This was all about Internship in Canada for International Students. If you are planning to study abroad then experts at Leverage Edu will help you throughout your journey. Call us immediately at 1800 57 2000 for a free 30-minute counselling session.