"Dad, Aeroplane" A kid pointed towards the sky with his forefinger. Seeing an aeroplane in the sky, a rush of excitement used to wash over us as we waved at the tiny aeroplane and wondered what exploring the vast skies is like! If you have always been inclined towards a career in which you can soar higher towards the depths of the sky, then aviation is the industry that you must explore! This blog aims to bring you a comprehensive guide on what a career in aviation entails, the varied pathways and perks it has on offer and the journey you need to take to establish yourself in this field!
General Overview
Simply put, the activities in the Aviation industry revolve around designing and developing various aircraft, handling production and operations, and flying or repairing aircraft. As an ever-growing industry, one can find innumerable opportunities across various sub-domains of the sector and avail a wide range of benefits and perks. Whether you are planning to become a part of the cabin crew or aspiring to pursue Commercial Pilot courses, a career in Aviation is financially fulfilling and personally rewarding!
Why Pursue a Career in Aviation?
Take a look at the following reasons why a career in Aviation is filled with exciting possibilities and countless benefits!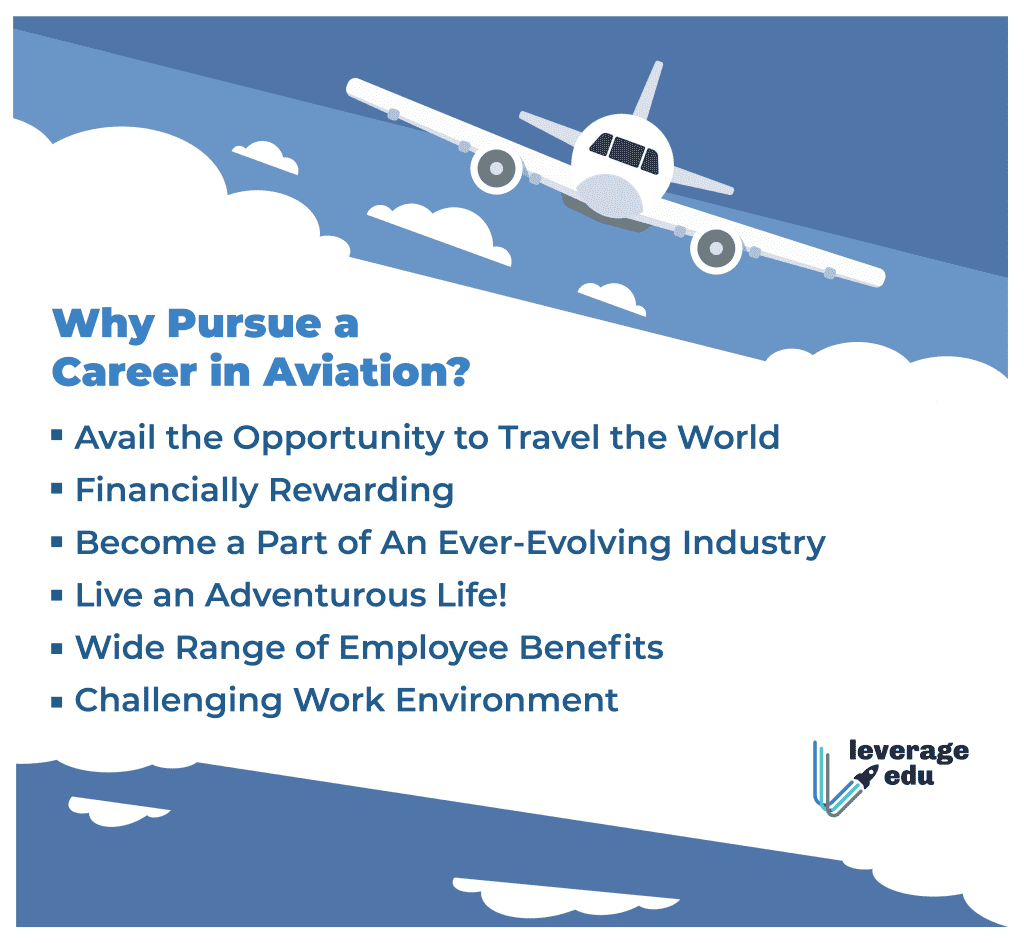 Career Pathways in Aviation Sector
Now that you know about the multitude of courses available in this exciting field, the next thing is to delve deeper into the different career pathways you can choose from. Below we have detailed some of the popular job profiles you must know about if you are aspiring to follow a career in Aviation:
Airline and Commercial Pilot
Becoming a pilot is one of the most popular choices to establish a career in Aviation after 12th standard. Apart from flying a plane, ensuring the safety of the passengers and attendants will be your responsibility. So, if you also want to know how to become a pilot after 12th then here are the basic criteria.
You must be over 18 years
You must hold an instrument rating commercial pilot's license
250 hours of flight experience
You have to pass psychological, physical, and aptitude tests.
Air Traffic Controller
The work of an air traffic controller is to regulate the whole air navigation system. They are accountable for the safety of all the air transports and the people who are flying it in the air. Here are the following things they keep a check on:
Instruct pilots on how to land and takeoff
Monitor and instruct the movement of air transports on the air as well as ground with the help of radars, visual references, and computers.
Communicate with pilots in the Air Control Room in order to keep them updated with the conditions of weather, runway closures, and any other serious information.
Aircraft Maintenance Engineer
As an Aircraft Maintenance Engineer, you're going to look after the repair of aircraft. You will have to work closely with aerospace manufacturers to verify the aircraft. An Aircraft Maintenance Engineer's primary work is to troubleshoot problems, conduct inspections, make repairs, and suggest upgrades to the aircraft.
Flight Attendant
Flight attendants make sure that the passengers adhere to rules & regulations so that the journey remains safe and comfortable during the flight. If you want to start a career in this field, you will have to pass a test to get a license before getting the position of a flight attendant. Moreover, you will have to be great at communication, appearance, multi-tasking, and providing emotional support.
Aviation Medicine
A unique and less pursued career path, Aviation Medicine is a domain that requires professionals who can identify, assess, and formulate preventive strategies related to the physiological and psychological impact of a space environment on individuals. This is an excellent opportunity for MBBS holders to start their career in Aviation! Some of the Aerospace Medicine courses that you can pursue are MD in Aeromedical Retrieval and Transport, MD Oral Health, etc.
Aerospace Engineer
The work of Aerospace Engineers is to design and develop spacecraft, satellites, missiles, and aircraft. They ensure whether the air transport made by them is functioning according to the design or and work on developing new technologies for the aviation industry. Such professionals are well versed with Thermodynamics, Aerodynamics, Flight Mechanics, Propulsion, Acoustics, Celestial Mechanics, Guidance & Control Systems. The aerospace field splits up in two parts, namely, Aeronautical Engineering and Aerospace Engineering. While the former deals with operations of aircraft which fly within the earth's atmosphere, the latter cover both, aircraft and spacecraft.
Aviation Management
This is a field where you can work in various roles and handle tasks like airport operations, recruitment, managing accounts, public relations, economics, etc. Apart from this, you will also have to ensure the implementation of various laws, rules, and regulations pertaining to the sector. To establish a career in Aviation in this domain, a minimum of a bachelor's degree will be needed. You can further enhance opportunities by pursuing an MBA in Aviation Management.
Quality Control Officer
The primary responsibility of a Quality Control Officer is to check whether the materials and tools require for the manufacturing an Aircraft match the standards or not. Those with a keen eye for detail and expertise in handling sophisticated tools to check quality can build a strong career in Aviation as a Quality Control Specialist.
Other than these pivotal job prospects, some other opportunities offered for making a career in Aviation are:
Flight Test Engineer
Avionics Engineer
Aircraft Technician
Career in Aviation: List of Popular Courses
As one of the most popular fields, there are an array of courses and training programs that one can choose from in order to build a career in Aviation. Here is a list of some of the popular job oriented Aviation courses that you must consider.
Advanced Diploma in Airport and Airline Management
Diploma in Airport Management
BS Aviation Administration
BBA in Airline and Tourism Management
Bachelor's in Aviation Engineering
Master's in Aviation Security
MTech in Avionics
MD Aviation Medicine
MBA in Airline and Airport Management
Master's in Aviation Engineering
MS Aviation and Transportation
PG Diploma in Aviation and Tourism Management
B.S. in Remotely Piloted Aircraft Systems
Aviation Engineering with Pilot Studies MEng
CAE Woman in Flight Scholarship Program
Top Universities
A wide array of training academies and institutions across the globe offer Aviation courses in a plethora of specializations. Generally, specialised training academies provide programs for those aspiring to become a commercial pilot while if you are inclined towards Aircraft Maintenance Engineering or Aviation Engineering, then you need to pursue a bachelor's and master's degree in the same. To help you further in your research, we have enlisted some of the major universities and training institutes around the world availing a wide range of courses for those aspiring to build a career in Aviation.
Hence, we hope that this detailed guide has helped you explore the different aspects of building a successful career in Aviation! If you plan to pursue a degree, diploma or training program in this field, our experts at Leverage Edu are here to guide in choosing the right course and university combination that can help you soar towards building a rewarding career in Aviation!