Studying abroad journey comes with several cultural shocks. Moving to a different country altogether is a thrilling experience! As an international student in the United Kingdom, you might do some general mistakes and get yourself embarrassed. To save your life from these embarrassments, we have created a list of things that you should never do in UK!

Don't Call the United Kingdom "England"
The United Kingdom of Great Britain and Northern Ireland is the official full name of the United Kingdom. Scotland, England, Northern Ireland, and Wales are the four countries that make up the United Kingdom. In addition, each country has its own culture, national identity, and governance. So, be careful while you are in the UK, calling someone from Scotland, Wales, or Northern Ireland is considered disrespectful and should be avoided. If you're unsure, simply use the term "British".
Know more about Why do Indians Prefer to Study in UK?
Avoid Small-Talk
To be honest, I think we all are unsure what to reply when someone asks, "How are you?" This is not the time to inform them about your medical history or how your left nostril is bothering you today. It's undoubtedly confusing! British people aren't really fond of having small talks like just asking "How are you doing?" Well, The correct answer to this question is "Fine, Thanks. How are you?" But you might not see the other person being interested in knowing more about you or sharing his/her personal things. Following that, the British person will turn the conversation to another issue, such as the weather.
Don't Block the Escalator
This is London's one and only golden rule. Do not stand on the left side of an escalator under any circumstances. Walking only on the left side. Standing is done using the right hand. If you don't follow these rules, you'll be considered a tourist and get a lot of disapproving tuts.
Never Refuse a Cup of Tea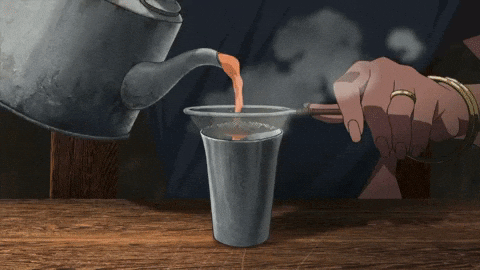 A welcoming gesture is to offer someone a cup of tea when they arrive to visit your home. Refusing the cup of tea communicates to your host that you are not welcome in their home and may be considered impolite.
Don't Imitate the British Accent
First and foremost, no matter how much you practice, your British accent is unlikely to be very excellent. Save that for later, once you've established some excellent friends with a British person. No local, not just in UK but in any nation, would appreciate the imitation of their accent. If you are impressed with their accent, try to learn their accent gradually and we're sure one day you'll be able to speak with the same accent!
Check out the Scholarships for Indian Students to Study in UK
Avoid Giving Greeting Kisses
People in the United Kingdom are cautious about meeting strangers. As a result, it is a cultural norm that physical contact is limited to people with whom they feel at ease. As a result, shake someone's hand when you meet them for the first time. However, unless they specifically want it, do not hug or kiss them on the cheeks.
Don't Disobey the Queue System
In addition, the art of queuing is an unspoken norm in British culture. Wait your turn in line immediately after the person in front of you. As a result, no one gets upset if everyone follows the queueing rules. Follow the rules, be polite to everyone, and you will have a great time in the UK!
Read about the Intakes in UK
Don't Overlook the Basic Manners
People in the United Kingdom are trained to watch their "p's and q's" from an early age. This indicates that you should remember to say "please" and "thank you." Forgetting to say these simple phrases may have a significant impact on how British people see you.
Don't Rush During Travel Hours
Avoid using the tube (Transport For London) between 7:30 and 9:30 a.m. and 5:00 and 7:00 p.m. whenever possible, especially if you have a lot of luggage. Tube stations may get crowded around this time, and trains are full of tired Londoners on their way to and from work. If you do get caught up in the rush hour, though, you'll get a fantastic sense of how far Brits will go to avoid making eye contact while being in close proximity.
Check out the Acceptance Percentage of UK Universities
Avoid Making Jokes about The Royal-Family
The British view royal customs with suspicion. The royal family is a part of the United Kingdom's history and tradition. Even die-hard Royalists, however, are not beyond making jokes about them or adopting a lighthearted attitude to the topic. Make sure you're not making any jokes. It's preferable not to start royal humour until you know the lay of the land and the sentiments of the people.
Don't Forget to Spend Your Coins
British coins are frequently valued too low by tourists. That pocketful of British coins you're fumbling around with is just so much little change when you're used to nickels, dimes, quarters, or the tiny five- and ten-cent Euro coins. Although a British pound coin may appear to be play money, two-pound coins are really worth more than $2.50 (as of 2016). Therefore, a sandwich and a drink may be purchased for a few pennies. Because most banks and currency exchangers won't convert coins into your own currency, spend it before you go.

FAQs
How long can one stay after studying in UK?
With the establishment of the new laws, Indian students will now have the opportunity of obtaining a two-year work permit upon the completion of their degree thus opening up avenues for permanent settlement in the country.
Can one work part-time while studying in UK?
As an Indian student, you can work part-time while pursuing a degree in the UK. While you study in UK, you can work up to 20 hours a week during the duration of your semester or term and work full time during the duration of your university break. The opportunity of working alongside your degree helps in not only meet the living expenses but also provides opportunities for exposure and experience!
Which is the best university in Norfolk to study MA History? 
University of East Anglia located in Norwich is one of the best places to study History in the UK. It is ranked 192nd position in the list of world universities by THE.
We hope this blog helped you with the 10 things you should never do in the United Kingdom. If you have decided to study in UK then the career prospects are immense. Needless to say, with scores of top-rated universities and courses available in the island nation, you might get confused with the admission process. Connect with Leverage Edu, our trained experts will guide you through the application process and your visa application process.