A Statement of Purpose, as the name suggests, is your identity statement. Your academic qualifications, professional interests, plans, achievements, and what influenced your career so far, form an essential part of an SOP. This is the reason why it forms an integral part of the application package along with other documents like transcripts, letters of recommendation [LOR], resumes, etc as it becomes the basis for the universities to select or reject a candidate. For almost every course to study abroad, you will have to send an SOP along with other documents to your choice of universities. Here, in this blog, we will take a closer look at what an SOP for Business Analytics should look like. 
What is a Statement of Purpose for Business Analytics?
The business analytics statement of purpose is a two-page essay with 800-1500 words that describes your personality traits, career goals, pertinent skills, etc. With a 12-point font size, a black font colour, and double spacing in the margin, it has clean paragraphs. The SOP does not need to include your name or course information. try not to use bold, italics, and underlined fonts, unless it is very important.
The statement of purpose for business analytics is the paper that outlines why you are applying to a specific programme or college. It is the decision-maker content, which includes information about your interests, ambitions, and aspirations in addition to your academic and professional experience. The SOP is significant to the university's admissions office since it justifies your goals of studying abroad.
Tips for Writing an SOP for Business Analytics
Before writing an SOP for Business Analytics you should brainstorm all the possible ideas. This is the only opportunity for you to show the admission committee who you are outside of your academic performance. Storytelling is becoming an important part of various industries. You could use this as a part of your SOP for Business Analytics. Enlisted are some points you could follow to build an interesting SOP for Business Analytics:
Start by mentioning what you want to study at the University. Be specific about your choice and include all the possible factors for pursuing that particular course.
Why do you want to pursue that degree specifically? This could be your opportunity to explain why you are choosing that course at the University or how the work of some of the faculty members inspires you to pursue that program.
Detail the work experience you have in that particular field. What did you learn and what inspired you to pursue higher education in that particular field should be mentioned clearly.
Talk about college. Why do you want to get admission there specifically or certain details about the faculty members, global partnerships, etc? Explain how can you contribute to that university and what skills of yours can complement the requirements of their desired candidates.
Bring your personality traits into the SOP for Business Analytics. Discuss your hobbies, your interests, and your habits but make sure to keep it relevant to the overall point you're trying to make.
10 Details To Remember
Writing SOP for business analytics requires a few considerations in order to be efficient. These suggestions will help you understand the intricacies to pay attention to when writing a sop for a business analytics course.
The information and details provided in the SOP for business analytics must be trustworthy.
Try to provide all of the necessary information within the word limit.
Exaggerating about the University or the course is not permitted.
The article must end on a good, encouraging note.
Make sure to include all of your academic information, technical talents, athletic activities, and so on.
Please explain why you want to take the business analytics course.
Explain how the business analytics course will help you advance in your job.
Check the document for originality before finalising your SOP for business analytics.
Your essay must be written in an innovative manner and contain significant content.
Stick to the usual SOP format and include legible content.
How to Write an SOP for Business Analytics
Now that you are familiar with some important tips and tricks to follow while drafting an SOP, let us look at some points that are crucial whilst writing an SOP. Framing and SOP keeping in mind the below-mentioned aspects will help you convey the best blend of academic journey as well as future aspirations. Here are the points to refer-
Highlight your skillset and describe your personal and professional work ethics. This should include

Your determination towards your goal and career.

Analytical skills describe your ability to learn things and your attention to detail.
Ability to work in a team as well as individually.

Try to think outside the box as creative thinking can set you apart from others. But make sure you mention relevant things that can help your application stand out.
Mention your school and college achievements. Go over the course and be very specific about why you want to pursue it while incorporating your work experience and explaining your work profile.
After stating your prior achievements and journey, do not forget to mention how your past experiences have helped you realise your passion for the Business world.
Write down any programming and analytical skills that add value to business planning. You can also speak about your previous projects related to Business Analytics.
SOP for Business Analytics should not be too formal. Your application will benefit from being interesting to read. The admission committees analyze all the determinants of personality.
The most important part of writing an SOP for Business Analytics is to be yourself, no matter what. Describe your abilities, your strengths and weaknesses. You should be honest in presenting yourself so do not mention things that have not happened to you. Be real and trust that the admissions committee will see you for who you are.
Finally, after figuring out the general nature of writing an SOP for Business Analytics, start writing in such a way that they can get a view of your career step by step. The SOP for Business Analytics should reflect the course and it is a good idea to write it from a business point of view.
Structure of SOP for Business Analytics
The form of the SOP for Business analytics should be appealing. You must begin with an introduction and then move on to the supporting content. While writing the SOP for business analytics, it is critical to keep the word count in mind. We have briefly explained the format of the SOP for the business analytics course for your convenience.
Introduction: Start your SOP with a quote or phrase which you passionately believe or follow. The readers will gain insight into your personality as a result of this.
First paragraph: Explain why you choose the university and programme in this paragraph. You can back up your claim with a personal incident or experience that influenced your line of study.
Second paragraph: In this paragraph, you will discuss the university. You will also explain how the business analytics course will assist you advance your profession.
Third paragraph: Use this paragraph to outline your short-term and long-term objectives. Your goals, as well as your motivation factor, can be described here.
Fourth paragraph: You will discuss your technical and soft skills needed for the business analytics course. You can also include information about your extracurricular activities and hobbies here.
Concluding paragraph: This is a crucial component because you will be summarising your overall SOP for business analytics here. You must take particular attention while writing this section because you will be discussing your career aspirations and future goals.
What Not to Include in an SOP for Business Analytics?
Do not exaggerate your strengths/weaknesses/abilities.
SOP for Business Analytics should be crisp, clear, and concise.
Do not forget to mention your weaknesses, the hurdles you faced during your job, and how you solved them.
Going beyond the word limit should be avoided.
Do not mention your family history, financial details, and all of your achievements.
Skills to be Included in the SOP for Business Analytics
You must showcase your talents in the SOP with pertinent supporting facts to grab the admissions committee's attention right away. The following are a few of the abilities that might be mentioned in the SOP for business analytics:
Logical thinking
Decision making
Visualization
Strategic planning
Business intelligence
Detail oriented and big-picture thinker
Statistical software
Sample SOP for Business Analytics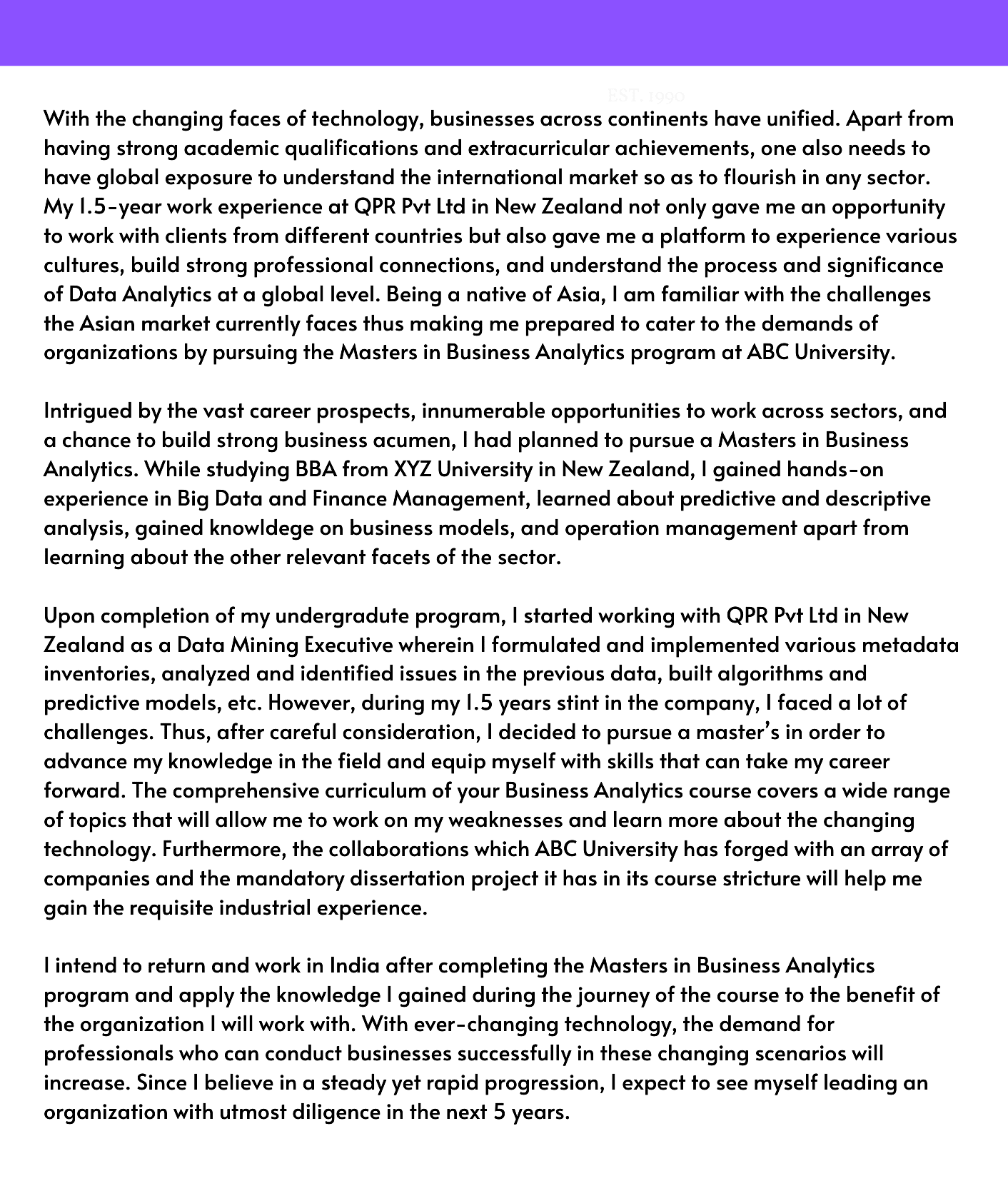 Sample SOP for Business Analytics
As a Business Administration graduate with a specialization in the field of Marketing, I have always been inclined towards how the rapidly globalized world has created immense opportunities for small and big businesses to expand and flourish. With the twenty-first century set in the zenith of social media and digital convergence, the new-age marketing arena has always enticed me and fuelled my curiosity towards how business analytics and marketing can come together to help every enterprise.
Throughout my graduate studies, I have participated in activities and clubs that collaborated with local businesses which have helped me learn the ropes of marketing at an early stage. I have endeavoured to strengthen my foundation and reap experience in multiple domains of the business world. With the development and changes in the business sector, understanding consumer behaviours and patterns have become essential to increase your production and sales.
Working in multiple creative industries like business management and marketing management has added to my understanding of the dynamics of the broader perspectives of society. I have also been influenced deeply by art and culture which have inclined me towards subjects like history, psychology, and modern science. These interests have greatly enlightened me to analyze and study the unique styles of communication, how people's needs evolve with time, and most importantly; how they respond to these needs. This made me believe that the Business sector is not about basic finances and marketing but also about analytical thinking and a creative approach. Fortunately, the University of ____ offers a specialised Business Analytics program that can help me attain knowledge with a perfect blend of business and the necessary skills.
In today's globalized world of media and communication, it is essential to develop skills that allow one to pick from a plethora of techniques and utilize the latest technologies. Through the program at the University, I will also gain an international perspective of the world as it gets diverse with generations striving to unify and harmonize the complexities. Studying Business Analytics alongside international industries can reflect these trends to further equip my aspirations.
This University can shape my personality and bestow the necessary skills that can facilitate my growth. I sincerely focus on gaining more experience in Business Analytics with a holistic approach that is flexible and adaptable to shifts in society. I strongly believe in constant learning that will be fueled by my hunger for the vast knowledge the world possesses.
SOP for MS in Business Analytics with Work Experience
SOP is just as important as transcripts and financial documents if you intend to enrol in a university in the USA, Canada, UK, etc. Thus, when writing your SOP for an MS in business analytics with work experience, you must keep a few things in mind. You can review your SOP using the points listed below.
Clarify your professional background and experience. You are able to describe your employment responsibilities and accomplishments accomplished while working there.
Ensure that you have creatively added all the business analytics courses necessary skills, courses, etc.
Don't be direct when expressing your strengths, weaknesses, doubts, etc.
Describe your enthusiasm for the business analytics course and provide any necessary justification. Some life experiences like project success, etc. can be used.
Your business analytics SOP shouldn't be overly formal or casual. It must be written in an engaging style that will wow your audience.
The most important thing to remember while developing an SOP for business analytics is to be authentic. The paper has to highlight who you are and your qualifications for employment.
Try to keep your content to the most crucial abilities or experiences. It could become too much if unnecessary information is crammed into the space. The selection committee might become disinterested in your content as a result.
SOP for Business Analytics for Top Universities
Here are the SOP for Business Analytics for the top business schools around the world:
MIT Sloan School of Management, USA
The SOP must not exceed two pages and 500–1000 words in length
Describe what makes the university special and what drew you to MIT Sloan School of Management to further your study.
Give a succinct description of the projects and undergraduate studies.
Describe your long-term objectives and the steps you're taking to get there.
Mention your training and courses that are related to the course.
The content must be original and free of common grammatical mistakes.
Texas McCombs School of Business, USA
A business analytics SOP must be between one and two pages long.
Reliable facts must be presented in a creative manner with the content.
Your professional background and the projects you worked on while employed must be disclosed to the admissions committee of Texas McCombs School of Business in your SOP.
The course must be central to the material. The team might not be impressed by irrelevant content.
You can explain any gaps here if they are not addressed in your resume or curriculum vitae.
Mention your technical skills and soft skills that are relevant to your course.
HEC Montreal, Canada
The tone of the SOP material must be encouraging. You must give a short and clear explanation of the life experience that influenced your decision to enrol in the course.
The SOP must not exceed 800 to 1200 words in length.
The information provided in the SOP must be accurate. You must be able to provide documentation to back up your claims.
Talk about the driving force behind your decision to attend HEC Montreal.
Include details about your passion, abilities, and expertise that you can bring to the organisation.
Discuss the distinctive qualities of the university and how they will benefit your career.
McGill Desautels Faculty of Management, Canada
Your individuality and character must be shown in your business analytics SOP for the university board.
Include information in the SOP about your extracurricular activities, sports hobbies, technical courses you've taken, etc.
You must include a separate PDF document in your upload that responds to the following questions: Why did you pick this course? How will McGill Desautels Faculty of Management, Canada help you reach your professional goals?
Discuss your efforts and experiences that prepared you for the course with the necessary experience.
Draw attention to all of your special abilities and talents that will help you succeed in the course.
The SOP can only be up to 1000 words long.
FAQs
Q1. How do you write a business analytics SOP?
Ans. Tips for Writing an SOP for Business Analytics
Start by mentioning what you want to study at the University.
Why do you want to pursue that degree specifically?
Detail the work experience you have in that particular field.
Talk about college.
Bring your personality traits into the SOP for Business Analytics.
Q2. What is SOP for a bachelor in business analytics?
Ans. In business analytics, the SOP should be 1-2 pages long. The content must be written in an innovative manner and based on credible data. The SOP must inform the admissions committee about your professional background and the projects you have worked on. The course must be central to the material.
Q3. What is an example of a personal statement for business analytics?
Ans. I am a great candidate for the Business Analytics programme because of my strong academic record, as I graduated with honours in Electrical Engineering. My undergraduate studies provided me with considerable quantitative understanding and technical experience in a variety of engineering topics.
If you are looking for a course abroad and are confused about the admission process, we, at Leverage Edu can help your application stand out among others. We can provide the best guidance and support to make sure you get the right course at the right university. Get in touch with us at 1800-57-2000 and start living your dream today.