The UK is a paradise for studying finance, management, and business administration. The country offers a range of specializations, work placements, and a post-study work visa to help students expand their work horizons. Amongst all the top commerce courses, Masters in Finance is the most popular choice for international students. Most UK universities offer an MSc in Finance that can help students kickstart their careers in one of the fastest-growing economies.

Why Pursue a Master's in Finance in the UK?
The UK is home to some of the best business schools in the world. These Universities will not only be your source of knowledge but will also provide you with a chance to create a strong network of people.
The Master's in Finance will provide you with expertise in a much broader range of subjects than any other. Corporate finance, risk governance and asset allocation are just some of the things you will get to learn.
The number of people with expertise in finance who are demanded in the industry is currently very high. This should be a reason for you to consider pursuing this course.
Not to mention, London tops the Global Financial Index. This makes it a hub spot for financial service companies and start-ups.
Also Read: Best Universities for Finance in UK
Eligibility Criteria
IELTS with a minimum of 6.0, TOEFL 100 overall with a minimum score of 22 in other elements or any other equivalent
Relevant work experience (though not compulsory, is recommended)
Top Universities Offering Masters in Finance in the UK
| | |
| --- | --- |
| University | QS Rankings 2024 |
| London School of Economics and Political Science | 45 |
| University of Oxford | 3 |
| University of Cambridge | 2 |
| Imperial College London | 6 |
| The University of Manchester | 32 |
| University of Edinburgh | 22 |
| The University of Warwick | 67 |
| Lancaster University | 122 |
| City, University of London | =328 |
Imperial College London
Imperial College London`: Imperial College London is one of the best Universities in London. The MSc in Finance program here is a full-time, one-year program that allows students to learn with the help of practical application and relevant research on a number of topics. It has also partnered with the CFA Institute so that the students are able to immerse themselves in the latest academic thinking and business strategies.
University of Manchester
University of Manchester: The University of Manchester offers a one-year full-time MSc in Finance. It focuses on providing students with a great career by imparting knowledge regarding the highest demand skills in them. A dissertation meant to focus on empirical research assists you in exploring your chosen area of interest in complete detail. The program is also partnered with Kaplan Schweser to help students prepare and pass the CFA examinations.
London Business School
London Business School: Being the 2nd best business school in Europe, the London Business School's Masters in Finance has been ranked number 1 by the Financial Times. The Masters in Finance here can be done either full-time or part-time, depending on your convenience. The part-time masters take 22 months to complete while the full-time master takes 10-16 months. It fuses global perspectives with an applied approach.
University of Cambridge
University of Cambridge: The masters in Finance at Cambridge University allows you to gain knowledge from some of the best in their field. On average, the students admitted in the program have 4 years of work experience. Their entire batch of 91 students consists of driven individuals who want to expand their learning and thus their careers as well.
University of Warwick
University of Warwick: The MSc in Finance at the University of Warwick is ranked 3rd in the UK and 11th in the world by the Financial Times. The course aims at providing deep conceptual and theoretical knowledge of finance and quantitative skills. It challenges the students to think and explore their own ideas, which would allow them to be prepared for a range of different careers.
Also Read: Master of Social Work in UK
Application Process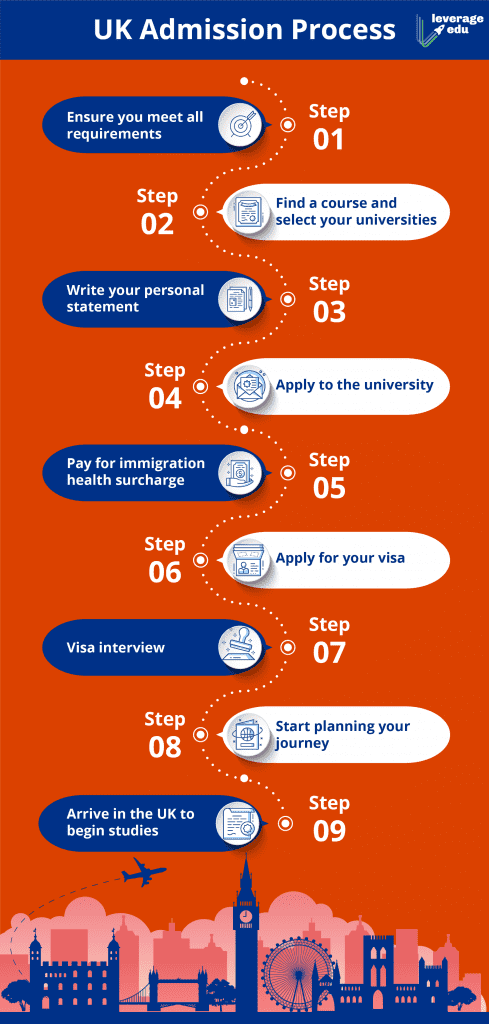 As a rule of thumb, a number of steps have to be followed very carefully when applying to the best Universities in the UK. Some of the steps of the application process are listed below:
Collect your college transcripts or final mark sheet of 12th before starting the process.
Make sure you have your passport handy and are able to fill in all the information according to the same.
A Statement of Purpose with one or more essays will be required to understand your reason for studying psychology from a particular university.
The first step will be to decide on the college or university along with the course you wish to study
Register onto the website of the University and start your application process by filling in all your information.
When you are offered a seat in the course you applied to, accept the offer and begin arranging for the funding.
After this, the visa application process begins.
Must Read: UK Study Work Visa
Documents Required
All official academic Transcripts and grade cards
Passport size photographs
Passport photocopy
Visa
Updated CV/Resume
English Language Proficiency Test Scores
Letter of Recommendations
Statement of Purpose
Scholarships
The average cost of studying MSc in Finance is 23,000 to 47,000 GBP per year. However, the financing of your master's degree is not solely relying on you. If you think you have a profile that is worthy enough, you can apply for the following scholarships-
Euraxess UK
The Royal Society Grants
Popular Profiles
Students who complete their Masters in Finance from Universities of the UK are eligible for a number of roles such as:
| | | |
| --- | --- | --- |
| Profile | Average Salary (GBP) | Average Salary (INR) |
| Commercial or Investment Bankers | 40,000-50,00 GBP per annum | INR 40-50 lakhs per annum |
| Financial Analysts | 45,000-55,000 GBP per annum | INR 45-55 lakhs per annum |
| Private Wealth Managers | 70,000-80,000 GBP per annum | INR 70-80 lakhs per annum |
| Portfolio Managers | 50,000-60,000 GBP per annum | INR 50-60 lakhs per annum |
| Budget Analyst | 50,000-60,000 GBP per annum | INR 50-60 lakhs per annum |
| Financial Director | 80,000-100,000 GBP per annum | INR 80 lakhs to 1 crore per annum |

FAQs
Is the United Kingdom a decent place to get a Master's degree in finance?
The University of Oxford, University of Cambridge, and Imperial College London are among the world's top-ranked universities that offer Masters in Finance degrees. The MS in Finance programme in the United Kingdom equips students to evaluate and optimise assets and financial resources.
Is it worthwhile to pursue a finance degree in the United Kingdom?
A finance degree is applicable throughout the whole business spectrum and in any industry, which means you can apply for jobs in the public, private, government, and international sectors. Actuary, banker, procurement, auditor, consultant, trader, insurer, stockbroker, or economist are some more possible careers.
Is it tough to get an MSc in finance in the UK?
The MS in Finance programme at Imperial College London provides a unique and demanding experience. There are five modules in the programme: online pre-study, foundation, core, electives, and project modules.
Want to pursue Masters in Finance in UK? Then sign up for a free session with Leverage Edu experts and start your journey for academic excellence!