If you are curious about a job field and want to gain practical exposure rather than delving deeper into its academic aspects, then going for a suitable internship is the right option to get closer to your dream career. Internships are short-term training programs that are ideal for those fresh graduates wanting to earn work experience. Most professional courses like B.Tech, BBA or MBA include the provision of internships within the course curriculum to help students grasp the technical aspects of the field they are studying. With even the industry giants offering lucrative training opportunities to budding professionals of every field, the trend of internships like Semester internships, Summer internships, etc. has gradually risen amongst undergraduates. In today's competitive world, where employers ask for experience certificates from fresh graduates in job interviews, pursuing an internship while studying is extremely beneficial in a varied number of ways. Let's take a look at the key advantages of earning internship certificates and how they can be immensely profitable in helping you advance in your career.
What is the Meaning of an Internship?
An internship is a short-term work experience that companies offer for students. It is usually in an area of study or work that the student is interested in. Colleges and universities require students to complete internships to gather practical knowledge. The student works in a real-life work situation under a manager and picks up interpersonal skills apt for the workplace. It is a good way for employers to scout and train future employees and bring new ideas.
Internships are done in both full-time and part-time modes. Most internships are not paid, but some do pay a stipend. The stipend is not only a means for motivating the intern but also to negotiate salary negotiation later during the job search. Interns usually complete a project during the internship duration to be submitted to the college and employer. Once the employer is satisfied that all internship requirements are met, they will issue an internship certificate to the intern. The certificate is made as per the set format.
What is an Internship Certificate?
An internship certificate is an official document which states that the concerned intern has completed his or her designated internship with the mentioned organisation. It also states the field or department in which the intern has worked and certifies that the person qualifies for seeking a higher-level job in the industry.
Internship certificates contain various important aspects which signify their authenticity such as the letterhead of the organisation, complete address and contact number, name of the manager along with a signature, etc
If you are planning to pursue an internship or are currently doing one make sure that you collect your internship certificate as it holds great importance regarding future endeavours. An internship certificate not only states that you have worked with a particular organisation but also affirms that you have undergone training in a particular field for a fixed duration, hence, you are now well-versed in the tasks that you have been trained for.
Check Out: How to Answer 'Why Should You Be Hired for This Internship?'
Internship Completion Certificate Format 
Internship certificates convey that the concerned person has been employed with the mentioned organization for a specific period and has delivered a satisfactory performance. Being an employer, it is essential to provide a certificate which follows the prescribed format. Let us have a look at the format of internship certificates-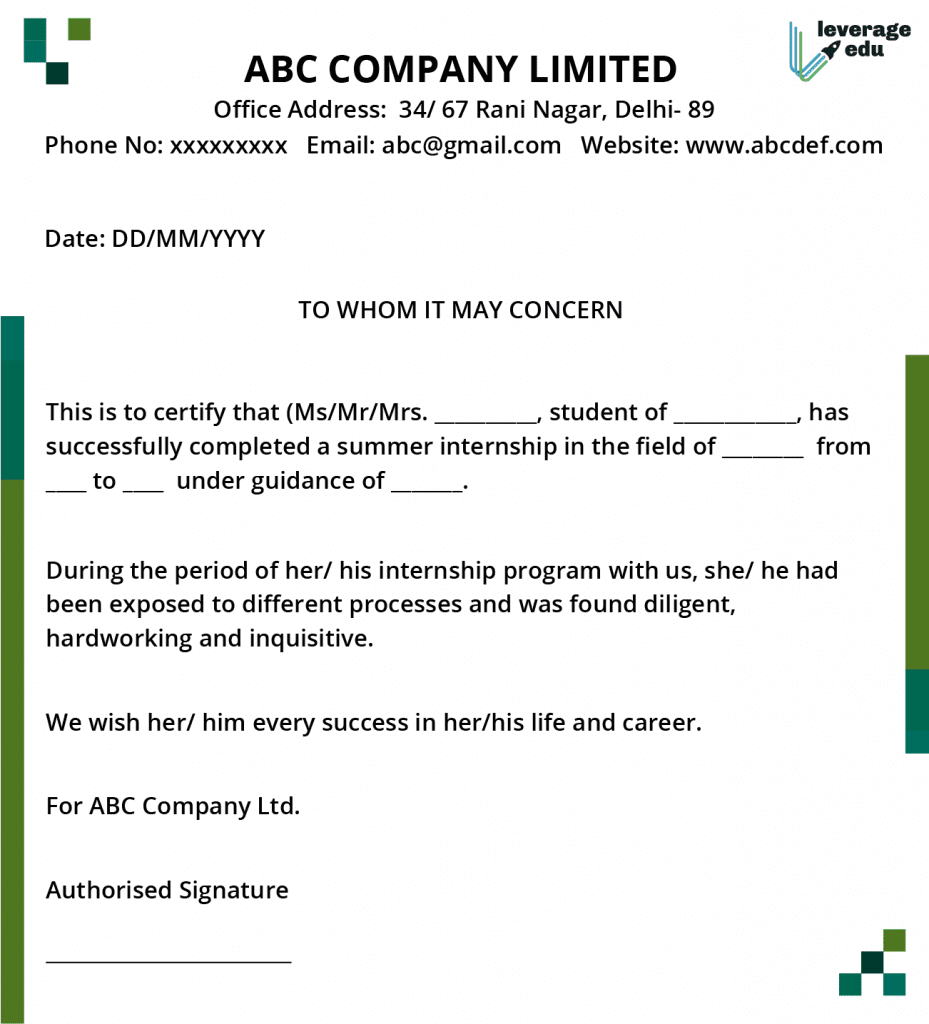 Use of Internship Certificate Format
Numerous internship programs are run in India based on various curricula to give students opportunities in various fields and advance their careers. Numerous organisations, both public and private, provide internship programmes. To join as an intern with the company, students must submit an application to the relevant organisation based on their studies and interests.
Students will receive an internship certificate after completing their internships, serving as documentation that they are now qualified to work or accept employment. Students can learn new skills, explore potential career routes, and establish positive working relationships through internships. Internship certifications also exist in some places.
Samples of Internship Certificates
Below mentioned are some samples of internship certificates for various fields.
For MBA or MIM
FIYAAN COMPANY LIMITED
Office Address: 34/ 67 Ramesh Nagar, Delhi- 89
Phone No: 9876543210 Email: abc.fiyan@gmail.com Website: www.abcfiyan.com
Date: 17/08/2020
TO WHOM IT MAY CONCERN
This is to certify that Mr Kanak Sharma, a student of the Indian Institute of Management- Bangalore has completed a summer internship in the field of Management from 10th April to 10 August 2020 under the guidance of Mr Rajesh Jain.
His internship activities include familiarization with all the departments, their operations and process along with a management overview involved in the production process of the organization.
During the period of her/ his internship program with us, she/ he had been exposed to different processes and was found diligent, hardworking and inquisitive.
We wish him every success in his life and career.
For Fiyaan Company Ltd.
Authorised Signature
________________
Internship Certificate for Engineering
ABC Corporation
Office Address: Ramesh Nagar, Delhi – 89
Phone Number: 730275xxxx, Email: abccorporation@gmail.com, Website: www.abccorporation.com
Date: 1st December 2021
TO WHOM IT MAY CONCERN
This is to certify that Mr Kanak Chatterjee, S/O Mr Raj Chatterjee, a Mechanical Engineering student from Delhi University, has completed a six-month-long internship at ABC Corporation. The duration of the internship was from 1st June to 30th November 2021.
His role was to familiarize himself with all the processes at the organization. He spent a significant amount of time in each department and learnt in-depth what the flow of work is like. Mr Chatterjee is a diligent individual and particularly inquisitive.
We hope his time spent at ABC Corporation was fruitful. We wish him all the success in his future.
For ABC Corporation
Signature
Authorized Officer
Designation
For Business Communication
RISE N SHINE LIMITED
Office Address: 34/ 67 Ramesh Nagar, Delhi- 89
Phone No: 9876543210 Email: rise_shine@gmail.com Website: www.risenshine.com
Date: 18/08/2022
TO WHOM IT MAY CONCERN
We present this certificate to Ms Priya Sharma in appreciation of her work as a Business Communication intern under the leadership of Mr Vikas Arora from 1st May 2022 to 10th August 2022.
She has worked on a marketing campaign project 'University Promotion'. This project aimed to launch a theme-based marketing campaign for the promotion of the University of Lompa and its courses. She has designed various mailers and banners for the campaign assignment as per the briefs given to her. She is now proficient in doing so.
During the internship, she displayed good designer skills and a self-motivated attitude to learning new skills. She was a diligent employee.
We wish her every success in her life and career.
Rise N Shine Ltd.
Authorised Signature
________________
For Medical Students
ROSEWOOD DENTAL CLINIC
Office Address: 34/ 67 Ramesh Nagar, Delhi- 89
Phone No: 9876543210 Email:rosewooddentalclinic@gmail.com
Website: www.rosewooddentalclinic.com
Date: 19/01/2022
TO WHOM IT MAY CONCERN
This is to hereby certify Ms Siya Sharma in appreciation of her work as a trainee (intern) under the leadership of Dr Raman Kumar from 1st November 2022 to 10th January 2022.
She has successfully completed her required 3 months internship with training at the Rosewood Dental Clinic. Her internship training program included routine checkups of the patients and assisting Dr Raman Kumar in major cases and scenarios.
During the internship, she has displayed good understanding skills and a self-motivated attitude for learning new skills and taking constructive criticism. She was a diligent intern and a trainee.
We wish her every success in her life and career.
For Rosewood Dental Clinic
Authorised Signature
________________
For Banking Students/Interns
ABC Bank
Office Address: 34/ 67 Ramesh Nagar, Delhi- 89
Phone No: 9876543210 Email:bankabc@gmail.com Website: www.abcbank.com
Date: 20/01/2022
TO WHOM IT MAY CONCERN
This is to hereby certify Mr Aman Merchant from Sunrise College, Delhi in appreciation of his work as a trainee (intern). He worked under the leadership and supervision of our Manager Sam Lewis, from 1st November 2022 to 10th January 2022.
During the tenure of his winter internship, he worked up close on a live project in the assistance of our branch Manager. We found him extremely hard-working, ambitious and meticulous. The information, research and findings that were presented by him in the report were authentic and feasible.
We wish him good luck and every success in life and career.
For ABC Bank
Authorised Signature
_________________________
Law Internship Certificate
Kritika Sharma
Senior Advocate
High Court, Lucknow
Office Address: XXXX
Phone No:XXXXXXXXX Email: XXXX@gmail.com Website:
Date: 17/08/2022
TO WHOM IT MAY CONCERN
This is to certify that Ms Kanak Sharma, a student of School of Law- Amity University, Noida has successfully completed her internship of the 4th semester of 29 days from 10th April 2022 to 10 August 2022 under the guidance of Kritika Sharma.
During the period of her internship program with us, she had been exposed to different processes and was found diligent, hardworking and inquisitive. I have found her to be motivated, have excellent behaviour and is punctual with her work.
We wish her every success in his life and career.
_______________
Kritika Sharma
Senior Advocate
Google Internship Certificate
Here is how you can get the Google Internship Certificate:
Check out the Internships provided by Google,
Google offers internships in Engineering and Technology, Business, Finance etc
Follow the process of getting a Google Internship
Once you have completed the Internship, you will receive the Google Internship Certificate
How to Write an Internship Certificate
Writing an Internship Certificate is very important, so let's check out some of the tips on how to write the perfect internship certificate:
Follow the Internship Certificate format
Be specific about your profile, duration and organization
Make sure to write the hard skills that you learned during the internship in the first paragraph
Add your soft skills to the internship certificate
Get the Internship Certificate certified by an important member of the team, preferably, the Founder/ CEO.
Importance of Internship Certificates
Are you still confused, about why internship certificates are necessary to collect as soon as you complete one? Here are some points that will help you-
Get a Professional Taste of the Working Environment: Most of the students prefer signing up for internships during their semester breaks, while some prefer doing internships for the entire course duration. As an intern, you will get a chance to implement classroom teachings, ask questions and learn directly from the working professionals. Other than gaining internship certificates, you will get to know about the organisational culture as well as how things work in a particular organisation. So, fold your sleeves and get ready for a life-changing experience, from being a student to a potential professional.
Build Confidence: While interning, you will get a chance to meet people of all kinds at an early stage. Working under people of different kinds is eventually going to boost your confidence and skills. Moreover, you will be handling several tasks and responsibilities which will further help you gain valuable interpersonal skills and managerial skills.
Early Exposure: Even if you have a minimal role to play as an intern, you can still avail colossal exposure to your field of interest. Seeing people work in an organisation and tackle different tasks can be a beneficial lesson. Further, you will get to earn internship certificates which will strengthen your resume and highlight your curiosity and early exposure to your career.
Internship Certificates and Financial Perks: Many students opt for internships to make some extra money while pursuing higher education and later end up making a career in the same field. While internship certificates are precious assets you will gain, stipends can be a source of additional pocket money that you can utilise while studying.
Keep Exploring: As you can pursue multiple internships during your course duration, it would be easier for you to choose the kind of work you ultimately want to do as a full-fledged professional. It is easy to change internships rather than going from one job to another, thus, make sure that you take the maximum benefit of these training opportunities. Opting for different internships in an array of fields will provide you with various internship certificates that can help you prove your exposure to the area you want to pursue as a career.
Edge in the Job Market: If an employer is to choose a candidate from a big pile of resumes, the chances of a candidate having the most internship certificates are higher than the ones with almost no work experience. Considering the exposure and experience of an internship certificate holder, they will always stand out from the crowd.
Connect with Professionals: In the working world, it's all about who you know or have previously worked for. Internships provide an excellent platform for individuals to connect with professionals in a particular field which further assists them in building a strong network.
Transition Into a Full-fledged Job: If the company you are interning with is impressed by your dedication and potential, there is a high probability of you getting shortlisted for a full-time job in the same company. Getting a job directly after completion of graduation can save you from the tiring process of job seeking.
What is the Difference Between an Internship and an Apprenticeship?
FAQs
What do you mean by internship?
An internship or internship program is a specific training program for freshers to gain professional experience. These programs help freshers to develop relevant skills, showcase them a career path and make them aware of the industry and the corporate world. Moreover, it gives freshers the experience and practical knowledge which will further help them to build networks and corporate relations. 
What is Certification after completion of the Internship
A certificate of internship is a crucial record that verifies an individual's work experience in an organization. It acts as official documentation proving a professional or student has finished their internship with a certain company and acquired practical experience and skills during that time.
Why is an internship certificate required?
After completing the internship program, the students may receive an internship completion certificate from the organisation where they were working. These internship certificates hold special importance in a fresher's CV or Resume as they depict the candidate's work experience and industry knowledge in his or her domain or field of study. 
How to earn an internship certificate?
An internship certificate is offered or given to students/freshers who have completed their internship program for a specific period in a recognised organisation. It is given by the company or the organisation where one must have worked as an intern or a trainee. It should be duly signed by the issuing authority and must mention the work profile, the project undertaken, the duration of the internship and the name of the intern.
What details must be included in the internship certificate?
The internship certificate must list or mention the following important things:
1. Name of the company 
2. Logo 
3. Date of issuing 
4. Name of the intern 
5. Duration of the internship 
6. Work profile/ project undertaken/ further details
7. Name of the trainer/manager
8. Signatures and/or stamp 
Whether you want to earn plenty of certificates or want to explore a field of interest, there are several perks of pursuing an internship programme during your graduation. Moreover, if you are planning to study abroad, then all your internship certificates are going to enhance your application, increasing your chances of getting accepted into your dream university. If you can not decide on which course to study, take help from Leverage Edu's AI tool which will help you in selecting the best course and university and will connect you with a mentor who will guide you throughout the admission process. Call us immediately at 1800 57 2000 for a free 30-minute counselling session.