Getting a hold of the fast-paced commercial world through internships and industrial training at an early age could be your ideal step towards converting your career aspirations into success. Internships are great opportunities to learn the whereabouts of the corporate industry. Through internships, candidates can learn valuable skills, gain real-time exposure to their field as well as avail networking opportunities. In order to apply for the interning position in your dream company, you are required to apply by writing an internship request letter to the organization. Discover everything about this letter here!
What is an Internship Request Letter?
This letter is addressed to the HR department or the hiring manager of the firm stating why you should be hired for the internship and how you will be benefiting the organisation. Through this blog, we will provide you with the essentials of writing an internship request letter that can get you successfully shortlisted for the opportunity you are dreaming to explore.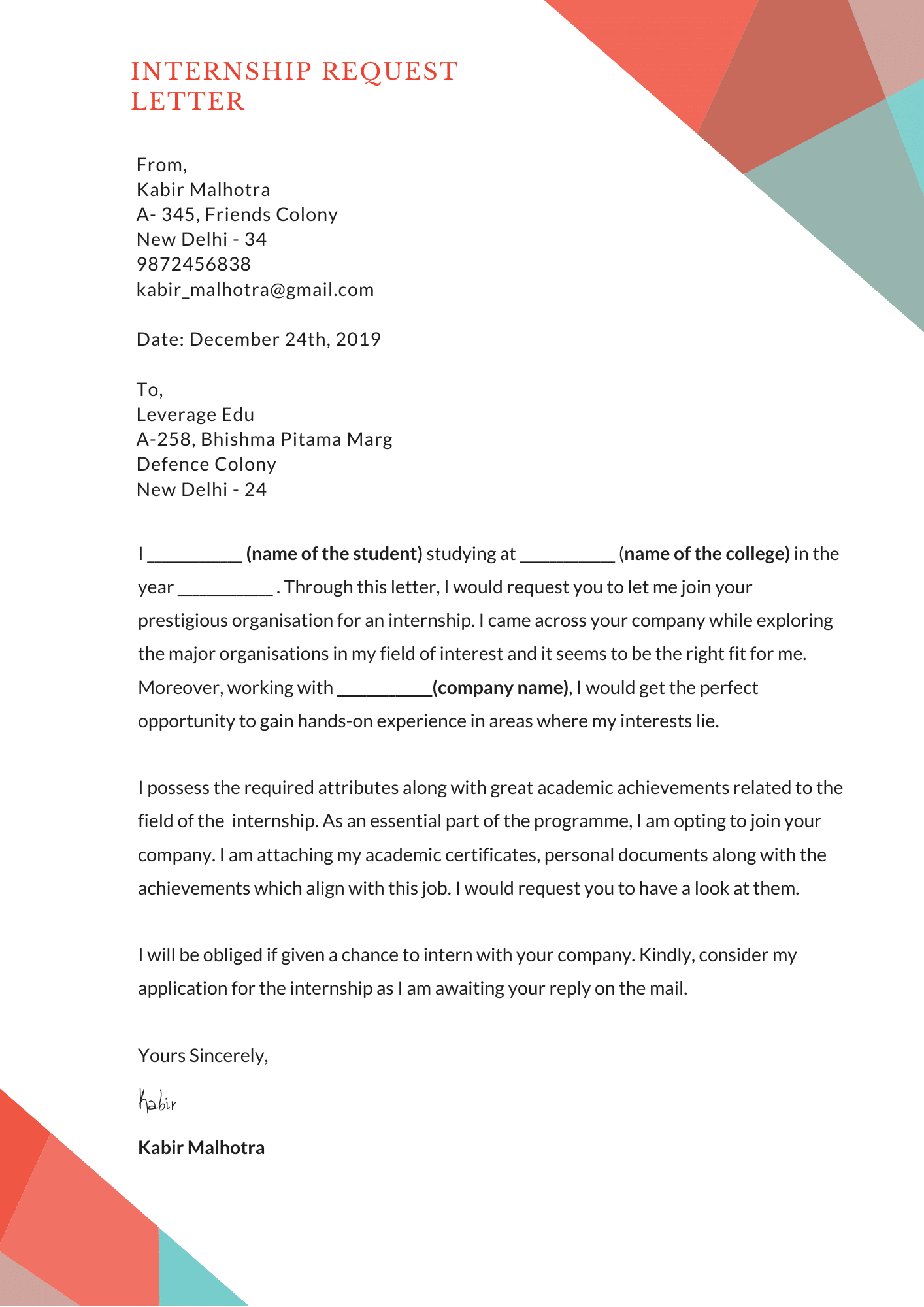 Check Out: International Internship for Indian Students
How to Request an Internship via e-mail?
E-mails have become the new normal. Most recruiters and applicants prefer the process of recruitment this way. Here are some expert tips for you to request an internship via e-mail. Most of the points mentioned here are common for internship request letters as well, check them out now:
Research Well: Before you start writing, it is important to check the products and services offered by the organization to that you are applying to. This will help you in giving reasons why you are the best fit for the respective role.
Use Appropriate Greetings: Always use an appropriate greeting when reaching out. It's one of the first things the recipient will see and, let's face it, first impressions matter.
Rest of the e-mail: Keep in mind all the things that you researched while writing the rest of the e-mail or letter for the internship. Try to mention how you can add value to their organisation.
References: Add valid references in your internship request letter. It could be someone from your previous organisation, your professor, teacher or mentor. Add their valid contact details.
Resume: Add your updated resume with this request e-mail.
Motivation > Experience
Since you are applying for an internship, it is understandable that you possess a negligible amount of work experience or absolutely none. Your hiring authorities would be more impressed in the manner in that you show enthusiasm and passion towards the internship opportunity. For this, you need to keep in mind the following pointers:
Highlight and explain your interest in the field in detail.
Use creative thinking to formulate how your skills will be beneficial to the organisation. 
Try keeping it factual and do not over-impose the realities 
To formulate the above-mentioned points in your internship request letter, you can use your school experiments, volunteer duties in an event or extracurricular activities along with unique life experiences. Mentioning them can be your best step to get shortlisted for your internship.
For example: If you want to apply for an internship in the field of marketing and you have been active in promoting your college events, then you can mention those in the internship request letter. 
Bonus: How To Crack an Interview
Take that Extra Step
An internship request letter is your chance to create a great first impression before appearing for a face-to-face personal interview. Not all the internships include generic roles, some companies also offer short-term projects which can also lead to a change in a full-time job. Thus, you need to convince the organisation to shortlist your candidature for the interning profile as it might turn out to be an extremely beneficial opportunity in the future. But make sure that you keep a formal tone and align the description of the internship with your skills. Here is a tip you can use to create a good first impression while drafting this letter. Rather than using Dear Sir/Madam, try calling the organization or inquire about the hiring manager on social media sites. Addressing your internship request letter directly to the manager with their name mentioned can make your letter better and highlight it from others. Also, research thoroughly about the firm and show your genuine interest in the training opportunity by adding the pointers on what you like about the organisation and why you are passionate to become a part of it.
You Cannot Miss: How To Crack Walk-in-Interview
Stick to the Format
Amongst the list of do's and don'ts, the most essential thing you need to ensure while writing an internship request letter is that you keep it concise while following a formal structure. It should not be longer than 4 to 5 paragraphs and your content should be relevant and precise. Writing lengthy paragraphs can seem unprofessional. Below we have provided a breakdown for writing the different paragraphs under an internship request letter:
First Paragraph: Begin with introducing yourself briefly and mention the source from where you got to know about the internship. Keeping in mind, the industry to which the organization belongs to, you have to add some relevant information from your professional background. Do not forget to mention your career objective for internship as it will depict your aim to pursue this opportunity along with your aspirations.
Second Paragraph: In this section, elucidate your skills and abilities and explain your accomplishments in school/college life. While writing an internship request letter, if you lack the extracurricular experience, highlight your academic achievements instead.
Third Paragraph: Coming to this section, connect your skills and talents with the internship description and underline how you can be a best fit for the role and will prove to be an asset to the firm. It would also create a good impression if you also mention what you like about the company and why you want to become a part of it.
Fourth Paragraph: Conclude your letter with an affirmation that you are ready for the telephonic interview before the final showdown with a face-to-face interview. Always pay your regards at the end of your internship request letter, you can use Yours sincerely or Warm regards. Do not forget to mention that you await their response.
Internship Request Letter: e-mail Format
Subject Line: Request for the Internship- Marketing Intern

Respected Mr Sharma

It was with keen interest that I read about your posting regarding the role of Marketing Intern in your organisation- Affinity Marketing Solutions.

Being a second-year marketing student, I have successfully completed one previous internship in marketing. Through the coursework of the internship, I had learnt many essential skills like print and online advertising, marketing management, data analysis and social media management along with other essential strategies that may assist me in marketing.

As a Marketing Intern, my previous organisation was Perfect Brand Solutions where I served for 3 months July- September. The organisation provided me with an opportunity where could elevate its social media presence on platforms like Facebook, Instagram and LinkedIn. My tenure at the organisation also enabled me with a flair for Adobe Creative Cloud and Microsoft Office Suite.
Being in the awe of the impact that Affinity Marketing Solutions has, I am eager to become a part of 8 and challenge my capabilities. I would love to grow through the experience catered at your organisation. You may please find my resume attached and can contact me for scheduling a personal interview to discuss this in further detail. Thank you for your support.

Sincerely,

Aakriti Gupta
aakriti.gupta@gmail.com
9999XXXXXX
(LinkedIn Profile Link)
Sample Cover Letter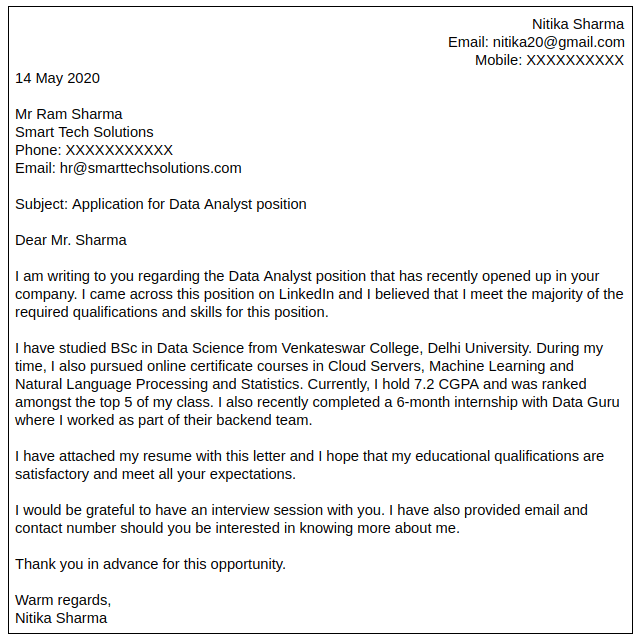 Internship Request Letter From Student to Company
We hope that this blog has helped you understand why and how an internship request letter is written. As much as a real-time training opportunity benefits your career, choosing the right degree and university can further play an incremental role in equipping you with the required knowledge and ideal set of skills. Sign up for a 30-minute counselling session with our Leverage Edu experts and let us help you find a perfect academic program and institution that can provide you with suitable knowledge and exposure to your field of interest.