Home to the British Royal Family, the UK has always been a prominent study destination as it is home to some of the oldest and most prestigious universities in the world! From the University of Oxford to the University of Cambridge or the Imperial College of London, the United Kingdom, every deemed university in the UK has nurtured some world-famous leaders and personalities. Thus, it won't be wrong to say that the UK is the leading ambassador for the leading and most esteemed universities in the world. While IELTS is one of the popular language proficiency exams accepted by UK universities, you will have to submit your GMAT scores as well in case you are applying for MBA in the UK! Scroll through this blog to know all about IELTS and GMAT score to study in the UK.
IELTS Score to Study in the UK
IELTS and GMAT are one of the main eligibility exams you need to clear especially if you aim to study MBA in the UK. IELTS is also accepted for various undergraduate, postgraduate and doctoral programs in the UK as well as to apply for a student visa in the country. For international students whose native language is not English, it is mandatory to give the IELTS exam to prove that the individual is having a satisfactory standard of spoken and written English as a medium to study in the UK. You will also need a student visa (Tier 4) to pursue higher studies in the UK which will be granted only if you meet the eligibility criteria for English proficiency standards set by the Universities. Before moving to the GMAT scores, let's first take a look at the minimum IELTS score required for the UK student Visa:
| | |
| --- | --- |
| Level of Course | Minimum IELTS score required |
| Foundation courses/programs | 4.5 |
| Bachelor's courses/programs | 6.5 |
| Masters and PhD. courses/programs | 6.5-7 |
Don't forget to subscribe to our YouTube channel for more such updates!
Apart from this, universities across the UK have their own eligibility criteria and minimum IELTS score for international students to qualify for.
Here are the top 10 universities in the United Kingdom and their respective IELTS scores.
Note- apart from the IELTS score, these Universities also accept other English proficiency standardised exams like TOEFL (Test of English as a Foreign Language) and PTE (Pearson Language Tests) for getting admission into their respective colleges.
Fun Fact- The top 5 sending countries for international students to the UK have always been China, India, the USA, Hong Kong and Malaysia.
GMAT Score to Study in the UK
The UK is also one of the popular student destinations for MBA courses as it offers a wide range of affordable MBA programs across a large number of specialisations. An MBA degree from the UK is globally recognised and valued thus, giving more international work opportunities to choose from. To pursue MBA in the United Kingdom, it is mandatory to have a good score in the GMAT exam (graduate management admission test) to match up with the eligibility criteria and further to get admission to top B-schools in the UK. Thus, now that you are familiar with the IELTS scores, here are the GMAT scores to study MBA at top business schools in the UK.
Universities/ colleges
UK Ranking
QS Global MBA Rankings 2022
GMAT Score
Minimum IELTS Score
London Business School
1
6
Min: 600 Avg: 701
7.5
University of Oxford Said Business School
2
–
Not Required
6.5
ESCP Business School
3
–
687 with the median at 700
7.5
City University, Cass University of Cambridge: Judge
4
–
An average score of 638 or above
7.0

Imperial College Business School

5
21
An average GMAT score of 660 or above
7.0
Warwick Business School
6
32
Range of 580 to 760 is acceptable
7.0
City, University of London: Bayes
7
–
A score of 600 as a minimum to qualify for their MBA or Executive MBA.
7.0
Alliance Manchester Business School
8
–
An average GMAT score of 642 or above
6.5- standard
7.0- higher
Henley Business School
9
–
GMAT score of a minimum 600
7.0
Cranfield School of Management
10
75
GMAT score on average of 610
6.5
Apart from the GMAT score, these universities also accept GRE (Graduate Record Examinations) scores for MBA programs in their colleges.
There are no fixed dates for the GMAT. The exam is conducted multiple times in a year and an applicant can appear 5 times in a year with a gap of 16 days. The registration process should be started 2-3 months before the exam
IELTS Exam Dates 2022
IELTS is conducted all year in almost every state of India. Students aspiring to be a part of top foreign universities have to take the IELTS exam as it is a compulsory criterion to be fulfilled by every candidate. Here are some of the IELTS dates for 2022:
| | | | | |
| --- | --- | --- | --- | --- |
| June | July | August | September | October |
| 4 June 2022 | 7 July 2022 | 6 August 2022 | 3 September 2022 | 8 October 2022 |
| 11 June 2022 | 9 July 2022 | 11 August 2022 | 10 September 2022 | 13 October 2022 |
| 16 June 2022 | 16 July 2022 | 20 August 2022 | 15 September 2022 | 22 October 2022 |
| 25 June 2022 | 23 July 2022 | 27 August 2022 | 24 September 2022 | 29 October 2022 |
UK Universities Without IELTS
Do you know you can enter your dream university in the UK without the hassle of IELTS? There are many universities that admit students without the mandatory IELTS exam. Here is the list of UK universities you can be part of without IELTS :
Robert Gordon University
Audencia Nantes School of Management
How to Study in the UK without IELTS?
[Bonus] MBA in the UK without GMAT
No GMAT score? Check out the following business schools in the UK that don't require a GMAT score for MBA:
Ashridge Business School
Henley Business School –

University of Reading

Saïd Business School – University of Oxford
Fun Fact: The percentage of international students that account for the UK's total student population is almost 20%.
Leverage Edu Rockstars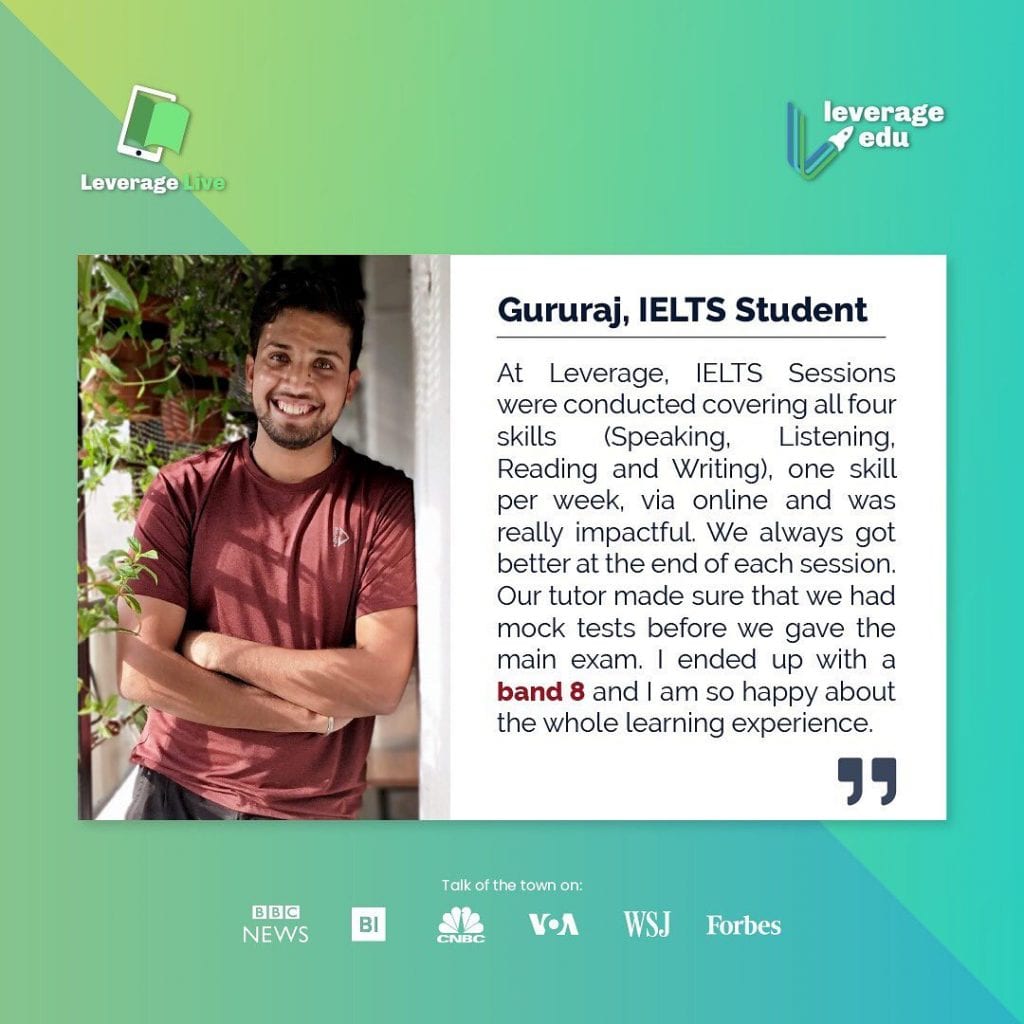 Appearing for IELTS? Here are 10 myths that can harm your score.
FAQs
Is IELTS enough for MBA in the UK?
With IELTS, there are other eligibility requirements such as GMAT/GRE, academic qualifications, work experience, etc. required for MBA in UK
Do UK universities require GMAT?
Not all, there are many universities offering courses without GMAT
What is the IELTS score required for the UK?
The IELTS score depends entirely on the course and the university. Every university has a set IELTS score that needs to be fulfilled by every applicant.
Can I apply for MBA without GMAT?
Yes but not all universities accept students for MBA without GMAT. There are only a few universities accepting students for MBA without GMAT
Is GMAT Online harder?
This is just a myth, the exam pattern is the same for GMAT online and offline.
Can I work in the UK without IELTS?
If you have a degree-level academic qualification that was taught in English accepted by the UK authorities, you will be eligible to work in the UK without IELTS
Hence, we hope that this blog cleared all your doubts regarding IELTS and GMAT scores to study in the UK. Want to pursue your MBA at a top university in the UK. Reach out to our Leverage Edu experts and we will help you find the right course and university and guide you throughout the admission process as well! Sign up for a free session with us today!