'First Impression is the Last Impression. After completing the herculean task of clearing the CA course, another challenge of creating a winning resume arises immediately. It is not an easy task to secure a job, especially when you are a fresher. However, accounting is a sector expanding on a great scale hence generating more and more employability for the future CA's. But even the candidates possessing the potential to clear one of the toughest exams in India such as Charted Accountancy in one go lack the ability to frame an excellent CA Fresher resume. The format and writing style of a resume has to be formal and should strive to create the best possible first impression without compromising the official aspects. This blog will present you with some guidelines/tips to create a noticeable CA freshers resume.
What is a Resume?
A resume is a written account of a person's most important information which an employer needs to know when they are considering a new candidate for hire. Under several headlines, qualities like Educational Qualifications, training, work experience, and achievements are mentioned descriptively so that the employer can assess the determinants of personality of a job seeker. To secure a good job, a distinct resume is a primary step which can make you land directly at a face to face interview. Basically, there are three styles of writing a resume which can explain how you choose to describe yourself:
| | |
| --- | --- |
| Resume Format Description | |
| Functional Focus on your skills, qualities, attributes, abilities than prior work experience. | |
| Chronological Write your work experience in the reverse order i.e., from most recent to least | |
| Combination Lists your skills and work experience before your employment history | |
Difference Between Resume and Curriculum Vitae (CV)
Both a resume and a CV are used by the job applicants while they are applying for a job but both of them cannot be interchanged. The basic difference between a resume and a CV lies in their lengths, inclusions, and usage. Enlisted are some of the major differences between CV and resume
| | |
| --- | --- |
| Resume CV | |
| A resume is a document that is proficiency-based CV is accreditation-based. | |
| A resume is generally short in length CV is comparatively longer than a resume | |
| Resume is maximum up to 2 pages CV can be of 2-3 pages | |
| Summary can be tailored according to the job CV has a detailed career summary | |
How to write a CA Fresher Resume?
Just as the distinct attributes of your personality, your resume should also shine out from that chunk of resumes. Being a fresher, it limits you to be detailed in one of the major section of your resume i.e., Experience. But, on the other hand, you can be creative while describing your educational background and qualifications.
1. Write a creative career objective
With an innovative career objective, you can easily reflect your personality and thinking style in the best way to the employer. Career objective is considered to be the first thing an employer can be enticed by. Being CA fresher, the candidates should utilize the power of their degree as it can be used as an asset to gain a good first impression. In this section, your professional intent should be brief, clear, and concise. The drafting should present you as an employee asset and the best choice for the company.
2. Tailor your resume according to the job description
To embellish how close-knit your resume is to the job you are seeking, CA freshers should align their resume in a format which should include and target more and more keywords of the accountancy field. The keywords must be justifiable by the candidates falling in the field of accountancy. Also, there should not be a cluster of keywords rather they must be well-distributed in the complete CA fresher resume.
3. Describing and highlighting your skills
Your resume should include the skills you learned during the completion of your prestigious degree. You should also describe how did you learn a certain skill and its importance in your professional growth.
Skills to Highlight
The following are the skills to include in your CA Fresher Resume:
Diverse knowledge of accounting concepts
A keen interest in numbers
Ability to drive data-driven information
Proficiency with percentage, ratio and proportions, and fractions
Excellent communication skills
Analytical Skills
Interpersonal Skills
General Business Awareness
Discipline, Diligence and Hard work
Negotiation Skills
Don'ts of Writing CA Fresher Resume
Your resume can either create or break you, what to exclude in a resume is as vital as inclusions. Given below are some things to avoid while creating a resume:
Rather than putting your information through long paragraphs try summing up them in short points.
Incorporating more use of 'I' so that the employer receives more of what you have qualified.
Avoid using flattery language and stick to simple professional terms.
Grammatical errors could be a blunder so the candidates should once do proofreading
Do not include excess of personal information like height, weight, religion, etc
Sample CA Fresher Resume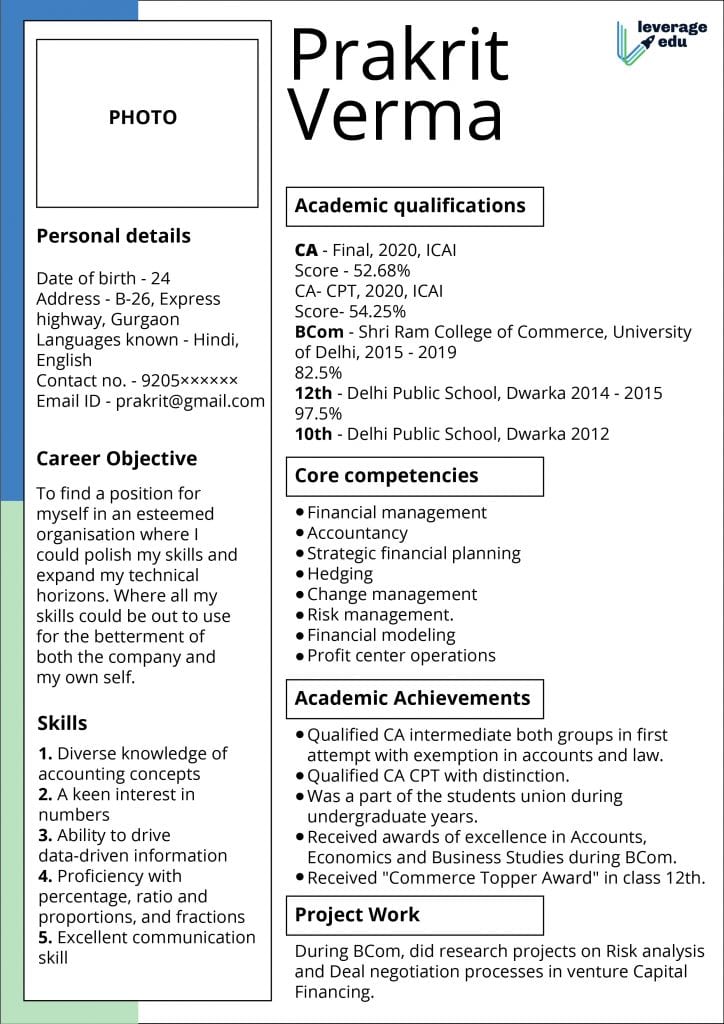 CA Fresher Resume Format
Here is the format for CA Fresher Resume:
Name
Mobile
Email

Career Objective
Work Experience/Training/Internship
Academic Qualifications
Academic Achievements or Professional Credentials
Skills
Projects
Any Additional Details
Career Objectives for CA Fresher Resume
Here are some career objectives for CA fresher:
Seeking a rewarding role in the field of Account, Taxation, and Finance with a challenging organisation where I can put my professional skills and knowledge to help in the company's growth.
To secure a challenging role at a reputable company where I can gain professional knowledge and skills in Accountancy and utilise my academic qualification in Chartered Accountancy.
A self-motivated CA searching for a lucrative role at a financial organisation to use my knowledge and skills and augment the growth of the company.
A highly qualified CA seeking a challenging position in Accountancy and Finance to augment my professional knowledge and proficiency in this field for organisational and career growth.
Career Prospects
CA is a popular career choice among students, probably because of its high-paying and diverse career options. The following are some renowned career options after pursuing CA
Internal Auditor
Direct and Indirect Taxation
Banking and Insurance Sector
Business Sector
To create a lasting first impression get your CA Fresher resume designed by our experts and mentors at Leverage Edu, and ace your first step of securing your dream job.