The first impression is the last impression. Especially, when a person shares their resume for their first job. A CV or resume is like a golden ticket that can either make or break your image in front of recruiters. A quick glance at your biodata is going to decide your position in the organization. Are you wondering how to create a perfect resume? What are the things that are to be mentioned? What are the ways of making a perfect CV? If yes, then read on to our blog and discover an interesting resume format for freshers!

Must Read: Most Common Mistakes in SOP Writing!
Resume Format For Freshers – Key Elements
The important elements of a resume for freshers are explained below:
NAME
Write your name in clear and bold letters in a simpler font so that whosoever picks it up, it is easily understandable. Do not forget to mention your complete address, mobile number, and email ID.
ABOUT
It is a short section wherein you will quickly explain your personality traits within 1-2 lines.
OBJECTIVE
Under this section, you will have to explain what are your motives and objectives behind joining the organization. Elucidating upon what all better changes you will bring in for the firm.
PROFESSIONAL SKILLS
Being a fresher, you must make sure that you highlight all your professional skills and extra knowledge acquired through higher education or some professional courses. Some resume formats for freshers may lack this heading but through this section, the recruiter will apprehend the amount of expertise you possess in the field.
[Read our blog on Personal Details In Resume: Do's And Dont's for a clear insight into this section]
EDUCATIONAL QUALIFICATIONS
Mention all the degrees, certificates, and diplomas you have acquired along with the name of the institution and the year of passing. Also, if you have taken any short-term courses, do mention them here!
PROFESSIONAL EXPERIENCE
Even in the resume format for freshers, this is the most vital section to add. Although, being a fresher some individuals may lack notable full-time experience. In such cases, you can mention the home tuition you took and the experience of freelancing.
LANGUAGE PROFICIENCY
Herein you can mention the languages you proficiently know. For example English, Hindi, Punjabi, etc.
EXTRA-CURRICULAR ACTIVITIES AND ACHIEVEMENTS
Along with your school and college life, the achievements you have gathered in sports and other extra-curricular activities will be mentioned here.
GENERAL INFORMATION
Concludingly, in this section, you can mention some basic details related to you like interests, date of birth, nationality, etc.
Exploring Resume Format for Freshers? Don't forget to check out our article on How to Craft A Perfect MBA Fresher Resume?
Types of Resume Formats for Freshers
3 main resume formats are being used by freshers the most. These are:
1. Reverse-Chronological Format
This is the most popular and useful resume format. In reverse-chronological resume format for freshers, a reverse-chronological resume lists your job experiences and talents. This format must include the following things:
Contact information
Resume summary or objectives
A professional title
Work experience
Skills Section
Education qualifications
Hobbies (optional)
Projects are undertaken (optional)
Training (optional)
Pros of Reverse-Chronological Format:
This style is preferred by recruiters and human resource managers.
It's really simple to skim.
Provides a clear chronological timeline of your job experience.
In 2022, this was the most common resume format.
Cons of Reverse-Chronological Format:
It's difficult to fill in for a fresh graduate who has no professional experience.
It draws attention to any gaps in one's career.
If you're looking to change careers, you might want to choose one of the alternative formats.
2. Functional Format
In 2023, the functional resume, often known as the skills-based resume, was the least common resume format for freshers. This format differs from the other two in that it focuses on your talents or skills rather than your job experience. The functional resume format will include the following key things:
Contact Information
Resume Summary or Objective
Professional Title
List of skills you possess
Skills Summary
Additional Skills
Work Experience
Education qualifications
Pros of Functional Format:
Excellent for emphasizing certain abilities.
This is useful if you are changing jobs since you can demonstrate how your abilities will transfer to the new position.
This is also beneficial if you are a recent graduate with practical skills but no job experience.
Cons of Functional Format:
The functional resume format is not widely used, and most recruiters and hiring managers are unfamiliar with it.
Functional resumes are challenging for applicant tracking systems (ATS) to understand.
3. Combination or Hybrid Format
This one, as you may have guessed, is a hybrid of the previous two forms. It emphasizes both skills and experiences in a resume of a fresher. Here is a list of important things to include in the hybrid resume format for freshers:
Contact Information
Skill Summary
Additional Skills
Work Experience
Education qualifications
Pros of Hybrid Format:
Allows you to display more of your expertise and skills in a smaller space.
This is useful for extremely senior professionals or executives who need to emphasize more than simply their job experience.
Cons of Hybrid Format:
As with the functional resume style, applicant tracking systems have difficulty interpreting and reading the hybrid resume formats.
If you are a new graduate or lack job experience, this resume style is not for you.
[For quick tips and trick readout Career Objective for Resume for Fresher in Computer Science]
What is an ATS Friendly Resume?
Recruiters who receive hundreds of job applications can scan, sort, or rate the resumes using the applicant tracking system (ATS). It makes their job easier by choosing the CV on their behalf that best fits the positions they are currently filling. Many reputable businesses now use this system to streamline the hiring process in the digital age. This software quickly sorts the applications based on how closely they match the requirements for the open positions. What Aspects Should Be Considered When Formatting An ATS Friendly Resume?
Include the keywords used in job postings: In order to enhance the likelihood that your resume will match the job description, you should include the same set of keywords. Because it should make sense and reflect you, this activity should be properly carried out.
Avoid using graphics: Many ATS programmes lack the necessary capabilities to scan and process the visuals. Therefore, it is advised to incorporate as few visuals as possible in your resume.
Keep it simple: To create a resume that is ATS friendly, use straightforward formats like the chronological or hybrid format. To highlight your accomplishments, use bullet points. The easy and straightforward design is preferred.
Choose the correct file format: Unless another format is specified, PDF files are recommended.
Why Use an ATS-Compliant Resume Format?
An applicant tracking system has become popular among businesses as a way to streamline operations.
Your data must be parsed by the system in order for the recruiter to be able to search and view it.
Even if you are qualified for the post, the hiring manager would never find your resume if the system did not process it.
How to Choose the Best Resume Format
The best way to choose a resume format is through competitive analysis. If you are applying for the position of Product Manager, then do a competitive analysis of the job profile and write down all the requirements and skills required for the job. Based on your resume, you stylize your resume and pick the format that best displays all the relevant details of the job.
Sample Resume for Freshers
After this sample format, below mentioned is a sample resume format for freshers through the lines of which you can formulate your own resume:
Akanksha Kapoor
XYZ- 123, New Delhi- __
Mobile: +91 999999999
Email: 123@abcmail.com
About
Highly dedicated, an analytical and meticulous person with an eternal zeal to learn and grow.
Objective
To work in an innovative, healthy and challenging environment extracting the best out of me which is conducive to learn and grow at professional as well as personal levels.
Professional Skills
-Capabilities to handle manifold tasks in pressured surroundings.
–Ability to work effectively despite time and constraints and pressure.
–Actively participate and contribute to enhancing team performance and workflow.
Educational Qualification
-Worked with Aura as a 'SOCIAL MEDIA MARKETING INTER'.
-Higher schooling from Queen Marry's School, Ashok Vihar, CBSE, Delhi.
–Currently working with an N.G.O. (Raunak Helping Hands) as a 'TEACHER' and volunteer.
–Providing home tuition for classes 1st-10th.
Language Proficiency
–English (Read, Write & Spoken)
–Hindi (Read, Write & Spoken)
Extra-Curricular Activities
-University level participate in English debate competitions
–An active volunteer in managing college functions and fests
–Participated in college and university fashion shows
General Information
Interests: Writing, Travel, Music, Workout, Cooking and Reading
Date of Birth: July 18th, 1995
Nationality: Indian
Resume Format for CA Freshers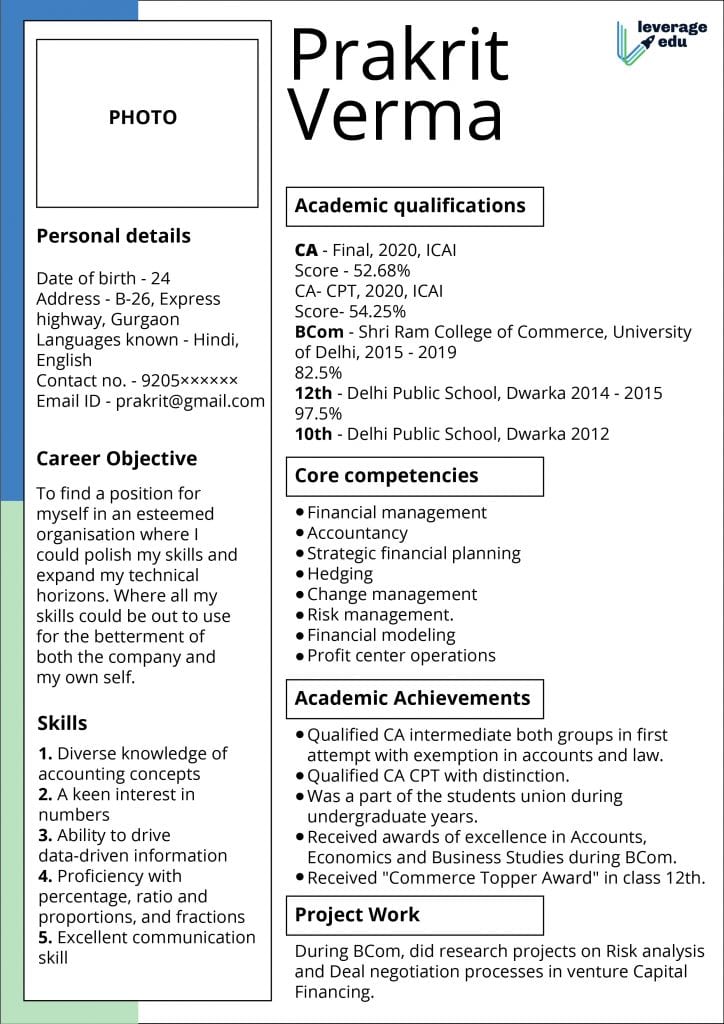 Resume Sample for Network Engineering Freshers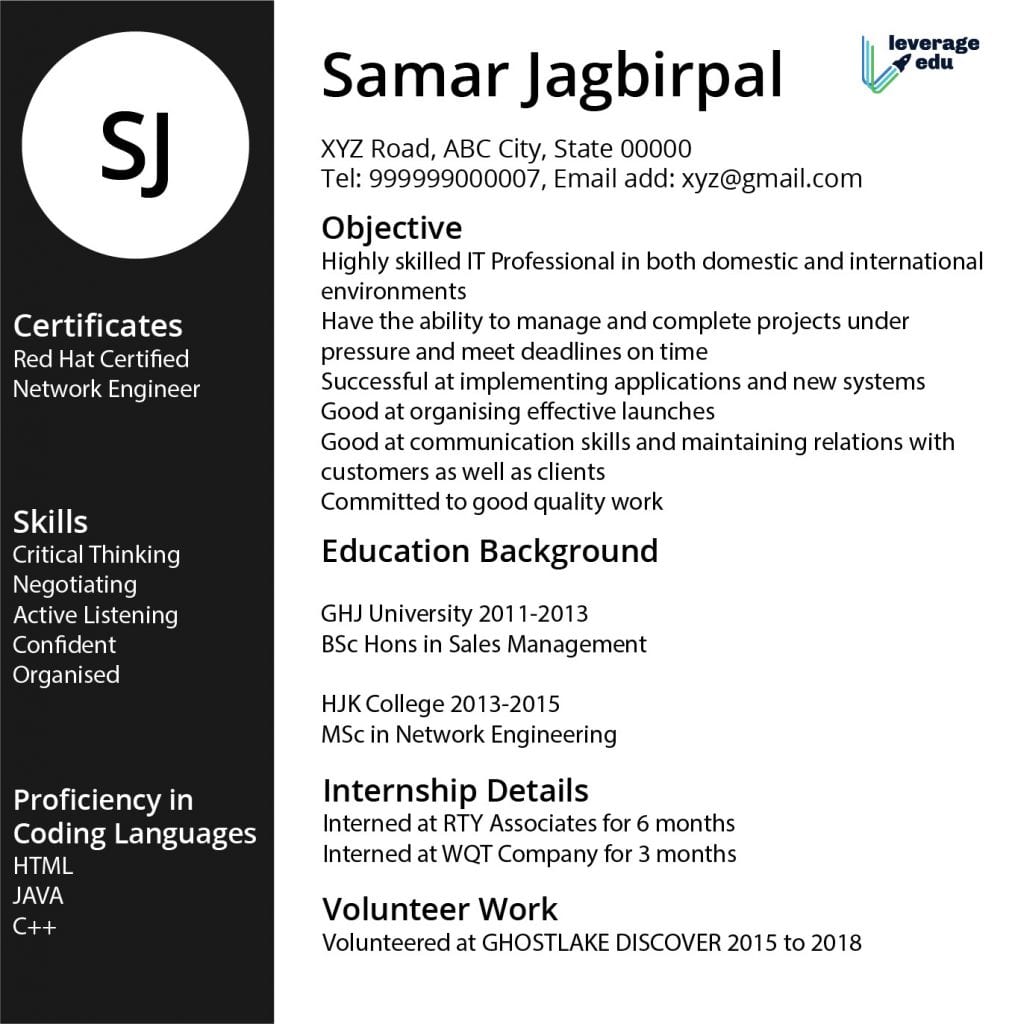 Resume Sample for Financial Analyst
Resume Tips and Tricks
Following are some quick tips and tricks to make a resume for freshers looking for the first job.
Begin by creating an email ID which looks professional
Opt for the usual font size i.e., 10-12. Large fast should be avoided
Be consistent in the font and style for heading in your resume. Always use a readable font
Skillfully mention the keywords in your resume
Use pointers
Keep your experiences short and crisp
Filter the information wisely and put down your essential and latest achievements
Do not forget to proofread and edit it
Related Read: CA Fresher Resume
Career Objectives for a Fresher
"To work in an organisation which provides me with ample opportunities to enhance my skills and knowledge along with contributing to the growth of the organisation."
"Looking for opportunities to incorporate my skills and training to help the company grow. I am looking forward to roles that will help me realise my potential by exploring the various aspects of this field."
"I am seeking opportunities to join a company that can help me in enhancing my skills, strengthening my knowledge and realising my potential. I am willing to explore a wide variety of opportunities that can help me gain perspective."
"I am looking for an entry-level position to kickstart my career in the (specify field). I wish to work in a dynamic organisation that will contribute to my professional and personal growth while I contribute to the growth of the company as well as engage in opportunities to further the company's goals."
"To explore new areas of work in a dynamically stable organisation."
"To secure a challenging position in this organisation in order to improve my skill and work for the growth of the organisation."
"Looking forward to work for my dream (organisation name) which provides the chance to improve my (skills) to learn and grow along with the organisation goals."
"With a BCom in Accounting and Finance, I aim to obtain an entry-level Accounting job position at (organisation name)."
Declaration in Resume for Freshers Examples
"I hereby declare that the details and information given above are complete and true to the best of my knowledge"
"I hereby declare that all the information furnished above is true to the best of my belief."
"I hereby declare that the above particulars of facts and information stated are true, correct and complete to the best of my belief and knowledge."
"I hereby declare that the information stated above is true to the best of my knowledge."
"I hereby declare that the above-mentioned information is accurate to the best of my knowledge and belief."
"I solemnly declare that the information furnished above is free from errors to the best of my knowledge and belief."
"I hereby declare that all the details mentioned above are in accordance with the truth and fact as per my knowledge and I hold the responsibility for the correctness of the above-mentioned particulars."
"I hereby declare that the facts given above are genuine to the best of my knowledge and belief."
"All the information mentioned above in the resume is correct to the best of my knowledge and belief."
"All the details mentioned above are true and correct to the best of my knowledge and beliefs."
"I hereby insist that the above details are true to the best of my knowledge."
"All the information provided in this resume is true to the best of my knowledge and belief."
"I hereby confirm and verify all the facts mentioned above and I hold the responsibility of their authenticity and correctness."
"I do hereby declare the truth and authenticity of all the information in my resume."
"I hereby declare that the contents of my resume are accurate to the best of my knowledge and verify their authenticity."
Free Resume Templates You Can Use Right Away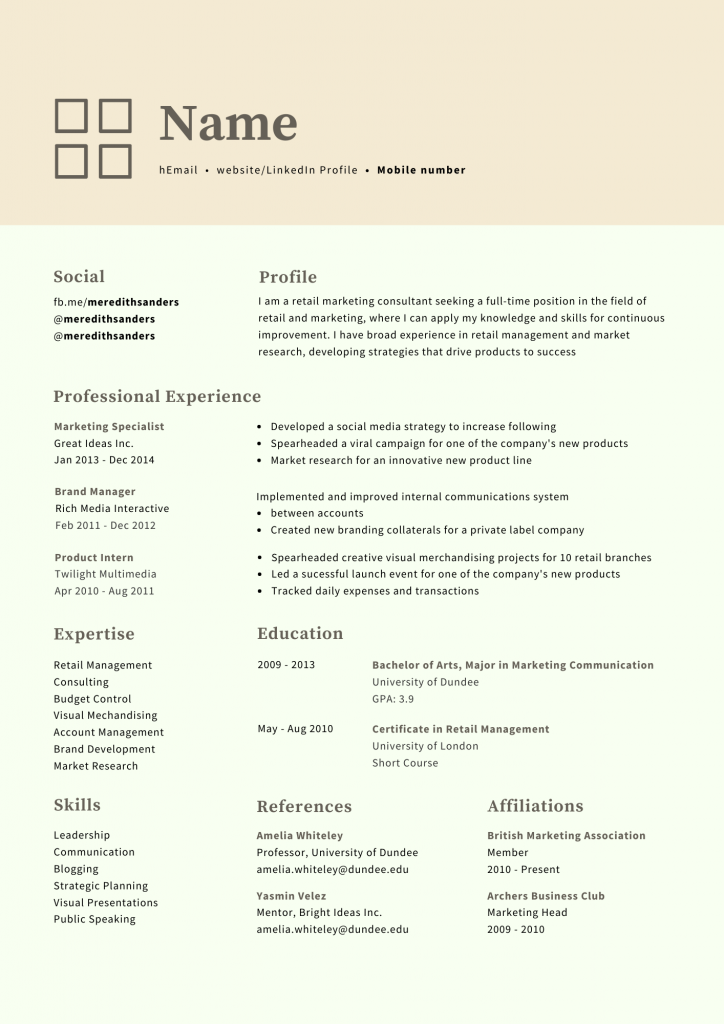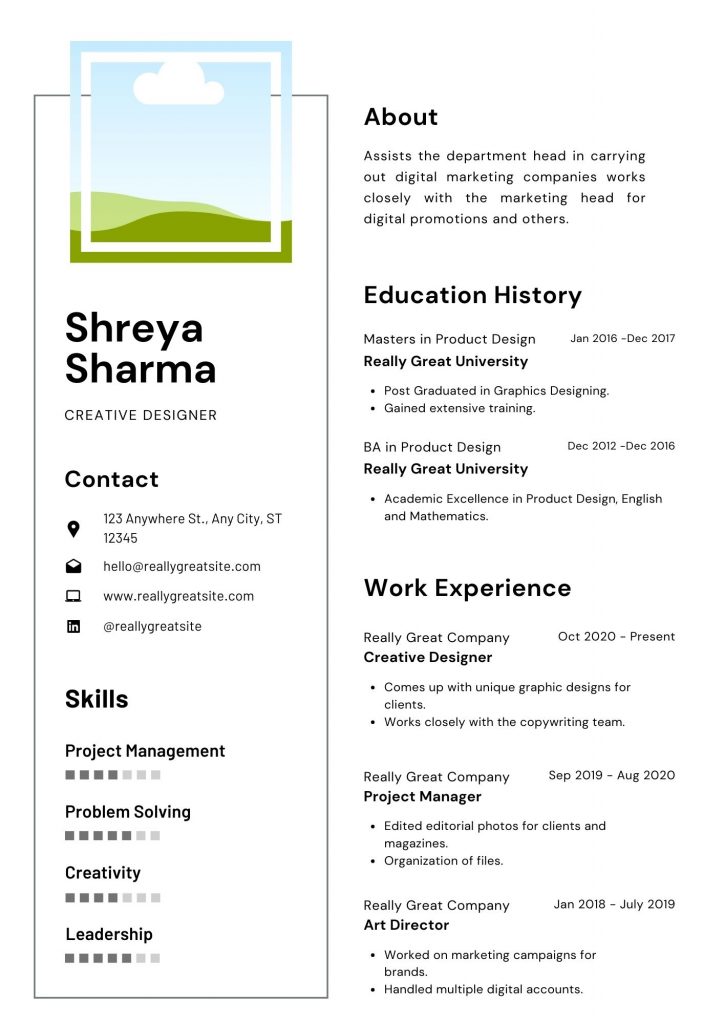 Use the following templates to download and customize your own resume!
Tips to Remember
The header must be prominent including the right personal details
Highlighting the objective will help you to make a good impression
The education section

must be showing your

achievements
The work experience section must showcase all the relevant section

FAQs
Which type of resume is best for freshers?
The functional resume and reverse-chronological resume are the finest resume formats since they are adaptable to whatever sort of experience you have. Create a series of sections on your CV that categorize your skill sets. Instead of making a section for each job, establish a section for each sort of talent you provide.
How do you create a resume for a job?
This is a step-by-step guide to writing a resume:
Select the Best Resume Format.
Fill in your contact and personal information.
Begin with a Statement of Purpose (Resume Summary or Resume Objective)
Include your relevant work experience and key accomplishments.
Correctly list your education.
Fill up the blanks with skills that are relevant to the job posting.
What is the difference between a CV and a resume?
One can end the resume like this:
Thank you for taking the time to go over my résumé. I am certain that I can provide value to your business and would welcome the opportunity to explore how my expertise and abilities might help your firm develop or succeed (company name). Thank you for taking the time to go over my application
Is a 2-page resume ok for freshers?
If you're a fresher or have less than 10 years of experience, it's better to write a resume of 1 page. You should create a 2-page resume only when you have a diverse portfolio.
What should be the font size for a resume?
You should choose 11-12pt for normal texts and 14-16pt for headers and titles.
We hope that this blog on resume format for freshers will help you in making a perfect one for yourself! Are you willing to know tips and tricks in order to make an alluring resume? If yes, reach out to our experts by booking an E-meeting session at Leverage Edu and they will solve all your queries! For the latest updates around study blogs, you can follow us on Instagram, Twitter, Facebook and also subscribe to our newsletter.