The Wharton School of the Notable Wharton Alumni is the oldest school of business in the world. Established by Joseph Wharton in 1881, MBA programs offered by Wharton are at the first position in the United States according to Forbes and the 2020 U.S. News & World Report rankings. Graduates from the Wharton School have attained success in diverse fields such as Academia, Finance, Journalism, Media, Law, Politics, Business, Sports, Music and many more. Want to know which of the famous personalities studied at this prestigious school? Take a look at this blog for more information on some of the notable Wharton alumni!
List of Notable Wharton Alumni
The Wharton School of the University of Pennsylvania has around 99,000 alumni along with 77 alumni clubs that are spread across 153 countries worldwide. Here are some of the famous personalities who are part of the Wharton alumni network:
| | | | |
| --- | --- | --- | --- |
| John Sculley | Karthik Reddy | C. Robert Henrikson | Mortimer Zuckerman |
| Alex Gorsky | Gerard Kleisterlee | Lewis E. Platt | Sachin Pilot |
| Anil Ambani | Jacqui Safra | Wend Finerman | Warren Buffet |
| Elon Musk | Jeff Weiner | Donald Trump Jr. | Ruth Porat |
| Sunder Pichai | Donald Trump | William Wrigley Jr. | Paul Judge |
Sundar Pichai
The current CEO of Alphabet Inc., the parent company of Google, Sunder Pichai was born on 10th June 1972 in Madurai, Tamil Nadu. He completed his MBA at the Wharton School of the University of Pennsylvania. He also holds a degree in metallurgical engineering from the Indian Institute of Technology, Kharagpur and an MS in materials science and engineering from Stanford University. He has played a major role in the development of various Google software, including Google Chrome, Google Drive, Gmail and Google Maps.
If you want to know more about the life of this Wharton alumni?
Read our exclusive blog on the education of Sundar Pichai!
Elon Musk
Very notable Wharton alumni, Elon Musk was born on 28th June 1971 in South Africa. The seventh richest man in the world, Musk pursued a bachelor's degree in economics from the Wharton School. He is the founder, CEO and lead designer of SpaceX, an American aerospace manufacturing company along with being the current CEO of the American Electric vehicle manufacturing company, Tesla, Inc. He is also the founder of The Boring Company and Neuralink, and the co-founder of OpenAI. He secured the joint-first position on the list of the Most Innovative Leaders of 2019 by Forbes.
Donald Trump
The current President of the United States, Donald John Trump is another of the famous Wharton alumni. Born on 14th June 1946 in New York City, he completed his bachelor's degree in economics from the Wharton School in 1968. He became the 45th President of the United States of America in 2016 after defeating Hillary Clinton, the nominee of the Democratic Party. Although his tenure has sparked various protests in opposition to his policies, he is seeking a second term as the nominee of the Republican Party in the 2020 Presidential elections which are scheduled to be held in November.
John Sculley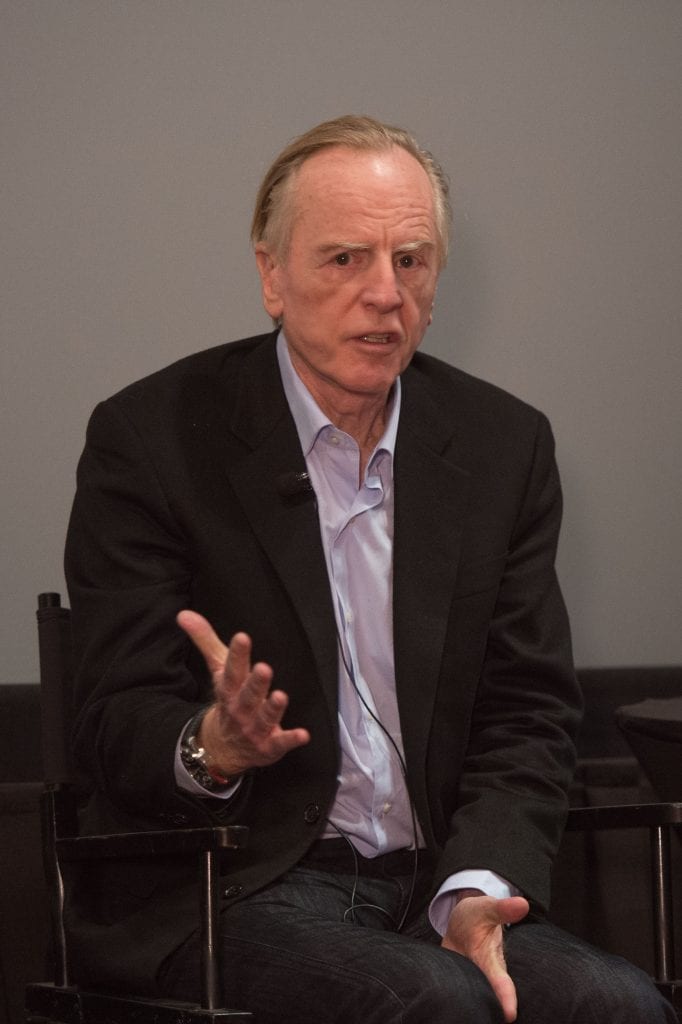 Born on 6th April 1939 in New York City, John Sculley completed his MBA degree from the Wharton School and is considered to be among the most notable of its alumni. He was the CEO of the American multinational technology company Apple Inc. from 1983 till his resignation from the post in 1993. He also held the position of vice president and president of PepsiCo between 1970 and 1983. A renowned expert in marketing, he is currently involved with numerous hi-tech start-up companies including OpenPeak, Inflexion Point, next source, WorldMate etc.
Also Read: Famous Indian Entrepreneurs
Alex Gorsky
Born on 24th May 1960, Alex Gorsky is among the most notable Wharton Alumni. The current chairman and CEO of the American multinational corporation Johnson & Johnson, Gorsky completed an Executive MBA degree from the Wharton School of the University of Pennsylvania in 1996. Named among the 100 Most Inspiring Leaders by Pharma Voice, he also received the Joseph Wharton Leadership Award in 2014. He is also a member of the board of directors at IBM and the National Academy Foundation along with being the recipient of the prestigious Congressional Medal of Honor.
Anil Ambani
Another notable Wharton alumni, Anil Ambani is an Indian businessman who completed his MBA at the Wharton School of the University of Pennsylvania in 1983. The chairman of the Reliance group, he was born on 4th June 1959. He served as an independent MP (Member of Parliament) in the Rajya Sabha between 2004 and 2006. He was once declared the sixth richest man in the world according to Forbes, but his net worth has been dwindling to the effect that he recently declared bankruptcy before a court in the UK while claiming that his current net worth is zero.
Also Read: Top Business Podcasts
Karthik Reddy
The co-founder and managing partner at Blume Ventures, Karthik Reddy graduated with an MBA from the Wharton School and is an engineering major from IIT, Roorkee as well. Reddy founded Blume Ventures with Sanjay Nath with an aim to connect angels with larger institutional investors present in the Indian markets. Blume has funded about 50 startups since 2010 and has won many accolades including Seed VC Investor of 2018 (Venture Intelligence Apex'19), No.1 Active-Investors (CB Insights, 2017) and Best Fundraiser (VCCircle, 2016).
Peter Lynch
Peter Lynch is an investor, mutual fund manager, and philanthropist from the United States. Between 1977 and 1990, Lynch was the manager of Fidelity Investment's Magellan Fund, which had an annual return of 29.2% on average, constantly outperforming the 500 stock market index and becoming the best-performing mutual fund in the world. Assets under control climbed from US$18 million to $14 billion over his 13-year tenure. Lynch earned his bachelor's degree in history, psychology, and philosophy from Boston College (BC) in 1965. In 1968, he received his Master of Business Administration (MBA) from the University of Pennsylvania's Wharton School. Lynch used his funds as a sophomore at Boston College to purchase 100 shares of Flying Tiger Airlines for $8 a share. The stock rose to $80 a share later, and the proceeds helped him pay for his studies.
Rakesh Gangwal
Another one of the greatest Wharton Alumni is Rakesh Gangwal, who is a multi-billionaire businessman from the United States. IndiGo Airlines is co-founded by him, and he owns 37% of the company. He is the former Chairman and Chief Executive Officer (CEO) of US Airways Group. Gangwal was the chairman, president, and CEO of Worldspan Technologies, a travel technology and information services supplier to the travel and transportation industry, from June 2003 to August 2007. From 1998 to 2001, he served as the president and CEO of the US Airways Group. In the year 1953, Gangwal was born. He attended Don Bosco (Park Circus) and received a bachelor's degree in mechanical engineering from the Indian Institute of Technology Kanpur in 1975, as well as an MBA from the University of Pennsylvania's Wharton School.
Aditya Mittal
Mittal, who was born in India and reared in Indonesia, attended Jakarta International School for high school. He is one of the renowned Wharton alumni who holds a bachelor's degree in Economics from the University of Pennsylvania's Wharton School, which he earned in 1996. He worked in the mergers and acquisitions department of the investment bank Credit Suisse First Boston for a brief time. He joined the family firm in 1997 and was named Head of Mergers and Acquisitions in 1999. Since then, he has been involved in multiple acquisitions as Mittal Steel has played a key part in the global steel sector consolidation. He lives in London and was the driving force behind Mittal Steel's bid for Arcelor, which resulted in the company's acquisition and merger with Mittal Steel in 2006. In 2006, the two firms combined, and the new corporation was named ArcelorMittal. He was named fourth on Fortune Magazine's "40 under 40" list in 2009. He was named CEO of ArcelorMittal in February 2021, following his father.
More Notable Wharton Alumni
Here is a list of some more notable alumni of Wharton School:
Ivanka Trump: Former Senior Advisor to the President of the United States
Ronald Perelman: American banker
Donald Trump Jr.: American activist
Nassim Nicholas Taleb: Essayist
Brian L. Roberts: Chief Executive Officer of Comcast
Fred Wilson: American venture capitalist
Phil Murphy: Governor of New Jersey
Walter Annenberg: Former United States Ambassador to the United Kingdom
Raj Rajaratnam: Sri Lankan-American former hedge fund manager and founder of the Galleon Group
John D. MacDonald: American writer
Ashwini Vaishnaw: Minister of Railways of India
Kunal Bahl: CEO of Snapdeal
Anand Ahuja: Fashion Entrepreneur
FAQs
Is Elon Musk a Wharton alumni?
Elon Musk, the creator and CEO of PayPal, Tesla Motors, and SpaceX, graduated from Wharton with a Bachelor of Science in Economics.
What is Wharton famous for?
In 1881, an American entrepreneur and industrialist Joseph Wharton founded the world's first collegiate business school at the University of Pennsylvania, a novel idea that transformed both commercial practice and higher education.
Is Wharton a number 1?
University of Pennsylvania (Wharton) is ranked No. 1 (tie) in Best Business Schools.
Hope you found this blog on the notable Wharton alumni informative and interesting. Want to join the Wharton School and be part of the community of its prestigious alumni? Reach out to our experts at Leverage Edu for the best guidance in choosing the perfect course for you. Sign up for a free session with us today!