Bringing the struggles of businessmen and entrepreneurs to the silver screen, many cinematic masterpieces have been successful in portraying the real-life as well as fictional stories of thriving business minds and their tryst to success! From documentaries to fictional movies on famous business leaders, there are various wonderful films which have portrayed a kaleidoscopic canvas of the business and corporate world. Fuelled by revolutionary ideas and innovative strategies, the business landscape is filled with many great personalities who have transformed our perspective of how a business can be operated. This blog brings you a complete watchlist of top 10 business movies of all time which you must watch and get inspired to jump right into the world of business.

List of Top 10 Business Movies
Do you know the best and favorite movies of all time? Check out the list of business movies that should be definitely in your weekend binge list:
The Social Network (2010)
Wall Street (1987)
The Founder (2016)
Jerry Maguire (1996)
The Wolf of Wall Street (2013)
Jobs (2013)
The Big Short (2015)
Boiler Room (2000)
The Intern (2015)
Inside Job (2010)
"You only have to do a few things right in your life so long as you don't do too many things wrong." – Warren Buffett
10 Best Business Movies of Bollywood
Are you a fan of Bollywood movies? We have a list of top business movies for the hidden entrepreneur in you:
Guru
Baazaar
Rocket Singh – Salesman of the Year
Band Baaja Baarat
Corporate
3 idiots
Wake Up Sid
Special 26
Once Upon A Time in Mumbaai
Badmaash Company
10 Best Business Movies of Hollywood
Hollywood produces some of the finest movies in all genres. Let's explore some of the best business movies of Hollywood:
The Social Network
Jerry Maguire
Joy
Wall Street
The Devil Wears Prada
Office Space
Erin Brockovich
Baby Boom
Big Night
It's a Wonderful Life
Top 10 Business Movies on Netflix
We all are guilty of spending the whole night binge-watching on Netflix. Here are some of the best business movies available on Netflix for you next weekend binge:
Mad Men
"Success usually comes to those who are too busy to be looking for it." – Henry David Thoreau
Top 10 Business Movies on Amazon Prime
The top 10 movies every all present and future entrepreneurs should watch at least once. Here are the best business movies on Amazon prime:
"You don't get to 500 million friends without making a few enemies."
Do you know the story behind Facebook? The Social Network takes us behind the scenes of the conception and development of one of the earliest of social media platforms, i.e. Facebook which took the internet by storm. Ripe with drama and archetypes of the business world, this movie follows the journey of a young Mark Zuckerberg as he launches this "social network" in his dorm at Harvard University. Soon follows a whirlwind journey of investors, legalities, competition and pitfalls and much more. It is one of the best business movies that tell us to dream big and explores the intricacies of turning a business idea into reality tackling many challenges and pitfalls.
Wall Street (1987)
"Money never sleeps, pal."
Starring Michael Douglas and Charlie Sheen, this all-time business classic unravels the dark side of the Wall Street where the only mantra is "Greed is Good". It shows the life of a young and ambitious stockbroker who dives unthinkably into the slippery world of the stock exchange. Taken under the wing by a ruthless senior who only believes in the apparent goodness of greed, these two set out to enter illegal information trading. A movie showing how power and greed can spoil a person's life, this business movie essentially takes us deeper into revealing the dangers of the trading and financial world.
The Founder (2016)
"I'm gonna offer you something as precious as gold. And you know what that is? Anybody? Anybody? Opportunity. It's opportunity. Opportunity. Opportunity to advance, to move forward, to move up, to advance… To succeed. To win. To step up. The sky's the limit."
Amongst the top business movies, The Founder explores the life of Ray Kroc who founded McDonald's. With relentless determination and unrivalled hard work, Kroc envisioned a fast-food empire and turned a local hamburger joint into a popular name known in every nook and corner of the world. The movie emphasizes on seizing opportunities, endless work and that greatness doesn't come without troubles. Developing a new style of delivery of hamburgers made in just 30 seconds, this movie shows that a unique idea with a bit of flair can set the world on fire.
Jerry Maguire (1996)
"Help me, Help You!"
Featuring Tom Cruise in the role of a high-powered sports agent, this movie shows the fickleness of the business world. A movie showing the struggles of integrity in a world run by money, it revolves around the story of a young sports agent who impetuously starts his own sports management agency with one coworker and coming out triumphant by putting a personal touch to business and putting his client's needs first. It is one of the best business movies of all time and will inspire you to dream big and focus on personal interests of your audience to be successful!
The Wolf of Wall Street (2013)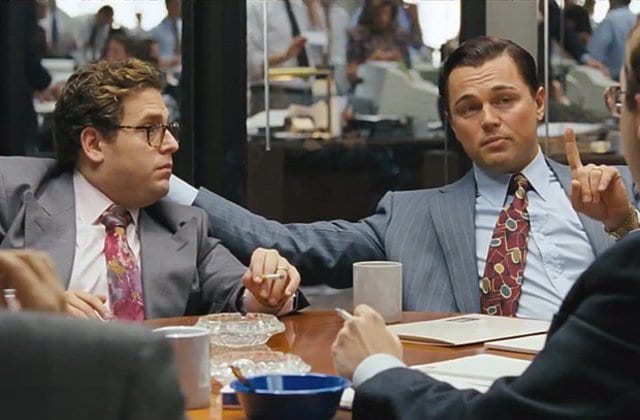 "It's business. Leave your emotions at the door."
Directed by the marvellous Martin Scorsese, the Wolf of Wall Street must be at the top of the list of best business movies. It is based on the life story of a stockbroker named Jordan Belfort and his rise and fall following his involvement with corruption and crime. It portrays the thrilling and fast life of Wall Street which is a dream for many. The young broker gives up everything from stability to relationships in his pursuit of fame and money. The movie is about his escapades and how his life goes downhill soon enough as the FBI closes in on his fraudulent schemes.
Jobs (2013)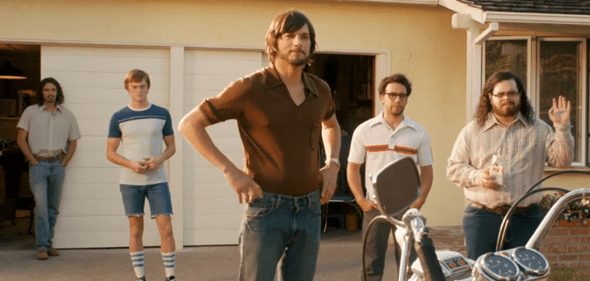 "Life can be much broader once you discover one simple fact. And that is that everything around you that you call life, was made up by people that are no smarter than you. And you can change it."
A movie about one of the greatest entrepreneurs, this movie elucidates the story of Steve Jobs, a brilliant mind that developed the iconic Apple Franchise. Although the narrative is about his success story, it also focuses on the failures that thwarted this man yet didn't deter him from achieving this tremendous success. It shows his struggles with relationships, betrayal and his prior failures before becoming the founder of this empire. This is indeed one of the best business movies of all time as it shows the unseen side of harrowing pain and failures that even the most successful of business leaders have seen.
The Big Short (2015)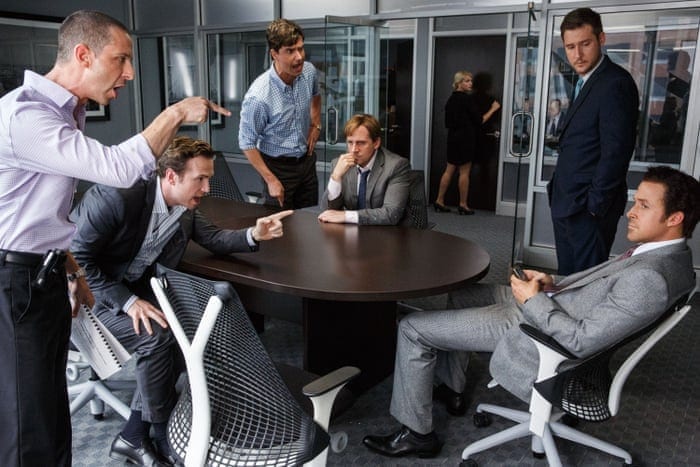 "A few outsiders saw what no one else could: The whole world economy might collapse."
The Big Short tells three seemingly different stories which interlink together to barring about an inevitable collapse. Amongst the classic Business movies, it sheds light on the financial collapse lucidly so that non-experts get an idea of the events that all culminated resulting in the financial crisis. It shows the opportunist functioning of businessmen and how greed can make a person blind to the world beyond. An eyeopener, this movie not only depicts some basic foundations of finance but also the dangers that lurk in the financial arena.
Boiler Room (2000)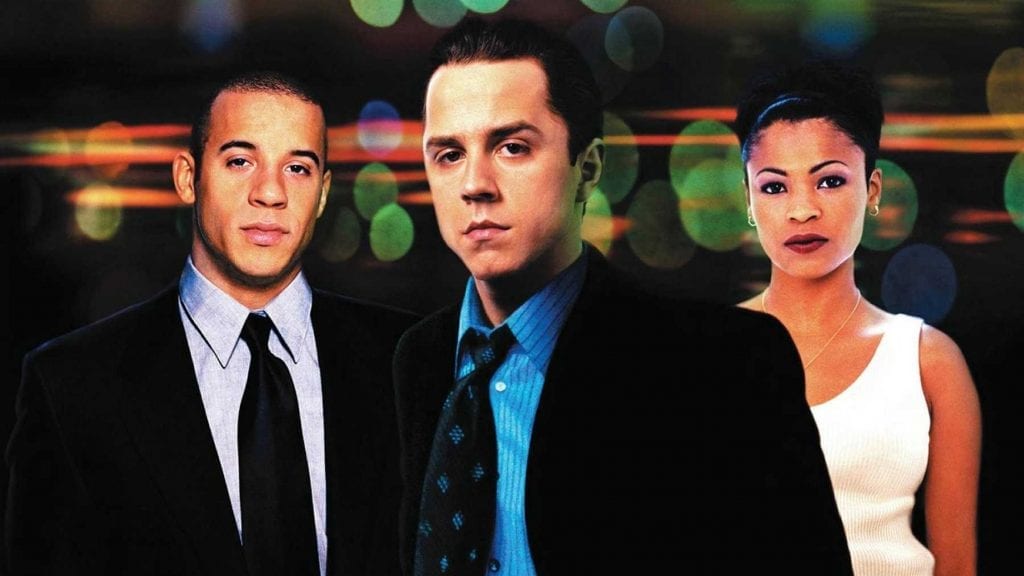 "I had a very strong work ethic. The problem was my ethics in work."
Another one to add to your watchlist of business movies, this film tells the tale of a rebellious college dropout who takes up a job as a broker at an investment firm which might not be as legitimate as it appears. Filled with moral dilemmas, this movie brings out the predicament of opting the fast route to success and money. The young broker learns how to artificially inflate the market and the FBI is on his trail soon. The movie pushes you to the edge of your seat and forces you to have an epiphany about the crucial role of decision-making in business.
The Intern (2015)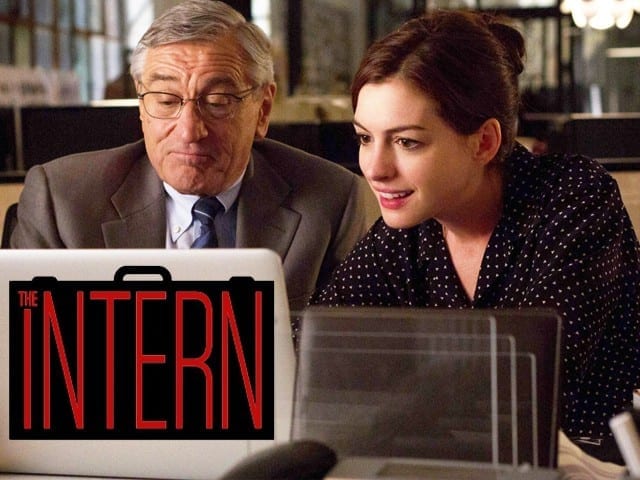 "We were the generation of "you go, girl." We had Oprah. And I wonder sometimes how guys fit in, you know? They still seem to be trying to figure it out. They're still dressing like little boys. They're still playing video games."
Starring the exemplary Anne Hathaway and Robert De Niro, the Intern sets out to discover the gender politics and stereotypes still prevalent in the business world and the struggle a woman has to put up to become a successful businesswoman. A rare depiction of a woman entrepreneur, the movie explores a young Fashion entrepreneur's tryst with making her mark in the business world while grappling with her failed personal relationships. Robert De Niro plays a 70-year old senior intern who helps her in her business decisions as well as personal life and even with the apparent generation gap, they become friends. Showing a headstrong independent woman entrepreneur supported relentlessly by a man, this movie highlights that success in one aspect of life doesn't mean failure in another.
Inside Job (2010)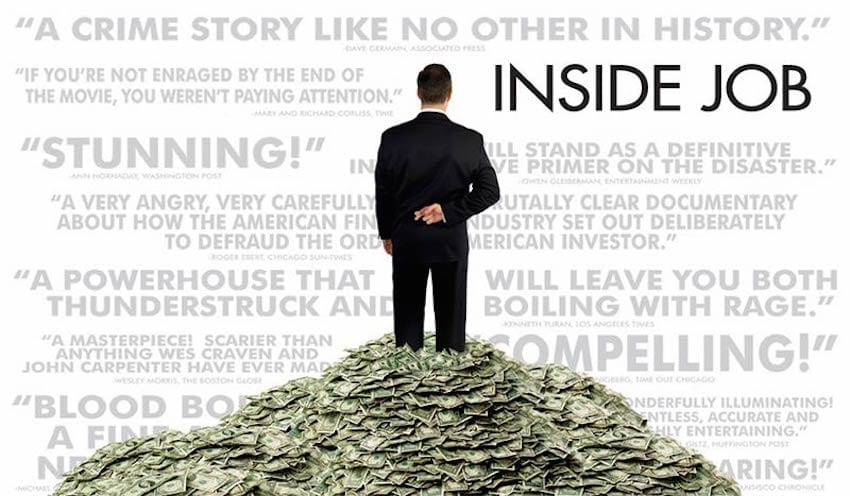 "The financial industry is a service industry. It should serve others before it serves itself."
Presenting the financial crisis of 2008 on the silver screen, Inside Job is a documentary that brings forward the ultimate conspiracy of financial corruption in the United States and its implications. It is one of the best business movies for those wanting to study the financial crisis of the 2000s as it underlines the key factors that resulted in the downfall of the American economy.
[BONUS] 10 Best Entrepreneur Movies for Inspiration!
Ford vs Ferrai
Nightcrawler
Chef
Yes Man
The Boy Who Harnessed the Wind
Chocolat
Goodfellas
Julie and Julia
The Greatest Showman
War Dogs
[Bonus] Best TV Shows for Entrepreneurs and Businessmen!

Shark Tank
Empire
Mad Men
Breaking Bad
Succession
Silicon Valley
House of Lies
How I Made My Millions
Startup
Family Business
"Play by the rules, but be ferocious." – Phil Knight
We hope that our list of these business movies inspires you to trod the path of an entrepreneur and transform your innovative ideas into revolutionary ones! Aiming to pursue a degree in Business or Entrepreneurship? Our Leverage Edu experts are here to help you find the best course and university which fits your interests, preferences and aspirations! Sign up for a free career counselling session with us today!