As the MBA degree has gained immense popularity amongst graduates, there is a multitude of postgraduate management programs that have emerged as a replacement for an MBA. One such degree course is a Masters in Management (MIM) which is an ideal postgraduate program for those who want to explore a varied range of managerial roles in the industry. There are numerous universities and academic institutions across the world that are offering master's degrees in Management. Canada is renowned for its business schools and management universities that provide quality courses in the field of Business and Management. Here is a complete guide on how you can pursue MIM in Canada, top universities and institutes offering this course as well as the eligibility criteria you need to fulfil to apply for this program.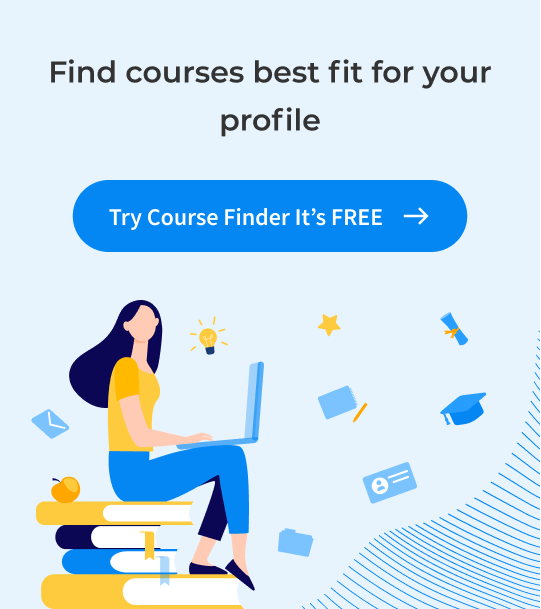 Why Pursue MIM?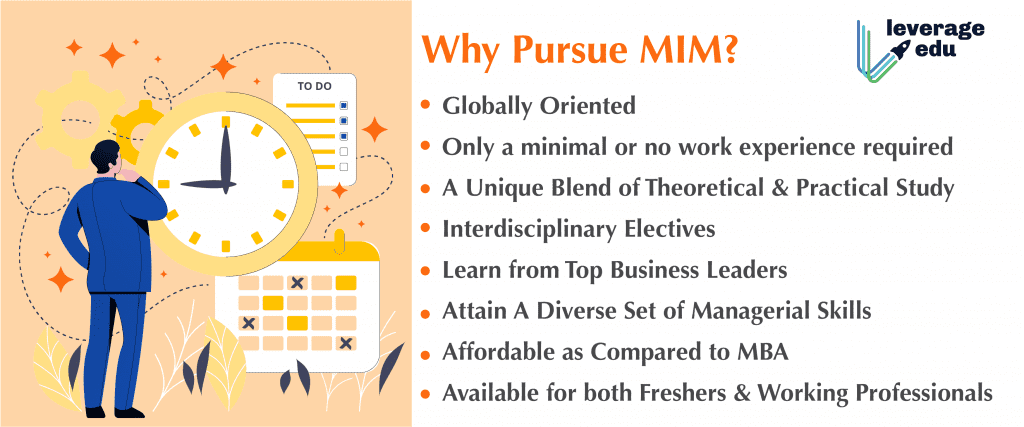 Why MIM in Canada?
Housing is one of the best education system in the world, Canada is a hub of Indian students pursuing A to Z courses. Remarkable education, expert faculty, hands-on learning experience and life-changing career opportunities are predominant reasons why students opt to study in Canada. When it comes to seeking a MIM degree, Canada outshines as an ideal destination because of its industry-oriented program structure, shorter program duration, higher employability rate, economical tuition fee etc.
Apart from the aforementioned reasons, low crime rates, low cost of living, no language barrier, student-friendly surroundings, etc are amongst the plethora of perks of studying in Canada. Further, if you are planning to settle and work abroad, Canadian immigration authorities offer simple visa procedures for foreign students wanting to explore job opportunities in the country.
MIM in Canada Eligibility
MIM in Canada is one of the most opted management courses by Indian students as the country allows you to pursue it with minimum requirements. The Canadian institutions have laid down a few conditions which MIM aspirants must satisfy to seek admission into the B-school of their choice. Let us have a look at them-
Usual formal schooling of 10 + 2 with a recognized institution
Bachelor's degree from a recognized university with minimum marks required
Some universities demand work experience of 1-2 years, however, it is not mandatory
MIM in Canada Requirements
Scanned copy of passport
English language proficiency test scores
Two Reference Letters
Popluar MIM Courses in Canada
The Canadian universities and B-schools wholeheartedly welcome Indian students. There are a variety of specializations offered by them from which you can choose your dream course. Make sure to go through the course structure as well as career opportunities a university avails before shortlisting the one. Tabulated below are the B-schools and academic institutions providing MIM in Canada:
Other popular MIM courses in India are-
Master of Business, Entrepreneurship and Technology
Master of Management – Finance
Master of Accounting and Finance
MSc in Business Administration
Master of Science in Management
Master of Marketing
Master of Management
Master of Management – Logistics and Supply Chain Management
Master of Global Business
Master of Science in Business
Master of Supply Chain Management (MSCM)
Master of Science in Management
Master of Financial Innovation & Technology
Master of Human Resource Management (MHRM)
Management, MSc
Master of Global Management
MIM in Canada Colleges
Admission Process
The application process takes place over a period of time and begins months before the commencement of classes. You can call our Leverage Edu experts on 1800 572 000 to find out how the application process can be fast-tracked and streamlined to Canada! Here's an easy 5-step process to complete your application process:
Call our experts on 1800 572 000 to shortlist your favourite universities and courses. Start your application to multiple universities through our one dashboard platform
Compile all your documents like SOPs, essays, certificates and LORs and exam scores like IELTS, TOEFL, GRE, GMAT, etc
Meet all the applications deadlines and start the application process for accommodation,students visa, and scholarships/student loans
Accept the offer letter and meet your teachers, college mates and roommates virtually
Get your visa approved and fly to your dream university!
Jobs after MIM in Canada
Once you earn the MIM degree from your dream university, you are all set to conquer the business world. As you would be equipped with core insights into the business market, you can hop on to some high profile job in the field of management. The extensive training in the MIM degree would turn you into a skilled expert of your chosen specialization and you can target your own along with related industries. For those who have a pursued general MIM can go for a job in various managerial level jobs in various industries. After your MIM in Canada, you can explore the below-mentioned job profiles.
| | |
| --- | --- |
| Profiles | Responsibilities |
| Project Manager | As a Project Manager, you will be handling drafting a project, outlining the budgeting and cost. Organisations offer product or service to the customers and thus are in search of project managers to look after these matters. |
| Management Consultant | The most popular job option after completing a MIM degree is that of a Management Consultant. Organizations often need skilled experts who can proficiently handle the management of the company keeping in mind the optimal use of every resource. Also, the consultants also keep track of the overall growth of the company. |
| Social Media Manager | Every organization aims to establish a significant presence on various social networking platforms like LinkedIn, Facebook, Instagram, Google Plus, etc. Thus, being a Social Media Manager your task would be to manage the online presence of the company and look after everything which goes on air on such sites. |
| Risk Manager | In order to expand the businesses, companies often have to take critical decisions, hence, Risk Managers are the go-to persons who advise the organizations by critically analysing all the possible discrepancies. Such experts maintain security, safety, profitability and reputation of a company. |
| Entrepreneur | Being an entrepreneur after seeking a MIM degree is one of the most lucrative options. You can go on with establishing your business or can upscale your family business. |
Must Read: MIM in Europe: Course And Universities
Salary after MIM in Canada
Once you complete your MIM in Canada, your starting salary can range between $45,000-65,000 (INR 26,00,000- 38,00,000). Majorly, it depends on om the organization you opt for. But as you go on to gain better experience in the field, you can expect a rise in the salary.
MIM in Canada without GMAT
Mentioned below are the institutes that offer MIM in Canada without GMAT-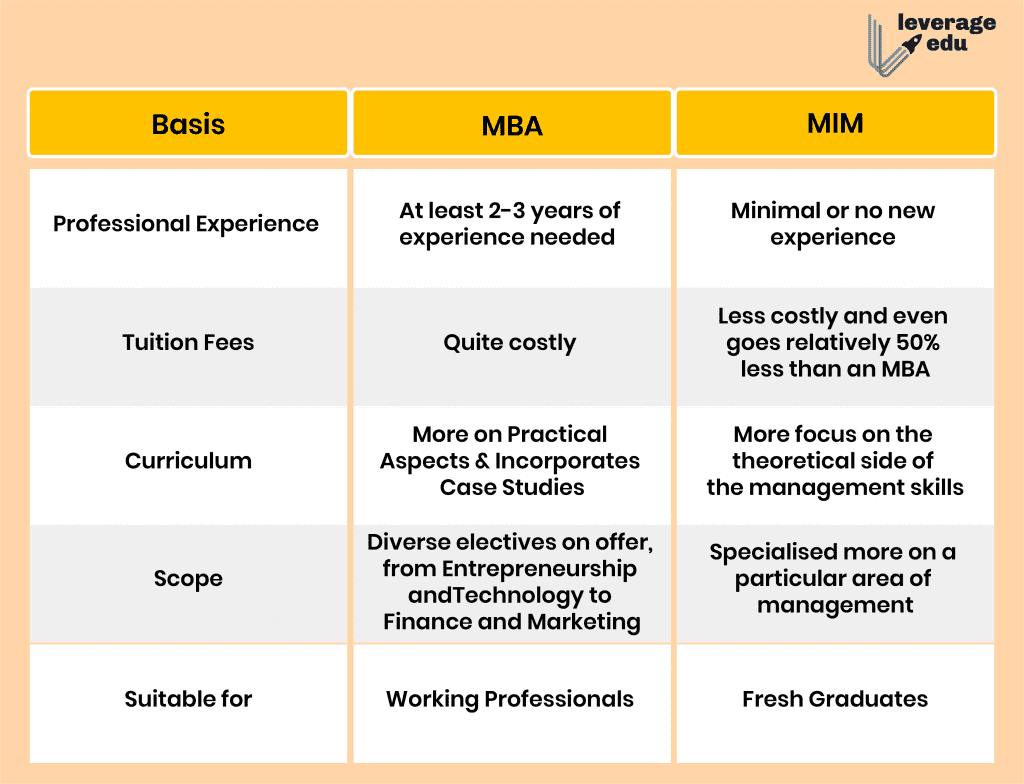 Are you looking for more reasons to pursue MIM?
Find out by reading our blogs on Business Management courses!

FAQs
Is Canada good for MiM?
Canada is a great study destination for Indian students. The VISA policies are liberal, acceptance rate at Canadian business schools is lower and there is a great job market post completion of course.
Which country is best for MiM?
Canada, USA, UK, Australia are considered to be the best for MIM. Most of the Indian students opt for Canada due to its welcoming nature towards international students!
Is GRE required for MIS in Canada?
Every business school has different criteria for admission and selection process, therefore you need to get in touch with our experts to know if GRE is required for your preferred university or not!
Is MiM a good degree?
MIM is a great degree to get business knowledge and kickstart your career. Unlike an MBA, MIM does not require work experience!
With the emergence of new start-ups, the demand for business professionals is rising. Pursuing a Management degree from the top business schools in Canada can help you explore a plethora of opportunities in the field of Business and Management. We hope that this blog helped you gain clarity about the key essentials of opting for MIM in Canada and the major universities offering this master's degree program. Leverage Edu experts can further guide in applying for your chosen university in Canada and writing impressive LORs and SOPs to get successfully shortlisted to pursue your dream course in Management.