What is Value Education? Value-based education lays emphasis on the personality development of individuals in order to shape their future and tackle difficult situations with ease. It moulds the children so they get attuned to changing scenarios while handling their social, moral, and democratic duties efficiently. The importance of value education can be understood through its benefits as it develops physical and emotional aspects, teaches mannerism and develops a sense of brotherhood, instils spirit of patriotism as well as develops religious tolerance in students. Let's understand the importance of value education in schools as well as its need and importance in the 21st century.
Here's our review of the Current Education System of India!
Need and Importance of Value Education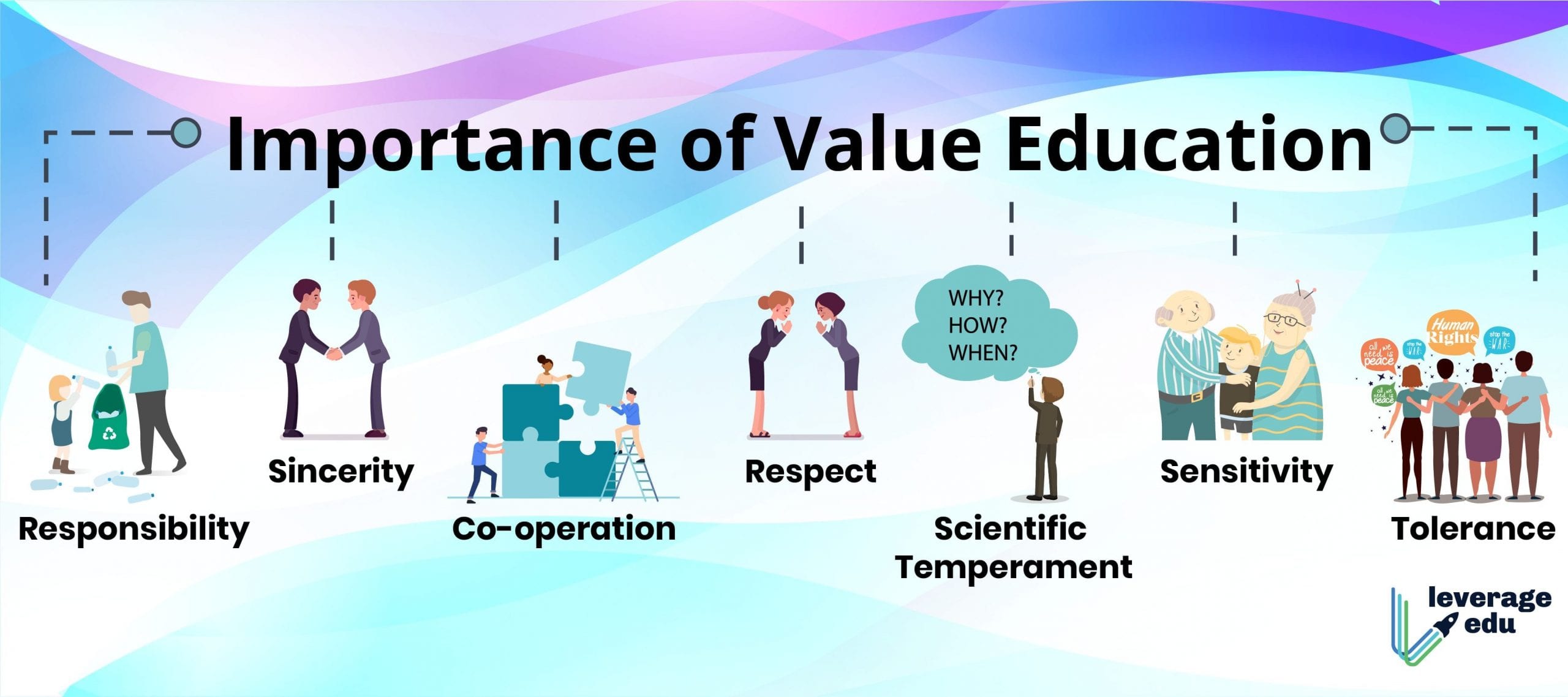 This type of education should not be seen as a separate discipline but as something that should be inherent in the education system. Merely solving problems must not be the aim, the clear reason and motive behind must also be thought of. There are multiple facets to understanding the importance of value education.
Here is why there is an inherent need and importance of value education in the present world:
It helps in taking the right decisions in difficult situations thus improving decision-making abilities.
It inculcates students with essential values like kindness, compassion and empathy.
It awakens curiosity in children developing their values and interests. This further helps in skill development in students.
It also fosters a sense of brotherhood and patriotism thus helping students become more open-minded and welcoming towards all cultures as well as religions.
It provides a positive direction to a student's life as they are taught about the right values and ethics.
It helps students find their true purpose towards serving society and doing their best to become a better version of themselves.
With age comes a wide range of responsibilities. This can at times develop a sense of meaninglessness and can lead to a rise in mental health disorders, mid-career crisis and growing discontent with one's life. Value education aims to somewhat fill the void in people's lives.
Moreover, when people study the significance of values in society and their lives, they are more convinced and committed to their goals and passions. This leads to the development of awareness which results in thoughtful and fulfilling decisions.
The key importance of value education gets highlighted in distinguishing the execution of the act and the significance of its value. It instils a sense of 'meaning' behind what one is supposed to do and thus aids in

personality development

.
Purpose of Value Education
In the contemporary world, the importance of value education is multifold. It becomes crucial that is included in a child's schooling journey and even after that to ensure that they imbibe moral values as well as ethics.
Here are the key purposes of value education:
To ensure a holistic approach to a child's personality development in terms of physical, mental, emotional and spiritual aspects
Inculcation of patriotic spirit as well as the values of a good citizen
Helping students understand the importance of brotherhood at social national and international levels
Developing good manners and responsibility and cooperativeness
Promoting the spirit of curiosity and inquisitiveness towards the orthodox norms
Teaching students about how to make sound decisions on the basis of moral principles
Promoting a democratic way of thinking and living
Imparting students with the significance of tolerance and respect towards different cultures and religious faiths
Importance of Value Education in School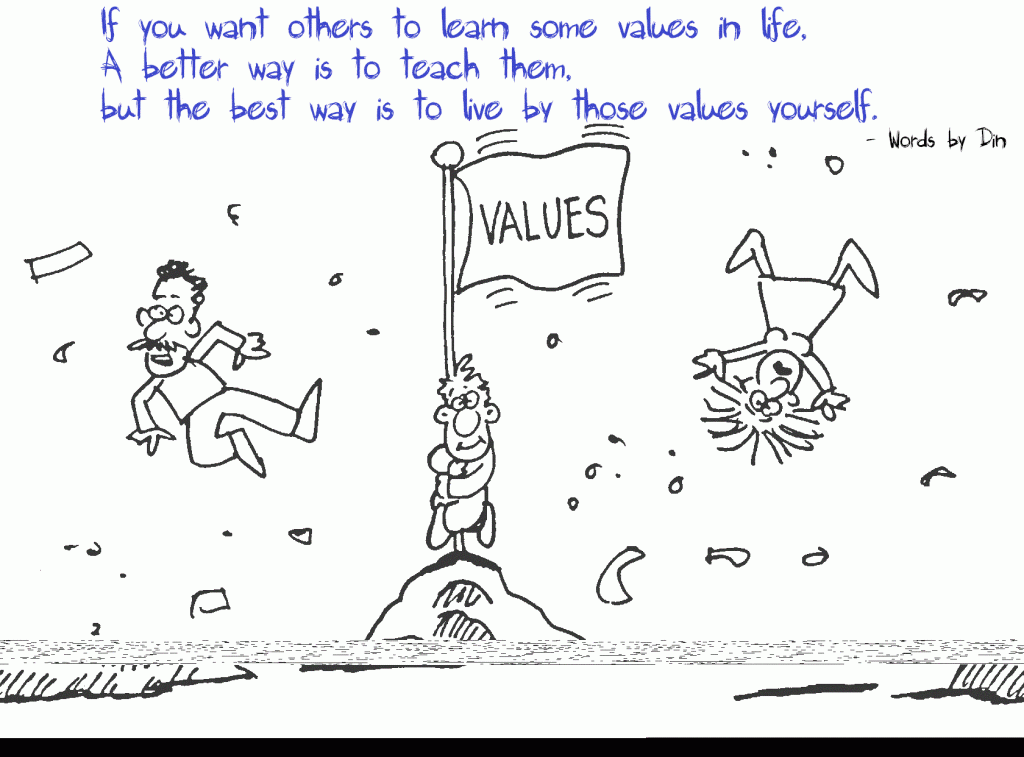 There is an essential need and importance of value education in school curriculums as it helps students learn the basic fundamental morals they need to become a good citizen as well as human being. Here are the top reasons why value education in school is important:
Value education can play a significant role in shaping their future and helping them find their right purpose in life.
Since school paves the foundation for every child's learning, adding value based education to school curriculum can help them learn the most important values right from the start of their academic journey.
Value education as a discipline in school can also be focused more on learning human values rather than mugging up concepts, formulas and theories for higher scores. Thus, using storytelling in value education can also help students learn the essentials of human values.
Education will surely be incomplete if it didn't involve the study of human values that can help every child become a more kinder, compassionate and emphatetic individual thus nurturing emotional intelligence in every child.
Difference between Traditional and Value Education
Both traditional, as well as values education, is essential for personal development. Both help us in defining our objectives in life. However, while the former teaches us about scientific, social, and humanistic knowledge, the latter helps to become good humans and citizens. Opposite to traditional education, values education does not differentiate between what happens inside and outside the classroom.
Essay on Importance of Value Education
Value Education plays a quintessential role in contributing to the holistic development of children. Without embedding values in our kids, we wouldn't be able to teach them about good morals, what is right and what is wrong as well as key traits like kindness, empathy and compassion. The need and importance of value education in the 21st century are far more important because of the presence of technology and its harmful use. By teaching children about essential human values, we can equip them with the best digital skills and help them understand the importance of ethical behaviour and cultivating compassion. It provides students with a positive view of life and motivates them to become good human being, help those in need, respect their community as well as become more responsible and sensible.
Speech on Importance of Value Education
Youngsters today move through a gruelling education system that goes on almost unendingly. Right from when parents send them to kindergarten at a tender age of 4 or 5 to completing their graduation, there is a constant barrage of information hurled at them. It is a puzzling task to make sense of this vast amount of unstructured information. On top of that, the bar to perform better than peers and meet expectations is set at a quite high level. This makes a youngster lose their curiosity and creativity under the burden. They know 'how' to do something but fail to answer the 'why'. They spend their whole childhood and young age without discovering the real meaning of education. This is where the importance of value education should be established in their life. It is important in our lives because it develops physical and emotional aspects, teaches mannerism and develops a sense of brotherhood, instils spirit of patriotism as well as develops religious tolerance in students. Thus, it is essential to teach value-based education in schools to foster the holistic development of students. Thank you.
Types of Value Education
To explore how value education has been incorporated at different levels from primary education, secondary education to tertiary education, we have explained some of the key phases and types of value education that must include it to ensure the holistic development of a student.
Early Age Moral and Value Education
Middle and high school curriculums worldwide including in India contain a course in moral science or value education. However, these courses rarely focus on the development and importance of values in lives but rather on teachable morals and acceptable behaviour. Incorporating some form of value education at the level of early childhood education can be constructive.
Read more at Child Development and Pedagogy
Young College Students
(1st or 2nd-year Undergraduates)
Some universities have attempted to include courses or conduct periodic workshops that teach the importance of value education. There has been an encouraging level of success in terms of students rethinking about what their career goals are and increased sensitivity towards others and the environment.
Our Top Read: Higher Education in India
Workshops for Adults
Alarmingly, people who have only been 4 to 5 years into their professional careers start showing signs of job exhaustion, discontent, and frustration. The importance of value education for adults has risen exponentially. Many non-governmental foundations have begun to conduct local workshops so that individuals can deal with their issues and manage such questions in a better way.
Recommended Read: Adult Education
Student Exchange Programs
It is yet another way of inculcating a spirit of kinship amongst students. Not only do student exchange programs help explore an array of cultures but also helps in understanding the education system of countries.
Quick Read: Scholarships for Indian Students to Study Abroad
Co-curricular Activities
Imparting value education through co-curricular activities in school enhances the physical, mental, and disciplinary values amongst children. Furthermore, puppetry, music, and creative writing also aid in overall development.
Check Out: Drama and Art in Education
How It Can Be Taught & Associated Teaching Methods
The concept of teaching values has been overly debated for centuries. Disagreements have taken place over whether value education should be explicitly taught because of the mountainous necessity or whether it should be implicitly incorporated into the teaching process. An important point to note is that classes or courses may not be successful in teaching values but they can definitely teach the importance of value education. It can help students in exploring their inner passions and interests and work towards them. Teachers can assist students in explaining the nature of values and why it is crucial to work towards it. The placement of this class/course, if there is to be one, is still under fierce debate.
FAQs
What is value education?
Value education is the process through which an individual develops abilities, attitude, values as well as other forms of behaviour of positive values depending on the society he lives in.
Why is value education important?
It is essential for every individual to ensure a holistic approach to their personality development in physical, mental, social and moral aspects. It provides a positive direction to the students to shape their future, helping them become more responsible and sensible and comprehending the purpose of their life.
What are importance of values?
Values are extremely important because they help us grow and develop and guide our beliefs, attitudes and behaviour. Our values are reflected in our decision-making and help us in finding our true purpose in life and become a responsible and developed individual.
The importance of value education at various stages in one's life has increased with the running pace and complexities of life. It is becoming difficult every day for youngsters to choose their longing and pursue careers of their choice. In this demanding phase, let our Leverage Edu experts guide you in following the career path you have always wanted to explore by choosing an ideal course and taking the first step to your dream career.