Amongst the essential competitive exams for those wanting to study a master's or PhD degree abroad, the Graduate Record Examination (GRE) is conducted at a global level by the Educational Testing Service (ETS) and is amongst the toughest exams in the world. Availed in both online and offline modes, the GRE score remains valid for a period of five years and is frequently accepted across the globe, especially in countries like France, Germany, and Australia amongst others. If you have been planning to appear for this exam, GRE sample papers are the quintessential must-haves you need to add to your preparatory guides. With the rigorous competition, solving as many as sample papers as possible can help you master the structure and pattern of this test thus ensuring that you ace GRE with flying colours.
Quick Read: GRE Eligibility Criteria
Looking For Online GRE Preparation? Register Here!
GRE Preparation Essentials
To cover the vast GRE exam syllabus, it is pivotal to begin your preparations with certain must-haves that can train you to crack it with a balanced mix of expertise and perseverance. You can opt for GRE coaching to seek assistance from experts but self-studying will play an incremental role in gearing up for the exam. So, begin with compiling the best books for GRE which generally include GRE sample papers and different preparatory guides for each section help students practice and master the whole syllabus of the exam.
GRE Sample Paper 2022 from ETS Official GRE Practice Guide
Below we have compiled a varied set of questions in the GRE Sample Paper for General Test provided by ETS under its official practice book for paper-delivered GRE. Take a look at the different types of questions under this GRE sample paper to familiarise yourself with their format and pattern: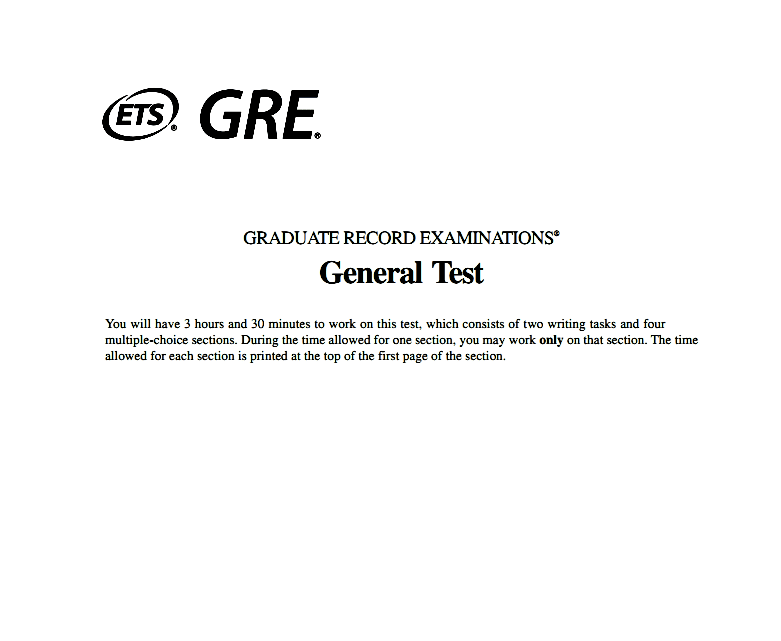 Section 1: Analytical Reasoning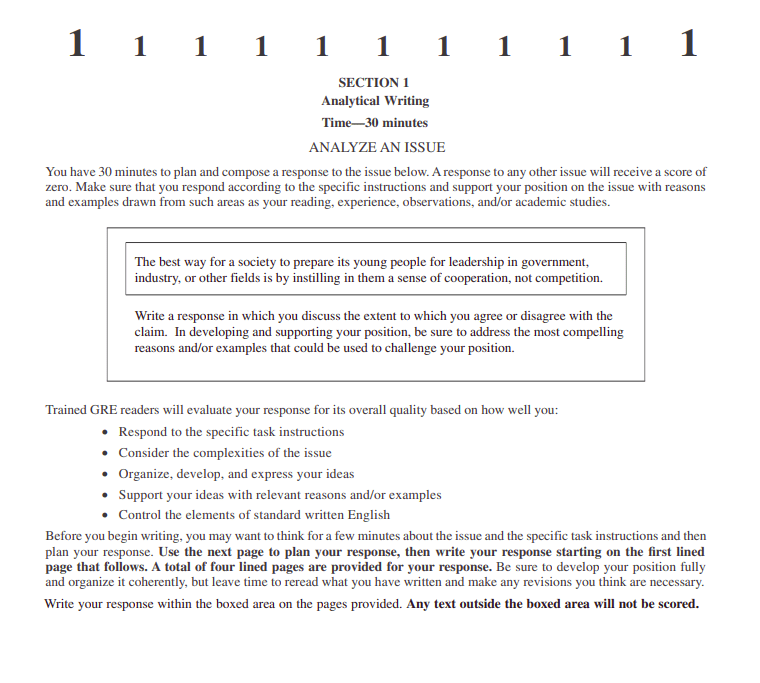 Section 2: Analytical Writing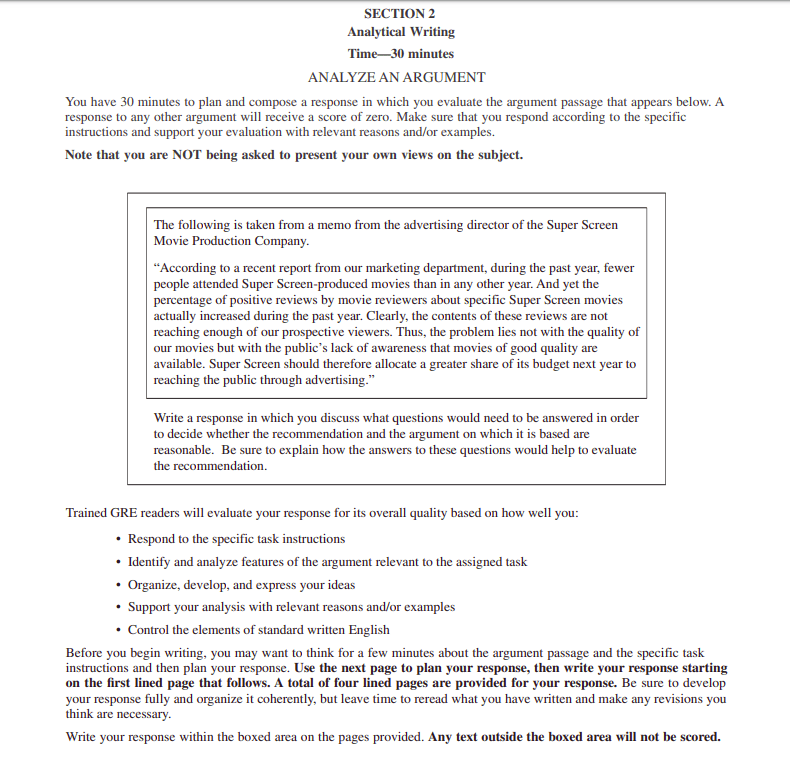 Section 3: Verbal Reasoning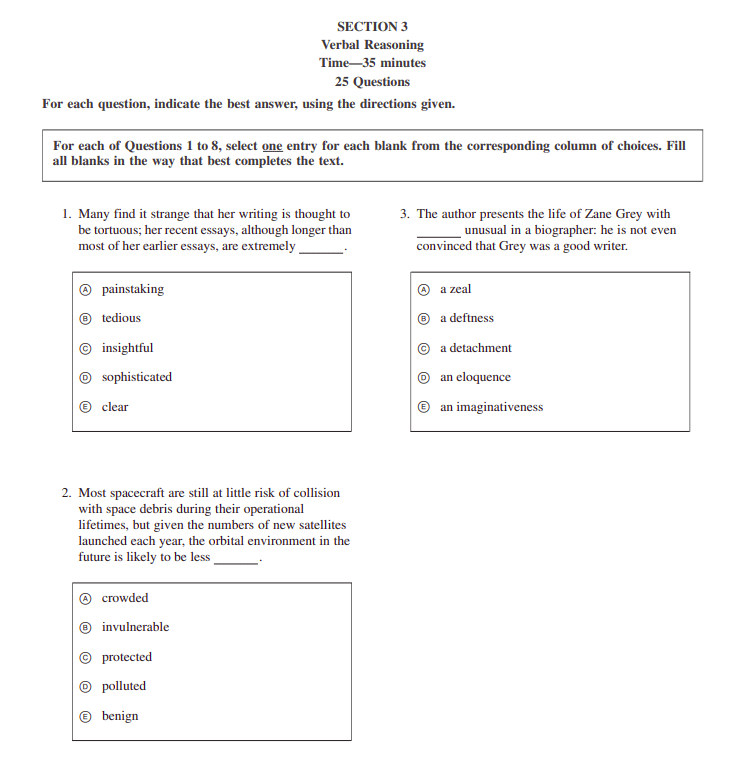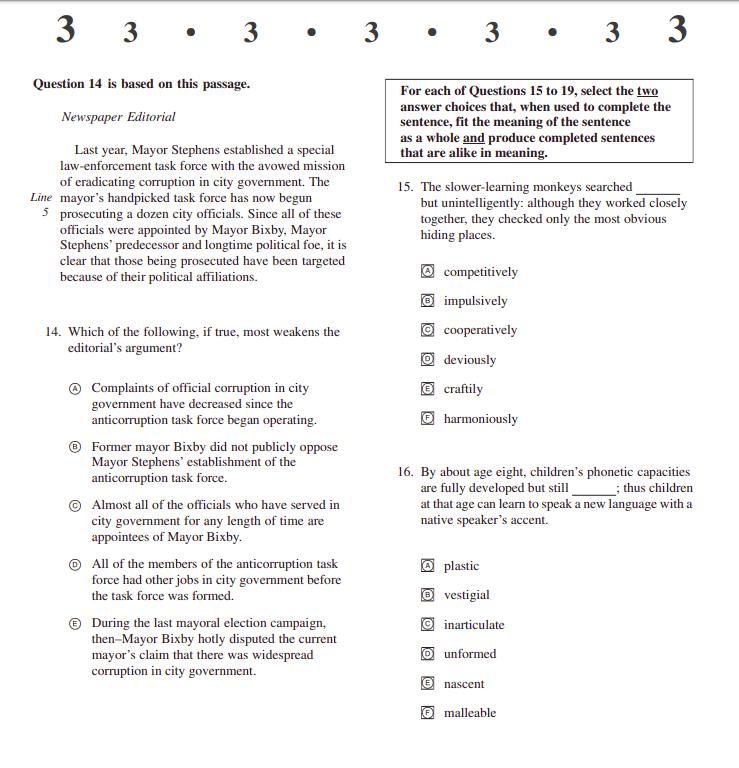 Section 4: Verbal Reasoning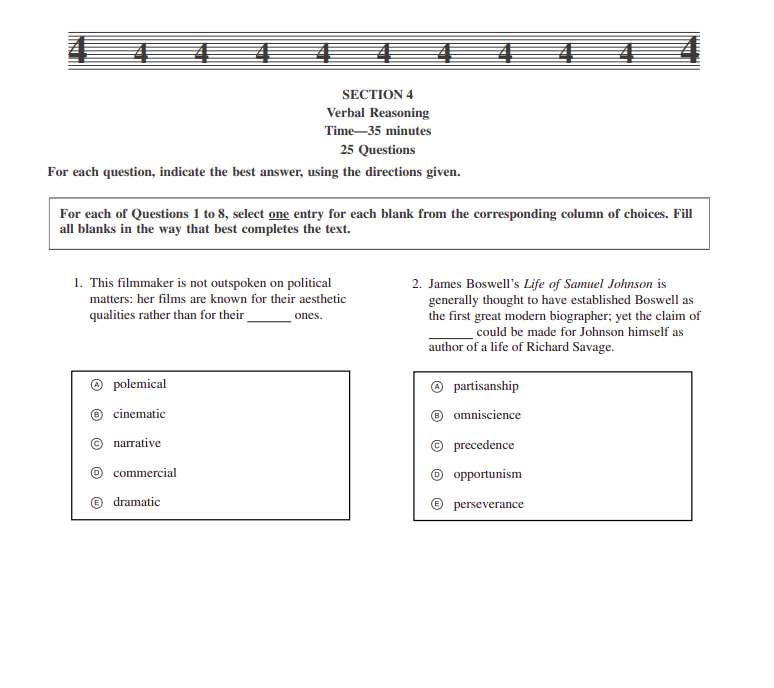 Section 5: Quantitative Reasoning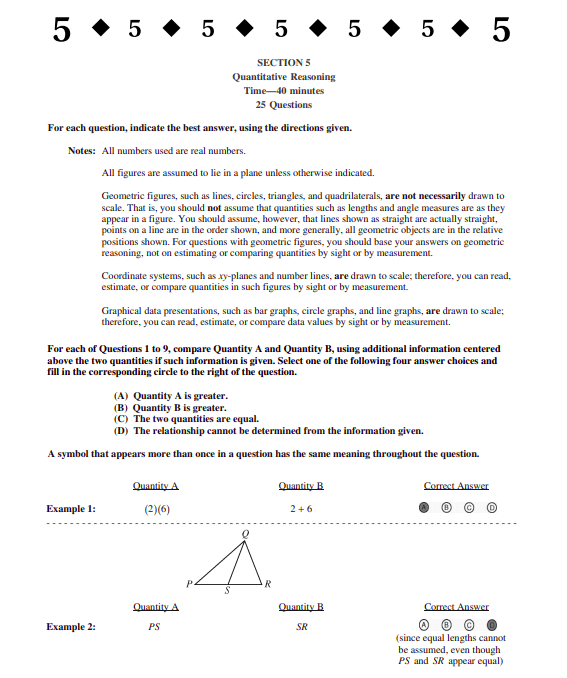 Section 6: Quantitative Reasoning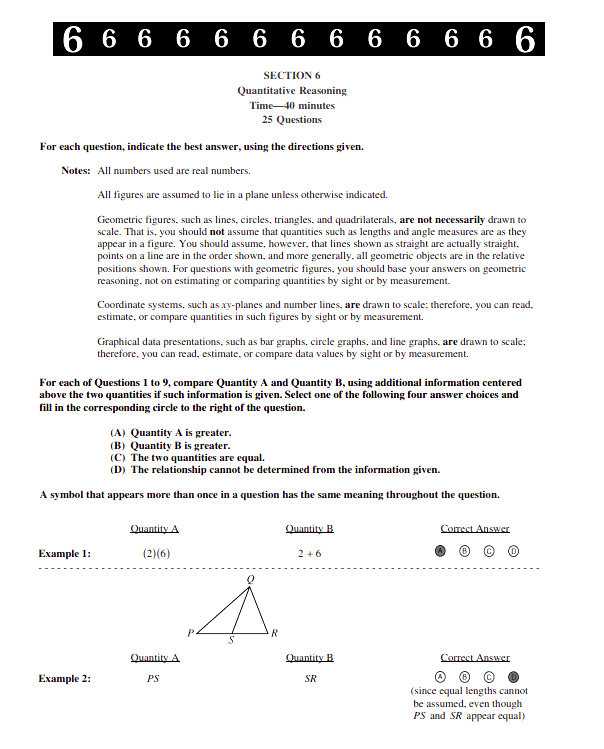 You can explore the complete practice guide by clicking here!
Tips and Tricks For GRE Sample Papers
Be it your final showdown or practicing the n number of sample papers, there are certain strategies that can help you induce your skills and perform to your best limits. Knowing the importance and advantages of GRE sample papers, one thing you need to implement in your practice sessions is that you critically evaluate hard work vs smart work especially throughout the preparation period. We have curated a list of key tips that can help you while gearing for the ultimate day of the exam:
Since the exam is of a fixed duration, you must practice in a time-bound manner so that you would be able to know about the preparation of each section of the exam
You must adopt the habit of using a scratch paper on which you can solve your calculations to avoid confusion that might occur during mental calculations.
By practising more and more GRE sample papers you will be able to get a hold of the structure of each question as well as memorise the pattern of the exam.
Ensure that you create a strategy before solving the paper by marking those questions that will take lesser time and those that would need more attention.
If you are taking GRE in the online mode, equip yourself with the different techniques of giving the test, be it skipping through difficult questions and revisiting them later or practicing on the on-screen calculator provided during the quant section.
GRE Subject Test Sample Papers
GRE Sample Test Paper: Those taking the Subject Test should also prepare appropriately and devise test-taking techniques in order to get the desired outcome. Aspirants who are prepared for the test are sometimes faced with the question of where to begin their preparation. They can use the official GRE website to practice full-length tests and answer keys for GRE example papers and modify their test strategy appropriately. GRE sample test papers are available on the official website for the following subjects:
GRE Biology Sample Paper
GRE Chemistry Sample Paper
GRE Literature in English Sample Paper
GRE Mathematics Sample Paper
GRE Physics Sample Paper
GRE Psychology Sample Paper
GRE Test Structure and Content
Always remember that the GRE Subject Tests are conducted in a paper-delivered format, so plan appropriately. The test lasts 3 hours and 40 minutes in total. Aside from practice materials, ETS, the exam's governing organization, also provides information and an overview of the Subject Tests, which candidates may access and learn about the exam's format. Students can go to: https://www.ets.org/gre/subject/about/content/ for content specifications and an overview of the Subject Tests.
GRE Syllabus for General Test
GRE Verbal Reasoning, GRE Analytical Writing, and GRE Quantitative Reasoning are the three core portions of the GRE General Test course.
GRE Analytical Writing
The analytical writing section of the GRE is designed to assess a test taker's ability to express complex ideas clearly and effectively, to back up ideas with relevant reasons and examples, to evaluate claims and supporting evidence, to maintain a well-focused, coherent discussion, and to control the elements of standard written English. The GRE Analytical Writing curriculum comprises two thirty-minute analytical writing assignments that are timed separately:
Analyze an Issue
Analyze an Argument
GRE Verbal Reasoning
The verbal reasoning section of the exam is designed to assess a test taker's ability to analyze and draw conclusions from discourse, reason from incomplete data, identify the author's assumptions and/or perspective, select important points, distinguish major from minor or relevant points, summarize text, understand the structure of a text, understand the meanings of words, sentences, and entire texts, and understand relationships between words and concepts.
GRE Quantitative Reasoning
The quantitative reasoning portion is designed to assess a test taker's ability to comprehend, evaluate, and analyze quantitative data, solve problems using mathematical models, and apply basic mathematical abilities and concepts of arithmetic, algebra, geometry, probability, and statistics.
GRE Quest Paper Pattern for the Exam
The GRE computer-based test is three hours and forty-five minutes long (3 hr 45 mins= 225 mins) and features a user-friendly design. GRE Syllabus 2022 and GRE Exam Pattern 2022 may be used to better understand the GRE General Test. The following is a complete GRE exam pattern:
| | | |
| --- | --- | --- |
| GRE Sections | No. of Sections | Duration |
| Analytical Writing | 1 section- two tasks | 60 minutes |
| Verbal Reasoning | 2 section- 40 questions | 60 minutes |
| Quantitative Reasoning | 2 section- 40 questions | 70 minutes |
| Unscored | Varies | Varies |
| Research | Varies | Varies |
GRE Sample Papers: Critical Analysis
Verbal Reasoning, Quantitative Reasoning, Critical Thinking, and Analytical Writing Skills are the four parameters on which every GRE aspirant is tested. All 4 sections of the test are of equal importance and it is necessary to qualify all four of them to get a lucrative score. Both the GRE exam and GRE sample papers are general tests and gauge the overall skills of candidates while emphasising on a particular field. For all the students willing to appear in the exam, here is an intricate evaluation of how to target the important sections while solving the mock tests.
Verbal Reasoning
While working on this section through GRE sample papers, here are some of the ways which can assist you in managing your time and concentration in a better way.
For data-related questions, jot down reasons from the incomplete data, identify the examiner's point of view/assumption, frame conclusions from the discourse, try understanding the meaning of the context like figurative, author's intent, literal, etc.
Carefully analyse the meaning of words and paragraphs in each question
In verbal reasoning questions, it is also important to understand the hidden relationship between the creatively used words.
Analyse the important pointers given and bifurcate them into major and irrelevant
Study the structure of sentences which can help you understand the summary of the text.
Also Read:
Quantitative Reasoning
The quantitative reasoning section of the exam is a dicey one, either it can help you climb up the ladder to get a full score or can completely drop you down to nothing. GRE sample papers encompass a diverse range of quant questions from different concepts. Below are some of the important points to keep in mind regarding this section.
Ensure that you memorise the basic mathematical models in your mind while solving the questions.
Interpret, analyse and understand the details of the quantitative information given.
While targeting the high-end questions of the section, do keep in mind the basics of algebra, data analysis and geometry.
Do not spend too much time on a question that you earlier thought you could crack. Instead, move on to the next one as every question carries the same weightage.
Analytical Writing
This section in GRE evaluates the candidate's ability to articulate their thoughts in a critical manner and put one's ideas into a structured flow of writing. It comprises two types of questions, analysing an issue or an argument. The useful tricks you can employ for this section are as follows:
In order to familiarise yourself with the different questions, take a GRE sample paper and create a time plan of minutes you will devote to each question. This plan must include further division of putting time for writing the key pointers, drafting the essay and then proofreading it.
Start with planning your response, write down pointers and then move towards composing your essay.
Don't forget to go through your essay after concluding it to make it free of any grammatical errors.
Must Read: Universities for GRE Score 310-320
GRE Sample Papers by ETS
FAQs
Is the GRE a simple test to pass?
A candidate who is familiar with the GRE syllabus and has prepared thoroughly for the GRE test with complete sincerity and passion will be able to pass the GRE.
How reliable are GRE practice exams?
There's a reason why GRE practice exams exist. Candidates are also encouraged to complete as many practice papers as possible in order to improve their GRE results.
What is a satisfactory GRE score?
No such thing as a good GRE score exists. Every institution will have its own GRE cut-off, and students will be expected to earn scores that are equal to or greater than the cut-off. Candidates should be aware that better GRE scores will immediately boost their chances of gaining admission to the institution and will also put them in the running for any scholarships that the university may provide.
Hence, we hope that you have the key pointers required to excel in the exam through this blog on the importance of GRE sample papers. If you are to prepare for GRE online, book a free online demo session with our experts at Leverage Edu and we will help you in curating the right preparation strategy as well as providing you with the requisite study material and expert guidance to successfully ace this exam!