Planning to study abroad is overwhelming as well as a stressful feat. There are times when you have to make tough decisions like choosing the best course for your higher studies, identifying the country and the right university offering that particular program. Whatever course or country you choose, you are required to go through various language proficiency tests to ensures the admission council that you do not have any communication issues and are well-versed with the medium of instruction of your chosen course. IELTS or International English Language Testing System is one of the most accepted English language ability tests which measures 4 important language skills: Reading, Writing, Language and Speaking. If you are heading to a country accepting IELTS, let's kickstart your journey towards a successful career by providing you with a list of top books for IELTS preparation.
IELTS Books
Here are some of the best books available for IELTS:
Focus on IELTS Foundation: Foundation Coursebook
Cambridge IELTS 15 Academic Student's Book with Answers
Barron's IELTS Superpack
Simone Braverman's Target Band 7
Check Your English Vocabulary for IELTS
Mometrix IELTS Book for General Training and Academic 2021 – 2022
The Official Cambridge Guide to IELTS
English Vocabulary in Use
IELTS (Academic) 5 in 1 Actual Tests eBook Combo
IELTS Trainer
IELTS Practice Tests Plus 2 with Key and CD Pack
Books for IELTS Preparation
While you gear up for IELTS, you ought to have the perfect notes and study materials in order to ace the exam. There are numerous high-quality books with all the relevant contents and audio files to accelerate your preparation for IELTS. Here are some of the popular books for IELTS preparation that you must have in your collection:
Barron's IELTS Superpack
Barron's IELTS Superpack comes with 3 manuals and 2 audio MP3 CDs to ace the listening section of IELTS. Rightly named as a 'Superpack', the first audio guide includes various tips and strategies on how to crack IELTS, and the other CD contains 'Barron's Essential Words for IELTS preparation'. Moreover, this Superpack provides you with the sample practice and exercise sheets on listening, writing and reading aspects of the examination.
 Buy Barron's IELTS Superpack on Amazon here
The Official Cambridge Guide to IELTS
Covering both the general training and academic papers, this IELTS study guide consists of a series of full-fledged practice tests, their answer keys (with explanation) along with audio and video files to master the listening section. The Official Cambridge Guide to IELTS is one those books for IELTS preparation, that is based on the analysis and research of the actual IELTS exam-takers which helps the aspirants acquire the first-hand information and some bonus tips to crack the examination.
Buy The Official Cambridge Guide to IELTS on Amazon here
Official IELTS Practice Materials
Using the preparation and practice materials issued by the British Council, who are the official partner for IELTS, you get the most authentic and accurate study guide for the IELTS exam. The book contains a number of volumes, all of which include audio and video CDs for practising the listening section. Based on the experience of the test-takers, the Official IELTS Practice Materials provide step-by-step guidance on answering the test successfully.
Get Official IELTS Practice Materials from Amazon here
Collins English for IELTS
Containing a series of practice books for IELTS preparation, Collins English for IELTS focuses on the specific areas for improvement. Be it grammar or vocabulary in the reading, writing, listening or speaking sections, a book to master every skill would help the aspirants develop an intensive and deep understanding of all the aspects of the exam and how to answer particular questions for that part. With a student-friendly layout, the Collins English for IELTS aims to secure the IELTS score in the band 5.5 to 6.
Get Collins English for IELTS from Amazon here
Target Band 7: IELTS Academic Module: How to Maximize your Score
Written by the author Simone Braverman, 'Target Band 7' aims to maximise your IELTS score through pointing out and correcting even the smallest concerns which can greatly affect your score. Containing easy solutions to some of the most typical questions, this study guide definitely comes under the list of best books for IELTS preparation, owing to the fact that it consists the best and the most effective techniques of cracking IELTS directly coming from the experienced ones.
Buy Target Band 7 from Amazon here
How to Prepare For IELTS?
Spending your money and piling your books on your shelves does no good if you do not know how to use these books for IELTS preparation. Read on to know how to use your books effectively and efficiently.
Don't just keep solving the question papers throughout, without actually knowing where you are lacking. Remember that, these books are for extensive practising.
While solving a full-fledged practise test, stay within the time limit and try not to exceed that.
Wherever you see important instructions and guidelines, take a highlighter or a pen to highlight those points. This would help you learn and remember better.
Do not memorize questions, instead work on various types of potential questions.
Do not spend more than the required time on reading the comprehensive passages, rather try churning out the useful information according to the question.
Also Read: Idioms for IELTS
Other Important Books for IETLS
Apart from the above-explained books for IELTS, here is an additional list for IELTS preparation for you:
Leverage Edu Rockstars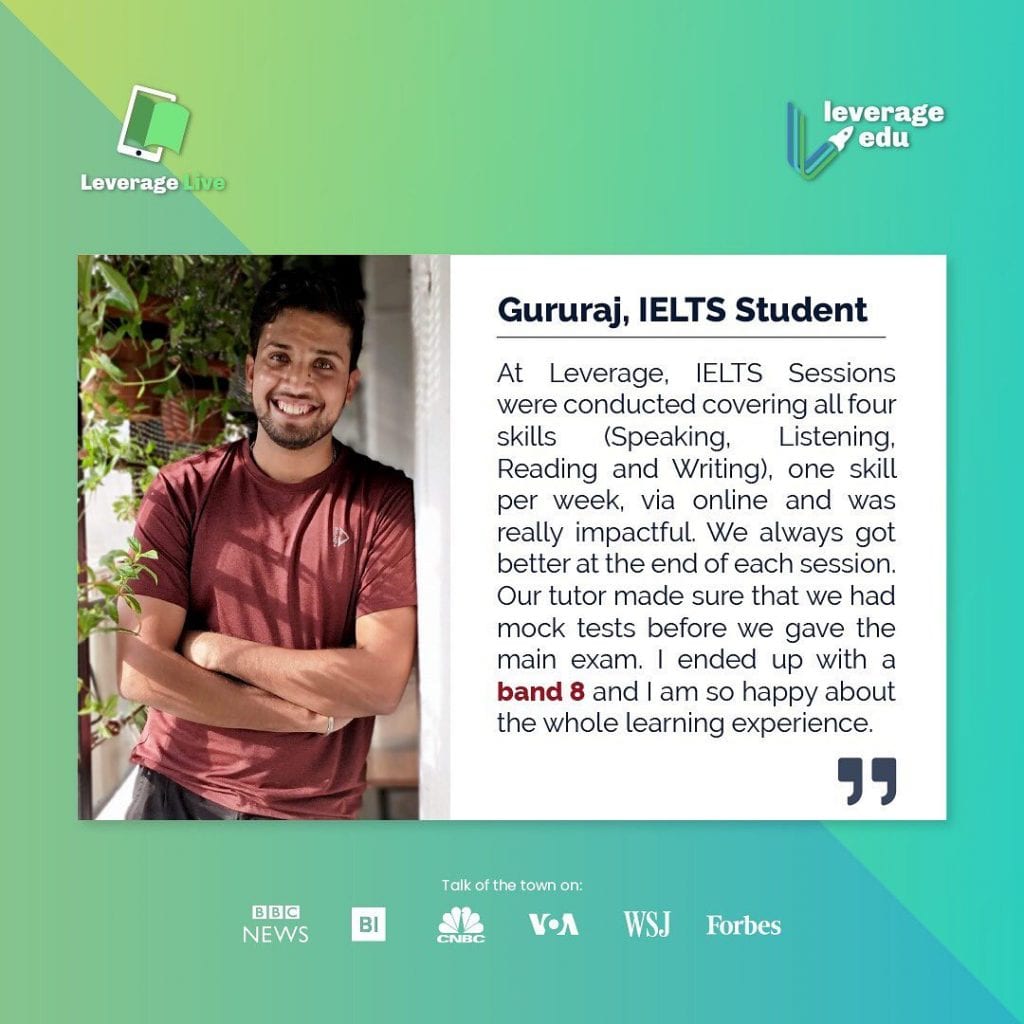 We hope that you're now familiar with prominent books for IELTS preparation. If you are planning to prepare for IELTS and not really sure how to start preparing for it, then get in touch with Leverage Edu. Our exclusive IELTS online classes can help you get your dream IELTS score.