There are scores of degree courses offered by various academic institutions both in India and abroad. However, some candidates face hurdles in pursuing higher education due to financial constraints. In such cases, scholarships play a very major role in shaping the educational career of a student. But to avail the benefits, one needs to clear Scholarship exams in most of the cases. The All India Youth Scholarship Entrance Exam (AIYSEE) is one such opportunity for those who want to pursue courses related to the fields of Engineering and Medical Science. In this blog, we have collated all the necessary details related to the test.
| | |
| --- | --- |
| Exam Date | 25 August 2023 |
| Conducting Body | All India Youth Scholarship Entrance Examination (AIYSEE) |
| Fees | ₹ 1,150 |
| No. of Attempts | 1 |
| Exam Mode | Online Exam |
| Course | B.Tech, MBBS, BE |
| Streams | Medical, Engineering |
What is the AIYSEE Exam?
The All India Youth Scholarship Entrance Exam or AIYSEE is a gateway for MBBS/BDS/Engineering aspirants who want to pursue higher education from some of the leading institutes in India. You will get access to test series for exams like JEE Advanced and Mains, NEET, etc for 1 year. Upon clearing, you can get up to 90% scholarship for Engineering and MBBS in India.
AIYSEE Exam Dates 2023
| | | |
| --- | --- | --- |
| Event | Start Date | End Date |
| AIYSEE Scholarship Application Apply Online | 10 December 2022 | 10 July 2023 |
| AIYSEE 2023 Examination | 25 August 2023 | 30 August 2023 |
| Admit Card | 5 August 2023 | 10 August 2023 |
| AIYSEE Result | 1 September 2023 | 5 September 2023 |
| Scholarship Distribution | September 2023 | September 2023 |
Also Read about Fulbright Scholarships
Exam Pattern
The All India Youth Scholarship Entrance Exam is conducted in an online mode and has multiple-choice questions asked from Physics, Chemistry, Maths/Biology. Tabulated below are the key details related to the exam pattern of AIYSEE.
Duration
90 Minutes
Number of Questions
90

Physics: 30
Chemistry: 30
Mathematics/Biology: 30

Marking Distribution
1 mark for each correct answer
Negative Marking
0.25 mark will be deducted for an incorrect answer
Qualifying Percentage
55%
Also Read: Maharashtra Scholarships
Who Can Apply for AIYSEE?
In order to apply for competitive exams, one needs to fulfill the prerequsities set by the competent authority. Summarised below are the eligibility criteria for AIYSEE.
Candidates must have passed 10+2 from a recognized board or are appearing in the year 2023. 
At least 50% of marks are required in the 12th class. 
Candidates who want to prepare for MBBS or BDS courses are also eligible for the examination. 
Also Read: Medical Scholarships for International Students
Scholarship Procedure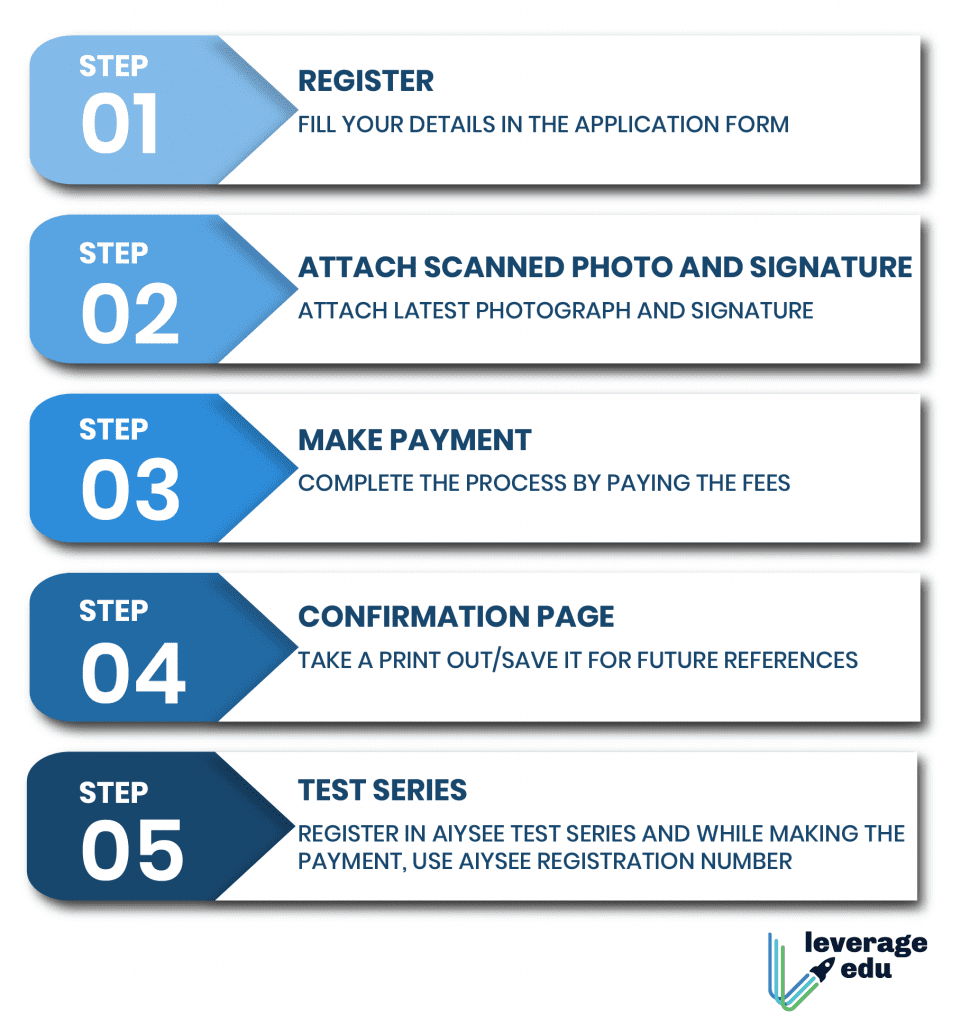 Also Read: Computer Science Scholarships
AIYSEE Syllabus
Fetching merit-based scholarships like AIYSEE needs meticulous preparation and good knowledge related to the Science stream. While Physics and Chemistry remain common for both Medical Science and Engineering programmes, you can choose between Maths and Biology based on your specialistaion.
Physics
Physical World and Measurement
Laws of Motion
The motion of System of Particles and Rigid Body
Gravitation
Properties of Bulk Matter
Thermodynamics
The Behaviour of Perfect Gases and Kinetic Theory of Gases
Oscillations and Waves
Electrostatics
Chemistry
Some Basic Concepts of Chemistry
Structure of Atom
Classification of Elements and Periodicity in Properties
Chemical Bonding and Molecular Structure
States of Matter
Chemical Thermodynamics and Equilibrium
Mathematics
Sets and Functions
Algebra
Coordinate Geometry
Calculus
Statistics and Probability
Biology
Diversity of Living Organism
Structural Organisation in Animals and Plants
Cell Structure and Function
Plant Physiology
Human Physiology
List of Institutes
Almost every BTech and MBBS institute is covered under AIYSEE Exam. If you have admission in these schools, you can easily take the exam and win a scholarship.
Check out the List of Engineering Institutes for AIYSEE Exam
Check out the List of MBBS Institutes for AIYSEE Exam
AIYSEE Admit Card
The AIYSEE Admit Card will be released on 5th August 2023 and will be available till 10th August 2023. You can download the admit card online on the AIYSEE Exam Website.
The admit cards will be sent to your mobile number or email ID.
Keep your enrollment ID and password safe for further use.
If you are unable to download the admit card, please contact info@aiysee.com or  080-66085666.
Print your admit card for further reference
Also Read: Vodafone Scholarships
Examination Centres
Tabulated below are some of the major cities where the examination centres of AIYSEE are located.
| | | |
| --- | --- | --- |
| Agartala | Agra | Ahmedabad |
| Allahabad | Ambala | Arra |
| Asansol | Badh | Bardhaman |
| Bareilly | Begusarai | Bengaluru |
| Betiya | Bhilai | Bhagalpur |
| Gurgaon | Jalandhar | Jammu |
| Nagpur | Vishakhapatnam | Warangal |
| Bhubaneswar | Chennai | Coimbatore |
| Jamshedpur | Itanagar | Kohima |
| Delhi | Srinagar | Raipur |
Note: These were some of the test centres for AIYSEE. You can find more on the official website.
Here's All You Need to Know About UGC Scholarships for Girls
AIYSEE Scholarship Amount
AIYSEE offers scholarships to students depending on their result in the exam. The qualifying percentage for the exam is 55%. The test series has a validity for only one year. Students are given stipends only if they have more than 71% marks. Students get a uniform stipend of INR 6,000 per month till their decided duration. Let's check out the stipend duration for each percentage range.
| | | |
| --- | --- | --- |
| Exam Percentage | BTech | Medical |
| >=90% | 4 years | 5 years |
| 86% to 89% | 3 years | 3 years |
| 81% to 85% | 1.5 years | 2 years |
| 76% to 80% | 1 Semester | 1 Year |
| 71% to 75% | 3 Months | 3 Months |
AIYSEE Rewards
AIYSEE Exam rewards are only given to students to achieve marks between 55% to 70%. Both the students from BTech or Medical course are rewarded with either of these: laptop/ tablet/ kindle.
Check Out the Best Country to Study and Work for Indian Students
FAQs
Who is eligible for the Aiysee scholarship?
Students with a score of 50% on the 12th board are eligible for this scholarship.
What is the exam fee for the Aisee scholarship?
This is applicable for all quotas i.e. General/ OBC/ SC/ ST. Application Fee of INR 1,200 is for all candidates irrespective of male or female, mobile application or web browser. This is applicable for all quotas i.e. General/ OBC/ SC/ ST.
What is the scholarship entrance exam in India?
It is a standardized online exam for students seeking scholarships under the Study in India programme.
Being a scholarship scheme, it is important to prepare for the AIYSEE exam efficiently and with a well-concocted strategy! Are you thinking to pursue overseas education with a scholarship? Want to know which scholarships you can apply for? Then reach out to our team of experts at Leverage Edu who will help you find suitable financial aid and will also provide assistance in completing the application formalities for the same!