"Knowledge is Power. Information is liberating. Education is the premise of progress, in every society, in every family."– Kofi Annan. Quality education is a fundamental necessity for a successful and meaningful life. In a country like India, where lakhs of people are struggling with problems pertaining to its third-world status, children belonging to lower-middle-class families are coerced to quit their education at an early age and forced to start working.
| | |
| --- | --- |
| Scholarship Type | Merit-Based and Need-Based |
| Organization By | Vodafone Idea Foundation |
| Annual No. of Scholarships | NA |
| Application Mode | Online |
| Scholarship Website Link | www.learningwithvodafoneidea.in |
| Academic Year | 2023-2024 |
| Benefits | Tuition Fees and extra funds worth INR 1,000 all the way up to INR 1 lakh |
| Study-Level | 10th-12th, Undergraduate, Postgraduate and PhD students |
In order to ensure equal educational opportunities for all, various public and private organisations throughout the country have started varied scholarship schemes like Inlaks Scholarships, NEC Scholarships, etc, aimed at providing financial assistance to meritorious students. One such initiative has been taken by the Vodafone Idea Foundation with a mission to provide the basic right to education to everyone in the country. In this blog, we will be exploring the key essentials of Vodafone Scholarships, their eligibility criteria, the schemes offered as well as the application procedure.
About Vodafone Scholarships
The Vodafone Idea Foundation has initiated a wide variety of resources for the betterment of society. Via Vodafone Scholarships, the Foundation has agreed to take a constructive step towards creating a community that values education, gender and economic equity and strives to provide primary and secondary education for children across the world. In this noble effort, the corporation has partnered with development partners, primary charities, and societies to provide Indian students with enormous learning opportunities.
Learning With Vodafone Scholarships
Vodafone Idea Foundation has also created an online scholarship platform called 'Learning with Vodafone' to help students access several scholarship schemes that are provided by public and private organisations across the country.
This platform has been established on the belief that there are multiple scholarship initiatives availed by a plethora of institutions and the list keeps growing with time. Different scholarships cater to a specific target audience.
The set target audience is decided to be considered as the target beneficiaries of that program. In order to move forward with it, they have employed the usage of smart technologies to manoeuvre necessary information regarding various scholarships that pertain to your needs.
Further, they help you to complete the necessary formalities for you to receive the grants and provide extensive support throughout the process in the languages mentioned above.
Scholarships for Indian Students
Merit-based Scholarships – Many government and private organizations offer merit-based scholarships to those students who have an excellent academic record and are aspiring for higher studies in India as well as abroad.
Here are the popular Merit-based scholarships-
| | |
| --- | --- |
| Merit-Based Scholarships | Deadline |
| G.P. Birla Scholarship | 23 July |
| JM Sethia Merit Scholarship Scheme 2023 | 31 July |
| The Anat Fellowship 2022-23 | 31 July |
| Jagadis Bose National Science Talent Search Senior Scholarship Test (JBNSTS) 2023 | 31 July |
| Vidyadhan Bihar plus-2 (1st year) Scholarship Program 2023 | 23 July |
| Vidyadhan Odisha Plus 2 (1st year) Scholarship Program 2023 | 23 July |
Eligibility Criteria
Before you go on and apply for the scholarship, it is important for the candidates to cross-check the eligibility criteria. Make sure you follow up on each and every point stated in the section to be sure of your eligibility. listed below are the important points related to the eligibility criteria for Vodafone scholarships-
Students pursuing studies in 10th, 12th, UG, PG and PhD are eligible for the scholarship.
Eligibility criteria will be in detail decided based on the type of scholarship applied. (Need-based on merit-based)
The Vodafone scholarship will be provided to the need-based students after conducting the financial check and to the merit-based students after evaluating their earlier academic records.
Vodafone Scholarships Documents Required
Be it Indian Oil Scholarship or Dhirubhai Ambani Scholarship, one has to submit a set of documents to apply. Though at the registration stage of Vodafone scholarships, candidates do not have to submit any documents, once you choose a scholarship you want to enrol in, you will be required to submit documents like:
Photo ID Proof
PAN Card
Income Certificate
Marksheets
Passbook
Also Read: PFMS Scholarship
How to Apply for Vodafone Scholarships?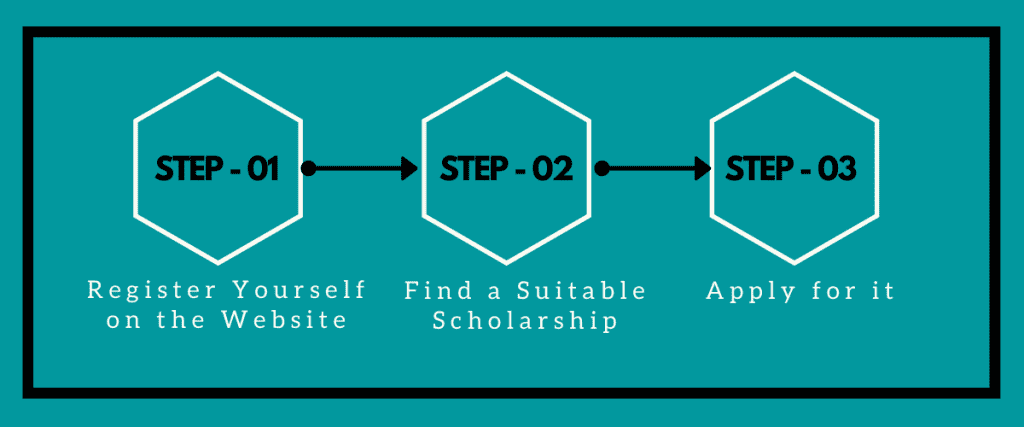 Sub-Schemes of Vodafone Scholarships
Under Vodafone Scholarships, there are a plethora of sub-schemes provided for different levels of education from secondary education to doctoral-level degrees. Vodafone Idea Foundation Scholarship platform is created with the following features to assist students in finding the right scholarships that suit their academic aspirations:
Matching Scholarships: Smart Tech-based matching & recommendation system
SMS & E-mail Notifications: Notifications would be provided about the upcoming scholarships.
Phone & Email Support: Their dedicated team will be available to answer all your queries.
Multi-lingual Support: Tele-support and other information is available in eight languages including seven regional languages.
FAQs
What are the rewards of Vodafone scholarships?
This depends on the scholarship/fellowship programs you will be applying for. In general, it can range from Rs 1,000 to 10,000. This can further vary based on nationality.
What is the Vodafone Scholarship Eligibility?
Generally, these scholarships are open for students enrolled in 10th-12th standards, undergraduate, postgraduate, and PhD programs.
What is the registration fee?
There is no registration fee for the Vodafone Scholarships.
Thus, we hope that this blog helped you understand the varied essentials of Vodafone scholarships. If you are looking for scholarship opportunities available across the globe, you can reach out to our experts at Leverage Edu and we'll help you in finding a suitable scholarship program that can fund your dream of studying abroad.