When we talk about technology in education, we recall the utility of technologies like audio-visual aids, machines, and equipment such as TVs, overhead projectors, computers for education, etc. Technology is that element of development which is almost found in every part of our culture, affecting how we live, play, work and learn. With technological advancement in the world through the invention of mobile and wireless devices, it has become really important for the education sector to get a hold of this technology in the teaching-learning process. This article will help you get familiar with the list of essential objectives of educational technology.
Check Out: How AI Can Help in Education: Role and Challenges 
Understanding the Concept of Educational Technology
Educational Technology, also known as EduTech or EdTech, is the concept of teaching and learning through the efficient medium of technology. It facilitates an in-depth understanding of the fundamentals of technology and its operations. There is a range of objectives of educational technology in order to help the teaching-learning process yield the best possible results in an efficient and economical way.
Know All About Learning Outcomes in Teaching: Types, Benefits and Characteristics  
Technology is an umbrella term for all the systematic applications of scientific knowledge placed on a practical task. Similarly, educational technology is concerned with the following two aspects:
Theoretical knowledge is produced from various academic disciplines such as Psychology, Education, Communication, Philosophy, Sociology, Computer Science, Artificial Intelligence, etc.
Experimental knowledge is elicited from educational practice and training.
Must Explore: 10 Best Educational YouTube Channels for Students
Learning Objectives of Educational Technology
Before delving deeper into the objectives of educational technology at the micro and macro levels, let's first take a look at its learning objectives:
To provide education in the use of Information and Communication Technology or ICT.
To encourage higher-level thinking and creativity through ICT.
To deliver students with a learning experience in instructional technology.
To promote computer-based educational resources.
To make students aware of Information Technology.
To determine the practical use of technology integration.
Scope and Importance of Environmental Studies in School
Responsibility of Educational Technology Facilitators
Facilitators of an educational technology plan, design and develop a productive learning atmosphere and range of experience by assisted technology. Their responsibilities include:
Plan learning environments and experiences with the use of technology to build efficient teaching and learning environments.
Design and develop appropriate technology-driven learning opportunities to support the diverse needs of different learners.
Evaluate the accuracy and suitability of technological resources.
Manage technology resources within the context of learning activities and pedagogy.
Build management strategies for students learning in a technology-enhanced environment.
Identify instructional design principles to develop technological resources.
Quick Read: 5 Must-Watch TED Talks for Educators
Essential Objectives of Educational Technology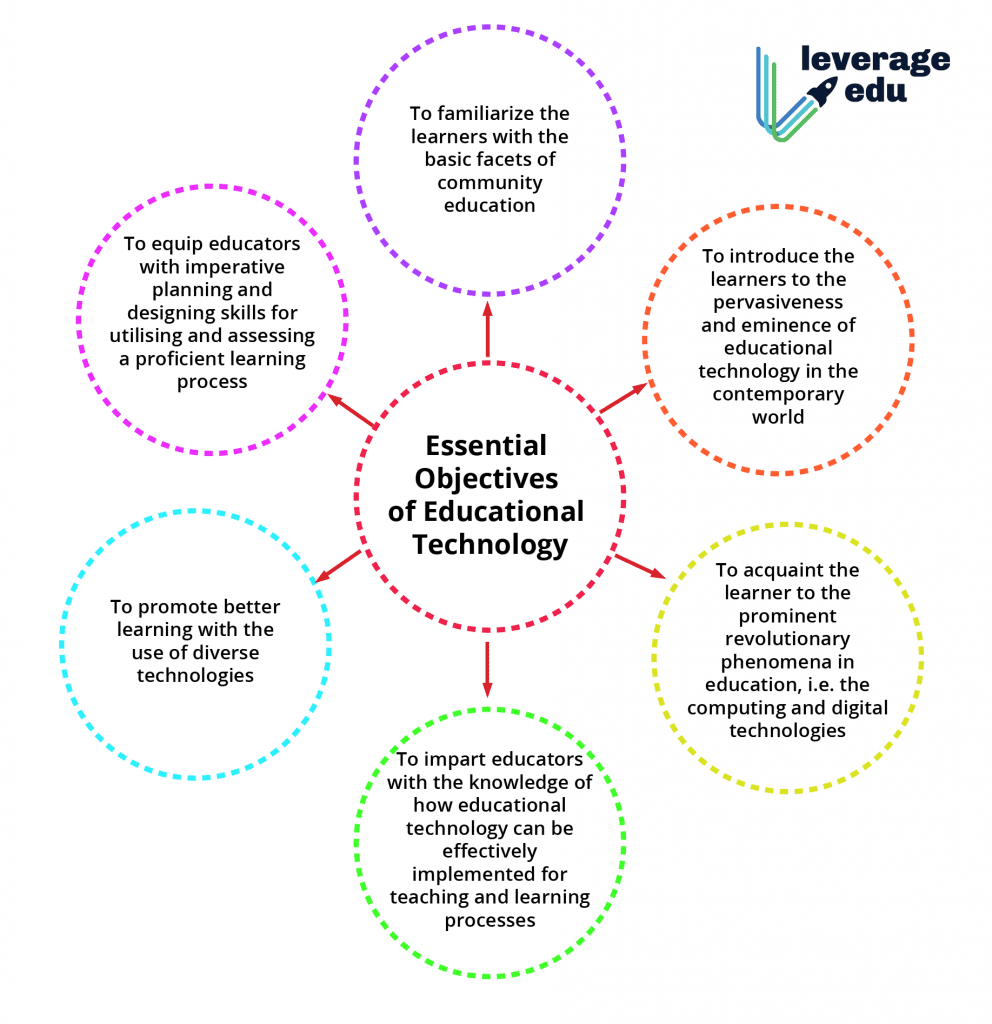 Objectives of Educational Technology at the Macro Level
Owing to the increasing importance of technology in education, there is a multitude of objectives that this phenomenon fulfils at the macro level, some of which are:
To identify the educational requirements and desires of the community.
To understand the structure of education, board strategies, and its goals.
To design and develop curriculums involving art, science and human values.
To support strategies, human resources and material assets with the mission to achieve determined goals.
To create appropriate aids and instruments supporting educational purposes.
To design educational technology models catering to improve the existing process of teaching and learning.
To identify and find remedies to tackle major environmental constraints.
To expand and support educational opportunities for people around the world, especially the neglected sections of the community.
To manage the entire educational system starting from planning to execution, implementation, and evaluation.
Must Explore: Top 6 Effective Classroom Teaching Methods
Objectives of Educational Technology at the Micro Level
To discover and analyse the characteristics and educational requirements of every student.
To determine and state the specific behavioural classroom objectives.
To understand and organise the contents of instruction in a proper sequence.
To recognize the existing teaching-learning resources and materials.
To identify the nature of the interaction of sub-systems like teachers, students, the content of instruction, teaching-learning material, and different methodologies.
To plan teaching strategies and utilize human resources and material assets for accomplishing specific classroom objectives.
To evaluate every student's behavioural change and performance to determine the effectiveness of classroom teaching.
To provide essential feedback to teachers and students for any modification in the teaching-learning operation.
Scope
The objectives of educational technology are process-oriented. The use of educational technology is not restricted to teaching and learning methodologies and theories, but to providing in-depth assistance in the development of an individual's personality. Below is a list of the wide scope of education technology:
Educational technology makes the teaching-learning process more efficient and process-oriented.
Mechanical and electronic gadgets can be readily utilized for educational requirements.
Educational technology has improved the learning process for students with the help of teaching aids programmed instructional material, etc.
Traditional mediums like television, radio, tape recorder, V.C.R, and computers can be used to impart distance and correspondence education.
The advancement of the internet has increased education dissemination all over the world with much ease.
Mechanism of feedback through the use of technology improves the quality of teachers training in academic institutions.
Technology-driven innovative analytical tools and instruments can help in solving educational administrative problems.
Educational technology serves to develop and understand the structure and nature of teaching.
The best utilisation of education technology supports the scientific foundation and new discoveries.
Check Out: Formative and Summative Assessment: What is the Difference?
Explore more in education below!
FAQs
What is the main objective of educational technology?

The essential objective of Educational Technology is to improve the quality of education and enhance the learning process. Most importantly, technology should magnify the teaching and learning process as well as facilitate better performance of educational systems as it emphasises effectiveness and efficiency.
What are the objectives of technology?

Technology has certainly made our lives easier as it improved the ways we carry out our daily activities. From easy access to abundant information to bettering the learning processes, the imperative objective of technology is to develop better and more efficient methods for carrying out different activities.
What are the learning objectives of Educational Technology 2?

Educational Technology 1 aims to provide the learner with the foundational knowledge of how technology has paved the way for the facilitation of better learning processes while learning Educational Technology 2 imparts the understanding of integrating technology to help the learner become an exemplary user of educational technology.
What are the different types of educational technology?

Educational technology utilises varied types of mass media whether in written or audio-visual forms and includes different technology applications like audio or video platforms, computer-based learning, and web-based learning, amongst others.
We hope you have understood all the objectives of educational technology which is known as a blessing for students as well as teachers. If you're someone actively making use of educational technology and want to pursue it as a career, experts at Leverage Edu can guide you in selecting a suitable course to gain the right knowledge and exposure in this field.