The IELTS exam is widely accepted across top universities in the world. If it's your dream to get enrolled in a foreign university, you need to obtain a score of 6.5 or more in every section of IELTS. That's why in this blog we are going to share some tips to improve your scores from IELTS band 5 to 7. The IELTS exam is divided into four sections namely reading, writing, listening and speaking. Amongst all of them, the speaking section is the most challenging one. Read on to know how to ace this section!
About the Speaking Section of IELTS
The reason why the speaking section requires more attention as compared to writing is that while speaking we have less time to think and comprehend. And this is exactly why we tend to make more grammatical and structural errors while speaking than writing. Another factor is that to speak any language fluently, you need to grasp the right pronunciation of every word, something which doesn't come in while writing. All this together makes the speaking section the most difficult therefore raising your scores from IELTS Band 5 to 7 is significantly dependent on improving your performance in the speaking section.
Want to Improve your IELTS Score? Register for Leverage Live!
Understanding Structure of Speaking Section
The first step towards scoring well in any exam is understanding its structure. To increase your score from IELTS band 5 to 7 you need to first know all about the fronts on which your performance is going to be judged. The band descriptors of the speaking section are the following –
Fluency
Fluency is the first thing which projects your ability to speak a language. To score well you need to be fluent in your interaction with the examiner. Being fluent means that you are presenting your ideas with minimum pauses and repetition. For instance, in the first part of the speaking section, the examiner will converse with you on general things. They might ask you to introduce yourself and talk about some current affairs. In order to be fluent while speaking, it's important to be aware and have ideas regarding everyday things. Because how you speak is highly dependent on the content you have in mind. You are more likely to stutter and involve in repetitions if you don't know what exactly you are talking about. So, first of all have ideas and then present them in a comprehensible manner.
Grammar
Grammar forms the foundation of any language and if you mess it up on the level of grammar it's meant to impact your overall performance. To improve your score from IELTS band from 5 to 7 grammar plays a key role. In the second part of your speaking section, your grammar is tested the most. You will be given a topic on which you are supposed to talk for 1-2 minutes. It will be a spontaneous exercise where you will only be given one minute to prepare and write down important points or quotes. As you are going to continuously speak for a longer duration, you are more likely to commit grammatical errors. To help you perform better, here is a list of the most common grammatical errors that people tend to make:
Tenses – Using "s" while talking about a person in the present tense and "ed" when in the past tense. For instance, "works" is present tense and "worked" is the past tense of the same word. This might seem obvious while writing but while speaking people tend to make this mistake and if you want to score well you need to make sure you have a stronghold over tenses.
Articles – Articles are determiners which come before the noun like "a", "and" or "the" Knowing the correct way to use articles is one way to avoid grammatical errors. There are some basic things that you need to remember. Singular nouns use articles but plural nouns don't. Consider the noun "apple" for example. If we use it in the singular form, the article "an" is used before it. For example, "I bought an apple". But when used in plural form the article is omitted. For example, "I bought apples".
Vocabulary
In the last and third part of the speaking section the examiner will ask you analytical and abstract questions. Here, you will be expected to expand on something which has already been discussed in the first and second part. In this part, you are supposed to give lengthy answers and not precise ones so that you can impress the examiner with your speaking skills. Also, lengthy answers will give the examiners more time to judge your skills. Here, your vocabulary is tested. A good way to score here is by replacing some common words with their better alternatives. For instance, use pleasant or delightful instead of good, awful instead of really bad and moderate instead of so-so. Vocabulary is always a marker of your proficiency in a language. So, make sure you don't repeat words.
Improving Pronunciation to bring IELTS Band 5 to 7
Scoring well in the speaking section is mostly dependent on your pronunciation. So, make sure you pronounce each and every word correctly. And to do that you need to focus on the five main features of pronunciation:
Word tense
Word stress
Sentence stress
Intonation
Chunking
The only way to improve your pronunciation is through practice. Keep listening to recordings in English and try to imitate the tone and intonation. Because when it comes to intonation, the wisest thing to do is copying the rhythm of the native speakers.
Tips to Improve Scores from IELTS Band 5 to 7
There are a few other tips which could help you go from IELTS Band 5 to 7:
Read and Maintain Individuality
Make sure your ideas are original and reflective of your individuality. For that read newspapers, magazines and remain aware of the things happening across the world.
Don't Memorize
Don't give memorised answers because the examiner will know immediately and that will definitely impact your scores negatively.
Create a Study Plan
Work on preparing a study plan as it makes things more organised, helping you reach your goal more efficiently.
Subscribe to Leverage IELTS for more such information
Leverage Edu Rockstars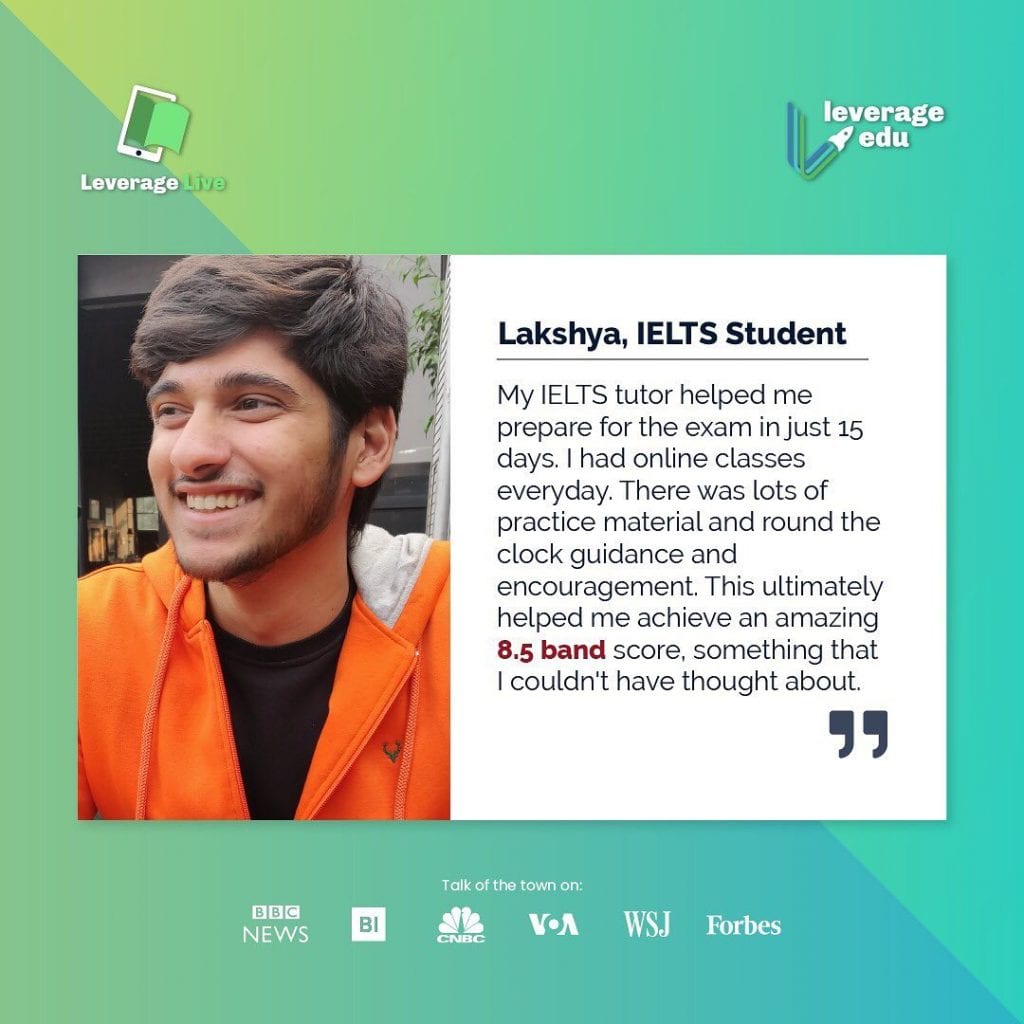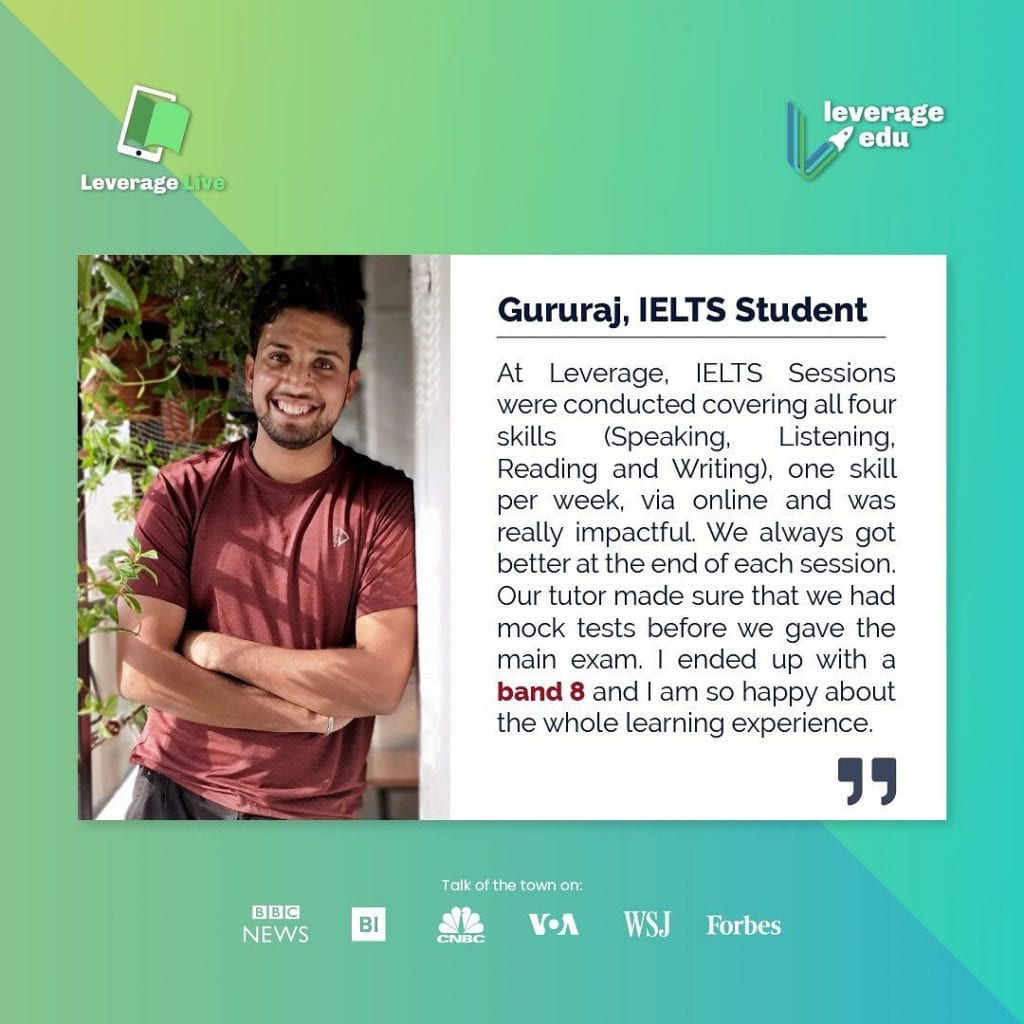 Did you know? Research done by Cambridge suggests that to go up from IELTS band 5 to 7 a minimum of 300 hours is required and if you are studying one hour every day then almost 6 months. But if you work on the grounds of the aspects that we discussed then in 35 days it could be achieved. And our Leverage Edu experts are there to help you achieve this target.
FAQs
How can I improve my IELTS score from 5 to 7?
You can improve your IELTS score by:
Making a Study Plan.
Improving your Vocabulary.
Enhancing Your Writing Skills.
Put Essential Focus on Fluency and Pronunciation.
Practice as much as you can.
Is Band 7 a good score in IELTS?
According to the IELTS performance level, 7 is a good score.
Does anyone get 9 in IELTS?
If your goal is to get Band 9 Overall, you don't need a 9 in every skill. You can get Band 9 in two skills and Band 8.5 in two other skills and get an overall Band 9, by rounding up.
Is IELTS hard to pass?
With proper preparation and guidance, IELTS- the world's leading test of English language proficiency- is not difficult.
At Leverage Edu, you will begin with a mock test which will help us to estimate where you stand and then time will be devoted to improving those parts where the most amount of work is required. Get in touch with us to make sure that you get into your dream university with the required IELTS band score. Call us immediately at 1800 57 2000 for a free 30-minute counselling session.