GMAT or Graduate Management Admission Test is an examination conducted by the Graduate Management Admissions Council (GMAC) which assesses the candidate's reasoning, verbal, analytical, and quantitative skills to grant admissions to some of the top MBA colleges around the globe. Providing MBA aspirants a platform to take admission in an array of Management courses, the GMAT is one of the most important exams when it comes to pursuing an MBA from abroad. The exam is divided into 4 separately timed sections namely- Analytical Writing Assessment, Integrated Reasoning, Quantitative Reasoning, and Verbal Reasoning Section. Let us have a detailed analysis of each of the sections constituting a part of the GMAT syllabus.
GMAT Exam Highlights
Exam Name
GMAT
Full-Form
Graduate Management Admission Test
Official Website
https://www.mba.com
Popular For
MBA courses abroad
Conducted by
GMAC (Graduate Management Admission Council)
Test Duration
3 hours 7 minutes
Mode of Exam
Computer-based adaptive test
GMAT fee
US $250 (INR 18,565 approx.)
Score Range
Min=200
Max=800
GMAT 2022 Exam Format & Syllabus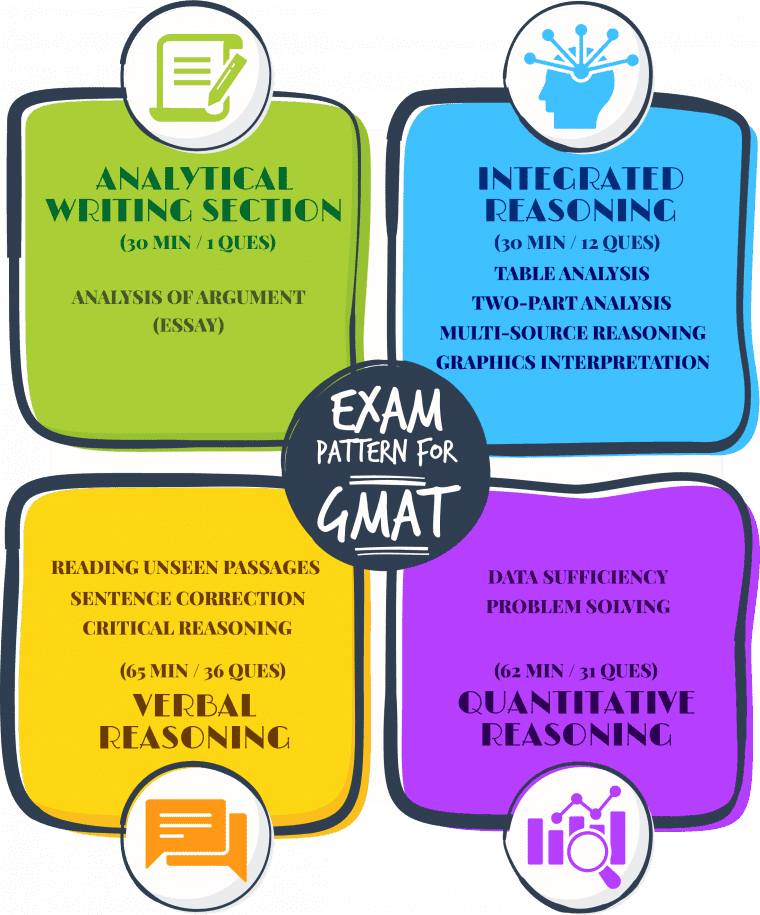 This computer-based test, that measures an applicant's ability on various parameters has four sections. The GMAT syllabus of these parts has been given a rundown below. The total exam time is 3 hours and 7 minutes.
Pattern
Sections
Total Questions
Time
Score
Analytical Writing
This section is designed to test the candidate's written communication skills as well as critical thinking through argument analysis. The syllabus for analytical writing can range from business-related topics to general awareness
1
30 minutes
0-6 [0.5 mark increments]
Integrated Reasoning
1. Graphics Interpretation
2. Two-part analysis
3. Table analysis
4. Multi-Source Reasoning
12
30 minutes
1-8 [1 point increments]
Quantitative Reasoning
1. Problem Solving
2. Data Sufficiency
31
62 minutes
6-51 [1 point increments]
Verbal Reasoning
1. Critical Reasoning
2. Reading Comprehension
3. Sentence Correction
36
65 minutes
6-51[1 point increments]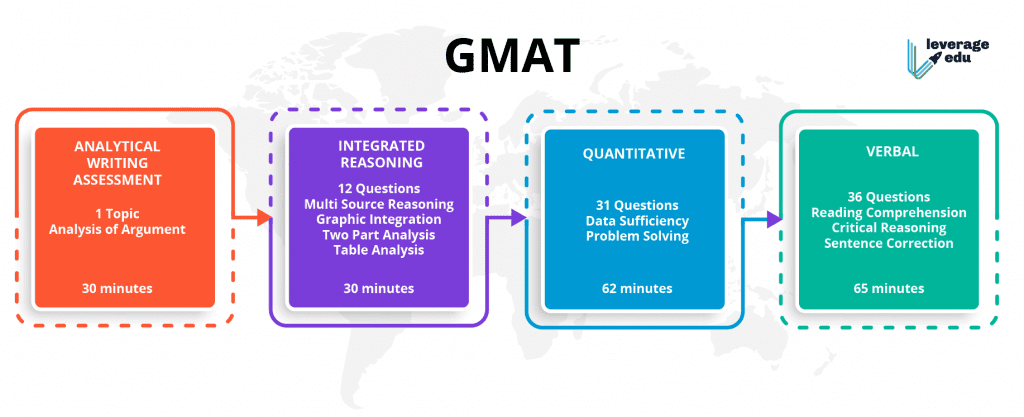 GMAT Syllabus: Analytical Writing Assessment
The Analytical Writing Assessment of the GMAT syllabus tests your critical aptitude skills, and the ability to communicate ideas through a given argument. Here, you will be required to write a judgment or critique of that argument in your own words. The duration of this section is 30 minutes and includes topics of general interest such as business, corporate, and other related fields. There is no necessity of specific knowledge in one field, rather, the ability to effectively communicate the idea and analytical skills are mostly evaluated.
Argument essay
You must analyse the logic in this part before making your case. Keep in mind that your grade will depend on how convincing you believe a certain argument to be. Additionally, make sure the argument is logically solid and avoid making any unfounded assumptions. Give syntax and grammatical priority while defending or opposing the critique offered in the question.
Issue essay
You must compose an essay on the topic assigned to you for this portion. The contender must express their viewpoint in around 600 words. Candidates may express their own opinions or ones that concur with the supplied statement. However, be careful to present your viewpoint in a well-organized manner because this will be the basis on which you are evaluated.
GMAT Syllabus: Integrated Reasoning Section
Under the GMAT syllabus, the Integrated Reasoning Section evaluates data comprehension ability and how you integrate it to make sound and meaningful decisions in favour of the organization. This section would include amalgamating information present in the form of various graphics, texts, and numbers and you will be required to research and evaluate data from diverse sources, analyze the relation between two or more aspects to solve multiple problems. The Integrated Reasoning Section of the GMAT exam would include the following types of questions.
Table Analysis
These questions test the skills of the candidates to interpret and sort the data given in a table or spreadsheet and determine the relevant part.
Multi-Source Reasoning
You will be given infographics, numbers, and/or text passages. You have to analyze the information, answer the multiple-choice questions entailing it, identify the relevant data, any discrepancies in the sources of data and draw conclusions.
Two-Part Analysis
Through verbal and quantitative types of questions, the sub-section of the GMAT syllabus will test your ability to solve complex problems, discern relationships, solve equations, etc. The two-part analysis is versatile enough to cover a large chunk of content.
Graphics Interpretation
You will have to go through the type of questions that are presented in the form of graphical images, such as bar chart, pie chart, statistical curve, x/y graphs, scatter plot, etc, draw inferences from the given information, and answer the questions based on it.
GMAT Syllabus: Quantitative Reasoning Section
The mathematical part of the GMAT syllabus, the Quantitative Reasoning Section will test your complex problem-solving skills, mathematical reasoning, and graphical interpretation ability. The questions in the quantitative section are of two types- Problem Solving and Data Sufficiency and include Inequality Questions, Time and Distance Questions, Percentage Questions, Probability Questions, etc.
Problem Solving Questions
These types of questions require you to use your logical and analytical skills to solve various complex quantitative problems and answer the multiple-choice questions entailing them.
Data Sufficiency
This sub-section of the GMAT syllabus assesses the Data Interpretation ability. Consisting of a question and two statements, you will be required to use the two statements and through their mathematical and analytical skills ascertain whether there is sufficient data in the statement to work out that question.
Here is a list of all the quant topics that can be expected in a GMAT exam:
Monomials, polynomials
Algebraic expressions and equations
Functions
Exponents
Arithmetic and geometric progression
Quadratic equations
Inequalities and basic statistics
Lines and angles
Triangles
Quadrilaterals
Circles
Rectangular solids and cylinders
Number properties
Multiples and factors
Fractions
Decimals
Percentages
Averages
Powers and roots
Coordinate geometry
Profit and loss
Simple and compound interest
Speed, time, and distance
Pipes, cisterns, and work time
Ratio and proportion
Mixtures and alligations
Descriptive statistics
Set theory
Probability
Permutation and combination
GMAT Syllabus: Verbal Reasoning Section
The GMAT syllabus of the Verbal Reasoning Section is designed to evaluate the reading and comprehension abilities through written essays, arguments, Sentence Correction rules, Critical Reasoning, etc. Consisting of 36 multiple choice questions, the section comprises the following three important topics:
Reading Comprehension
This sub-section of the GMAT syllabus includes a comprehension passage that evaluates your ability to understand the words and the logic behind them, draw inferences and determine the relationship between two aspects and interpret the relevancy of the information. The topics may include business-related fields, humanities, biological and physical sciences, social science, etc.
Critical Reasoning
The questions in this section are based on a short passage where you will be required to ascertain which of the given 5 options strengthens or weakens the arguments, or why the argument is flawed, damaged, or supportive. Basically, this section measures your ability to comprehend arguments and formulate an action plan during certain circumstances.
Sentence Correction
In this section of the GMAT syllabus, your English language proficiency is evaluated. While attempting sentence correction questions, you will see that a part or all of the question is underlined and below would be five different ways of phrasing the question. By analyzing the grammar, choice of words, construction of sentences, and other aspects, the questions can be solved.
The subjects covered in the GMAT verbal portion are as follows. They are usually centred on basic grammatical principles.
Rhetorical construction of the sentences
Sentence correction related to finding error or omission
Reading unseen passages
Subject-verb agreement
Critical reasoning
Misplace modifiers
Countable Vs Uncountable
Parallelism
Basic Sentence structure: Nouns, Pronouns, Adjectives
Verb Tense
Idioms & Idiomatic Expressions
Pronoun Agreement
Modifiers
Parallelism
Phrases and Clauses
Articles
Parts of speech
Direct and Indirect
Active to Passive
The only trick to ace your GMAT is to strengthen your conceptual knowledge. Enlisted are a few general tips that could help you prepare for the GMAT exam better:
Practice on a Computer: The exam is purely computer-based and runs for a duration of 3-hours. There are some people who can not pull the mental fatigue of sitting in front of a computer for a long time. Make sure you are prepared for it and the best way for this is to practice as many sample papers as you can, on a regular basis.
Track your Time: Every section on the GMAT comes with a specific time duration and you need to answer every question in the stipulated time. Start this exercise of tracking your speed with a timer when you practice for the exam.
Feed the Brain: Having good memory aids in solving questions effectively. Start by solving sample papers, mark your incorrect questions and redo them until they're perfect. Talk to those who have already taken the exam. You can even solve scores of questions or clear your concepts of difficult topics from some of the best books for GMAT!
Find your Forte: It's impossible to be perfect at everything. There will be some sections of the GMAT exam which will take you longer to learn. But there will be some which won't take you long to ace. Thus, gauge through your strengths and weaknesses and prepare accordingly!
Keep an Eye for Mistakes: Make a habit of identifying and working on your mistakes. If you get stuck on a question, eliminate the process of guessing and answering incorrectly. Take your time and fill the answer which completes the sentence!
GMAT Syllabus vs CAT Syllabus
| | | |
| --- | --- | --- |
| Particulars | GMAT | CAT |
| Full-Form | Graduate Management Admission Test | Common Admission Test |
| Conducted By | Graduate Management Admission Council | Indian Institute of Management |
| Validity | Five years | One year |
| Eligibility | At least 13 years of age | Bachelor's degree with a minimum of 50% marks |
| Frequency | Once a year | Round the year |
| Accepted By | Global Business Schools | Indian Business Schools |
| Exam Mode | Online | Online |
| No. of Sections | 4 | 3 |
| No. of Questions | 80 | 100 |
| Exam Duration | 187 minutes | 120 minutes |
| Exam Fee | USD 250 (INR 18,000) | INR 2000 |
Nationality
All Nationalities Accepted
Age Limit
18 Years
Candidates belonging to the 13-17 age group require written proof of their guardian's consent before taking the GMAT exam.
No upper age limit has been prescribed
Academic Qualification
Bachelor's Degree
Number of Attempts
5 times in a calendar year and up to 8 times in a lifetime
Retaking the GMAT exam
16 Days (Minimum)
GMAT has no fixed or official dates. The exam is conducted multiple times in a year allowing candidates to select suitable dates at their convenience. One needs to keep a gap of 16 days in between if planning to retake the exam. In a year, aspirants can only sit for this exam 5 times in a row. The registration process must be initiated 2-3 months before the exam.
Applicants are provided with the flexibility to apply for the GMAT exam via both online and offline [phone/mail] modes. While for registering through call, candidates will be required to spend an additional $10, for application sent through the mail, cheque, or money order is accepted. Here is a step by step guide on how to register for the coveted exam:
Visit the official website and click on register
Add all the relevant information in the form
Schedule your test and submit the fee
Collate the list of schools you want to share your scorecard with
Review your details
On completion, log in to your account and select your test date and center
List of Best GMAT Books
Here is a list of best selling GMAT books that covers the syllabus comprehensively:
| | | |
| --- | --- | --- |
| Name of the book | Authored | Buy here |
| Complete GMAT Strategy Guide Set | Manhattan | Buy here |
| The Official Guide to the GMAT Review | GMAC | Buy here |
| GMAT Math Prep Course | Nova | Buy here |
| The PowerScore GMAT Critical Reasoning Bible | PowerScore | Buy here |
| Cracking the GMAT Premium – 2019 Edition | The Princeton Review | Buy here |
| GMAT Prep Plus 2019 | Kaplan | Buy here |
| Prep Complete GMAT Course Set | Veritas | Buy here |
If you are wondering about how to get into Harvard Business School or other coveted institutes abroad, then, here are the average GMAT scores of some of the world's leading Business Schools:
| | | | | |
| --- | --- | --- | --- | --- |
| MBA Programs | 2019 Score | 2018 Score | 2017 Score | 2016 Score |
| Harvard Business School | 730 | 729 | 729 | 729 |
| MIT Sloan School of Management | 727 | 728 | 722 | 724 |
| Columbia Business School | 727 | 732 | 724 | 720 |
| Yale School of Management | 720 | 724 | 727 | 725 |
| Cornell (Johnson) | 696 | 699 | 700 | 700 |
| UCLA (Anderson) | 719 | 719 | 716 | 715 |
GMAT Sample Questions
Vijay was 24 years older than Sehwag, 3 years back. At present, Vijay is 5 times as old as Sehwag. What will be the age of Sehwag three years from now?
A. 6 years
B. 9 years
C. 12 years
D. 27 years
There is a Quadilaterial with P(0,0), Q(4,5), R(9,9), S(5,4) as its vertices. Find out the shape of the Quadrilateral.
A. Kite
B. Square
C. Rhombus
D. Parallelogram (not Rhombus)
At 60mph speed, Shikha covers the first 3 hours of her trip, and at 24mph, she covers the remaining 5 hours. Find out the average speed in mph.
A. 32 mph
B. 37.5 mph
C. 44 mph
D. 48 mph
In the following question, find out whether the data is sufficient or not.
There are 2 distinct integers, P and Q. Find out the value of P if the product of these integers is 30.
Statement 1: P > Q
Statement 2: Integer P has an odd value.
Determine whether the highlighted part of the sentence needs any correction or not. If yes, then what is the right answer?
Though I have watched the episode a number of times, I still laughed when James throws his phone.
A. Laugh when James threw his phone.
B. Laugh when James throws his phone.
C. Laughed when James threw his phone.
D. Laugh whenever James will throw his phone.
ANSWERS
9 years
Rhombus
37.5 mph
Both statements are insufficient.
Laugh when James throws his phone.
FAQs
Is GMAT and CAT syllabus the same?
When it comes to the syllabus, it is almost the same for GMAT and CAT. However, the difficulty level of the CAT's Quantitative section is more in comparison to GMAT. Apart from this, there are differences in the pattern, number of questions, sections, and frequency of the exam.
What type of Maths questions are there in GMAT?
The Maths questions in GMAT are Problem-solving and Data sufficiency based. To solve these problems, you should have a good hold over arithmetic, elementary algebra, and some important concepts of geometry.
Is there any negative marking in GMAT?
No, a negative marking scheme is not followed in the GMAT exam. However, the problems are adaptive in nature i.e. the difficulty level will increase if you keep getting correct answers.
What is the difference between the CAT and GMAT syllabus?
The Quantitative Aptitude (QA), Data Interpretation and Logical Reasoning (DILR), and Verbal Ability and Reading Comprehension portions of the CAT curriculum cover topics such as Quantitative, Logical, and Verbal Reasoning (VARC). The GMAT syllabus includes subjects such as Quantitative, Logical, and Verbal Reasoning, which are divided into three sections: Verbal Reasoning, Quantitative Reasoning, and Integrated Reasoning. The Analytical Writing Assessment portion of the GMAT exam is also included, which is not available on the CAT exam. In addition, there are no descriptive questions in the CAT exam.
What is the syllabus for GMAT?
The GMAT syllabus includes subjects such as Quantitative, Logical, and Verbal Reasoning, which are divided into three sections: Verbal Reasoning, Quantitative Reasoning, and Integrated Reasoning. The Analytical Writing Assessment portion of the GMAT exam is also included, which is not available on the CAT exam.
Is GMAT accepted in IIM?
The GMAT score is accepted by 7 IIMs, including the top IIMs of IIM Ahmedabad, IIM Bangalore, and IIM Calcutta, as well as the famous ISB Hyderabad.
Understanding the GMAT syllabus in detail is the first step to scoring well in the exam. If you feel stuck with any section and need guidance on the same then you can enrol in Leverage Edu's online live classes to step up your exam preparation.