Preparation for IELTS requires hard work and undivided attention. Usually, students gearing for the exam are either enrolled in full-time programs or are working professionals who find it difficult to adhere to any institution for their preparation. For them, studying from online sources that are on the go and offer the flexibility to attend the lectures at any time is the most convenient option. So, are you also wondering How to Prepare for IELTS? If yes, read our blog and find out ways to kickstart your IELTS preparation online!

IELTS India Latest News Updates
From 25th July onwards, British Council will no longer conduct the IELTS exam in India. IDP will be responsible for conducting the test across India.
The Aryans Group of Colleges in Rajpura, near Chandigarh, hosted a webinar on the International English Language Test (IELTS), Gateway to International Education. Ms Nidhi Malik, an IELTS trainer, talked with Aryans studying Nursing, Pharmacy, Law, Engineering, Management, B.Ed, and Agriculture. The occasion was presided over by Dr Anshu Kataria, Chairman of Aryans Group.
According to police commissioner Amitabh Gupta, irrespective of the lockdown that was extended by 15 days and new instructions published for Pune, Maharashtra, students have been given permission to sit for competitive tests such as IELTS and GRE beginning in the first week of June.
Subscribe to Leverage IELTS for more such information
How to Prepare for IELTS Online: What is IELTS?
Before proceeding with your IELTS preparation tips and tricks online, it is important to familiarize yourself with the exam. IELTS has been developed to test the English language comprehension ability of those foreign nationals who are seeking to study in English-speaking countries. IELTS was started in 1989 and is managed jointly by the British Council, Cambridge Language Assessment and IDP Education Australia. The exam is designed by an international team of certified experts hailing from different parts of the globe. IELTS scores are recognized by the universities, professional bodies, and immigration authorities in countries like the USA, UK, Canada, Ireland, etc.
Also Read: Study in Australia [2021 Indian Aspirant Guide]
Which IELTS Version are you Preparing For?
Before beginning the IELTS preparation online, gather information about the versions of the test available and which one is suitable for you or accepted by your chosen university. These two versions are slightly different and meant for different purposes, although it depends on the institution one wishes to apply for.
IELTS Academic version is designed for the students who wish to study at the institutions, it is also required in case you wish to practice and study simultaneously.
IELTS General Training Version is designed for the people who want to gain work experience, the test is usually taken for immigration purposes.
Want to Prepare For IELTS Online? Register Here and Get Access to Online Live Classes!
Improving your English Through Online Tools
Improving your language skills can be difficult in the beginning and takes time to adopt. With consistent practice and staying open to feedback, a student can work on them and incorporate new methods to learn the language and become efficient in it, whether writing, reading or speaking. While carrying out your IELTS preparation online, inculcating small habits mentioned below can help you improve your command over the language.
Reading newspapers/articles, blogs online.
Listening to podcasts.
Watching documentaries, English language movies with different accents.
Writing emails/messages to friends and families.
Practising your language skills in daily conversations.
Watch IELTS tutorials online.
Format of the IELTS Examination
Before beginning the preparation a student must be aware of the test format and IELTS syllabus. Starting their IELTS preparation online through sample papers available as well as tutorials will enable them to gather the information of the format and the module of the test which involves Listening, Reading, Writing and Speaking.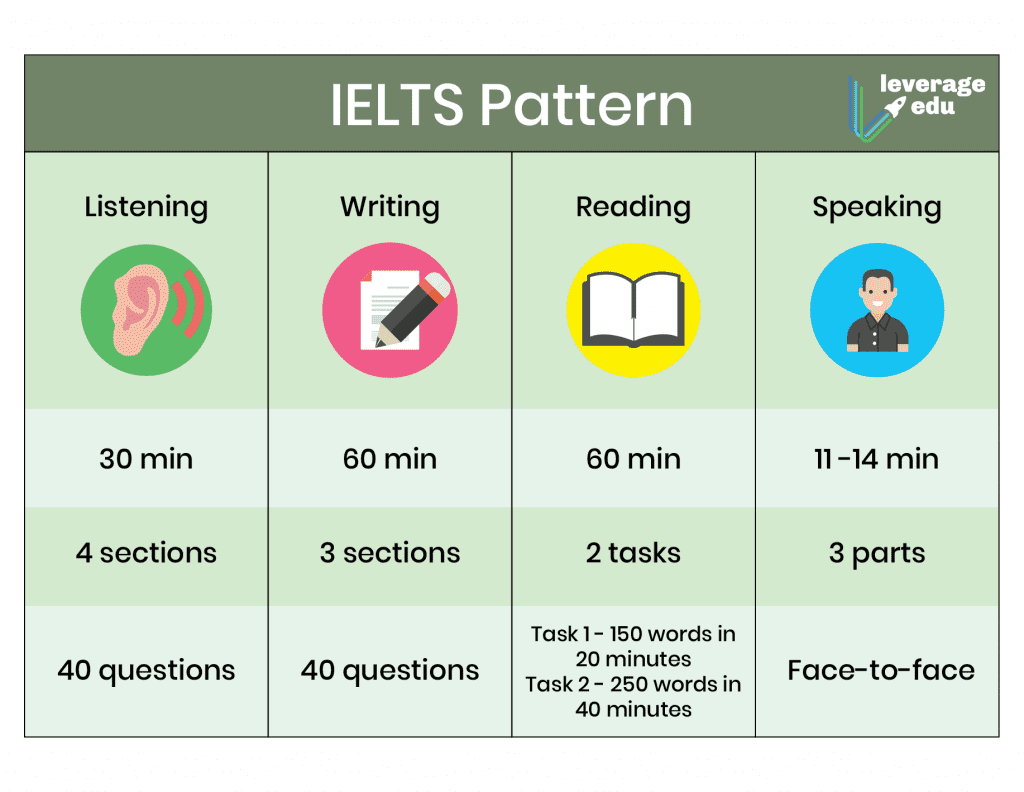 Must Read: IELTS Vocabulary and IELTS Test Tips
How to Prepare for IELTS Online: Tips
Now that you have understood the basic details pertaining to the IELTS exam, let us understand how to prepare for IELTS online!
Understand The Test Format
Before actually jumping onto the answer for how to prepare IELTS online, it is equally important to familiarise yourself with the exam content, format as well as the question and task types for each part. It's also a good idea to go over the IELTS rules and regulations. These are outlined in the Notice to Candidates and Declaration, both of which are included to the application form.
Read and Repeat
Understanding the importance of reading while carrying out your IELTS preparation online, as inculcating this habit would benefit you in terms of improving the vocabulary which is a big part of the test and covers 25% of the mark. Any material available online such as newspapers, articles, journals, stories etc would definitely help you in facilitating IELTS preparation online considering the reading and speech are a central component of the test.
Online Sample Papers for IELTS Preparation
For any student, practising through mock papers becomes essentially important. After starting your IELTS preparation online, you can access the sample papers available on a diverse range of platforms. Look through the pattern and the type of questions that are frequently asked, learn along those lines and practice them daily. This will enable you to recognise your mistakes and weak areas and improve them. Being familiar with the question paper helps you to get mentally prepared before attempting the test.
Courses Available
There are a variety of courses available for IELTS preparation online, which start from the basics of English and build an understanding of the language. It includes different content for all the modules and practice sessions with the answers, to work on the mistakes. Further, there are also many mobile applications available to help you develop speech and vocabulary. This method of learning requires less time if students are looking for simple ways to do IELTS preparation online.
Practice Via Official IELTS Practice Materials
It is also necessary to practice for the IELTS exam using official IELTS practice materials. These books and study tools are intended to assist aspiring IELTS students in understanding the IELTS test format and the types of test questions that may be asked. Listening, Speaking, Reading, and Writing practice tests (both Academic and General Training); Listening, Reading, and Writing answer sheets; Listening and Reading practice test answer keys and Listening tapescripts; sample candidate Writing responses and examiner comments; sample candidate Speaking tests and examiner comments
Know Your IELTS Progress Check
Before your IELTS exam, you should know where you stand. IELTS Progress Check is an authentic online practice test for IELTS that is graded by IELTS trained and authorised markers. Take a timed or untimed test, and you will receive feedback that includes an indicative overall band score as well as individual band scores for each section: listening, reading, writing, and speaking. Assisting you in planning and understanding the areas in which you need to enhance or focus.
Know About Leverage Edu IELTS Success Stories 2021! Here
How to Practice IELTS Speaking Online?
IELTS Sample Test Questions
The best way to ace any exam is by practicing sample test questions. It helps in time management, understanding the exam pattern and syllabus. Here are some of the IELTS sample test questions:
IELTS Preparation Books
While you gear up for IELTS, you ought to have the perfect notes and study materials in order to ace the exam. There are numerous high-quality books with all the relevant contents and audio files to accelerate your preparation for IELTS. Here are some of the popular books for IELTS preparation that you must have in your collection:
IELTS Practice & Preparation Material
One and only tested and proven best IELTS preparation tip is to practice. Practice will make you perfect and you will be able to ace your test. Check out IELTS preparation material that will help you ace the test:
How to Prepare for IELTS at Home?
The global pandemic has changed everything around us. Traditional coaching centers have now started offering online classes. Leverage Live is one of the best online learning platforms available out there for preparation. With well-versed faculty, well-structured study material, high-quality video content, doubt clarification sessions, personalized study plans, and motivating teachers, you will surely get a high score in each section.

FAQs on How to Prepare for IELTS Online!
How can I prepare for IELTS at home?
Simple methods for studying for the IELTS at home are:
Practice questions that will allow you to put your knowledge to the test.
Make a video of yourself taking an IELTS Speaking test.
Try out the computer-assisted IELTS.
Examine your bookshelf.
Take some time to understand everything there is to know about the IELTS exam.
Participate as much as you can online.
Maintain your general English proficiency.
Reach out to Leverage Edu.
How many days does it take to prepare for IELTS?
Any applicant who has opted to take the exam should devote at least one to two days to thoroughly understanding the exam format and content. Once applicants grasp the format, they should plan on devoting at least 14-21 days to each section of the exam.
Can I pass IELTS without coaching?
Yes, you can definitely pass IELTS with flying colours without any coaching with regular practice, hard work, sincerity and dedication!
Is IELTS difficult to pass?
IELTS, the world's primary test of English language competency, is not challenging in and of itself. It examines your talents in listening, reading, writing, and speaking in less than three hours.
Is computer based IELTS easier?
The computer-based test is less difficult than the paper-based test. This is a legend! The test style, question types, time allotted to each exam section, and material are all the same for both the computer-delivered and paper-based tests. If you are technologically savvy, you may want to take the IELTS on a computer.
Preparation for any examination can be taxing and when it comes to IELTS, brushing up your language skills can be a tiring task. Head to our YouTube channel where we have curated useful tutorials and videos to help you carry out your IELTS preparation online. You can also give us a call at +91-8826200293 to book your slot for IELTS training classes and live sessions with Leverage Edu and we will help you with forming a strategic approach to ace the examination! Search us on Facebook, Instagram, and LinkedIn and give us a follow there!