The birth of cinema occurred when the Lumiere Brothers brought moving pictures on a projector and amazed the audience with a simple shot of an approaching train. What began as a leisure activity in the late 19th century evolved into a platform for depicting thought-provoking stories. These inspirational and educational tales were then recreated by different influential filmmakers, who finally altered the purpose of cinema! Now, films are not just a source of entertainment but rather have become a powerful medium to tell stories that often get overlooked and voice issues that are seen as taboos by the ordinary public. Focusing on this notion of the cinema of education, this blog aims to bring you an exclusive list of top educational movies that need to be on your watchlist!
Good Will Hunting
"Nobody is perfect. Everyone has their own little idiosyncrasies. Some people call those imperfections, but no, that's the good stuff."
Winning an Oscar for the Best Screenplay in 1998, Good Will Hunting features at the top of our list of educational movies which is written by the duo, Ben Affleck and Matt Damon. The mathematical prodigy, Will, is brilliant in solving complicated numerical problems but finds himself struggling with the complex equation of them all, i.e. life. He is approached by a mathematics professor to work on a problem but noticing that he is a law-breaker and rebel, he is instead sent to a psychology teacher, Sean Maguire, who helps him face his inner demons and understand what life is really about. 
Explore Creative Writing Courses with Us!
3 Idiots
"Never study to be successful, study for self-efficiency. Don't run behind success. Follow behind excellence, success will come all way behind you."
If you haven't really heard of Rancho's lessons on career and life, then you have surely missed out on real-world education! A coming-of-age comedy-drama, this blockbuster, and critically appreciated film depict the life of engineering students, from the pacing race to be at the top of academics to tackling the ragging of seniors. Amongst the best educational movies of all the time, it encompasses the story of three friends, Rancho, Raju and Farhan, and their college days and takes you on a rollercoaster of learning the ways of the real world, following your inner calling rather than marks, and promoting the ideology of thinking out-of-the-box which can take you places afar!
Must Read: Hard Work is the Key to Success…Or Is It Not?
Dangerous Minds
"Knowledge counts but common sense matters."
This 1995 American Drama is another much-deserved mention in our compilation of educational movies. Based on the true story of LouAnne Johnson, it depicts the endeavours of a retired U.S. Marine turned teacher who was placed in Carlmont High School in a class of African-American and Latino teenagers. Having been called "white bread", she finds her students engrossed in gang warfare, drug pushing and reluctant to be involved in classroom learning in any manner. The film elucidates her quest to implement engaging learning methods using music and extracurricular activities. It emphasizes on how a teacher can bring students to the right path and help them transform into better individuals.
Don't Forget to Read the Importance of Value Education!
The School of Rock
"I service society by rocking, ok? I'm out there on the front lines liberating people with my music!"
[optin-monster-shortcode id="xf2mlnjiouddzrshykdb"]
An eccentric and passionate musician, Dewey Finn finds himself kicked out of his band with which he was going to appear for the Battle of the Bands competition. He does not lose hope and instead, impersonates his best friend to fill the position of a substitute teacher at a prep school in order to earn some money for his house rent. As he begins at his job, his erratic behaviour and no interest in teaching students confuse them but one day, he sees his class during their music session and decides to build his own band for the competition. As one of the funniest yet inspirational and educational movies, the School of Rock is a musical masterpiece that is going to change the way you perceived music especially, the genre of rock and will teach you about teamwork, persistence, and perseverance!
Inspired by the Striking School of Rock, Check Out Music Production Courses!
The Ron Clark Story
"The problem isn't the kids. It's not even what they can achieve. The problem is what you expect them to achieve. You are setting the bar here. Why? Set it up here. They can make it."
Bringing the Friends fame Matthew Perry into a new light, The Ron Clark Story is about an idealistic teacher who moves to Manhattan and gets placed in a class filled with poverty-stricken students who have a reluctant behaviour towards education. As one of those educational movies based on a true story, it depicts the efforts of the renowned American educator Ron Clark who took the challenge of improving his student's test scores and getting them to qualify for the grade. He ends doing a lot more with his interactive teaching and different learning methods, as he reinstills courage and hope into the students, and helping them pursue what they are passionate about!
Get Your Daily Dose of Motivation with Top Educational Quotes!
Nil Battey Sannata or The New Classmate
"She is not imposing her dreams on you. You are her dream, Apu."
Another key mention in our list of educational movies, Nil Battey Sannata is an endearing tale of a mother and daughter that describes the struggles of lower classes who understand the importance of education but face financial constraints in perusing it. The story revolves around Chanda, a single mother working as a maid and her teenage daughter Apu. Chanda has big dreams for her daughter Apu, but the latter dislikes studying and is unable to comprehend the sacrifices made by her mother. Hiding her laziness with the excuse of "a maid's daughter will always be a maid", Chanda gets triggered by her disinterest to study and decides to teach her a lesson by joining her school as a student much to Apu's embarrassment. What this movie essentially teaches is to never limit one's potential and learn to see life as it is and strive to be better!
Here is an exclusive list of AI Movies That You Must Watch Right Now!
The Pursuit of Happyness
"You got a dream… You gotta protect it. People can't do somethin' themselves, they wanna tell you you can't do it. If you want somethin', go get it. Period."
As one of the must-watch autobiographical dramas and educational movies, The Pursuit of Happyness brings to the big screen the real story of the famous entrepreneur Chris Gardner's one-year struggle of staying homeless. After being evicted from his rented apartment and left by his wife, Gardner struggles to meet ends as he takes care of his little boy while pursuing an unpaid internship that promises a full-time salesman position at a big company. Facing all the hardships, he emerges victorious in the end and also is selected for the job! The movie essentially highlights the importance of determination and perseverance which are the crucial ingredients to making it big in the world!
Freedom Writers
"Everybody thinks you should be happy just because you're young. They don't see the wars that we fight every single day. And one day, my war will end. And I won't die."
Based on the book 'The Freedom Writers Diary,' this educational movie follows the story of Erin Gruwell, a young and committed teacher who motivates her class of at-risk kids to learn tolerance, apply themselves, and seek education after high school. Woodrow Wilson High School is situated in Long Beach, California. Erin is unprepared for the character of her classroom, whose kids live by decades of rigid moral standards of defending their own at all costs, despite having chosen the school on purpose because of its integration programme. Instead of giving up, she encourages her pupils to be involved in their education and to prepare for their future. She gives reading material relevant to their life and encourages them to keep journals.
Dead Poets Society
 "You must strive to find your own voice because the longer you wait to begin, the less likely you are going to find it at all."
Dead Poets Society is an excellent instructional film that examines the battle between realism and romanticism as these opposing ideals are taught to pupils at an all-boys prep school. Welton Academy is based on tradition and quality, and it is dedicated to giving the rigidly organised teachings mandated by the realism, anti-youth administration. With the start of each new semester, hundreds of parents forsake their kids, putting them in the capable hands of Welton faculty in the hopes of raising physicians and lawyers. When a substitute English teacher comes, who also happens to be a Welton graduate, he brings with him a love for teaching romanticism, opening up a hitherto unseen world to his students.
Searching for Motivation Through Movies? Take a Look at Top Motivational Movies For Students!
A Plastic Ocean
"There is no such thing as AWAY because plastic is so permanent and so indestructible that when you cast it into the ocean it does not go AWAY."
Films are by far one of the most effective ways to increase global awareness. Craig Leeson's A Plastic Ocean is one of the most recent and startling educational movies or documentaries about plastic pollution. What began as a hunt for the rare blue whale evolved into an examination of the precarious health of our seas as a result of our overdependence on plastic. The voyage took the filmmaker to over twenty different sites across the world, and in addition to portraying the tragic condition in the water, he also deals with many of the ramifications that come with it in a very simple and realistic manner. However, the problem with good documentaries is that they generally include a lot of material that is tough to absorb.
Paper Clips
"Future generations will have to learn about the Holocaust from the textbooks. We are the eyewitnesses that can, to a certain degree, tell you what took place."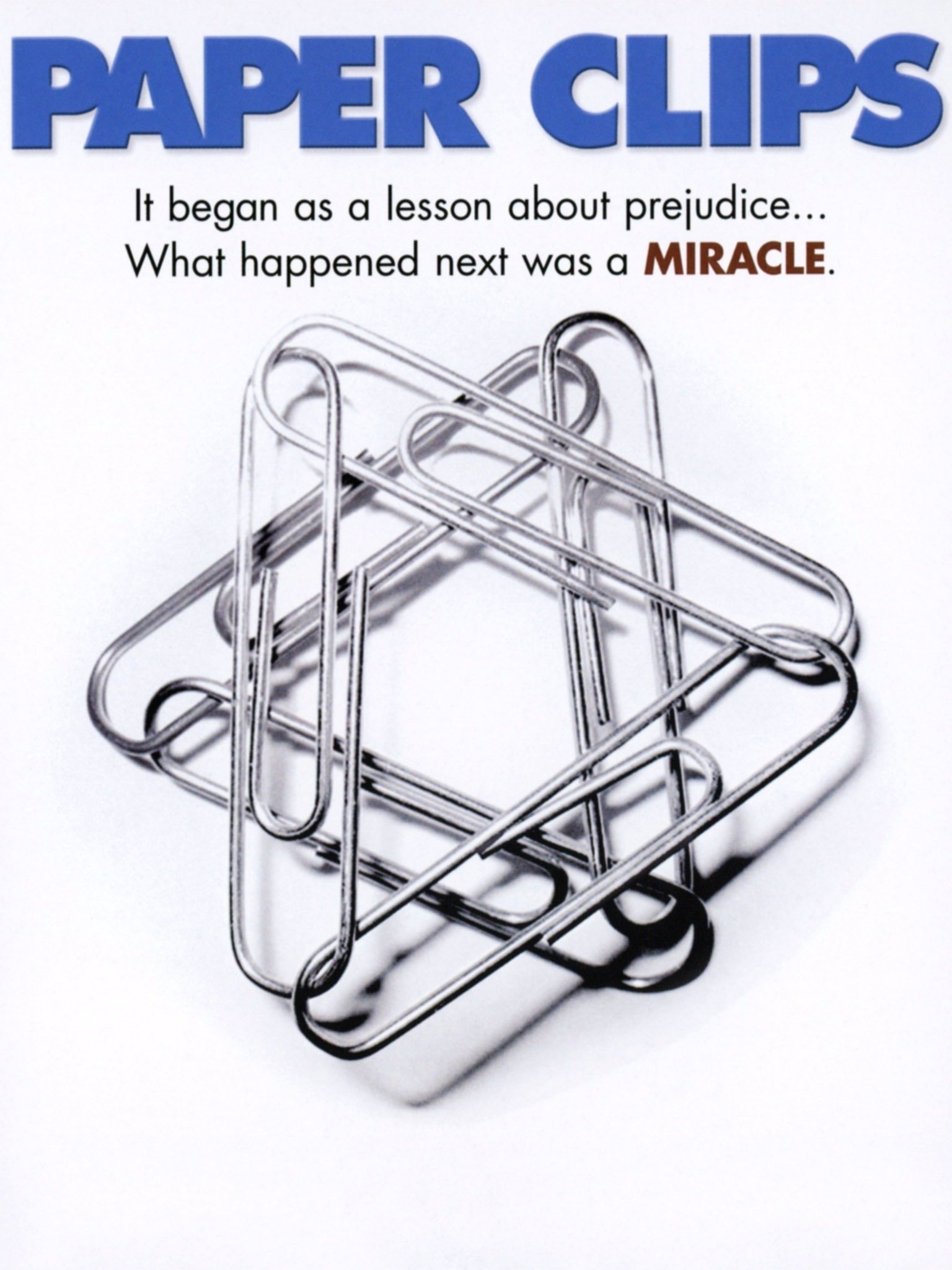 Paper Clips is an amazing and emotional educational movie that depicts how these kids responded to Holocaust lessons—with a vow to collect one paper clip for each individual murdered by the Nazis. In search of an effective approach to teach their pupils about the scope of the Holocaust, Tennessee school authorities develop a one-of-a-kind class activity utilising paper clips. Middle school kids in a remote, predominantly Christian village began collecting paper clips to represent the Jews who died in World War II death camps. After collecting millions of paper clips, the next stage is to install them into a German train car, eerily similar to the Final Solution.
7 Impactful Human Rights Movies Everyone Must Watch!
I Am Eleven
Do you recall when you were 11 years old? Genevieve Bailey, an Australian filmmaker, spent six years around the world interviewing 11-year-olds to create this informative, humorous, and poignant portrayal of childhood. I AM ELEVEN investigates the lives and ideas of youngsters from all over the world, from an orphanage in India to a single-parent family in inner-city Melbourne to swimming with elephants in Thailand. It weaves together intensely intimate and, at times, humorous depictions of what it's like to be on the verge of puberty, that short period when childlike naiveté has departed but teenager self-consciousness has not yet taken hold. These youthful brains, yet unprotected and astonishingly honest, provide a striking glimpse into our world's future.
Hence, we hope that now you have added more educational movies to your bucket list through this blog! Struggling to find the right mentor who can guide you in your study abroad journey? Then, connect with our experts at Leverage Edu who are readily available to guide you at every step of your academic and professional journey. Sign up for a 30-minute free career counselling session today!