We consume information from various types of mass media like social media, print media, television, radio, new media and other outlets in order to be updated with the global happenings. Moreover, with the advancement of the internet and technology, the growth and emergence of media are unmissable. But often, individuals are negatively impacted by various information sources. To identify and assess such behaviours, Media Psychologists play a significant role. In this blog, we will highlight the important details relating to building a career in media psychology, top universities and its related components.
What is Media Psychology?
This specialized area of psychology analyzes the interaction between human behavior and media and technology. Mass media and media content are among the components of media psychology, as well as all forms of mediated communication and technologies in relation to behavior, including use, design, impact, and sharing.
History of Media Psychology
The history of media psychology can be traced back over a century ago. It was first intercepted three-dimensional space on a two-dimensional canvas and applied in The Photoplay: A Psychological Study book in 1916. It was officially recognized in 1986 during Division 46: Media Psychology was established by the American Psychological Association (APA) and the field has been explored since then.
Who is a Media Psychologist & His Role
"What is Digital Media Psychology?" is a common question amongst those who want to explore this new field. There is no consensus definition of the term MP as it is an emerging field of media studies. However, with the term Psychology, we can decipher that it's a field that involves understanding the mental and behavioural activity of a person. Likewise, a media psychologist is one who does extensive research on human behaviour, cognition and response towards media consumption. They study and establish a relationship between a media source of information(media outlets) and receivers. They understand how the media influences human psychology and in what ways by applying various concepts of Psychology and Media Technology.
Skills Required to Become a Media Psychologist
In order to establish a flourishing career in this field, an individual needs to possess certain skills. To bring more clarity, here are the qualities needed-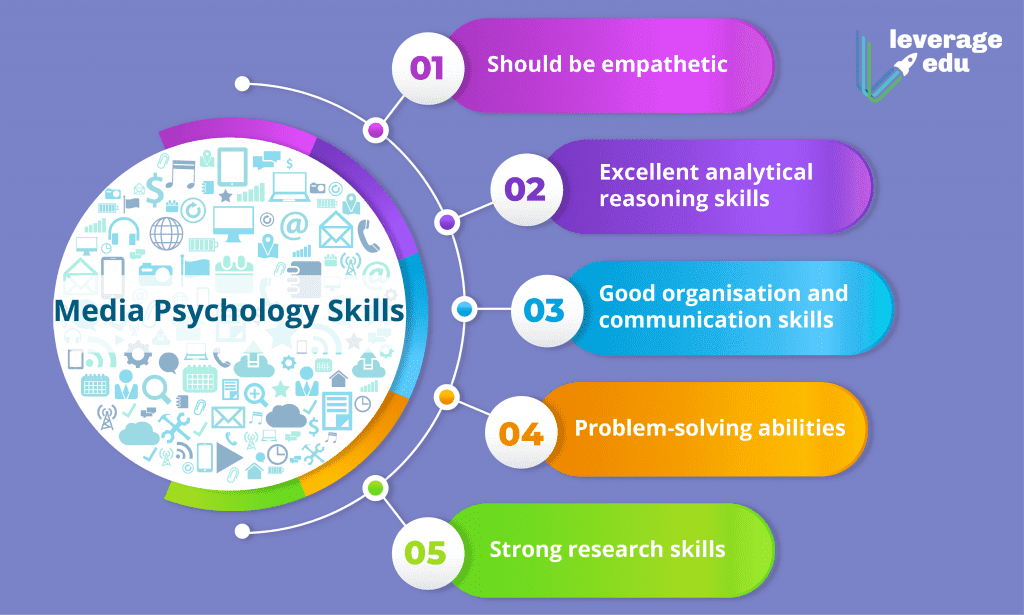 Why We Need Media Psychology
In terms of job prospects, there are lucrative opportunities in the field of Psychology.
The candidates will get an in-depth undertsannding of media nature.
There is a scope for the aspirant in the academia and teaching sector of Psychology in schools and colleges as well
Candidates having an interest in solving Practical and theoretical problems can choose this as their career
It also helps people understand correlation and causality
Media Psychology Courses
Since it is an emerging field, academic institutions often offer this subfield in the form of a minor in Psychology or that in Journalism. However, some universities also offer a full-fledged degree in the same. Moreover, this field is closely related to programs like that in Political Psychology, Immersive Technologies, Neuro Science and NeuroMarketing, Online education, etc. Thus, you can opt for bachelor, masters, or short terms courses in such fields too. Glance through the popular courses of this field-
BSc/BA Media Psychology
Bachelor of Arts in Communication Studies
Bachelor of Arts in Communication – Rhetoric and Political Culture
MSc Digital Media Psychology
Master of Arts in Media and Communication Arts
Master of Science in Mass Communication – Marketing Communication Research
Doctor of Philosophy in Communication, Culture and Media Studies
Media Psychology Syllabus
Social Psychology
Pragmatism and Dissertation
Cognitive Psychology
Psychology of Media and Politics
Cognitive Media Theory
Theories of Personality
Psychology of Stress
Positive Psychology
Developmental Psychology
Psychology of Happiness
Psychology of Gender
Learning Styles
Psychology of Gender
Psychology of Emotions
Counselling Psychology
Eligibility Criteria to Become a Media Psychologist
Go through the following pointers to understand entry related requisites-
For UG Courses: Formal education of 10+2 from a recognized institution
For PG Courses: A UG degree in the same or related field with minimum marks required
Since the field of media studies and journalism is exponentially increasing, academic institutions across the globe are now focusing on offering programs that can provide quality education in various facets of the fields. Take a look into prominent universities that are offering a full-time course in this field:
Apart from the aforementioned Universities, you can also consider the following-
Media Psychology Universities Abroad
Cardiff University
University of Illinois
Career Scope & Future of Media Psychology
There are diverse media-based companies and agencies that hire media psychologists on handsome packages. Enlisted are some of the areas where graduates who have specialized in MP can work:
Job Opportunities & Salary of a Media Psychologist
Broadcast Media, which includes television stations, movie centers, radio stations, newspaper outlets, universities, and educational institutions hire media psychologists on lucrative offers.
Advertisement industries that are growing exponentially also recruit Media Psychologists.
Those with doctoral degrees can work in Government based universities and research centers.
As a Media Psychologist, you can also work as a Public Relations Officer, media consulting officer, etc.
You can work in political parties and other related organisations.
From films, web, and music to video games, Media Psychologists have a prominent role in the Entertainment industry. They assess various parameters including how the industry is helping individuals relax, enjoy, and engage.
Employment Areas for a Media Psychologist
Broadcasting companies
Marketing and advertising firms
Academic institutions
Human services and health care settings
Government and private research facilities
Media Psychology Books
Media Psychology Topics
Communicating the Right Content on the Right Platform
Best Practices for a Healthy Relationship with Media
The Influence of Media on Conflict
Audience Response to Media Content
Mobile App and Interactive Media Assessment
Creating a Brand Story
Health and Media
Communication via Media
Virtual and Augmented Reality
Media and Attitude Change
Media Psychology in Research and Practice
While many other branches of psychology have more defined career paths, media psychology is still in the early stages of determining its scope and purview. The most obvious goal for someone who investigates the impact of media through the lens of psychology is to become a research psychologist in academia.
Even though it is a new field, there are vast employment opportunities for Media Psychology Graduates. If you want to explore this domain but are unsure about which university to study in then don't worry. Reach out to our experts at Leverage Edu who will not only provide assistance in finding the right academic institute but will also help you complete the application process hassle-free!