Psychology has become one of the most opted Medical Science courses both at the undergraduate and graduate levels. From Child Psychology and Theories of Counselling to Developmental and Biopsychology, pursuing Psychology courses will give an in-depth understanding of various facets of the field. Though bachelor-level courses like BA/BSc Psychology can open a wide range of opportunities in Rehabilitation Centres, Welfare Organisations, Research Centres, etc, enrolling on a master's level course like MA Psychology will help you gain advanced knowledge and will aid in skill development.

Moreover, at the master's level, you can specialize in a subfield like Industrial Psychology, Community Psychology, Counselling Psychology, etc. Apart from an MSc, a Master of Arts in Psychology is a popular choice amongst students wherein they read intensively about all the nuances of the field, to which they were introduced at their graduation level. So, if you want to build a successful career in Psychology and are planning to pursue an MA Psychology degree then here is a blog that will shed light on the key details pertaining to this course. 
Who Should Opt for this Course?
Although an interesting specialization course but the type of work Psychologists have to go through is satisfying but excruciating. So, ask yourself some questions before going deeper into the course like:
Can you handle tense situations patiently?
Do you have good analytical skills?
Are you sympathetic and empathetic towards others?
For those of you who could answer these questions affirmatively then, pursuing Psychology courses is best suited for you!
MA Psychology Overview
Master of Arts or MA Psychology is a postgraduate course in which students learn about human behaviour and psychology along with conflict resolution techniques, reactions, mental processes, experimental psychology, human development, etc. Running for a period of 1-2 years, this course aims to train the students to identify, assess, and manage the emotional and behavioural patterns of humans. 
| | |
| --- | --- |
| Course Level | Masters |
| Curriculum Type | Semester/Yearly |
| Duration of Program | Maximum 2 Years |
| Job Prospects | Clinical Psychologist, Psychology Practitioner, Counselor, Mentor, Marriage Counselor, Career Counselor, Therapist, etc. |
Why pursue an MA in Psychology?
Humans may know a lot about the outside world, but we lack an understanding of ourselves. We are moving away from ourselves as the world becomes more complex. Studying this subject aids in bridging that gap.
By 2025, job growth in the Department of Psychology is expected to increase by 25%.
More psychiatrists are needed in the world to deal with stress, high pressure, and growing loneliness among people. This is a field that the modern age has created, and it will only grow with it.
Following an MA in Psychology, students have a plethora of research opportunities.
MA Psychology admissions are typically based on merit, but some colleges, such as Ramakrishna Mission Vidyalaya and Hindu College, hold their own entrance exams. In India, there are two types of admission processes: merit-based and entrance exams.
Merit Basis
Candidates for MA Psychology are admitted based on their merit in their respective colleges after completing their graduation. This criterion is followed by the following colleges:
Fergusson College Pune
IGNOU
Banasthali University, Jaipur
Entrance Exam
For taking admissions in MA Psychology, the scores of the entrance test conducted by the University of Delhi are accepted by colleges like:
Daulat Ram College
Indraprastha College for Women
Zakir Husain College
MA Psychology Entrance Exams
| Exam name | Registration date | Exam date |
| --- | --- | --- |
| BHU UET | 1st week of May to 1st week of June | June/ July |
| PUBDET | 4th week of March, to 2nd week of April, | 2nd week of August |
| APU UG NET | December (last) | 19th December |
| UPSEE | 1st week of April to the Last week of May | Last week of June |
| TS EAMCET | 4th week of March to 3rd week of May | 1st to 2nd week of July |
Subjects Taught
With a special focus on research methods and theories, there are scores of subjects taught in master-level Psychology courses. Although the course curriculum can vary from one university/country to another, the gist remains the same. Enlisted are some of the subjects or topics that are covered in an MA Psychology course: 
Applied Psychometry
Social Psychology
Emotions in Everyday Life
Paradigms of Psychology
Appreciating Diversity
Human Resource Practices
Group Processes in Organizations
Training and Development
Psychology of Advertising
Neuro-sensory
Listening and Communicating
Development of Theories of Mind
Note: This is a generalized list of subjects and can vary from one university and country to another.
Top Universities Offering MA Psychology
With the increase in demand for trained Psychologists, academic institutions across the world now offer a comprehensive MA Psychology course with an option for the students to specialize in a subfield of their choice. The universities listed below not only offer quality education but also provide state-of-the-art facilities, highly experienced academic staff, and labs equipped with basic amenities amongst others. MA Psychology rankings by QS Rankings are mentioned below-
Note: The above-mentioned colleges are meticulously picked as these are the colleges which specifically teach MA Psychology courses. Furthermore, the universities offering this course are not limited to only this list.
Want to know more about the fee structure and the VISA application process? Then, register yourself here to get a free counselling session!
MA Psychology Eligibility
Be it MA/MSc Psychology, the students have to fulfil eligibility criteria as specified by the university concerned. Though the prerequisites will vary based on the study abroad destination and university, here are some generalized conditions to pursue MA in Psychology:  
This is an open post-graduation course which means, a prior degree in the same is not necessary but is advised. 
Candidate must hold a graduation degree from a recognized university in Psychology with a minimum percentage. Usually, the mark lies between 45%-55%. 
Scores of universities also require a valid GRE scorecard. 
The applicant should also have a valid scorecard of English-language proficiency tests like IELTS/TOEFL/PTE.
While some admit on merit bases, you may be required to clear the entrance test of a college/university [if any]. It is thus advised to read everything there is to know about the college that you are applying to.
MA Psychology Skills Required
| | |
| --- | --- |
| Numerical ability | Science skills |
| Work ethics | Emotional stability |
| Research skills | Problem-solving |
| Analytical skills | Communication skills |
Scope of MA Psychology
The M.A. Psychology curriculum is designed to help students not only gain a basic understanding of domain-specific ideas but also to improve overall interpersonal and leadership skills. Because this field is so diverse, job opportunities can be found in NGOs, rehabilitation centres, juvenile justice departments, educational institutions, government organisations, and the sports industry, to name a few.
Students with an M.A. in Psychology can go on to earn an M.Phil. or PhD in Psychology or a related field. This will enable you to pursue higher-paying positions, further broadening your horizons. Clinical Psychology and psychiatry are two other important courses in this field.
MA Psychology: Career Prospects
Upon completing an MA Psychology course, one can always go for an M.Phil or PhD in Psychology to advance further in the field. But, for all the students seeking employment opportunities after their MA, this is a choice section of the blog for them. The major recruiting industries and profiles have been given a rundown below: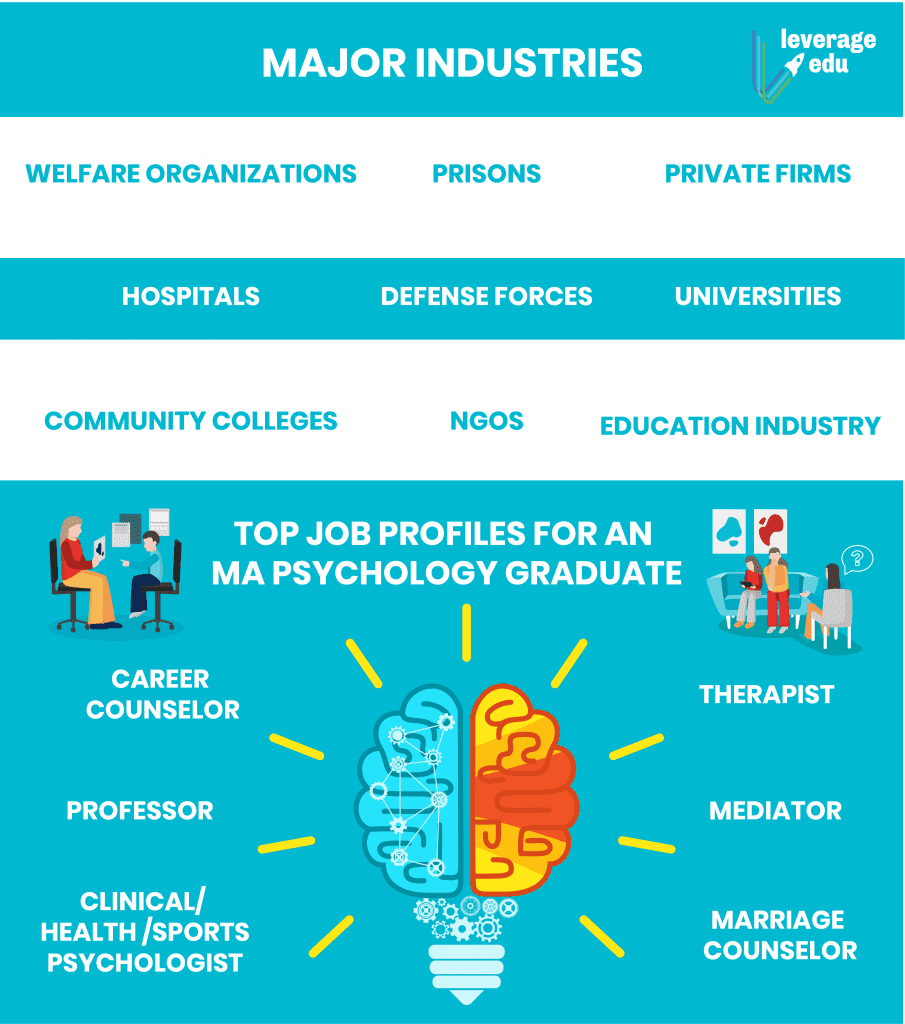 Top Recruiters
Vcare Counseling Centre
Medanta
Veda Rehab and Wellness Private Limited
The Mind Clinic
Fortis
Mind Care Centre for Counselling
Apollo
Institute Of Psychiatry
Delhi University
Jamia Millia Islamia University
Over a Cup of Tea – Psychological Wellness Centre
Central Institute of Psychiatry

FAQs
Which is better MA psychology or MSc psychology?
Master of Psychology degrees can be obtained as either a Master of Arts (MA) or a Master of Science (MS) (MSc). An MSc degree is more likely to be focused on research and the sciences, whereas an MA degree is more likely to be focused on the arts and humanities aspects of psychology.
Is MA psychology difficult?
Psychology is one of the more difficult degrees, and many of your assignments will require you to cite your sources and back up many of your arguments.
What is the eligibility for an MA in Psychology?
Candidates must have a graduation degree from a recognised college or university in order to be eligible for admission to MA Psychology in India. Most prestigious universities require students to have an honours degree in Psychology or to have studied Psychology as a subject during their undergraduate studies.
Bringing peace in a life of chaos, the job of a Psychologist and counsellor can thus be tough yet satisfying. If you are interested in pursuing an MA Psychology course from a university abroad but are unsure about the specialization most suited for you then, take the psychometric test at Leverage Edu. The team of experts will gauge your profile and recommend the best-suited course as well as the educational institute to kickstart your career abroad!