The tourism landscape has grown exponentially over the years. From the Hotel industries to the Aviation sector, jobs are increasingly growing, giving unmissable impetus to Travel and Tourism Management. Though there are scores of Hotel Management courses after 12th and graduation, MBA in Hotel Management, due to its vast career scope and lucrative salaries has become a popular option. Here is a blog that will shed light on the essential information related to this course, popular universities, and eligibility requirements! 

| | |
| --- | --- |
| Course Name | Masters in Business Administration in Hotel Management |
| Course Level | Postgraduation |
| Course Duration | 1-2 Years |
| Eligibility | Bachelor's Degree in any course |
| Admission Process | Entrance Exam or Merit-based admissions or Direct Admission |
| Average Course Fees | INR 3 Lakhs to 16 Lakhs |
| Salary offered | INR 2,00,000 to INR 6,00,000 at the beginning |
| Top recruiting companies | Hyatt Hotels Corporation, Taj Hotels Resorts and Places, The Lalit Hotels, The Oberoi Group, InterContinental Hotel groups, Cruises, ITC, OYO, Zomato, etc |
MBA in Hotel Management: Overview
An MBA in Hotel Management is a 1-2 year-long degree program at the postgraduation level which will keep you abreast of the nuances of the industry. Apart from the basic principles related to the sector, the course will impart extensive knowledge in areas like Financial Accounting, Tourism Planning, Food Safety, Human Resource Management, Hotel and Tourism related laws, Communication Skills and Research Methodologies, etc. However, you will also need to work on your Interpersonal skills like being a customer-centric, friendly, and empathic professional. 
In a nutshell, an MBA in Hotel Management is concerned with the overall management and operation of a hotel, resort, or other hospitality business. The postgraduate in Hotel Management has the opportunity to work in some of the country's most prestigious hotels. People who are outspoken, polite, empathetic, and have a strong desire to provide excellent customer service have a lot of opportunities in the hospitality industry.
Why Study MBA in Hotel Management?
Some of the reasons why pursuing an MBA in Hotel Management Courses are as follows:
Demands: According to numerous website reports, the hotel sector is always growing. Every year, the demand for tourism in India grows. Hiring a hotel executive with good communication skills will thus be beneficial to the firm.
Great Opportunities: After completing an MBA in Hotel Management, students will have numerous job alternatives including cabin crew, supervisor, manager, customer service executive, restaurant manager, food & beverage manager, and many more.Career Growth: According to the most recent job forecast, the demand for a hotel manager will expand by 12% in the next ten years. As a result, a hotel management graduate with good management skills would have a good wage package and a stable position.
Opportunities to learn: As hotel businesses expand, the world of tourism expands, providing individuals with the opportunity to learn some other skills in addition to the requirements to boost their chances of gaining jobs.
Job Opportunities Abroad: Students have the possibility to work at hotels located outside of India. This gives them the opportunity to earn foreign money and have foreign hotel experience on their resume.
Types of MBA in Hotel Management Course
Candidates can study a variety of MBA in Hotel Management courses. With the increased demand for tourism and the hospitality industry, job possibilities for hotel management graduates are plentiful.
Colleges around India have begun to provide various forms of MBA in Hotel Management degrees to students. In addition to the full-time MBA in Hotel Management, students will have the option of enrolling in hotel management courses online.
| Types | Eligibility | Admission | Average Fees |
| --- | --- | --- | --- |
| Full time | 10+2 in science stream | Merit/Entrance Exam Based | INR 2 – 8 Lakhs |
| Online | 10th level of education | Simply applying on the provider websites | INR 5,000 – 80,000 |
MBA in Hotel Management: Course Components and Subjects
In your MBA in Hotel Management program, you will have to accustom yourself with the dynamic course range the respective university offers. Mostly, you will have to study the below-mentioned areas comprehensively: 
Principles of Travel, Hospitality, and Tourism
Human Resource Management
IT for Tourism and Hotel
Cargo Management
Food & Beverage Management
Entrepreneurship Development
Tourism Hospitality and Marketing Management
Hotel Facility Management
Essentials of Business Management
Law for Global Business
Managing with Technology
Applied Marketing
Food Production
Beverage Service
Travel Management
Hospitality and Organization Management
Applied Managerial Economics
Strategical Financial Management
Hospitality Law
Food Safety and Nutrition
Central Reservation System Procedure
Business Operations
Business Strategy
People and Systems in Organization
Industry Training
Front Office Theory
Cargo Management
Accommodation Management
Entrepreneurship Development
Financial accounting for Tourism and Hotel Business
Note:The course curriculum and subjects can very from one university to another.
MBA in Hotel Management: Popular Universities Abroad
Choosing a university that offers top-notch programs, a diverse curriculum, professional faculty, and opportunities to gain hands-on experience is as important as selecting a specialisation. So, to make it easier for you, here is a list of popular universities offering multi-disciplinary courses in Hotel Management. While some offer MBA in Hotel Management, others are known for their variants.  
University/Institute
Location
Course
Duration
Cornell University
USA
Master of Management in Hospitality
1 Year
University of Nevada
USA
Dual MBA/MS in Hotel Administration
3 Years
University of Cumbria
Switzerland
MBA Tourism
1-4 Years

(Varies based on part-time/ full-time/online type)

Les Roches Global Hospitality Education
Switzerland
MBA in Global Hospitality Management
1 Year
EU Business School
Spain
MBA – Leisure & Tourism Management
1 Year
Glion Institute of Higher Education
Switzerland
Dual MBA and MSc in International Hospitality Business
2 Years
Griffith University
Australia
Master of International Tourism And Hospitality Management
2 Years
Hotelschool The Hague
Netherlands
Master in Hospitality Management
13 Months
Hotel School Vatel
France
MBA in International Hotel Management
2 Years
Blue Mountain International Hotel Management School
Australia
Masters of International Hotel Management
2 Years
University of Sunderland
UK
Master of Business Administration (Hospitality Management)
1 Year
Stamford International University
Thailand
MBA in Hotel and Tourism Management
1 Year
Popular Universities in India
The following is a list of top colleges that offer an MBA in Hotel Management program:
| | | |
| --- | --- | --- |
| University/College offering MBA in Hotel Management in India | Location | Average Fee in INR |
| Indian Institute of Hotel Management | Multiple Campuses | 88,000- 1.5 Lakhs |
| Sun International Institute of Tourism and Management | Visakhapatnam and Hyderabad | 1.5 lakhs to 2 lakhs |
| Chandigarh University | Chandigarh | 1.6 lakhs to 2 lakhs |
| Lovely Professional University | Jalandhar | 2.9 to 3 Lakhs |
| Amity University | Noida | 1.7 to 2 Lakhs |
| Rathinam Institute of Management | Coimbatore | 1.2 Lakhs |
| Universal Business School | Mumbai | 5.5 Lakhs |
| RIG Institute of Hospitality & Management | Greater Noida | 1.5 lakhs to 2 lakhs |
| Alliance Institute of Hotel Management | Visakhapatnam | 1 Lakh |
MBA in Hotel Management Entrance Exams
Entrance Exam
Registration Date
Exam Dates
ATMA
1st week of June 2023
July 23, 2023
CAT
August 3, 2023
November 26, 2023
CMAT
February 13, 2023
To be Announced
GMAT
To be Announced
To be Announced
NMAT
September 2023
November 2023
SNAP
2nd week of August 2023
2nd week of December 2023
XAT
To be Announced
MBA in Hotel Management: Eligibility
Since the MBA in Hotel Management is a postgraduate programme, it requires a bachelor's degree or graduation in any field. 
The pursuer must hold a bachelor's degree from a recognised university with a minimum grade point average of 50%. 
Entrance exams such as the GMAT/CAT/MAT, among others, are required for admission to any management college in India or abroad. 
Some colleges have their own admissions test, and admission is dependent on the results. Some universities and colleges offer merit-based admissions, and some require a personal interview and group discussion following the written entrance exam to identify the best candidates for the course.
Must Read: CAT vs GMAT- The Unbiased Answer [2021] and GRE vs CATGRE vs CAT
MBA In Hotel Management: Scope
When it comes to the career prospects and scope of pursuing an MBA in Hotel Management, you will find employment opportunities across various Travel, Tourism, and Hospitality related sectors. Enlisted are some of the prominent areas where you can find Hotel Management jobs.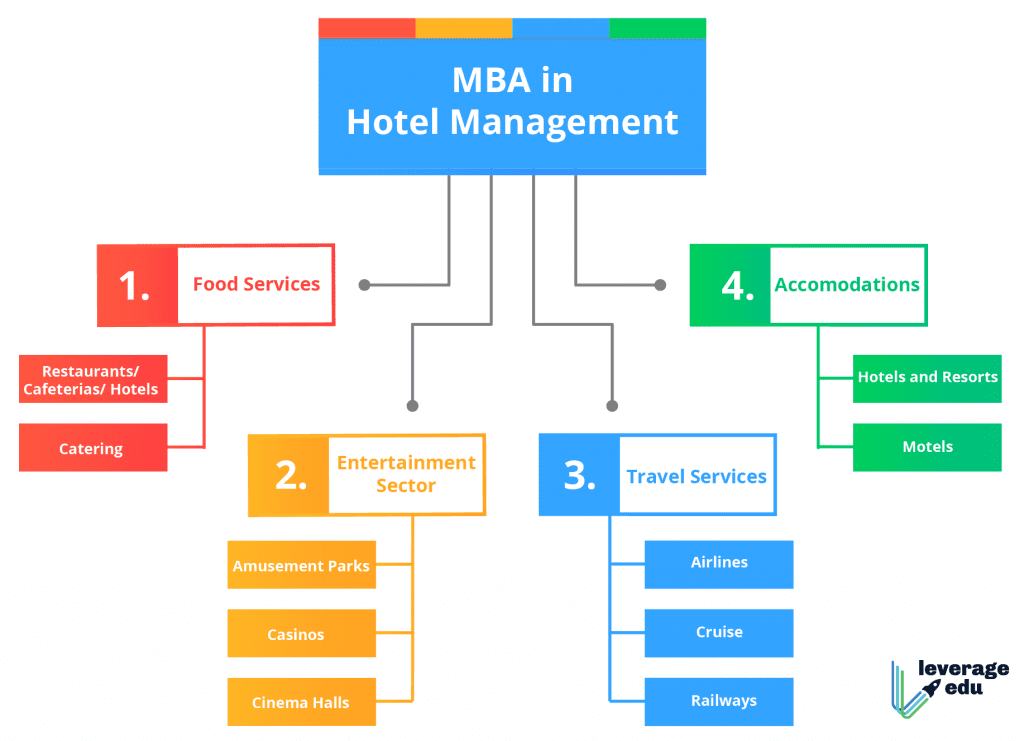 Work Profiles and Recruiting Areas
Now that you are familiar with the industries you can work in, here are some of the popular work profiles you can work upon graduating with an MBA in Hotel Management degree:
Restaurant Manager
Executive Chef
Duty Manager
Assistant Sales Manager
Account Executive
Food and Beverage Manager
Catering Officer
Marketing Officer
Front Desk Manager
Human Resource Developer
Finance Manager
Casino Manager
Cruise Director
Entrepreneur
Cabin Crew
Hotel Manager
Hospitality Executive
Head Chef
Industries that recruit MBA in Hotel Management students are as follows:
Hotels
Resorts
Casinos
Educational institute
Cruise
Airline companies
Airports
Restaurants
MBA in Hotel Management: Top Recruiters
| | |
| --- | --- |
| Taj Group of Hotels | Leela Group |
| Oberoi Group of Hotels | Shangri-La |
| ITC Welcome Group | Ramada |
| Asian Hotels [Hyatt Group] | Country Inn Suits |
| Bharat Hotels [The Lalit Group] | Radisson Chain of Hotels |
| J.P. Hotels | Hotel Nikko Metropolitan |

FAQs
What is the scope of MBA in hotel management?
This curriculum provides students with a comprehensive understanding of the tourism industry as well as a foundation of hospitality.
Can I do MBA in hotel management after BCom?
Yes, candidates with a BCom degree can easily pursue an MBA in Hotel Management. Candidates who have completed their bachelor's degree in either stream with a minimum of 50% marks are qualified to apply for the MBA in Hotel Management program.
Is MBA good after hotel management?
Adding an MBA to your resume after completing Hotel Management, on the other hand, will raise your profile and provide new opportunities. However, it should be noted that pursuing an MBA after Hotel Management solely for the purpose of obtaining one will not be as advantageous.
How hard is hotel management?
The hotel management industry is unquestionably a challenging profession, given the wide range of responsibilities you will be responsible for. One must be able to adapt to new situations, handle several teams, and ensure that your hotel provides high-quality service.
Which degree is best for hotel management?
1.Diploma in Hotel Management & Catering Technology.
2.BSc in Catering Science and Hotel Management.
3.BBA in Hospitality Management.
4.MBA in Hospitality Management.
5.MBA in Hotel Management and Tourism.
Is hotel manager a good career?
A hotel general manager's pay varies depending on the industry. When dealing with five-star hotels, a hotel manager's salary package is excellent. A decent career as a hotel general manager can be had with the right qualifications and experience.
What skills do hotel managers need?
Good communication skills.
Good interpersonal skills.
The ability to motivate other members of staff.
The ability to discipline other members of staff.
The ability to remain calm under pressure.
The ability to work well as part of a team.
Good leadership skills.
Not sure how to get started with the application process to pursue MBA in Hotel Management? Then reach out to our experts at Leverage Edu through an E-meeting where the counsellors will not only provide assistance in completing the application formalities but will also help you craft an SOP that makes your candidature stand out from the rest!