Think of football and you will automatically mention the 'GOAT' himself, 'Lionel Messi'. The name is enough to make an impression of one of the greatest footballers that the world has and the passion that he possesses for the sport he plays. As some of us might not know him by his full name Lionel Andrés Messi, he was born on 24th June 1987 in Rosario, Argentina. Later on, he moved to Spain at the age of 13 where he was offered the chance to train at FC Barcelona's youth academy. Today, he is one of the most appreciated and valued players in the world of football who captains the National Football Team of Argentina and FC Barcelona and is globally recognized by his jersey number #10. This blog explores the interesting facts about the 'GOAT', as fans may call him, Lionel Messi.
Also Read: Sunil Chhetri: India's Goal Machine!
Lionel Messi- The Legend with 7 Ballon d'Or
29th November 2021 will be marked as another remarkable day in the history of football.
Messi again justified the title of GOAT that has been given to him by securing the 7th Ballon d'Or. Theatre du Chatelet in Paris, hosted the ceremony where Messi made this ground-breaking record. 
He spent the majority of 2020 in Barcelona before ending his 21-year old journey with the club. In August 2020, he moved for free and joined PSG. Prior to 2021, Lionel Messi had won Ballon d'Or for years like 2009, 2010, 2011, 2012, 2015 and 2019. "It's incredible to be here again. 2 years ago I thought it was the last time. Winning Copa America was key," Messi said.
1. F.C Barcelona Hired Lionel Messi with a 'Napkin' Contract
The renowned scout of F.C. Barcelona's Carles Rexach had visited Rosario in 2000 to see 12-year-old Lionel Messi playing football. Although he was a very experienced coach, he was so impressed by Messi's performance on the field that he hired him immediately by signing a contract on a piece of napkin.
Must Read: Sourav Ganguly- God of the Offside
2. Growth Hormone Deficiency
When Messi was 11, he was diagnosed with a growth hormone deficiency. He came to notice this as he was not very healthy during his childhood days like others of his age. This deficiency was stopping his normal growth. The treatment was very expensive and his parents couldn't afford it as it was nearly $900 a month.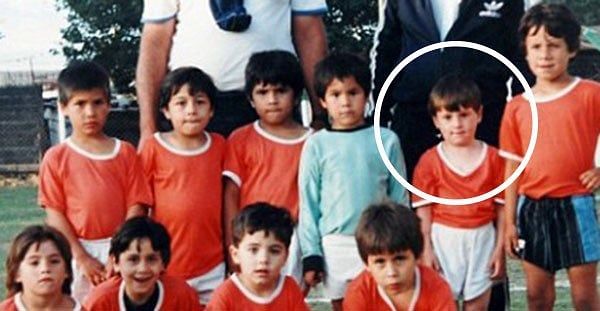 Tokyo Olympics: List of Indians Participants 2020 Updates
3. Spain vs Argentina: Messi's Choice
A few years after Messi's arrival in Barcelona, he was invited by the Spanish Football Team to join them as the Royal Spanish Football Federation (RSFF) was so impressed by his performance. However, Messi had different plans. He looked up to former superstar Diego Maradona and wanted to play for Argentina. So he refused the offer to play for the Spanish football team. On hearing about this decision of Messi, Argentinian Football Association organized a friendly match as they had no clue who Messi was.
4. Lionel Messi and His 700 Goals
This number wouldn't be a surprise for the Messi fans, knowing how talented he is. He has often been compared with the console players as they score hundreds of goals. Messi has nearly 700 hundred goals playing for F.C Barcelona and Argentina's National Team in various competitions since 2004, his debut year. He was the top scorer in various competitions like:
Top scorer in La Liga
Top scored in Copa del Rey
Top scorer for Argentina
Must Read: MS Dhoni, the Captain Cool of Indian Cricket!
5. Lionel Messi Dedicates his Goals to his Late Grandmother
If you are an ardent football fan, you must have noticed that after every goal, Lionel Messi looks up at the sky and people assume he is praying. However, the reality is he dedicates all of his goals to his late grandmother, Celia Olivera Cuccittini. Messi states that it was his grandmother who had first noticed Lionel Messi's talent and took him to the football pitch to ensure his talent doesn't go to waste. Because of her, he actually became the greatest footballer of all time.
6. Won his 1st International Trophy for Argentina in 2021
While they may come across as an extremely surprising fact, it is true that Messi did not win a single international award in 16 years of his career with Argentina. He has won the Under 20 world cup and a gold medal at the Olympics with Argentina. However, it was in this year that Messi won his first international award by winning the Copa America 2021.
7. Lionel Messi – The King of El Clasico
Lionel Messi, undoubtedly, is one of the greatest players of our time. Although all of his hat tricks have been great, some of the most remarkable ones are the two that F.C. Barcelona fans will always remember. Lionel scored his first hat trick in the Clasico against Real Madrid in 2007 at the age of 19 and then in 2014. He also broke the record of 18 goals in the Deby which was held by another top player of Argentina, Alfredo Di Stefano.
8. Guinness World Records
For a lot of you, this may come as a shocker that the star player Lionel Messi holds a Guinness World Record for the 91 goals that he scored during the year 2012. Leo Messi reached new heights with this record in 2012. In a calendar year, he scored 91 goals for Barcelona (59 in La Liga, 13 in the Champions League, 5 in the Copa del Rey, and 2 in the Spanish Super Cup), plus 12 for Argentina. As a result, the Argentine broke Gerd Müller's 1972 record of 85 goals. If we include the 24 assists he provided throughout the course of the year, we can conclude Messi had a hand in 115 goals in 2012.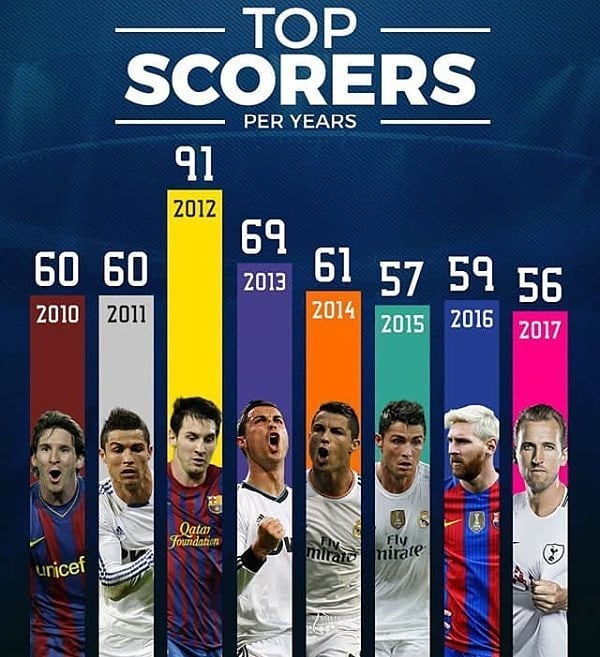 Check out our blog on: How to Start a Career in Sports & Top 10 Sports Careers
9. Lionel Messi: Recognition as 'GOAT'
The Copa America 2021 ended on 11th July with Messi winning his first international award with Argentina in 16 years. With this victory, the fans rejoiced and claimed Messi to be the official 'GOAT' (the Greatest Of All Time). Fans also demanded the seventh Ballon d'Or for the Argentine footballer.
10. Records and Trophies
Messi has won a number of titles and awards in his career. Listed below are a few of the popular honors, trophies, and awards of Lionel Messi that he has achieved with his utmost hard work and dedication:
Trophies
Listed below are Messi's achievements and trophies that he has won with Argentina:
FIFA World Cup Finalist- 2014
Beijing Olympics Games Gold Medal- 2008
U20 World Cup- 2005
Copa America- 2021
Tabulated below are Messi's achievements and trophies that he has won with Barcelona:
| | |
| --- | --- |
| Trophies/Tournaments won | Frequencies |
| Champions League | 4 |
| LaLiga | 10 |
| Club World Cup | 3 |
| European Super Cup | 3 |
| Copa del Rey | 7 |
| Supercopa de España | 8 |
Individual Achievements
Some of the most famous individual achievements that Lionel Messi has won and achieved in his football career to date includes:
| | |
| --- | --- |
| Individual Achievements | No. of times won |
| Ballon d'Or | 7 |
| World Player | 1 |
| European Golden Shoe | 6 |
| Laureus World Sports Awards | 1 |
| Pichichi LaLiga | 7 |
| MVP LaLiga | 9 |
| Champions top scorer | 6 |
| FIFA FIFPro | 1 |
| 2014 World Cup Golden Ball | 1 |
| Men's Player of the Year | 2 |
| MVP Copa América | 1 |
| Onze d'Or | 4 |
Records
Following are some of the prestigious records that the 'GOAT' has made in his football career:
All-time top scorer at the same club
FC Barcelona all-time top goalscorer
All-time top goalscorer in LaLiga
Most games played as a Barcelona player in its history
Top goalscorer in the 21st century
Most trophies won as a Barcelona player
Top goalscorer in El Clásico
Guinness World Record as top goalscorer for the club (91 goals)
Most goals in a LaLiga season (50 goals)
Argentinian with most honors
The game's all-time leading Argentine goalscorer
Argentina's all-time leading goalscorer
All-time top goalscorer in the Champions with the same team
Most games played with Argentina in its history
Check out our top reads: Sunil Gavaskar, the Little Master of Indian Cricket!
Unique Facts about Messi
Messi shares his birthplace with the Argentine revolutionary Che Guevera
Barcelona was so impressed with Messi's foot skills that they offered to pay his medical bills and move the family to Spain. They wanted to do so just to sign him when he was 13.
His 2005 international debut lasted 47 seconds when he received a red card after coming on as a substitute.
Messi took over the No. 10 Barca jersey from another great footballer Ronaldinho in 2008.
So, this was all about the star player, Lionel Messi. We hope you found this blog to be insightful and useful. Messi indeed can be called the 'GOAT' with his legendary performances. Messi continues to inspire millions across the globe to pursue their dreams and don't come to a halt with your flaws. He is a true example and a perfect role model who teaches the world to accept our flaws and work on them to reach new goals and heights in life. For more such inspiring and amazing reads, stay connected to Leverage Edu and subscribe to our newsletter!