In an entertainment career spanning more than 30 years, India's widely praised actor and artist Irrfan Khan has given an astute presence and breathed life into a variety of memorable film characters with his soulful voice, charismatic aura and impeccable facial expressions. He was famously known for his successful Hindi films, as well as for his distinguished work in Hollywood and British movies.
Irrfan Khan was regarded by so many to be among the finest actors in modern Indian cinema. Sadly, he passed away, when he was 53, in Mumbai, India, on 29th April 2020, succumbing to a colon illness caused by an unusual type of cancer. On his 54th birth anniversary, in this blog, we will honour the legend that was Irrfan Khan.
Early Life And Family
Sahabzade Irrfan Ali Khan, who was otherwise known as Irrfan Khan was born on 7th of January, 1967. He was raised by his parents in Jaipur, India into the Nawab family of Muslims.
Khan's mother, Saeeda Begum Khan, was from the village of Tonk, and his father, Yaseen Ali Khan, was from the town of Khajuriya in the Tonk district of Rajasthan, and they ran a tyre market. He had spent his youth in Jaipur. Irrfan was strong at cricket and was picked to participate in the CK Nayudu Trophy for talented youngsters in the under-23 grade, a competition that was seen as a necessary step to first-class cricket in India. He couldn't continue citing the lack of funds to play cricket.
Education of Irrfan Khan
Irrfan Khan pursued his M.A. degree in the National School of Drama (NSD) where he earned a scholarship to continue his studies in New Delhi in 1984. He expressed his passion for acting under the guidance of his uncle, who himself was a small-time theatre artist in Jodhpur.
In the city of Jaipur, Khan was exposed to well-known theatre artists and performed many plays in the city. He once said that he used to work as an air conditioner repairman when he came to Bombay and one of the houses he went to repair an air conditioner was actually the residence of Bollywood Superstar Rajesh Khanna.

"Failure is there to teach you something so that you can go beyond that.
There is a lesson hidden in there."
Acting Career and Breakthrough
After his graduation in 1987, Khan shifted to Mumbai, where he started acting for multiple television shows. He was the lead antagonist in a series called Darr in which he played the character of a serial murderer. Cinema and theatre kept him floating till Mira Nair proposed him an appearance in Salaam Bombay (1988), although his appearance was cut in the final movie.
After several disappointing movies, times improved when London-based director Asif Kapadia offered him the leading role in the movie, The Warrior, a historic movie which was shot in 11 weeks in the native and local areas in Himachal Pradesh and Rajasthan. In 2001, The Warrior ran successfully and was a box office hit in international film festivals, making Irrfan Khan an international star. The movie Maqbool by Vishal Bharadwaj was the movie which shot him to limelight and after that offers came pouring his way but he only chose quality scripts without any other class discrimination.
"What happens with every role, you have to trick yourself,
you have to creatively find ways to explore the mental state of your character."
Rise to Stardom
American audiences were drawn to Khan in the mid-2000s, watching his characters in movies such as Danny Boyle's "Slumdog Millionaire" (2008) and Ang Lee's "Life of Pi" (2013), two movies for which he received an Academy Award. More experimental audiences must have seen him perform in Mira Nair's "The Namesake" (2006) or Ritesh Batra's delightful blockbuster, "The Lunchbox" (2012), in which a widower received a lunchbox intended for somebody else, exchanges letters with the one who sent it and falls in love, a performance that earned him critical recognition.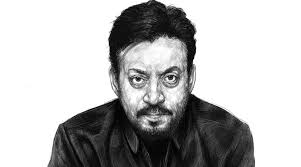 He has starred in more than 50 Bollywood movies. His final performance was the Hindi-language comedy-drama Angrezi Medium, where he portrayed a middle-class single dad who wanted to accomplish his daughter's dream of pursuing her studies in London. Released on March 13, the movie was the last of the films to be screened in theatres until they were closed down due to the COVID-19 outbreak. Khan has also won four Filmfare awards throughout his acting career.
The Passing of a Legend
The legendary actor passed away on 29th April 2020 in Mumbai, after he was admitted in the hospital for a colon infection. He had also gone through many treatments for a rare type of neuroendocrine cancer. Bishwanath Ghosh, a well known Indian writer and newspaper editor who is currently based in Kolkata, aptly named Khan, "an Indian everyman" in his article. Ghosh said that Irrfan Khan not only looked like the guy next door, but he also played the guy next door, which allowed him to work into Indian hearts which is why when he died, people took the loss personally.
Famous Movies of Irrfan Khan
Maqbool
The Namesake
Slumdog Millionaire
The Lunchbox
Hindi Medium
Paan Singh Tomar
Angrezi Medium
Piku
Life Lessons To Learn From Irrfan Khan
"People Like to See my Work, Not my Face."
An individual is known for the work he does and the difference he makes for the world and not for what he looks like. He respected and appreciated his middle-class upbringing, his dialect, his non-Bollywood appearance. Rather than striving laboriously to build an impression that the viewer could fall in love with, he trained tirelessly to bring the roles he portrayed to live.
He laid the foundation for a generation of great performers who did not adhere to what a traditional Indian film star could appear like or talk like.
"A Nation Needs to Know How to Utilise Talent."
A developing nation should not ignore the talent of the current youth for the sake of old and conventional ideologies. He has rendered it appealing to be considered an Actor, not a Hero. His beauty, charm and comfort shone in all his excellent representations of the characters that he played.
He remained true to his origins, declining to lend influences and airs to the elite style, and somehow, magically, he managed to overcome all labelling of status and society.
Irrfan Khan's passing, strangely near to the very same age level as his role where he played Ashoke in 'The Namesake,' left both Domestic and Multinational cinema lacking one of most successful performers in Indian cinema today – capable of portraying full-fledged roles in Indian movies as well as Indian characters in multinational movies with a strong identity of their own and not just some random stigmatisation. It is odd that even the most strong force there seems to be, is often taken for granted the most before it is missing.
Hope you liked this blog on Irrfan Khan! Stay tuned to Leverage Edu for more such awesome content!